Rangers sign Stubbs, option Claudio
Free-agent outfielder rejoins Texas after opening season with Atlanta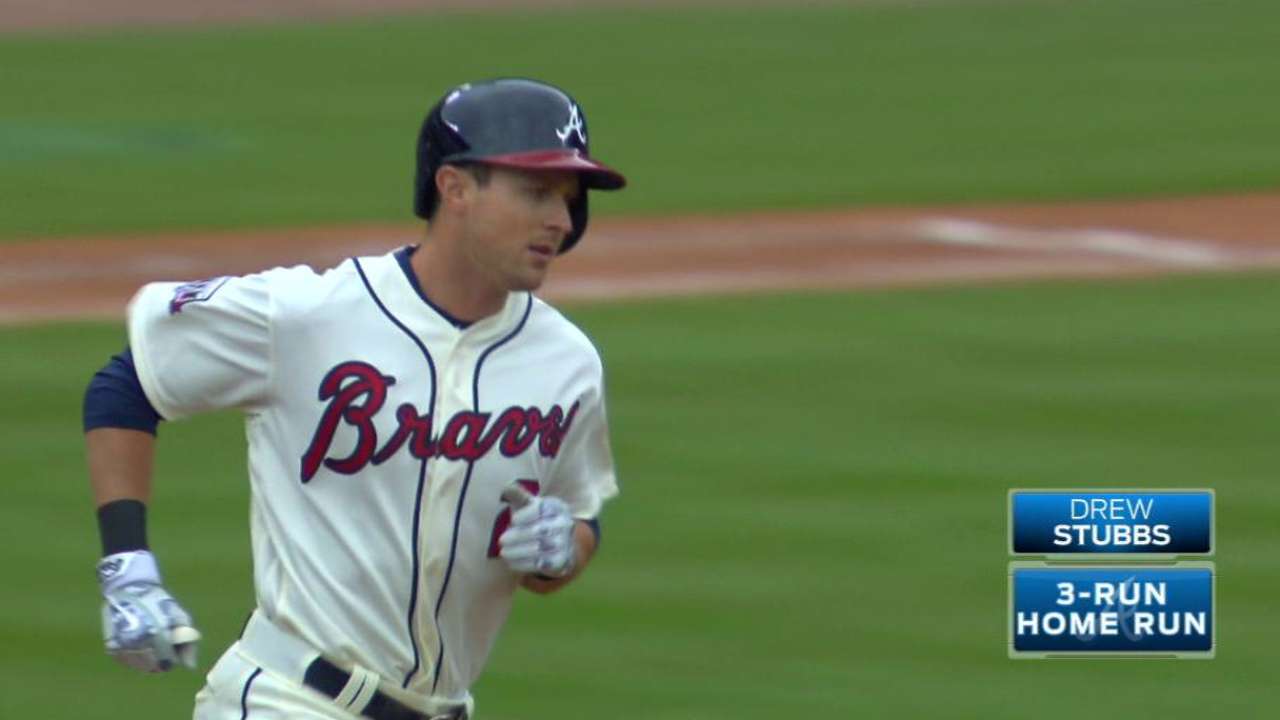 DETROIT -- The Texas Rangers have signed free-agent outfielder Drew Stubbs to a Major League contract, optioning left-handed pitcher Alex Claudio to Triple-A Round Rock. Additionally, the team has placed outfielder Josh Hamilton on the 60-day disabled list to make room for Stubbs on the 40-man roster.
Stubbs will join the Rangers in Detroit on Saturday and wear No. 15. The outfielder is a familiar face with the Rangers. He had previously signed with the organization as a free agent on Aug. 24, 2015, and was at Spring Training with the team but did not make the Major League squad.
Going into the start of the 2016 season, the Rangers had decided on going with an extra reliever. With a four-man starting rotation and eight in the bullpen, Texas started the season with a three-man bench. A.J. Griffin was assigned to Minor League camp and started the year with Round Rock, but he was called up not long after the season got underway.
Stubbs was not an option for the Rangers team regardless of other roster decisions. Rather than start the season in the Minors, Stubbs optioned out of his contract and signed with the Atlanta Braves on a Major League deal.
While with the Braves, the 31-year-old outfielder hit .237/.310/.316 with one home run and no doubles. But after 20 games with Atlanta, the team designated Stubbs for assignment on May 2.
Stubbs will occupy a similar bench role to the one he had in the 2015 season. While Delino DeShields has been struggling offensively, the addition of Stubbs should not affect his role in the outfield. The Rangers bench has already been short-handed, so the addition of Stubbs will give manager Jeff Banister another right-handed bat.
In his eight-year career, Stubbs has hit .244 with 90 home runs, 279 RBI, and 156 stolen bases across 862 MLB games. In addition to the Rangers and Braves, he's also played for the Reds, Indians and Rockies.
Catherine Slonksnis is a contributor to MLB.com based in Detroit. This story was not subject to the approval of Major League Baseball or its clubs.