Sabathia says injured groin improving daily
Yankees lefty confident he won't be out longer than 15-day DL stint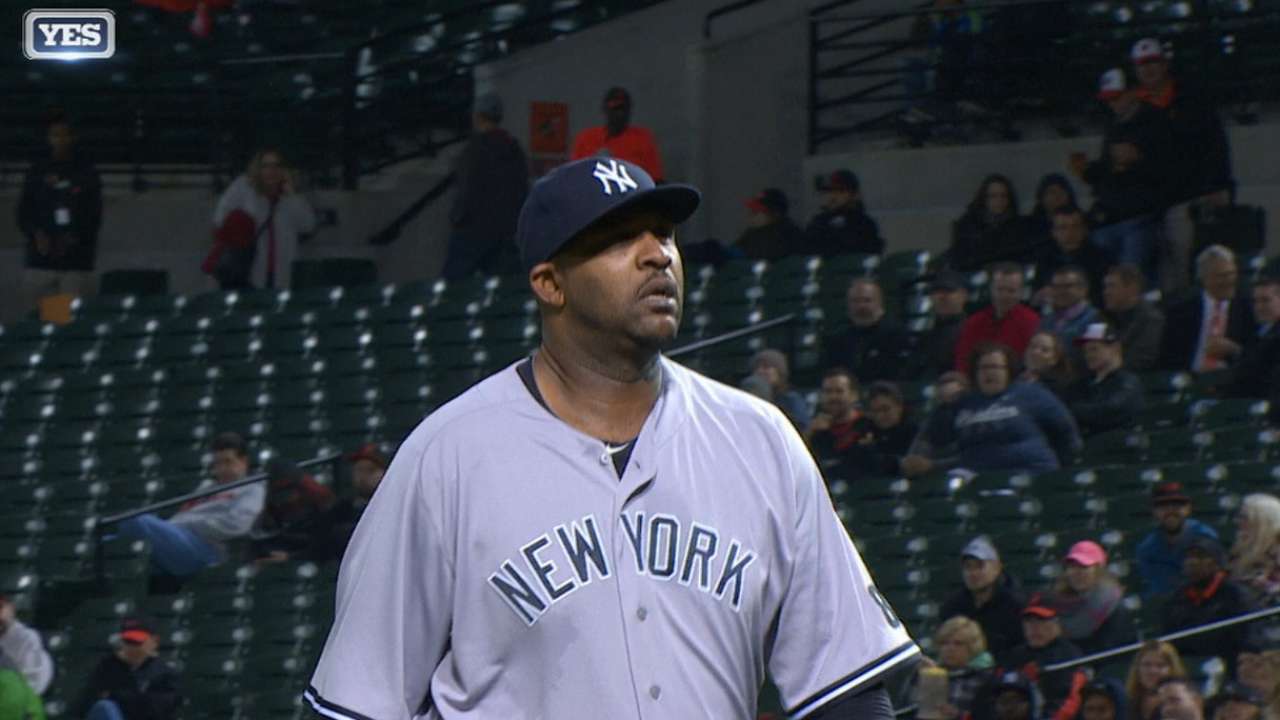 NEW YORK -- CC Sabathia strained his left groin in the fourth inning of the Yankees' win over the Orioles on Wednesday, but he elected not to tell manager Joe Girardi or the training staff and instead stayed in the game, tossing seven scoreless en route to a victory. But two days later, after the soreness persisted, Sabathia landed on the DL, something he didn't expect would happen given how he felt.
"I really didn't know [I had pulled it]," Sabathia said. "I just felt that I was getting better each day. The next day, I went out and played catch and felt good. The next day, I felt good. And today, I feel even better. I guess I am a little surprised."
But in Sabathia's mind, continuing to pitch after feeling the tweak wasn't what landed him on the disabled list. He said he felt the damage had already been done.
"I just know it was during the fourth inning and I felt it. It felt weird on the next pitch. And then it just turned into the next pitch and the next pitch and the next pitch. If I'm going to pull it, I'm going to pull it. I'm not just going to feel it and then stop. I'm going to push it."
Friday night, when Sabathia was placed on the DL, Girardi indicated that he expected the lefty to spend about three weeks out of action, as that is how much time Sabathia spent on the DL last time he suffered a similar injury in 2012. But Saturday, Sabathia said he wouldn't be shocked if he returned as soon as he was eligible to come off the 15-day DL.
And though Girardi isn't quite as certain about that, he sure would like it.
"It really depends on how he responds to treatment as well," Girardi said. "It's hard to predict. It's a tough league. I was just giving you what happened last time. I hope it's 15 days, too."
Nick Suss is a reporter for MLB.com based in New York. This story was not subject to the approval of Major League Baseball or its clubs.