Moose lands on DL with fractured left thumb
Third baseman expected to miss 2-3 weeks; Cuthbert recalled from Omaha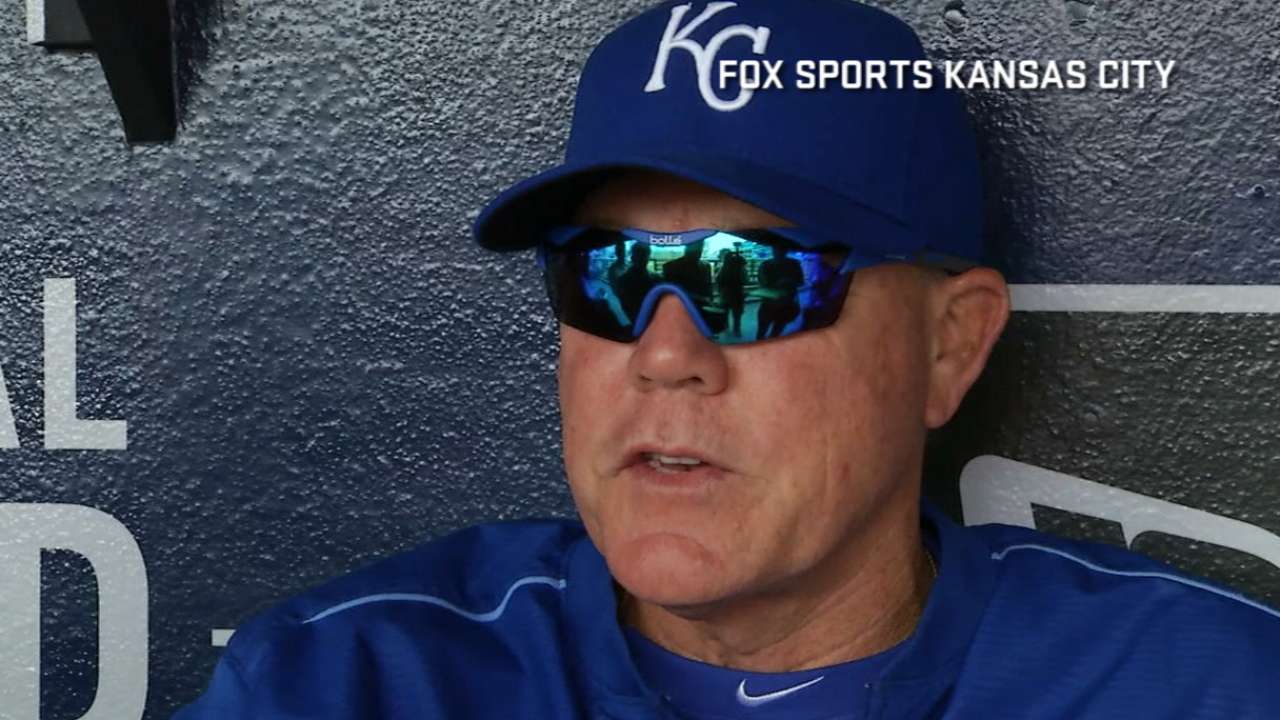 CLEVELAND -- Royals third baseman Mike Moustakas thought all along he could play through what turned out to be a fractured bone in his left hand.
Manager Ned Yost actually even had Moustakas in the starting lineup on Friday. But Moustakas finally conceded before the game that his efforts weren't helping anyone.
"I got to the park here and I couldn't even hold the bat," Moustakas said, "and I couldn't get my hand in my glove."
So the Royals scratched Moustakas from the lineup on Friday, and on Saturday placed him on the 15-day disabled list retroactive to Thursday. The Royals then recalled third baseman Cheslor Cuthbert from Triple-A Omaha. Cuthbert was in the starting lineup for Saturday's game against the Indians.
Trainer Nick Kenney and Moustakas both said the recovery time will be two to three weeks.
Moustakas first suffered the injury on the last road trip against the Angels, while applying a tag at third base.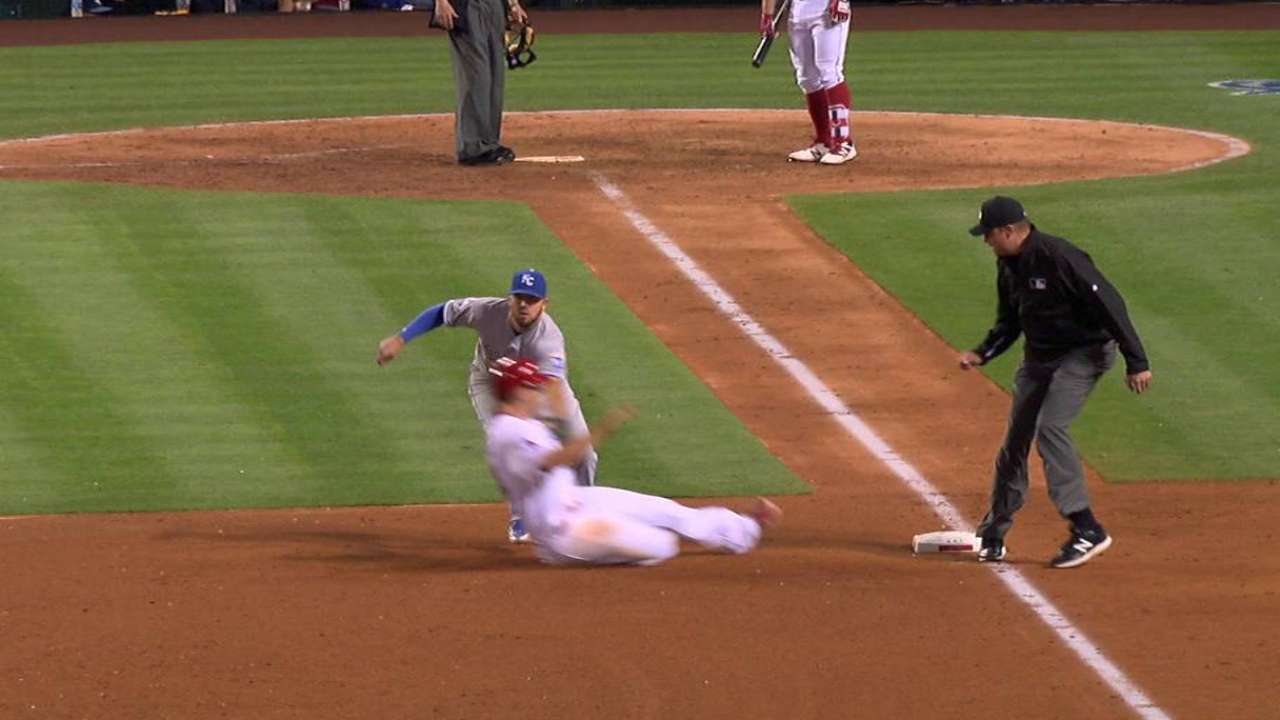 "It just got jammed and I thought it was just a bad bruise," Moustakas said.
Moustakas shrugged off having an X-ray at the time.
"No, I didn't want to," Moustakas said. "I just thought it was sore. The next couple of days it didn't go away, but that was normal, and I thought I could play through it."
Moustakas got jammed on a pitch in Seattle last Sunday, and the pain went beyond the original spot. That's when he agreed to get an X-ray.
"We got back to Kansas City and had the X-ray, and saw a little fracture [in the sesamoid bone]," Moustakas said, "but I still thought I could play through it."
Moustakas, in fact, lined a dramatic two-run game-tying single in bottom of the ninth of the Royals' 7-6 win on Tuesday.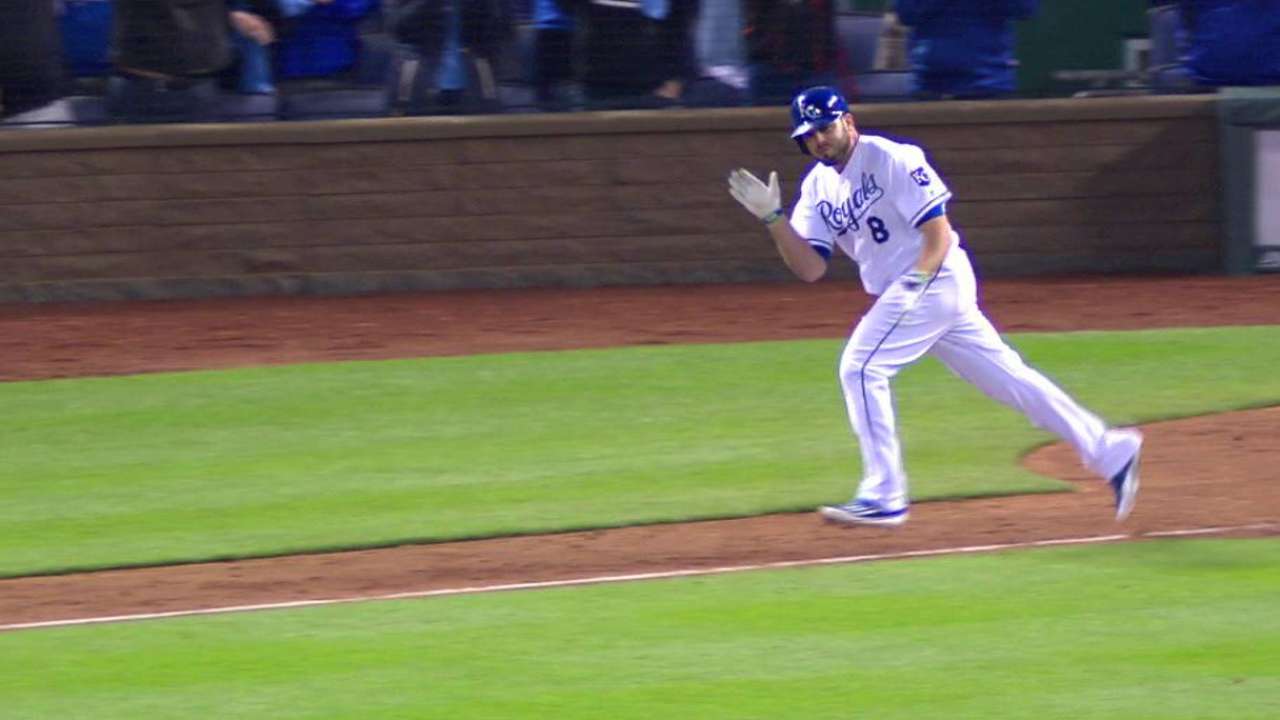 "That was a big win," Moustakas said. "We needed it."
Did it hurt?
"I hit it on the barrel," Moustakas said. "I had all sorts of protection, too. They numbed it, put pads on it."
But Moustakas had a heart-to-heart with Kenney on Friday.
"Nick [Kenney] told me it's not going to go away if I keep playing," Moustakas said. "They gave me every opportunity to play, which I appreciate. But it was one of those things I just had to be real with myself."
Cuthbert, meanwhile, had a very interesting travel schedule to get to Cleveland.
The Storm Chasers were in Memphis and coming off a road trip. The team flew back to Omaha through Dallas. Then, he learned of his promotion and headed on a plane for Cleveland with a connecting flight in Atlanta.
All in one day.
So, was Cuthbert a little tired?
"Yeah, but I'm OK," he said, smiling. "It was worth it."
Jeffrey Flanagan has covered the Royals since 1991, and for MLB.com since 2015. Follow him on Twitter @FlannyMLB. This story was not subject to the approval of Major League Baseball or its clubs.