MLB.com Columnist
Tracy Ringolsby
Q&A: O'Dowd reflects on his proteges
Six current GMs learned the ropes from former Rockies exec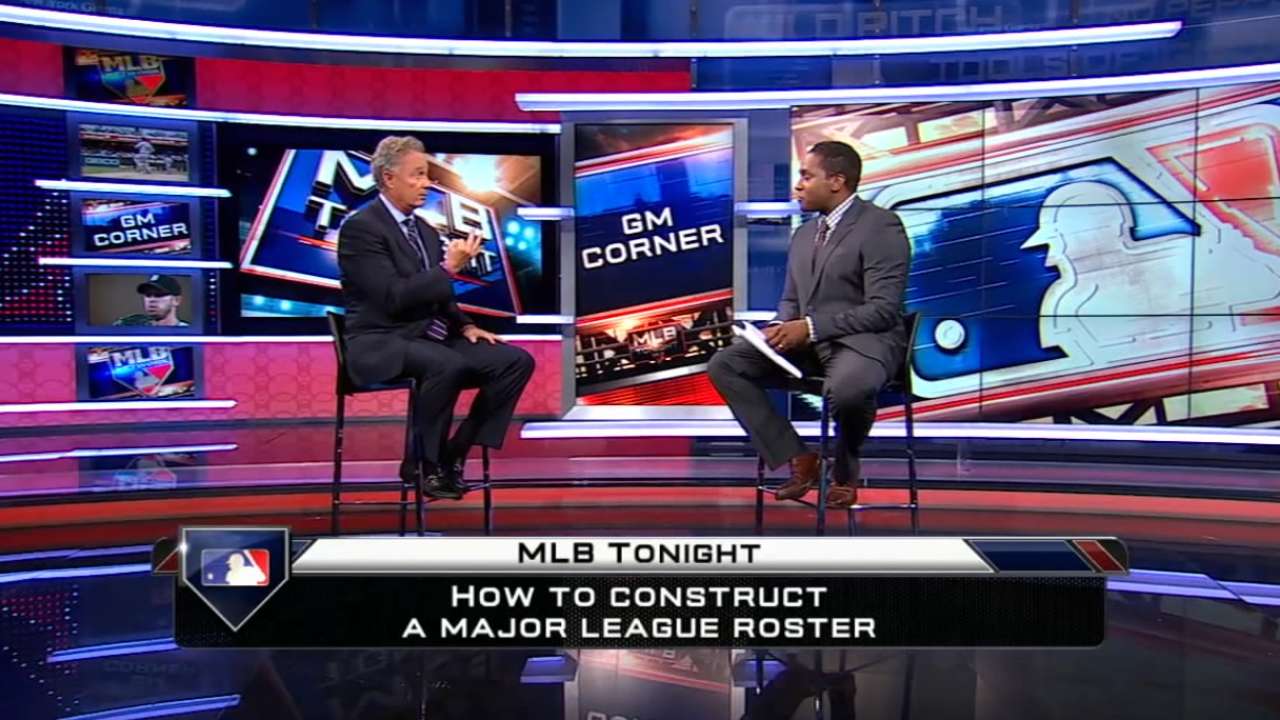 After 15 years as general manager of the Rockies, Dan O'Dowd decided to move on following the 2014 season. He now serves as an analyst for MLB Network.
O'Dowd's impact on the game, however, remains. Six of the 30 current general managers were introduced to life in a baseball front office during O'Dowd's tenure in Colorado.
That list includes Jerry Dipoto, the current general manager of the Mariners, who was previously the interim GM of the D-backs and GM of the Angels.
Others who spent time with the Rockies while O'Dowd was in charge are Billy Eppler of the Angels, O'Dowd's replacement in Colorado, Jeff Bridich, Jon Daniels of the Rangers, Mike Hill of the Marlins and Matt Klentak of the Phillies.
They all have different strengths, but also have all reached a career goal in becoming the head of baseball operations for a Major League team. Plus, they all were guided along the way by O'Dowd.
O'Dowd was asked for a quick summary of the strengths of each in this week's Q&A:
MLB.com: Looking around the game and seeing six current general managers whose careers were impacted by your time with the Rockies when you were the general manager has to be a rewarding feeling for you.
O'Dowd: Each of these men are high-character guys, with a very high level of integrity. They are all exceptionally smart. They process thought extremely quickly. They are creative minds, and are very good problem solvers. They have real good skill sets to be exceptional in the business they are in.
MLB.com: Your relationship with Dipoto goes back to when he was a prospect in the Indians' system and you were Cleveland's farm director. That would seem to give you a special insight into him.
O'Dowd: He was older than the others when he came into the front office, but he had a deeper background on the field. Jerry had the highest energy level of any human being I have been around in my life. He is a hyperactive thinker. He has a deep level of intellectual curiosity. Obviously, with his background as a player, he has a great feel for the game. He's one guy who always asked the question, "Why?" He wanted to make sure there wasn't a better way to build a better process.
MLB.com: Eppler had an internship with the Washington Redskins before coming to the Rockies. He says baseball was his true passion. Do you see that in him?
O'Dowd: Yes. Billy had as good a feel [for] players as anybody. He had a strong scouting background. He was a student of the game. He is a very, very good people person. He had the ability to get along with everybody within our office, and he was a great student of the game. He was able to process the traditional approach and the new thinking in the game.
MLB.com: And Bridich is the one who took over when you stepped down as general manager of the Rockies.
O'Dowd: Jeff is an extremely bright individual, extremely disciplined. When Jeff sinks his teeth into something, he has as much tenacity as any front-office executive I had pleasure to be around.
MLB.com: The surprising one to outsiders is Daniels. He came into the game more out of happenstance than a career goal -- and at the age of 28, he became the game's youngest general manager. What set him apart?
O'Dowd: J.D. had the best listening skills of any young man I have ever been around. He had an extreme sense of poise. He was very mature for his age. He knew the right questions to ask all the time. He was a great conceptional thinker. He had an ability to look at something and understand where he wanted to be at the end, understanding the steps needed to be taken to get there.
MLB.com: And Hill was a part of the original front-office structure that you brought to the Rockies.
O'Dowd: Michael Hill is a tremendous human being, great people person. He has a well-above-average feel for the game. He understood the role of empathy. He had a tremendous amount of respect for every position he interacted with. Michael was a team builder in every sense of the word.
MLB.com: The newest general manager in the group is Klentak in Philadelphia. I believe he actually succeeded Daniels as the intern in the Rockies' front office.
O'Dowd: Matt is smart and decisive. He is exceptionally well organized. He is a very quick thinker, who processed thought as quickly as anyone I have ever been around. He was the type of young man you could give an assignment to and he would never ask a question again. He would come back having solved that issue five different ways.
Tracy Ringolsby is a columnist for MLB.com. This story was not subject to the approval of Major League Baseball or its clubs.