Archer finding a roll in century-mark start
Rays ace delivers 6 scoreless in opener at Angel Stadium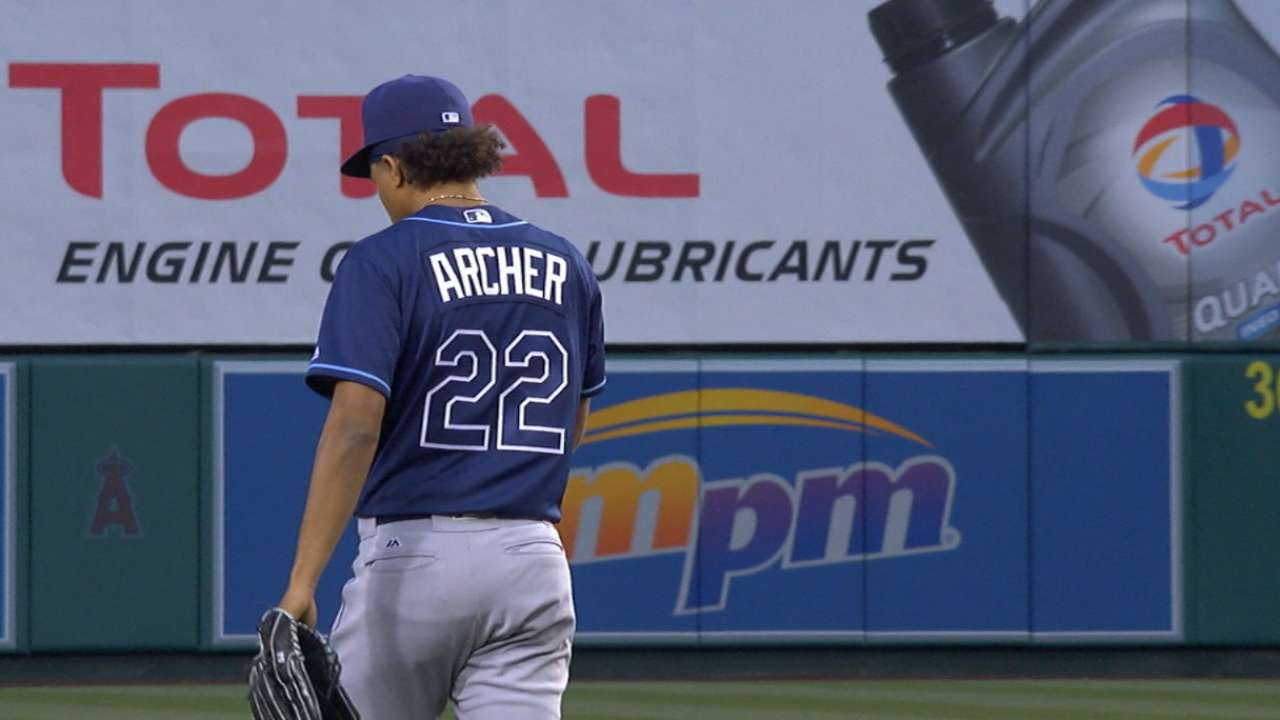 ANAHEIM -- Chris Archer made the 100th start of his Major League career Friday night and came away with his second win of the season and 34th of his career.
"I felt good," Archer said after the Rays defeated the Angels, 5-2. "I had three pitches working. We are all our toughest critic. There's room for improvement, but I feel good about giving the team a solid chance to win tonight and pulling out a victory on a night that I pitched. That's always a good feeling."
Archer allowed no runs on five hits and two walks while striking out six, continuing his string of success at Angel Stadium. His only start against the Angels in 2015 occurred at Angel Stadium, where he struck out 15 and walked none in an eight-inning stint.
"He threw the ball well again," Rays manager Kevin Cash said. "I think it speaks volumes how talented the guy is. I still don't think he was as sharp as he was capable of. It seems like there was a lot of back and forth, but the stuff obviously is really good. And he can overcome quite a bit. But good for him. This is three quality impressive outings in a row for him."
After a slow start to the season, Archer seems to be finding his groove. He is now 2-0 with a 0.96 ERA in his last three starts.
"I feel good," Archer said. "I never really felt too out of rhythm because I always go back and look and one pitch executed here or there, the outcomes of the games are a lot different."
Archer is now 2-4 with a 4.23 ERA in seven starts.
As for making his 100th start, Archer did not dismiss the significance of that milestone.
"It's rewarding in the sense that it reminds you that the only way to be truly successful in this game is to be healthy," Archer said. "And toe that slab every five days. It just reitterates the hard work. Continue to do things the right way. ... I think all the guys appreciate that as well, my teammates."
Bill Chastain has covered the Rays for MLB.com since 2005. This story was not subject to the approval of Major League Baseball or its clubs.