Blair hindered by walks, defensive miscues
Rookie right-hander allows two earned runs over five vs. D-backs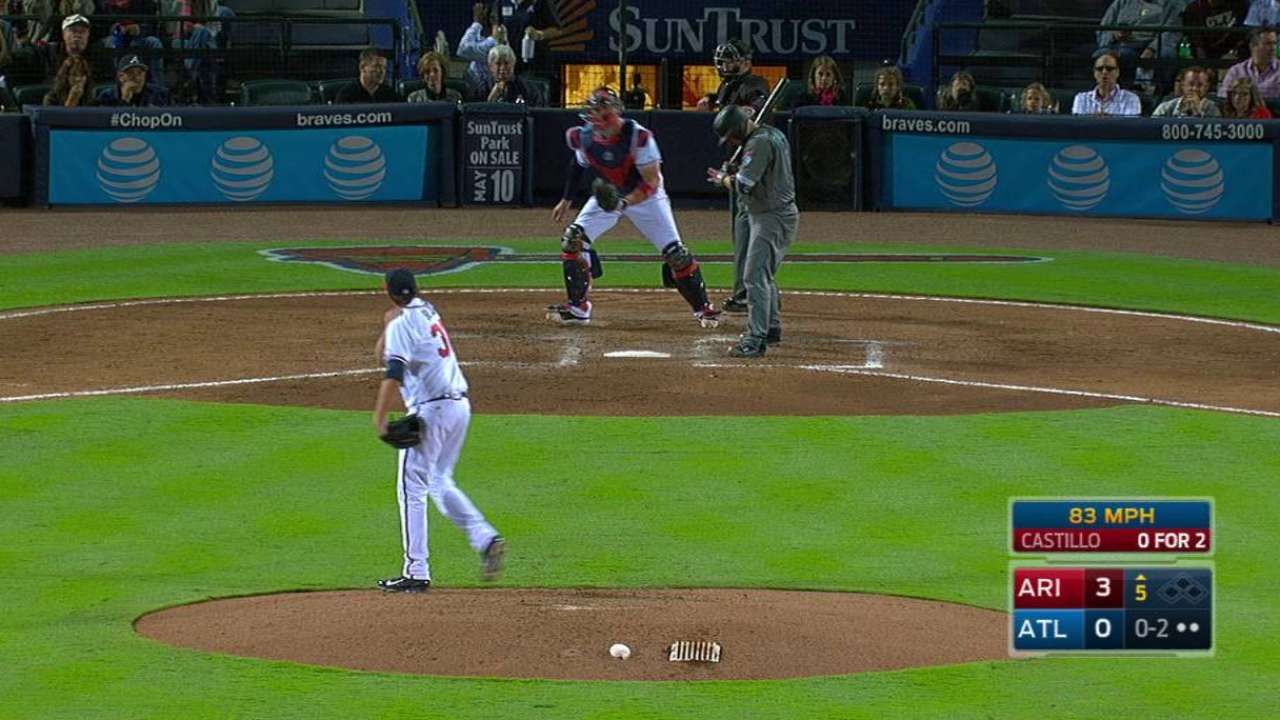 ATLANTA -- In his third Major League start, Braves rookie Aaron Blair set his career high in both total pitches (92) and strikes (54), but it would not add up to a career-long start.
Instead, he would last only five innings -- the shortest start of his short career -- in the Braves' 7-2 loss to the D-backs on Friday night. But that wasn't necessarily all Blair's fault.
"We need to catch the ball," said Braves manager Fredi Gonzalez. "He was deep in some of the ABs, but we didn't catch the ball. We didn't help him out. Subsequently, you give guys extra outs, those are extra pitches you have to throw and all of a sudden you're plus-80 pitches in five and can't go any deeper in the game."
The big innings were the 20-pitch second and 27-pitch third -- the former keyed by a misplayed fly ball by left fielder Adonis Garcia which resulted in a one-out double and a run, the latter by an error from third baseman Reid Brignac, then a poor throw home by Garcia fueling the two-run inning.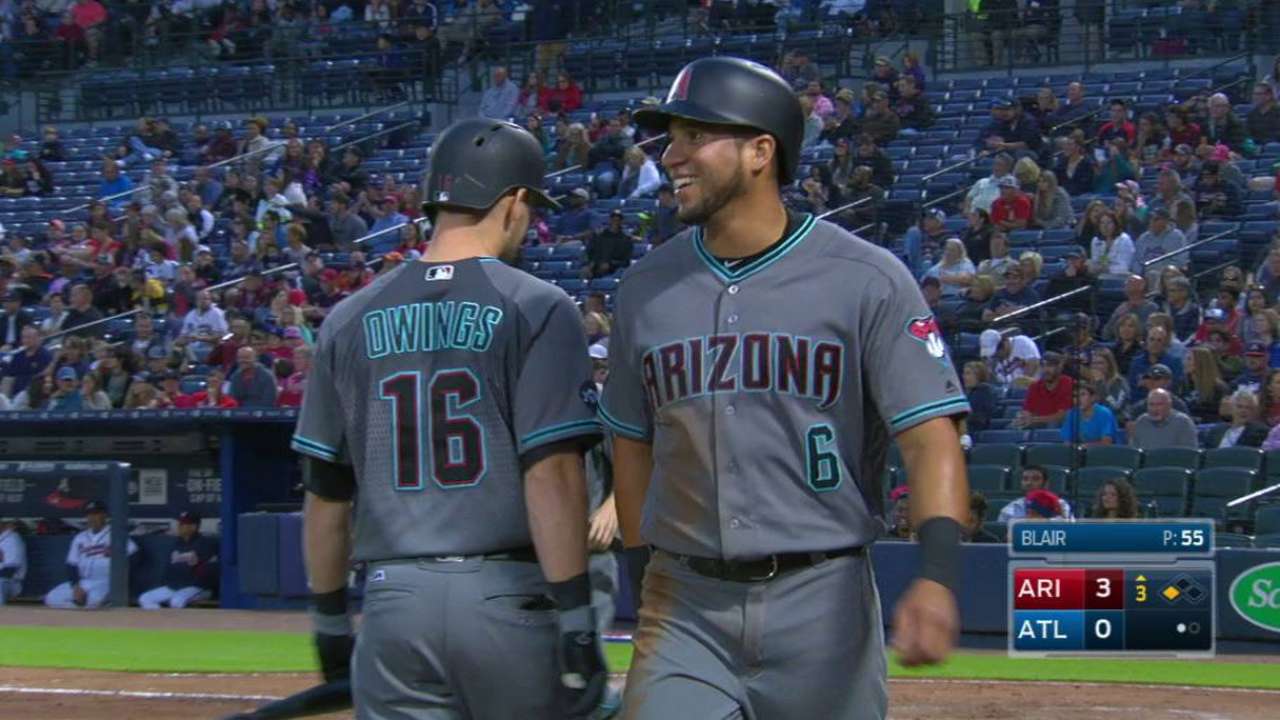 But Blair -- the Braves' fourth-ranked prospect -- hoisted the blame onto his shoulders.
"You have to throw more strikes. You can't let people on with free passes," said Blair (0-2), who walked four -- also a career-high. "That ends up hurting you."
Blair walked four in allowing three runs (two earned) on Friday and now has given out nine free passes in 16 1/3 Major League innings.
The D-backs did their part to run up Blair's pitch count, especially third baseman Jake Lamb, who had a pair of seven-pitch at-bats and first baseman Paul Goldschmidt, who had a nine-pitch at-bat, despite falling behind 0-2.
Blair didn't put much stock in any extra pressure from facing the team that selected him with the 36th overall pick in the 2013 Draft.
"I tried not to think about that too much," he said. "I just kind of took it as another team, especially in my third career start, I didn't want to put that weight on my shoulders. I just kind of went out and pitched my game."
He did so without the benefit of having his best stuff, but still stuck it out.
"I was falling behind, leaving pitches up," said Blair, who threw 14 first-pitch strikes (he faced 23 batters). "It's not a good combination to have, but I fought from inning one to inning five and just did what I could."
That willingness to compete, despite fighting his control and his teammates fighting to catch batted balls is earning the respect of his teammates.
"He's got a good head on his shoulders," said first baseman Freddie Freeman. "We're all going to make mistakes out there and that's the sign of a good pitcher to go out there and keep making good pitches and try to help the defense out. They came out swinging today but he still kept us in the game."
Jon Cooper is a contributor to MLB.com based in Atlanta. This story was not subject to the approval of Major League Baseball or its clubs.