Hamels dominates by working ahead all night
Rangers lefty showcases strong command, strikes out season-high nine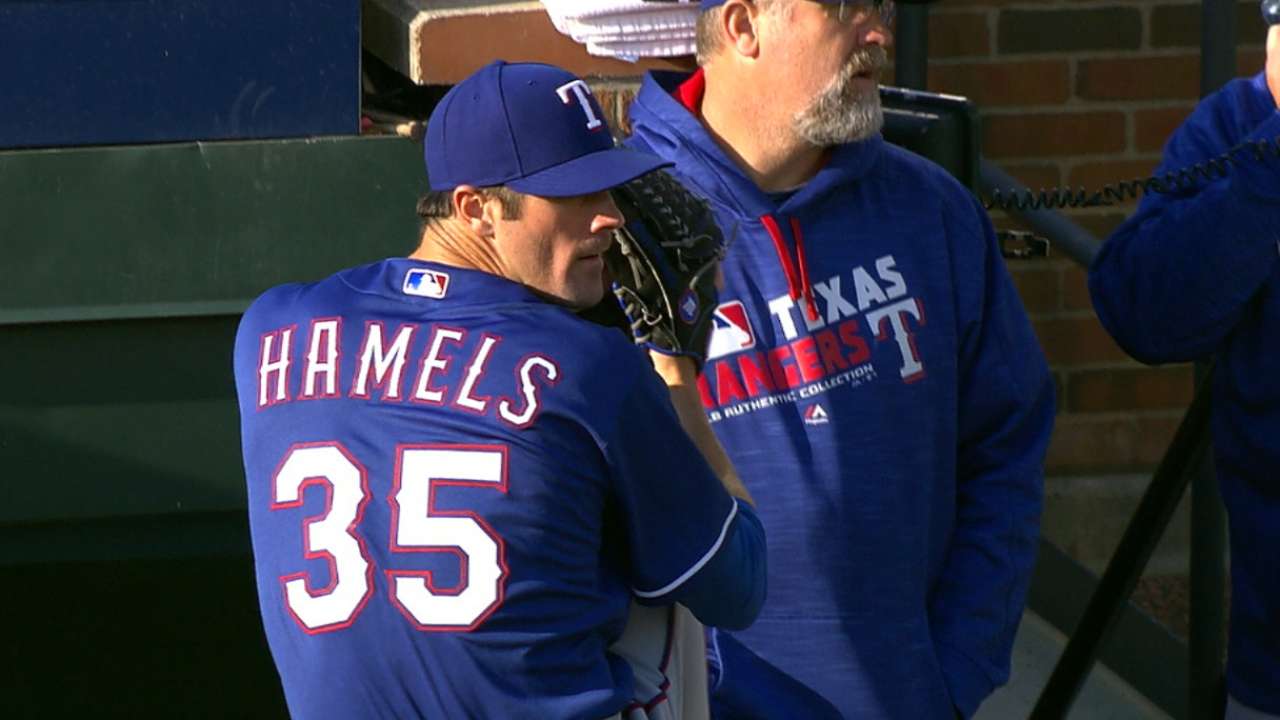 DETROIT -- Mired in a three-game losing streak, the Texas Rangers turned to their highly touted ace Friday night to help them snap out of an early-season funk.
And Cole Hamels did just that.
In what was arguably his best start of the season, Hamels outdueled Jordan Zimmermann, the reigning American League Pitcher of the Month, en route to a 5-1 win over the Tigers at Comerica Park.
And he did it in dominating fashion.
Hamels shut down one of the most potent offenses in baseball, tossing seven scoreless innings of one-hit ball to improve to 4-0 this season.
"This is why we have him. This is why he's part of the ballclub," Rangers manager Jeff Banister said. "He's our ace."
Hamels struck out a season-high nine batters, relying heavily on a two- and four-seam fastball that helped put eight of his first 18 batters into 0-2 holes.
"When you're able to get ahead of guys in the count, you're able to work in all your pitches, and keep guys off balance," Hamels said. "And obviously, that's what we were able to do."
With the exception of a bloop single off the bat of Ian Kinsler leading off the first inning, Hamels was nearly flawless, inducing six groundouts and issuing just two walks.
Hamels' best work came in the fifth inning, when he needed just 15 pitches to strike out the side, highlighted by a three-pitch at-bat to Anthony Gose.
"He had everything. He threw his curveball, his cutter, his fastball -- up, down and out," Rangers catcher Bobby Wilson said. "When he's throwing the ball like that, it makes it a lot easier for me."
It was a dramatic improvement from Hamels' previous start, in which he struggled with command while throwing only 49 of his 87 pitches for strikes, recording just five swing-and-misses.
Friday was a much different story, as the 32-year-old lefty threw 65 percent of his pitches for strikes and induced 12 swing-and-misses to help bring Zimmermann's unbeaten start to an end.
"That previous game, I didn't really establish fastballs for strikes early," Hamels said. "But here, I was just trying to execute pitches down."
And it worked.
Hamels held the heart of Detroit's lineup hitless, including Miguel Cabrera, who entered Friday's contest 8-for-13 against Hamels.
"He feels good now," Banister said. "Being able to hold it all together and feel good about his release point in his delivery was a huge key for him."
Hamels extended his win streak to 11 -- one shy of the club record held by Bobby Witt (1990). He hasn't lost since Aug. 7.
"He's the guy we looked to to be that stopper as a starter -- to halt any kind of slide," Banister said. "And that's exactly what he did."
James Schmehl is a contributor to MLB.com based in Detroit. This story was not subject to the approval of Major League Baseball or its clubs.