With D-backs needing stopper, Greinke delivers
Ace right-hander fans eight over six innings in win over Braves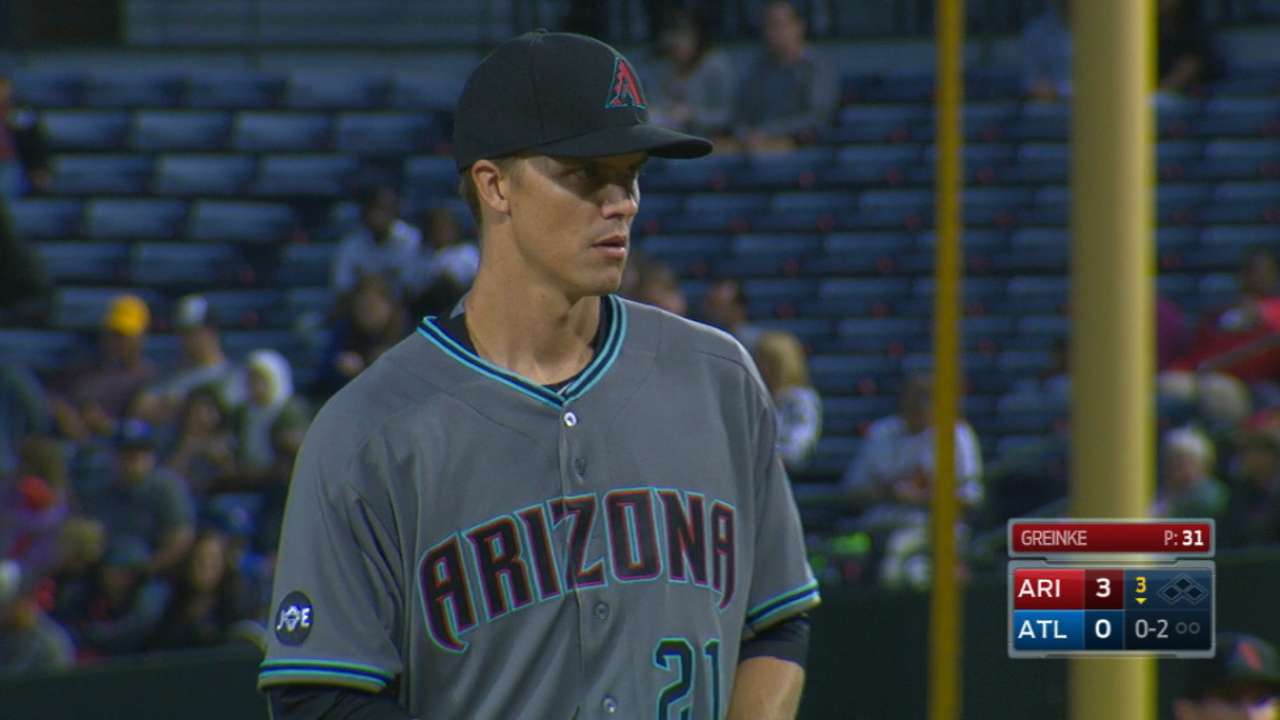 ATLANTA -- Zack Greinke did what aces are supposed to do.
With his team riding a six-game losing streak and desperate for a win, the right-hander delivered a quality start in the D-backs' 7-2 win over the Braves on Friday night at Turner Field.
"That was a bad streak," Greinke said of the back-to-back sweeps at the hands of the Rockies and Marlins. "Wish that didn't happen. Hopefully we'll start playing some good baseball now."
• Ahmed, Castillo team up for 'amazing' play
If the starting pitchers put forth efforts like Greinke's, chances are they will.
Greinke (3-2) scattered seven hits while allowing just two runs and a walk. He fanned eight while throwing 95 pitches.
When he's struggled this year, it's been a matter of location for Greinke. Friday, he seemed to be able to hit the corners when he wanted to and got hitters to chase his slider.
"The slider, I got a lot of strikeouts on that and the last couple of games it's been good," Greinke said.
Strong showing from Zack Greinke tonight:

6 IP, 7 H, 2 ER, 1 BB, 8 K (including these 5 straight) https://t.co/xZywDFdTX9

- Arizona Diamondbacks (@Dbacks) May 7, 2016
Greinke was able to keep the Braves off the scoreboard until they managed a pair of runs in the sixth.
"I didn't feel real sharp going into the game, but once the game went on I made better pitches," Greinke said. "I started out bad -- 3-0 on [leadoff hitter Nick] Markakis so I got a little nervous there and then kind of got through that inning pretty good."
After Freddie Freeman's single in the first, Greinke retired nine straight hitters. Included in that stretch were five consecutive strikeouts, which tied his career high.
"I was pretty happy about it," Greinke said. "It was a nice little five batter stretch."
When the D-backs signed Greinke to a six-year, $206.5 million deal this offseason they did so with the hope that he would be the guy they could count on to snap losing streaks. It's something that Greinke understands comes with the territory.
"Just have to make good starts probably especially in that situation," Greinke said of stopping a losing streak. "It's probably more important than if you're in a five-game winning streak. Your main job is just to pitch good all year."
Steve Gilbert has covered the D-backs for MLB.com since 2001. Follow him on Twitter @SteveGilbertMLB. This story was not subject to the approval of Major League Baseball or its clubs.