Zimm 'can't be disappointed' after going 8 innings
Tigers righty takes first loss after winning five straight starts to open season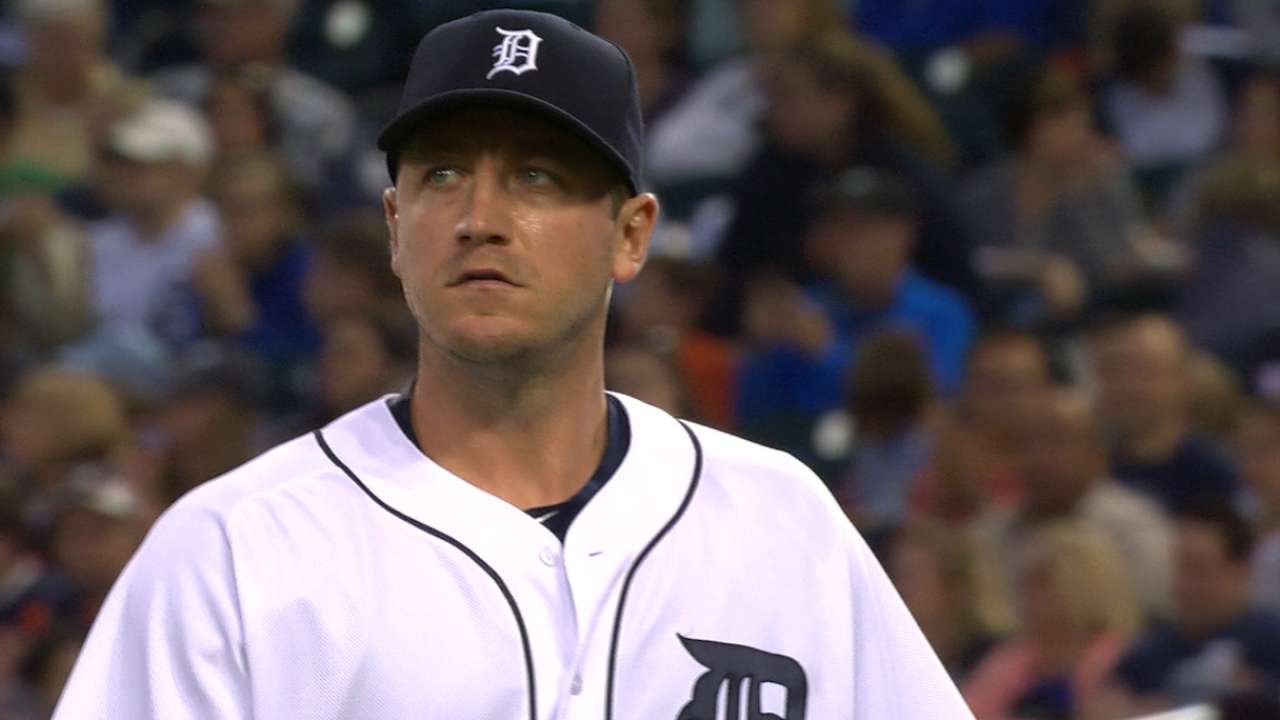 DETROIT -- Tigers manager Brad Ausmus joked before Friday's game against the Rangers that he'd love for Jordan Zimmermann to lower his Major League-best 0.55 ERA.
The right-hander didn't do that, but he gave the Tigers a shot, allowing three earned runs over eight innings in a 5-1 loss. It was Zimmermann's first loss as a Tiger.
"He did an excellent job," Ausmus said. "Gave up a couple runs early and the home run, but he pitched eight innings and gave us a chance to win."
Zimmermann (5-1, 1.10 ERA) was the first Tigers pitcher to win each of his first five starts to open a season since Frank Tanana in 1988, and Zimmermann was the American League Pitcher of the Month for April. No Tigers pitcher had won his first six since George Uhle in 1929, and it'll stay that way.
All three runs Zimmermann gave up came with two outs. After two groundouts to open the second inning, he allowed a single, a double and a single for two runs. It marked the first time this season that Zimmermann allowed more than one run in a single inning. In the fifth, Rougned Odor's homer also came with two outs.
The first run came when Elvis Andrus hit a high-and-away fastball for a double, and Bobby Wilson drove the second run home by hitting a curveball that was low and away. Both were difficult pitches to hit. Zimmermann missed with a high fastball on Odor's home run, and he put that one on himself.
"I made one mistake, the fastball to Odor. That was the only real mistake all night," Zimmermann said. "Wilson got that RBI on a curveball that was in the other batter's box and was going to bounce. He pretty much threw his bat at it. I can't be disappointed with my outing tonight. It's baseball, and it's going to happen."
Zimmermann threw 71 of his 108 pitches for strikes.
While Zimmermann was good, Cole Hamels was better for the Rangers, throwing seven shutout innings and allowing one hit. Zimmermann said he doesn't worry about what the Tigers' bats are doing. They've helped him before and knows they will again.
"Just try to go out there and put up zeros," he said of his mindset. "These guys have been scoring every time I go out this year. This is the first time they didn't score runs. You can't expect them to put up seven or eight runs when you're up against Cole Hamels. He had his 'A' stuff tonight. You tip your cap and move on."
It was the fourth straight loss for the Tigers, who have fallen back to .500, and it comes after a five-game winning streak.
Zimmermann is confident things will turn back around.
"Everybody's still up. Tomorrow's another day," he said. "That's why we play 162 of these. You can't get down over a series and a couple games. We're going to come around. I'm not worried one bit."
Chris Vannini is a contributor to MLB.com based in Detroit. This story was not subject to the approval of Major League Baseball or its clubs.