Gattis to catch full time in Double-A
Hinch foresees minimum 10-game stay; Sipp back from paternity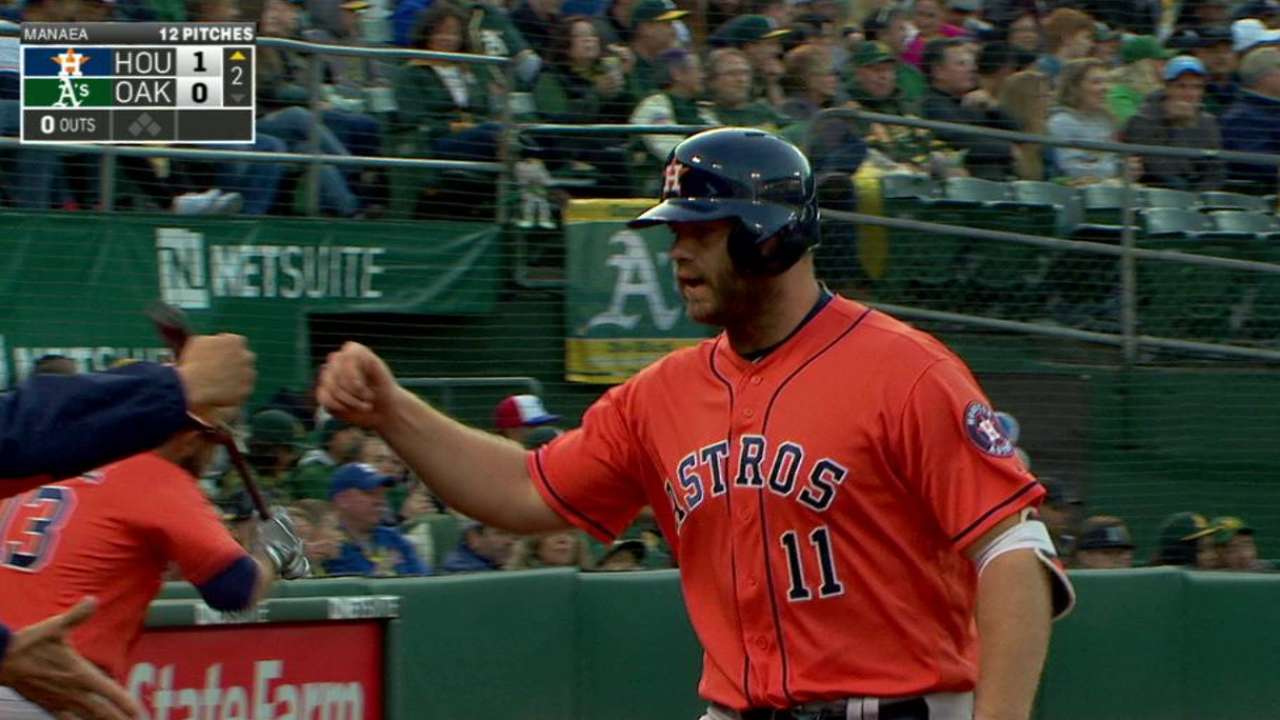 HOUSTON -- It's pretty rare for a player to be optioned to the Minors unless performance or injury is an issue.
But the Astros want Evan Gattis to catch this season, and they haven't been able to work him into Major League action behind the dish. So, Gattis will head to Double-A Corpus Christi and work full time as a backstop for the next couple of weeks, in hopes he could become a designated hitter who also moonlights as the Astros' backup backstop.
Left-handed reliever Tony Sipp will rejoin the team after missing the Astros' 6-3 win Friday over Seattle while on paternity leave. Sipp's second child, daughter Zoe Chanel Sipp, was born Friday evening.
"I'm on board with it," Gattis said. "I think it's going to be good for my future. I love to catch, and it's where I feel comfortable on the field."
Houston manager A.J. Hinch said it would be "a minimum of 10 days" for Gattis, as they build him back to catching shape.
"We have a mapped-out program I just went through with him," Hinch said. "He was aware that this was a possibility because we want him to get back as a catching possibility for us. The best way to do it is for him to go play."
Gattis agreed, saying that there are fewer rigid motions or hard-and-fast mechanical things to work on behind the plate compared to hitting or stand-up fielding.
"Getting back there and doing it," Gattis said. "It's a feel thing, it's not a mechanical thing. You got to do it, got to see it all for 150-something pitches a game."
Gattis caught for two seasons in Atlanta before joining Houston via trade before the 2015 season. He has not caught a game for the Astros.
There's also a silver lining for Gattis at the plate, too. He's slashing well below his career lines (albeit, in a small sample size), and the team thinks getting consistent at-bats after a hernia issue sidelined him for much of March could also help.
"I'm not sure he needs this as much as it will give him a chance to do everything he possibly can behind the plate and also get a couple at-bats," Hinch said. "Remember, he missed Spring Training. He hasn't played regularly up here so this is, at a minimum, a 10-day commitment to get it right."
Gattis was already eager for the everyday opportunities in the batter's box.
"Take some hacks, maybe talk to Bregman," Gattis quipped, referring to No. 1 Astros prospect Alex Bregman, who is at Corpus Christi. "Should be fun."
Chris Abshire is a contributor to MLB.com based in Houston and covered the Astros on Friday. This story was not subject to the approval of Major League Baseball or its clubs.