Known for arm, Hicks makes impact with bat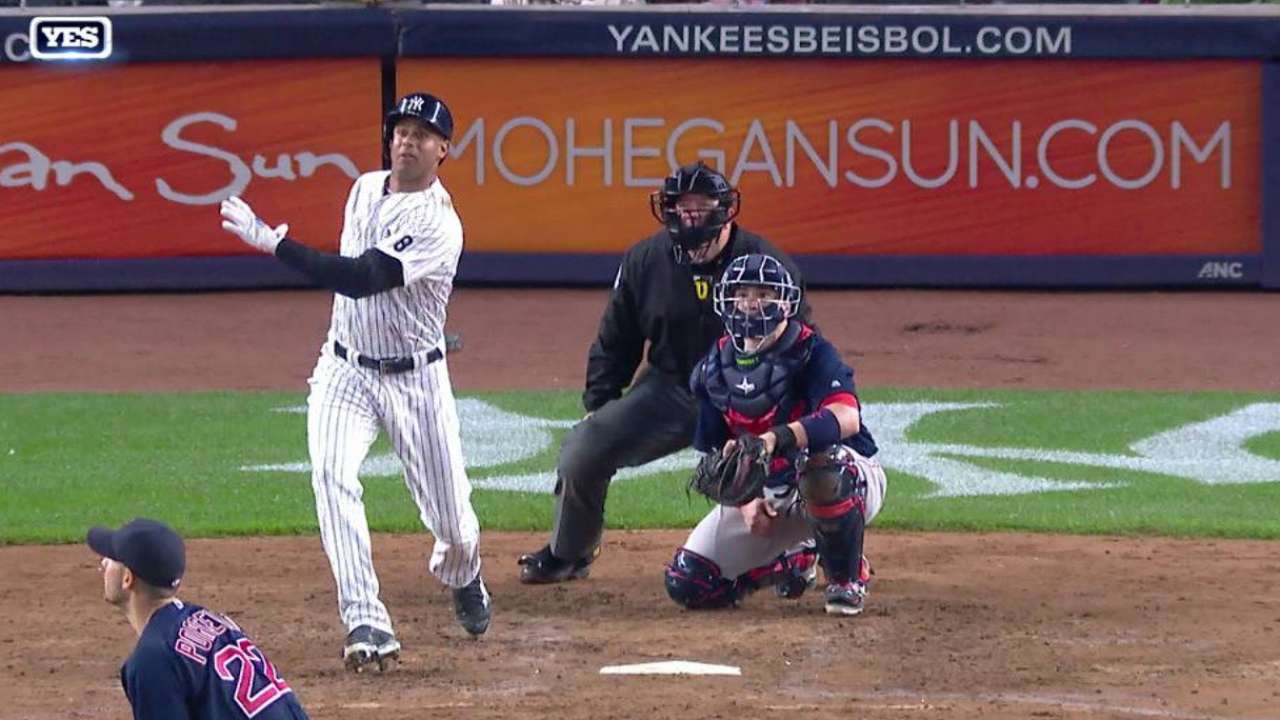 NEW YORK -- Hitting a game-winning home run against the Red Sox is a quick and easy way to endear yourself to Yankees fans.
Such is the case for Aaron Hicks who, coming into the Yankees' 3-2 win over the Red Sox on Friday, had quite a bit of endearing to do to get in the fans' good graces.
The outfielder entered the day batting .091 with more than twice as many strikeouts as walks, zero extra-base hits and more outfield assists than RBIs. But leading off the seventh inning in a tie ballgame, Hicks changed that narrative, ripping the first pitch he saw from Boston starter Rick Porcello into the right-field bleachers, supplying the go-ahead run and enabling Joe Girardi to unleash his deadly bullpen tandem of Dellin Betances and Andrew Miller to secure victory. Statcast™ projected the mammoth home run landed 446 feet away and had an exit velocity of 107 mph.
To Hicks, the home run was a culmination of the effort he's been putting in since his arrival in the Bronx this year.
"I just wanted to help the team win," Hicks said. "Defensively, I felt like I was doing it, but I also wanted to do it offensively. It felt good to actually do it today."
Hicks' batting average is up to just .114 and his slugging percentage now tips the scale at.200. But in Girardi's eyes, the numbers aren't necessarily reflective of the player, especially not in Hicks' case.
"We've seen the last couple of days, we've thought he put some really good swings on some balls and just fouled them off," Girardi said. "But the young man's got a lot of talent. He's got power from both sides, he's got speed, he's got a great arm."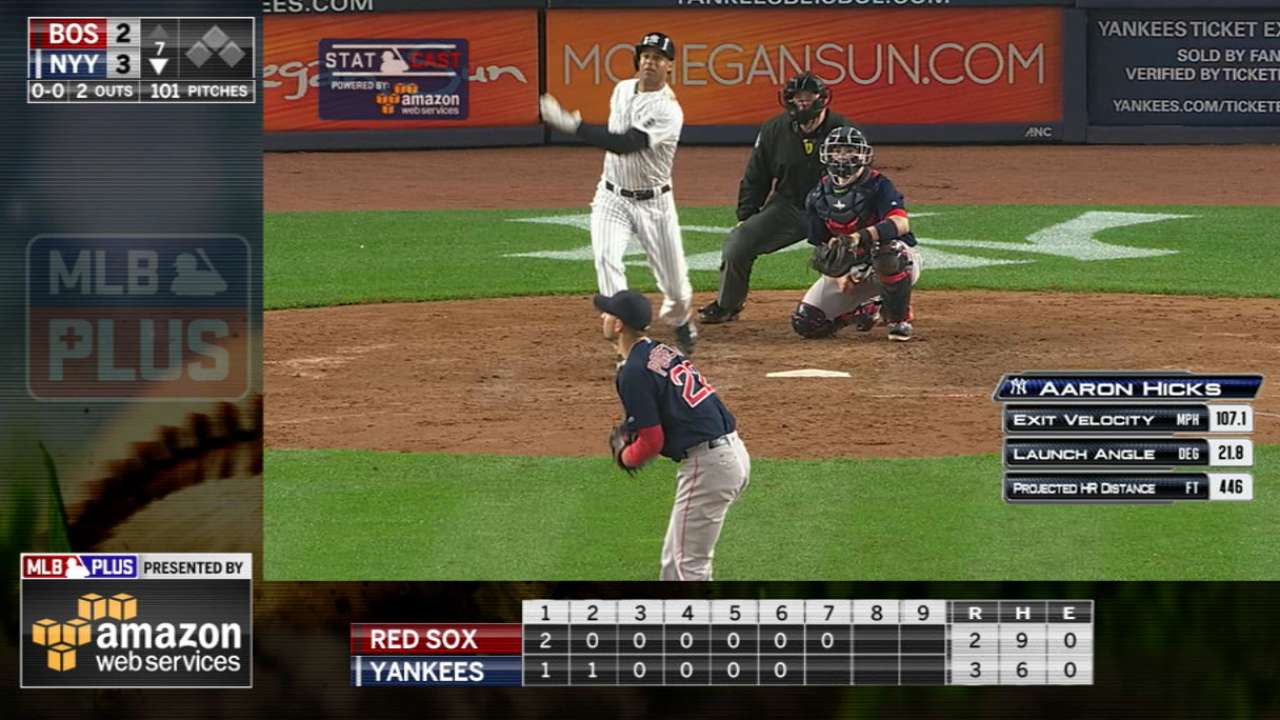 Prior to Friday, as Hicks insinuated, Yankees fans probably knew the outfielder best for his arm rather than his prowess at the plate. But, coincidentally, prior to the home run, Hicks' night seemed to be defined by bad defense.
Hicks started the game in right field but moved over into center field after the first inning when Jacoby Ellsbury left the game with a strained right hip muscle. In the top of the sixth inning, Hicks twice allowed catchable balls to fall in front of him for singles, and in the case of the second one, loaded the bases with just one out. Hicks characterized the sequence as an example of him misreading balls in the air, but the misread balls ended up inconsequential, as starter Michael Pineda forced a double play to get out of the inning.
"He picked me up," Hicks said of the double play. "He did what he needed to do to get out of the inning, and of course I'm going to be happy about that because he bailed me out. It felt good to get out of that inning."
But for a player struggling to get hits on a team struggling to find an offensive foothold, inconsequential defensive mistakes will be quickly forgiven when compared against game-winning home runs. And for Hicks, he said he believes this is the kind of game that ignite the Yankees moving forward.
"It can definitely help us out a lot," Hicks said. "It's just another win in the win column, and that's what we need to get where we want to go. And to start the series off with a win, especially coming back home, that's what we need."
Nick Suss is a reporter for MLB.com based in New York. This story was not subject to the approval of Major League Baseball or its clubs.