Miller escapes ninth-inning jam for 6th save
After loading bases, closer fans Papi, Hanley to end it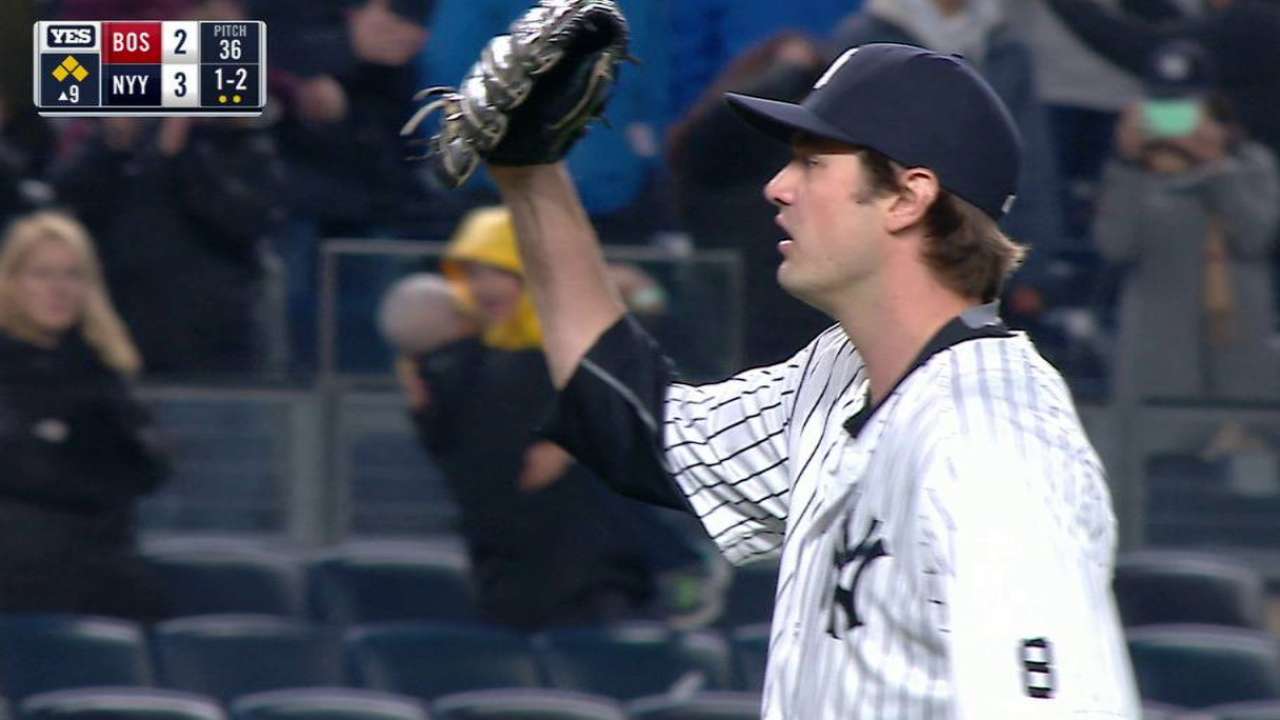 NEW YORK -- Blessed with an intimidating fastball and slider combo, Andrew Miller feels as though he has the weapons to escape from any confrontation. He pushed that to the limit against David Ortiz and the Red Sox on Friday evening, getting two big strikeouts to nail down the Yankees' 3-2 victory in memorable fashion.
Trying for a four-out save and already having exceeded his season high in pitches, Miller and Big Papi matched up with the bases loaded and one out. Ortiz took umbrage with a called strike on the 3-1 pitch, prompting the ejection of Red Sox manager John Farrell, and Miller then pumped strike three past Ortiz looking.
"I don't know that I'd say I enjoy it; it's fun to look back on the challenge," Miller said. "I like challenges, but I'd like for it to be easier, especially as badly as we feel like we need wins. I'm just glad we survived it and found a way to get out of it."
Miller watched as Ortiz flipped his lid on home-plate umpire Ron Kulpa, earning his own ejection. Ortiz complained, both to Kulpa and later in the visiting clubhouse, that none of the six pitches he saw in the at-bat were strikes.
"Look, have you seen Miller's numbers? He don't need no help," Ortiz said. "That's all I can tell you. Just because an umpire has a wide zone, I'm not going to get out of my game. I'm facing one of the best pitchers in the game. You either keep it fair or it's not going to happen."
While that played out, Miller said he tried to keep his emotions in check, knowing that he still had to contend with Hanley Ramirez, whom Miller struck out in a less-contentious at-bat to earn his sixth save.
"There's relief, and then realizing I've got to go back to work and I've got to face Hanley, who is a pretty darn good hitter in his own right," Miller said. "Just trying to work through it, stay amped up and calm at the same time and find that happy balance. I found a way."
The 36-pitch outing wasn't Miller's cleanest, though he retained his perfect 0.00 ERA. Boston notched three hits in the ninth, as Josh Rutledge came off the bench for an infield single, Dustin Pedroia punched a single to left and Xander Bogaerts lined safely to center field to bring up Ortiz.
"You know he's a great hitter. It's tough," Yankees manager Joe Girardi said. "But I really believe in Andrew Miller, too. Probably the same way they believe in David Ortiz. Andrew Miller has outstanding stuff and he got him tonight."
Earlier in the Ortiz at-bat, Miller thought that Ortiz had offered at a 2-1 slider, but third-base umpire Jerry Meals didn't agree.
On the next offering, Miller and catcher Brian McCann got crossed up, which may have sparked Ortiz's emphatic reaction. McCann thought he signaled for a fastball and instead had to wrangle an 82-mph slider.
"I was expecting heater and it was a slider," McCann said. "That was my fault. I messed the signs up, so I still have not seen it. I just got lucky and caught it."
Kulpa commented that McCann "didn't help me out; he took the ball down a little bit, but the pitch still came through the zone. And the 3-2 pitch, I had it in the zone right down the middle."
Miller said that his heart was still racing as he replayed the moment at his locker after the game, and wasn't bothered when some of the Boston gripes were repeated to him second-hand. As far as he was concerned, the final outcome was perfect.
"I felt like I made some pretty good pitches and we got the calls, I guess," Miller said. "They got an infield hit, a blooper -- what else do they want to go their way in an inning? They can't have it all."
Bryan Hoch has covered the Yankees for MLB.com since 2007. Follow him on Twitter @bryanhoch, on Facebook and read his MLBlog, Bombers Beat. This story was not subject to the approval of Major League Baseball or its clubs.