Controversy, frustration boils over in ninth
Farrell, Papi ejected for arguing balls and strikes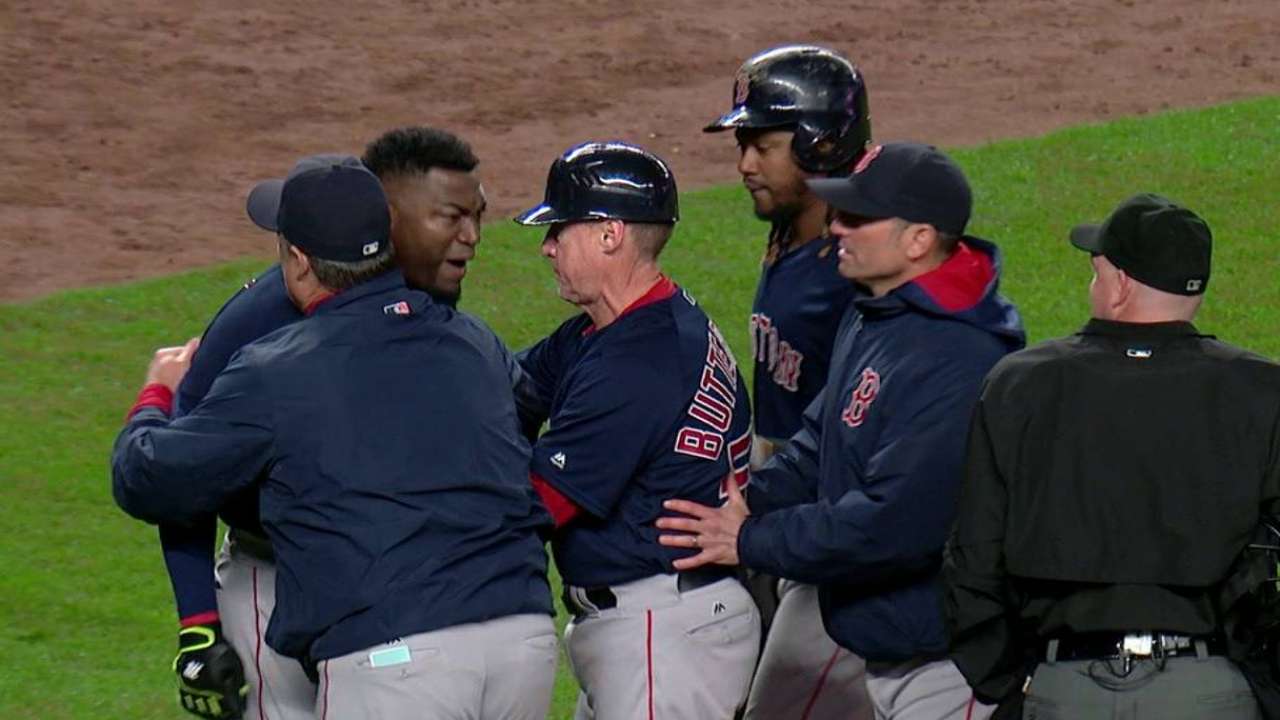 NEW YORK -- Over the final four innings of Friday night's exasperating 3-2 loss to the Yankees, the Red Sox felt like they were just about to come up with the one elusive hit they needed to turn the game in their favor.
And they had the chance of all chances in the ninth when David Ortiz faced Yankees closer Andrew Miller with the bases loaded and one out. What ensued was enough frustration for manager John Farrell and Ortiz to boil over in disagreement with home-plate umpire Ron Kulpa, and for both manager and slugger to be ejected.
After getting ahead 3-1, Ortiz took two contested called strikes to end his at-bat. The Red Sox felt the 3-1 slider was outside and low, but the borderline offering was called a strike. Catcher Brian McCann's glove drifted off the plate as he received the pitch.
"The 3-1 pitch, I had it coming through the zone," Kulpa told a pool reporter. "That's why I called it a strike. McCann didn't help me out. He took the ball down a little bit, but the pitch still came through the zone."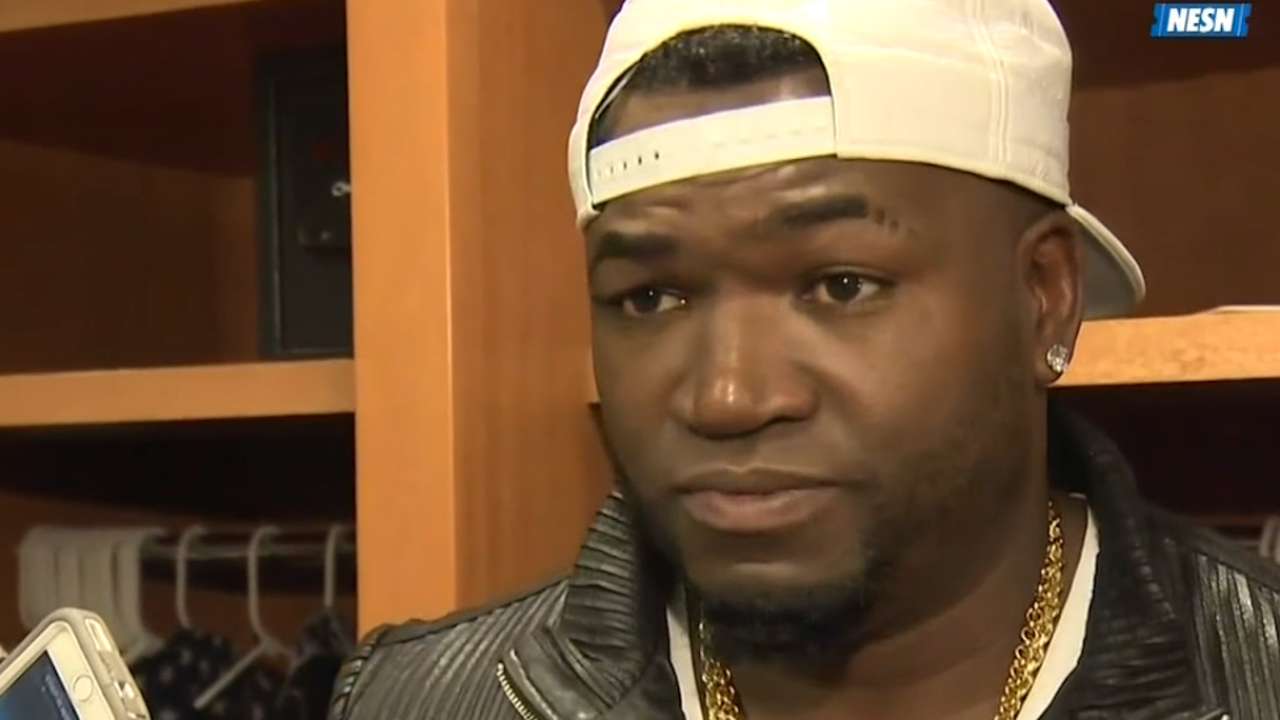 Ortiz was incredulous, and Farrell swiftly came out to prevent his slugger from getting thrown out of the game.
Farrell instead got ejected, though he never did leave the dugout. Farrell actually motioned his arms at Kulpa, indicating the umpire should be thrown out. That was a first for Kulpa.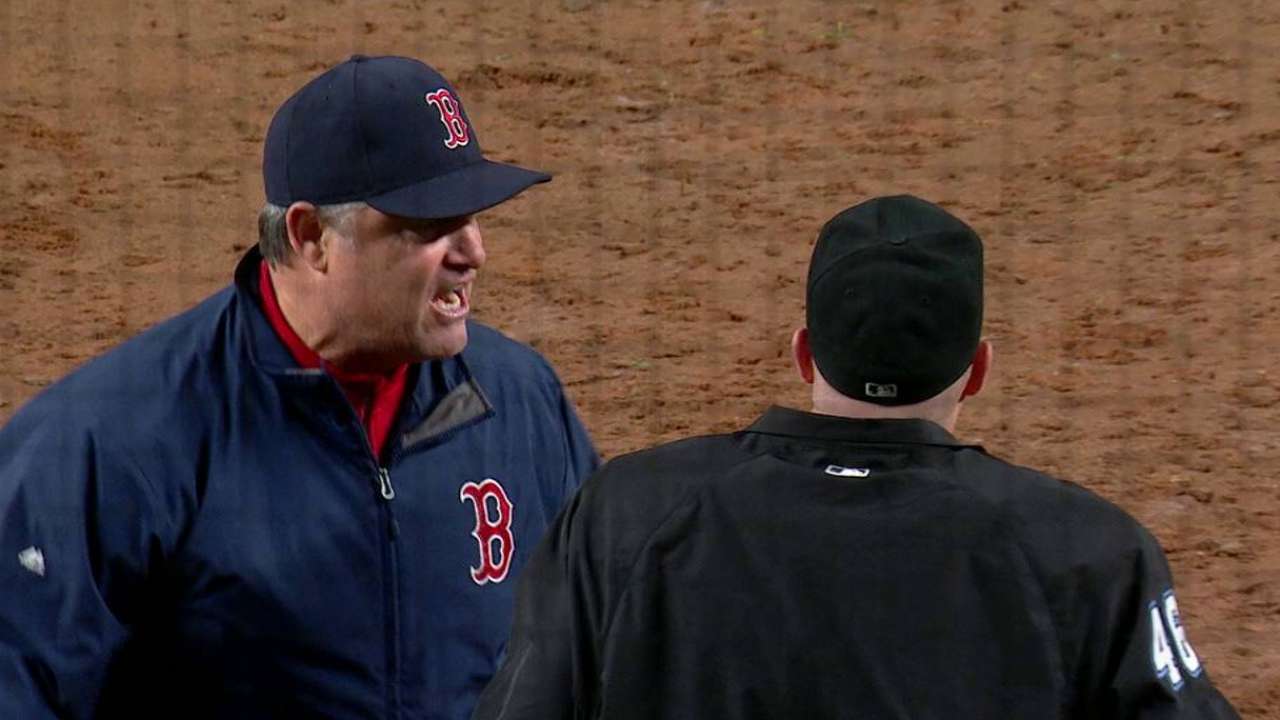 "Not in my career," Kulpa said. "I'm sure you can maybe dig something up from back in the old days with Earl Weaver or something like that."
Ortiz tried to keep his focus on the rest of the at-bat.
"At the time," Ortiz said, "I didn't say anything because John came in, my boy [Hanley Ramirez] held me down, but it was bad, bro. That's all I can say. It was bad."
The bigger issue was the next pitch, a 3-2 slider that appeared below the knees. Ortiz could no longer contain himself. After initially retreating to the dugout, Ortiz came back out and vehemently argued with and gestured at Kulpa and was ejected.
"You saw me," said Ortiz. "I didn't have to take it anymore."
Kulpa's view?
"And the 3-2 pitch, I had it in the zone right down the middle," Kulpa said.
Farrell and Ortiz weren't even close to agreeing with that assessment.
Was the 3-2 pitch too close for Ortiz to take?
"No," Farrell said. "He'd need a hockey stick for the 3-2 pitch."
"Look, have you seen Miller's numbers?" said Ortiz. "He don't need no help. That's all I can tell you. Just because an umpire has a wide zone, I'm not going to get out of my game. I'm facing one of the best pitchers in the game. You either keep it fair or it's not going to happen. You're going to look bad. He looked pretty bad on those pitches."
Miller declined to say whether the pitches were strikes.
"I don't know. We got the out," said the closer. "That's all that really matters. I think that I felt pretty good about some of those pitches. He swung at the first one, it was exactly where we wanted it. I felt like I made some pretty good pitches and we got the calls, I guess. They got an infield hit, a blooper -- what else do they want to go their way in an inning? They can't have it all."
Miller struck out Ramirez swinging to end the tense game.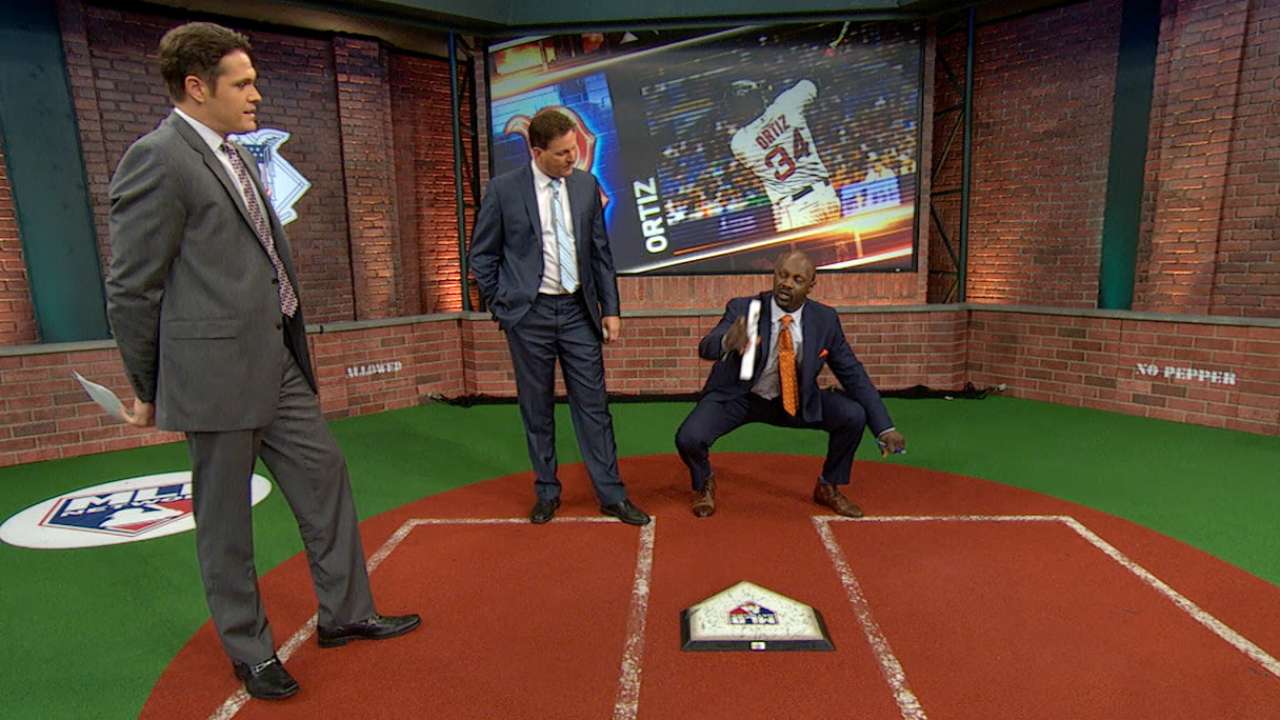 "It's just another game, another big game between the Yankees and Red Sox," said Kulpa. "Emotions are high. It's just part of the game."
"One [mistake] I can understand," said Ortiz. "One time. But not two. Both of those pitches were bad, though. He's looking at me like I screwed up. I didn't screw up. Know what I'm saying? Just got to come back tomorrow and fight back."
Ortiz acknowledged he'd be best keeping his emotions in check. But in this case, he felt it was worth making an exception.
"You don't want to have that back and forth with the umpires. They're humans. They're going to make mistakes," Ortiz said. "But the game on the line, that situation, Yankees and Red Sox, adrenaline is kicking in, I'm locked in. I'm not thinking about [anything] else."
The Red Sox had many other chances. In the sixth, they had the bases loaded with one out and Jackie Bradley Jr. hit into a double play. In the seventh, Christian Vazquez led off with a double and Mookie Betts surprisingly tried to sacrifice and popped up. There were no runs in that inning. Betts, who has been slumping, bunted on his own.
In the eighth, the Sox had two on and two outs, and Bradley struck out looking on a borderline slider by Miller.
"I think anybody who watched the ninth inning, how it unfolded, probably knows the story of that inning," said Farrell. "We created another golden opportunity for us as we did in the sixth. Men in scoring position in the sixth, seventh, again in the eighth, then a big opportunity in the ninth. And like I said, I think anyone who was watching that game closely understands what the story of this one was."
Ian Browne has covered the Red Sox for MLB.com since 2002. Read his blog, Brownie Points, and follow him on Twitter @IanMBrowne. This story was not subject to the approval of Major League Baseball or its clubs.