Kershaw's Canadian debut leads full slate on MLB.TV
Sale aims for 7-0, Price faces Yanks for second time this week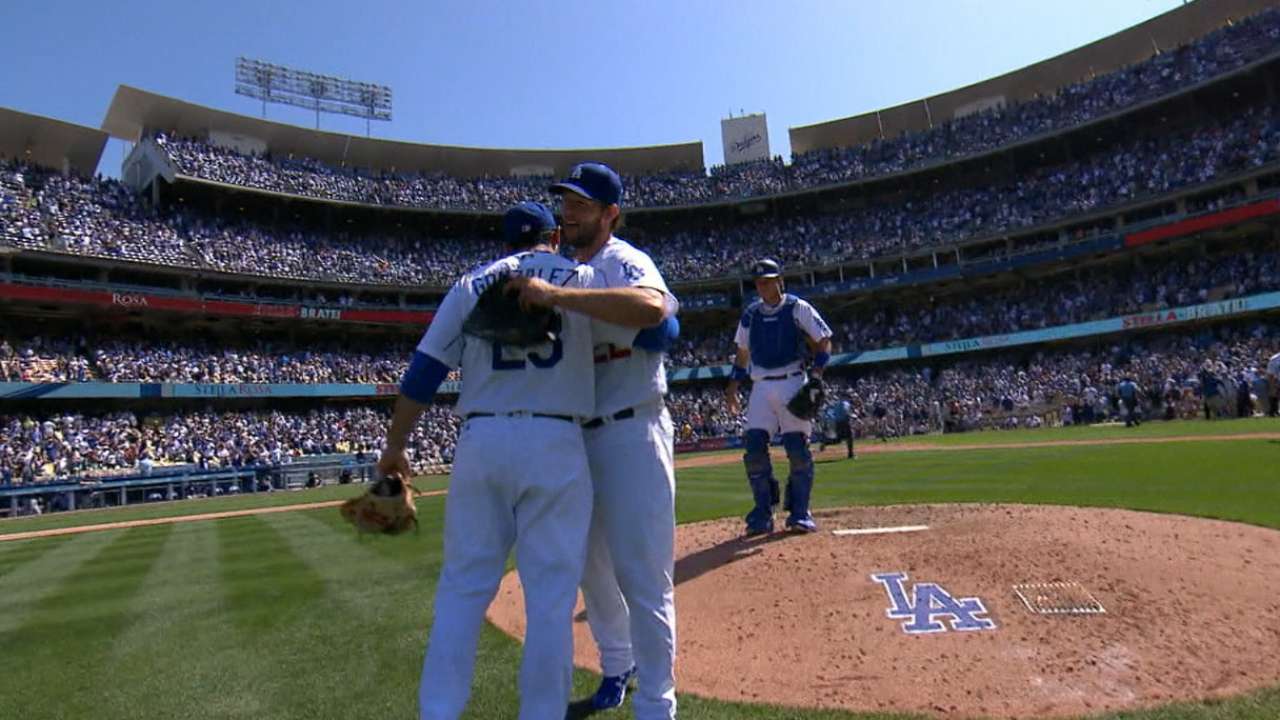 A trio of power lefties hope to reign supreme today.
Clayton Kershaw is rounding into his usual elite form as he makes his first start at Rogers Centre. In Chicago, Chris Sale aims for a perfect 7-0 start on the South Side while a pair of middle-rotation starters hope to maintain career-best starts at Wrigley. And Boston's David Price will face the rival Yankees for the 33rd time in his career -- and the second time in six days.
And that's just four of a full plate of 15 games that will be available on MLB.TV.
MLB.TV Premium returns with the same features as last year, but at $109.99, it is a full 20 bucks cheaper than the 2015 cost. This package has the best value and provides access to more than 400 devices and a free subscription to the MLB.com At Bat Premium app (a $19.99 value). It offers the best picture quality ever -- a new 60 frames per second -- for supported devices. Monthly signups for MLB.TV Premium are now underway as well for $24.99.
The new MLB.TV Single Team package is also now available as an $84.99 yearly subscription. You can watch a single team's live out-of-market games in full HD.
Here is a look at what to watch for today in the Majors (all times ET):
Kershaw faces Blue Jays' big bats: LAD@TOR, 1:07 p.m.
Over his nine-year big league career, Kershaw has dominated hitters from coast to coast. Now he gets to see if his talents translate north of the border against Toronto's deep lineup. The Major League leader in strikeouts (54), strikeout-to-walk ratio (18-to-1), and WHIP (0.717) is coming off a three-hit shutout against the Padres in which he struck out a season-high 14 batters and also drove in the Dodgers' only run. The Blue Jays have won four in a row, but carried a surprisingly low .237 team batting average into Friday's contest -- a full 10 points below the American League average. R.A. Dickey, coming off his best outing of the year Monday against Texas, will get the ball for Toronto.
Stat that matters: The conventional wisdom for teams facing Kershaw has been to go after his first pitch in the at-bat. The Blue Jays swing at just 26.4 percent of first pitches, however, and have seen an average of 4.06 pitches per at-bat this season -- second only to Houston in the AL prior to Friday night's games. Toronto batters are hitting just .211 when they do swing at the first offering.
Sale rolls for lucky sevens: MIN@CWS, 7:10 p.m.
AL wins leader Sale aims to keep his string of dominance going against a struggling Twins offense. Sale pitched arguably his worst start of the young season against Baltimore on Sunday, allowing a season-high four walks and needing 112 pitches to complete 5.2 innings of work. However, he was still plenty good enough to earn his sixth victory, allowing just five hits and one run to keep his earned run average at a stellar 1.66. He'll face the last-place Twins and a lineup that has posted just a .663 OPS away from Target Field. Minnesota will start Ervin Santana, who was reinstated from the disabled list (back strain) on Friday.
Stat that matters: If the Twins are hoping to break open a big inning against Sale, odds are it won't be via the long ball. Twenty-one of Minnesota's 25 home runs entering Friday were solo shots, and Sale has given up just one multi-run homer so far this year.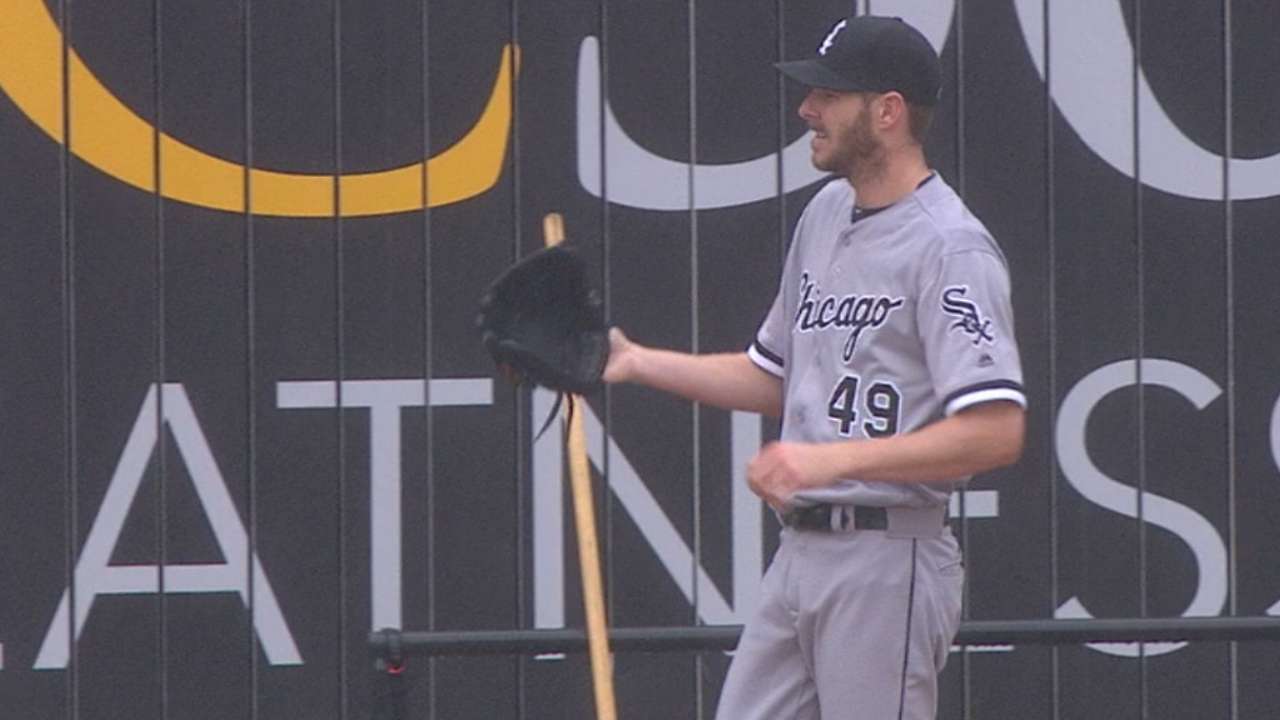 Price, Yankees lock horns again: BOS@NYY 1:07 p.m.
Price's career 13-7 record against the Yankees was one of several reasons the Red Sox inked him to a seven-year, $217 million deal this past offseason. But while he earned the win Sunday against New York, Price will be looking for a much smoother outing this time against Boston's arch rival. The lefty allowed six runs and struck out just three in seven innings at Fenway Park, but earned the victory anyway thanks to eight runs of support from his offense. The AL strikeout leader with 49, Price is a perfect 4-0 to start 2016, but also carries a 6.14 ERA and 1.282 WHIP through six starts. He'll be opposed once again by Yankees starter Nathan Eovaldi, who also coughed up six runs in his matchup against Price last Sunday.
Stat that matters: One factor behind the Red Sox' AL-best rate of 5.25 runs per game has been their baserunning, as they lead the Majors with 24 stolen bases. Eovaldi has allowed just 11 steals on 19 career stolen-base attempts against him, the lowest of any pitcher who has started at least 100 games since he debuted in 2011.
Gio, Hammel put stellar ERAs on the line: WAS@CHC 4:05 p.m.
Stephen Strasburg and Jake Arrieta garner all the headlines -- and deservedly so. But the best pitching matchup of this series between the NL's two best clubs could be Game 3's matchup. Gio Gonzalez (2-1, 1.15 ERA) and Jason Hammel (4-0, 1.24) have each allowed just four earned runs this season in a combined 60 1/3 innings. Washington hopes to earn a series split after dropping the first two games at Wrigley Field. While the Cubs have limited Bryce Harper to one hit so far, Daniel Murphy has picked up the slack. Murphy's average is now up to an MLB-best .406 after a 4-for-4 line on Friday -- his second four-hit game in his last three outings.
Stat that matters: There may be more than a handful of winning formulas at this point for the 22-6 Cubs, but here's one that will especially make defensive-minded manager Joe Maddon smile: Chicago is a perfect 18-0 so far in games in which it doesn't commit an error.
MLB.TV Premium subscribers get the Mosaic View -- split screen or quad, available on PC or Mac only. That always comes in handy, especially when scoreboard-watching looms. MLB.TV Premium and MLB.TV Single Team subscribers both enjoy HD and both will get real-time highlights and player stats automatically loaded moments after they occur (only for the game you are watching with MLB.TV Single Team, and for all games with MLB.TV Premium).
Matt Kelly is a reporter for MLB.com. This story was not subject to the approval of Major League Baseball or its clubs.