Salazar up for challenge as he flusters Royals
Indians looking for righty to help lead rotation in Carrasco's absence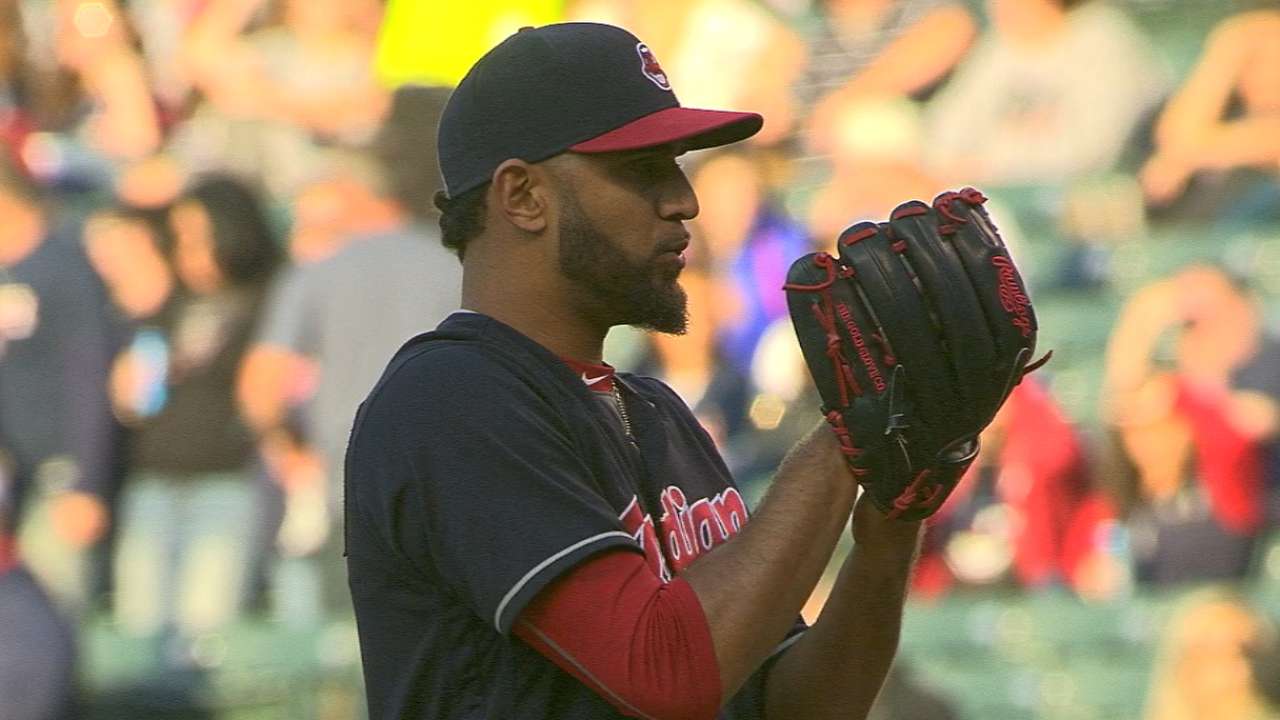 CLEVELAND -- Indians right-hander Danny Salazar faced an early test in Friday night's 7-1 win over the Royals when Lorenzo Cain reached on an infield single in the first inning. Whether he is in the batter's box or on the basepaths, Cain has the ability to put pressure on an opposing pitcher and ignite a rally.
A pickoff was not on Salazar's mind until catcher Yan Gomes called for it with dangerous Royals designated hitter Kendrys Morales in the batter's box. Salazar spun, snapped a relay throw to first base and caught Cain for a critical inning-ending out. That erased one of the only chances Kansas City had against Salazar, who then locked in and overpowered the Royals with 7 2/3 shutout innings and nine strikeouts.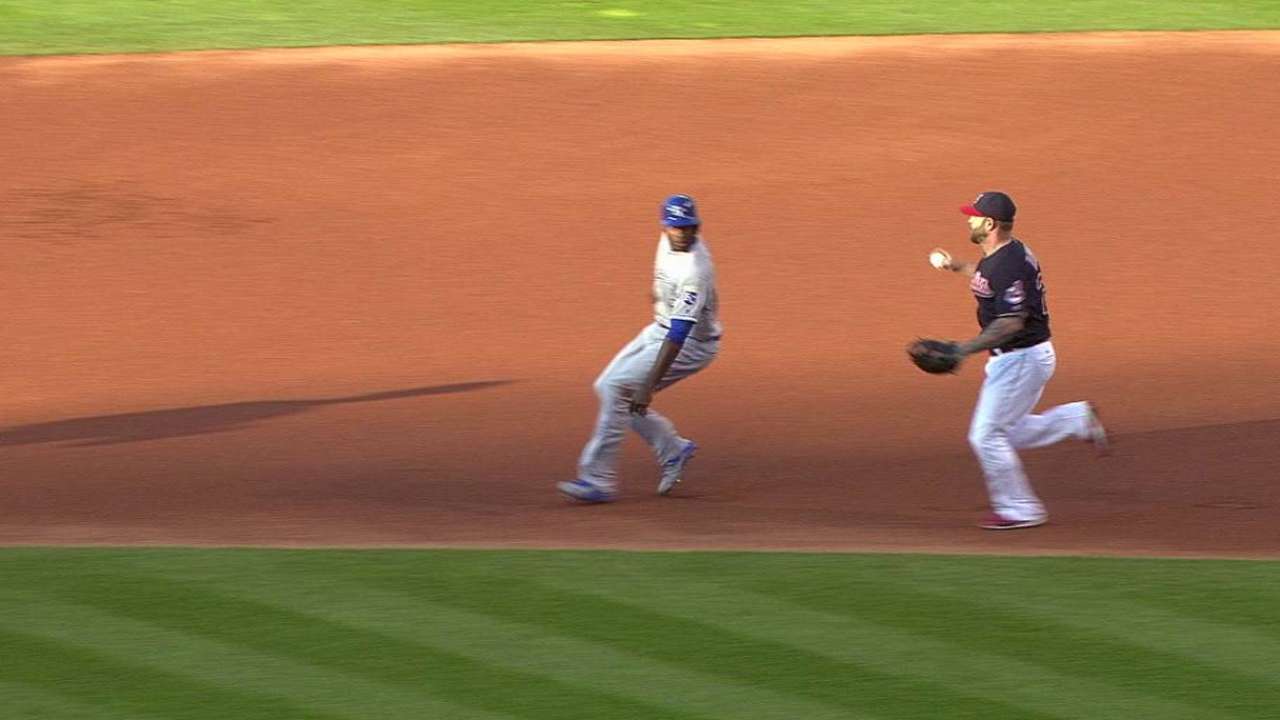 "That was his best start," Indians manager Terry Francona said. "He had good stuff from start to finish and he had all of his pitches. He was really letting it go, reached back for more when he needed it. That was an impressive start."
The Indians need as many outings like that from Salazar as they can get right now.
Last month, No. 2 starter Carlos Carrasco sustained a strained left hamstring that could keep him out until some time in June. That loss pushed Salazar up the rotation's depth chart behind ace Corey Kluber. That chain reaction did not stop there, either. Trevor Bauer moved out of the bullpen and back to the starting staff, and more responsibility has fallen on fellow starters Josh Tomlin and Cody Anderson, too.
The starters know they need to step up during Carrasco's absence.
"We miss him in the rotation right now," Salazar said. "But, we're working really hard -- all of us. I think we're doing pretty good. We're just going to wait for him to come back."
Against the Royals, Salazar issued just one walk was efficient early on, continuing the progress made in his previous outing. In his past 14 2/3 innings, which cover his past two turns for the Tribe, Salazar has 17 strikeouts against three walks. He had 13 walks in his first four starts of the season.
Along the way, Salazar has lowed his ERA to 1.91, which currently ranks fifth in the American League among qualified starting pitchers. He also ranks among the top five in WAR (1.2, according to Fangraphs.com), Fielding Independent Pitching (2.49), strikeout percentage (29.9), strikeouts per nine innings (10.9), home run rate (0.24 per nine innings) and opponents' batting average (.142).
"I'm happy to finally get all my stuff together," Salazar said. "I think everything was working today. I was getting ahead in the count with the first pitch and, if not, was coming right back with the next pitch for a strike."
After picking off Cain, Kansas City went 0-for-12 off Salazar until Christian Colon came through with a single to open the sixth inning. Salazar gave up three hits within his final 11 batters faced, but only once did the Royals advance a runner as far as second base.
"That was some dynamic pitching right there," Royals manager Ned Yost conceded. "Throwing 97 [mph] and then that splitter. He was tough."
Salazar was also tough last year, when he won 14 games and fanned 195 batters in his first full season in the big leagues.
The Indians need him to continuing taking another step forward this season.
"The more you go out there and play," Salazar said, "the more experience you get, the more you grow as a player."
Jordan Bastian has covered the Indians for MLB.com since 2011, and previously covered the Blue Jays from 2006-10. Read his blog, Major League Bastian, follow him on Twitter @MLBastian and listen to his podcast. This story was not subject to the approval of Major League Baseball or its clubs.