Correa fulfills promise, wows with cat-like reflexes
Astros SS follows Altuve's lead with homer for cancer patient, makes incredible clutch play on 3-hit night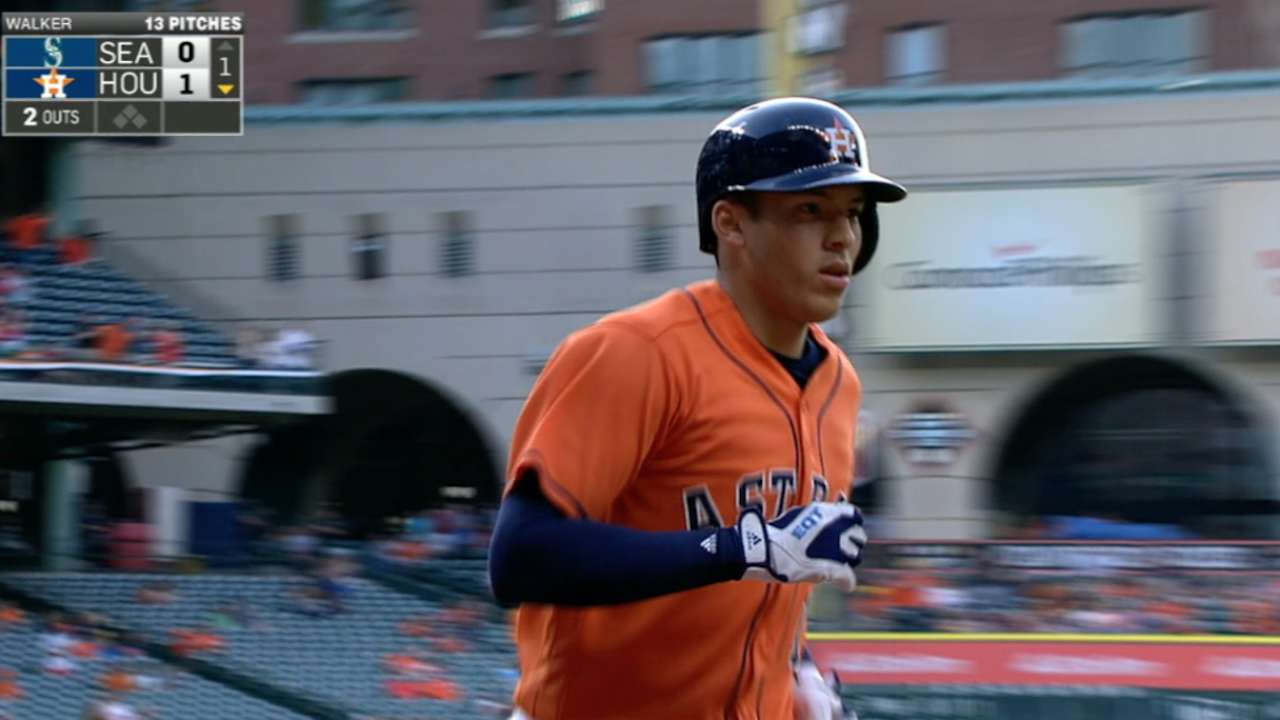 HOUSTON -- Carlos Correa may finally be heating up at the plate, hitting his fifth home run of 2016 while collecting three hits and a walk Friday night in the Astros' 6-3 win over the Mariners.
But he made the highlight reel thanks to his defense, diving to his right and making a sprawling catch with the bases loaded and one out in the seventh inning with the Astros protecting a 5-0 lead.
• Cast your Esurance All-Star ballot for Correa and other #ASGWorthy players
He also had a big night under similar circumstances to Jose Altuve's four-hit outburst on Thursday night. One day after 10-year-old cancer patient Dylan Tindall asked Altuve for a homer and the second baseman delivered with a leadoff shot, Correa followed his lead.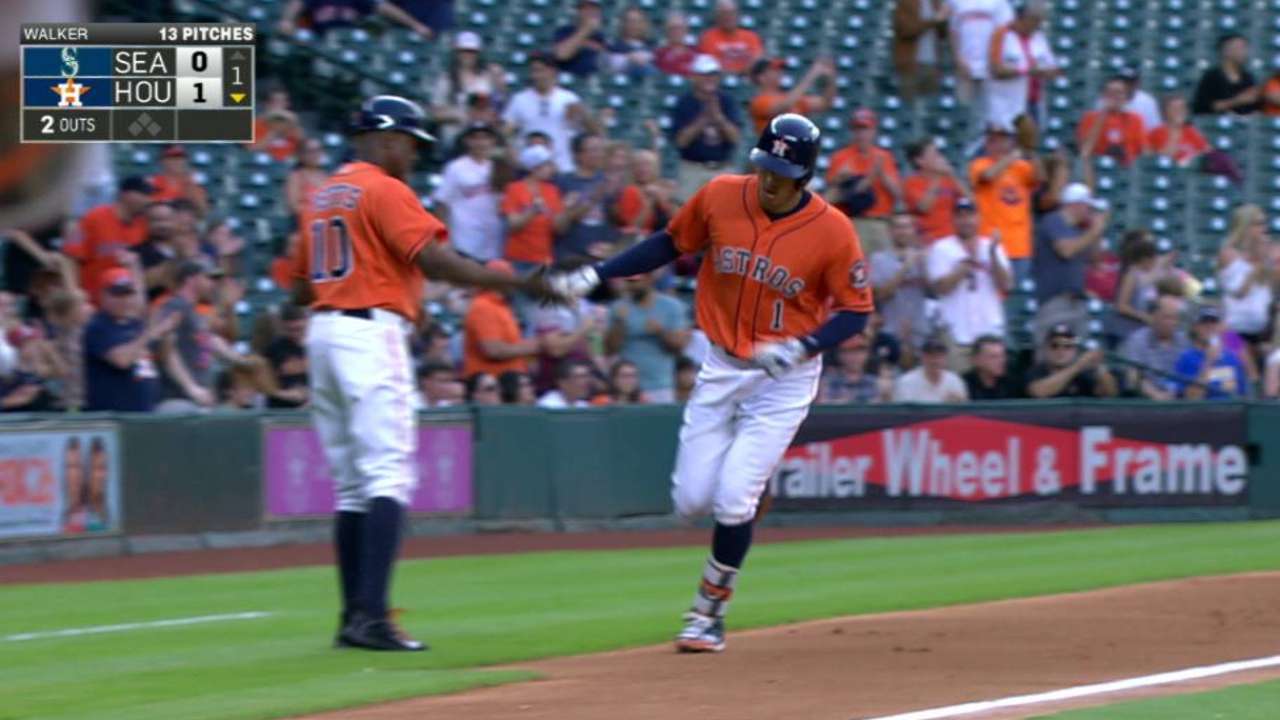 • Boy with cancer asks for homer; Altuve obliges
The double-play duo met with Tindall before the game, and this time, Tindall directed his home run request toward Correa. The shortstop obliged with an opposite-field home run in the first inning.
Correa was unavailable for comment after the game.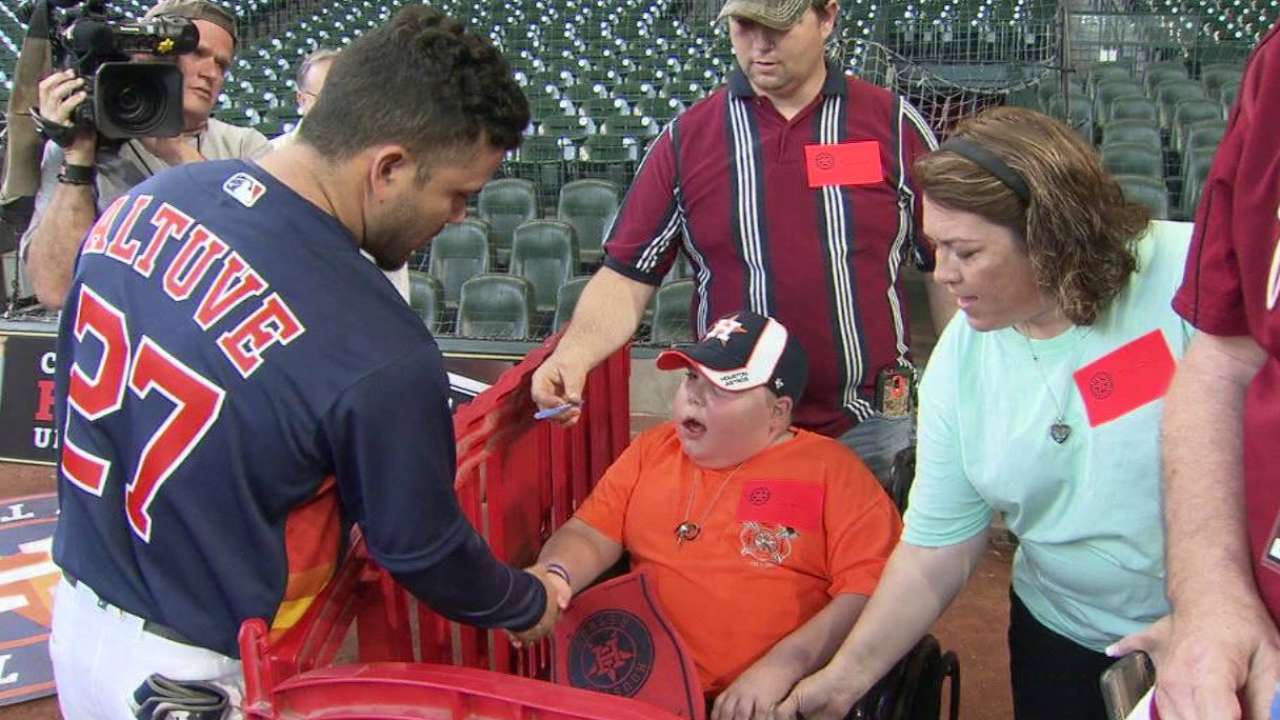 Still, the standout play was clearly the diving catch a couple of hours after Correa fulfilled his promise.
The snag ignited a crowd already amped after two early homers made for a big Houston lead.
Correa's advanced metrics at shortstop don't rank among the elite, but he consistently wows with his athleticism on acrobatic catches.
"Not too many shortstops have the length that he has in order to be able to reach it," Astros manager A.J. Hinch said. "He didn't have much time to really do anything other than lay out, and where he was playing in double-play depth, he was closer to the hitter. It should be no surprise. Carlos makes a habit of making some great plays."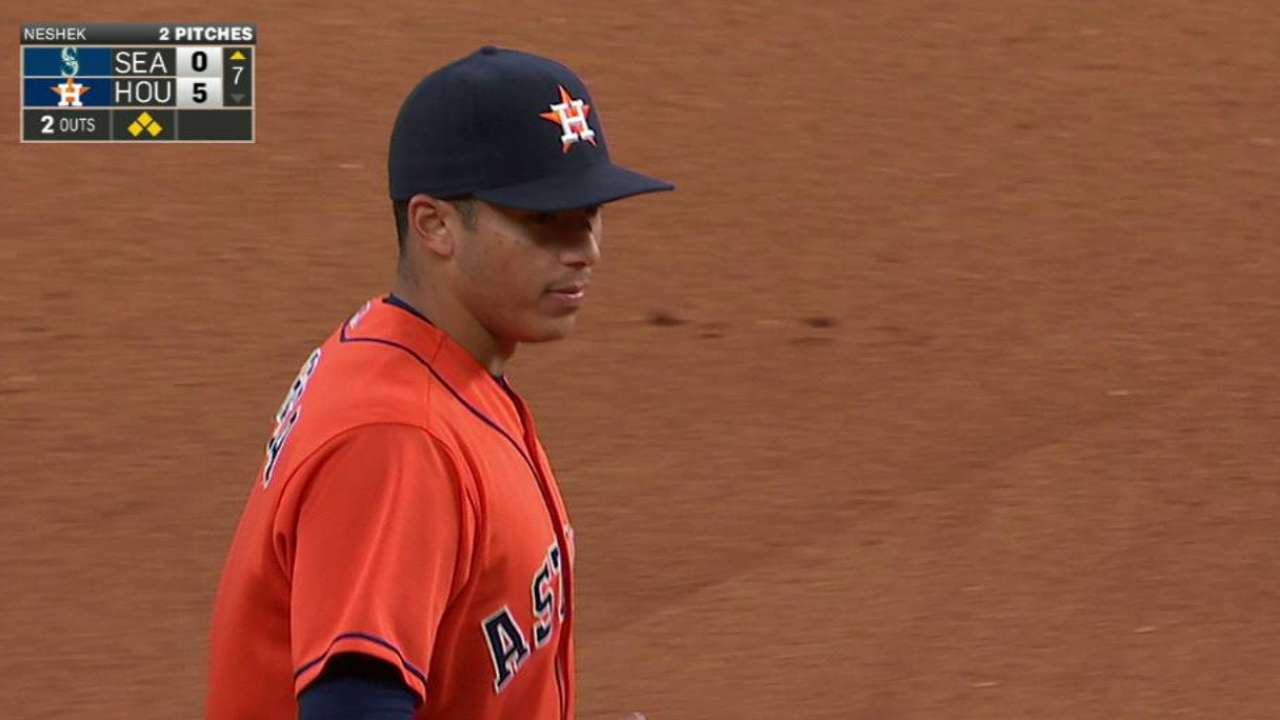 Maligned for his defense early in the season -- he made four errors in the first 25 games -- Correa backed up his spectacular grab by playing his cleanest defensive game of the season. The shortstop also made several tough throws on the run and made strong throws to complete double plays.
"Obviously he had to adapt on the line drive, on the ground ball that kicked up by his face," Hinch said. "The awkward one where he's in the shift up the middle and then the tweener hops. ... He's a real Major League shortstop."
Correa also briefly saved starter Doug Fister's shutout, as the grab came on Pat Neshek's first pitch in relief of the righty.
"That was amazing," teammate Marwin Gonzalez said. "It might have saved the [inning] right there. That was a really great play."
Correa's grab didn't totally prevent the damage, though. Ketel Marte laced a bases-clearing triple moments later.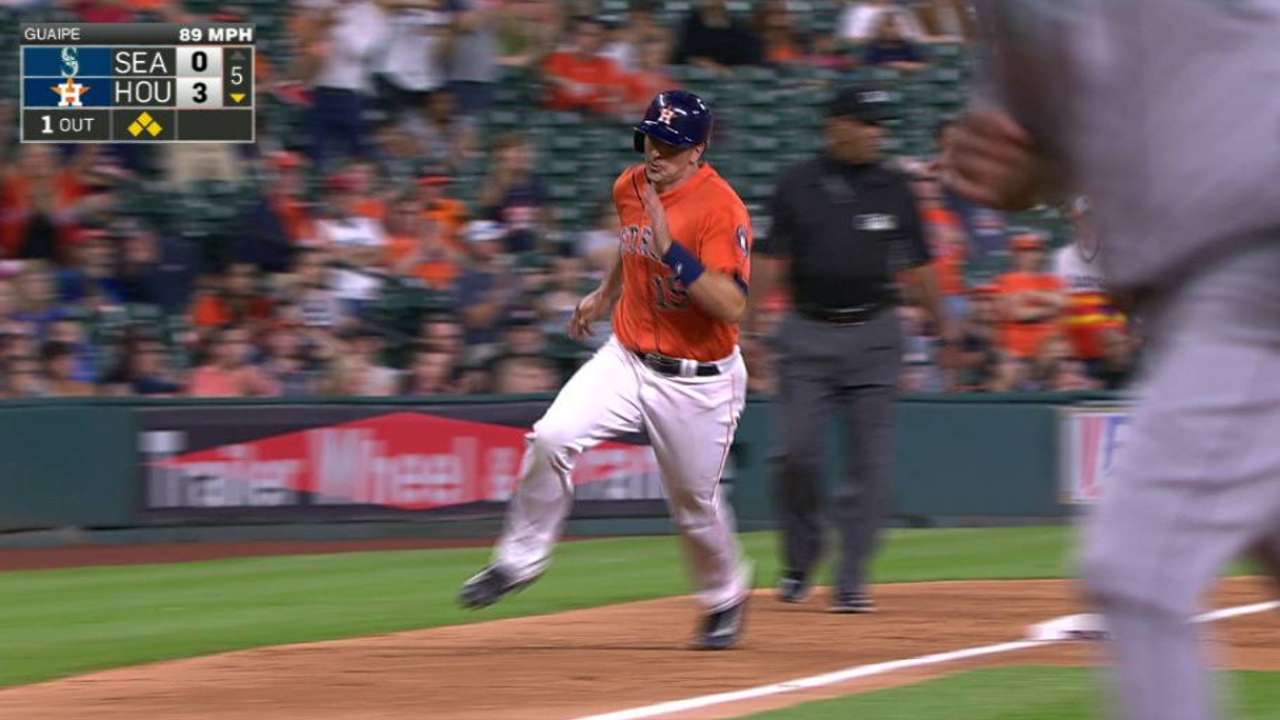 Correa also ripped two singles, giving him a pair of three-hit nights in his last three games. It's further proof that he might be putting a slow April behind him.
"It's funny, his cold days aren't near as cold as others," Hinch said. "But to have him be able to drive the ball the opposite way is big. ... He's a guy who has high standards. He's a guy who has a bull's eye on his chest every time he gets in the batter's box, and he's obviously getting more comfortable.
"He missed a few pitches over the last few weeks, but he hasn't been too far off."
Chris Abshire is a contributor to MLB.com based in Houston and covered the Astros on Friday. This story was not subject to the approval of Major League Baseball or its clubs.