Fun-loving Myers off to fast start with Pads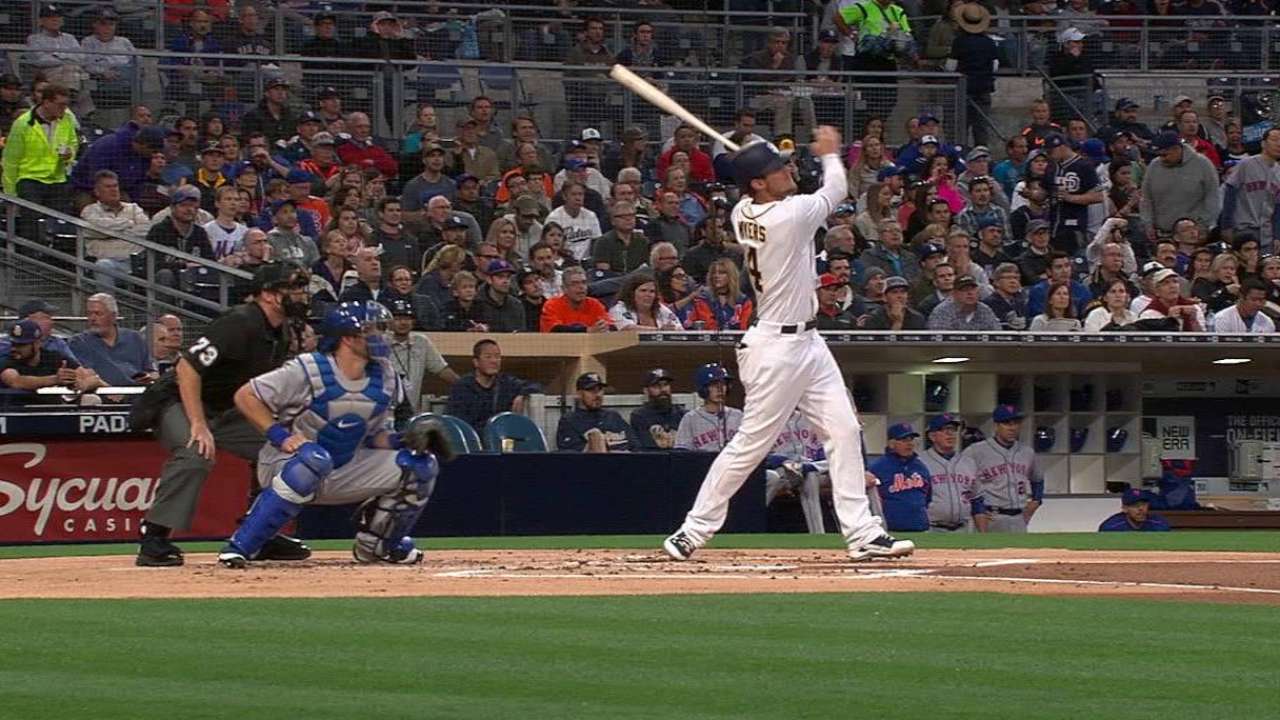 SAN DIEGO -- The Padres were sporting their throwback uniforms recently, the ones with a splash of yellow.
Check that: a single Padre was rocking the old-school color on this day.
First baseman Wil Myers tipped his cap to the Padres' popular hue of the past, but it's not what you think.
"He had a mustard stain on his pants before the game,'' Padres manager Andy Green said. "I said, 'Wil, this is a major league baseball game. We got more pairs of pants.' But he doesn't care.''
Where there's a Wil there's usually a whiff of wackiness. Few Padres are performing better; no Padre has more fun.
"He just wants to go out and play baseball,'' Green said before Friday's game against the Mets. "He loves being on the field.''
Myers, 25, oozes with enthusiasm and an aw-shucks demeanor which is refreshing. If Myers was still a pipsqueak player, he'd be the kid with the jersey untucked, the hat on backward and a toothy smile.
"He plays like it is a Little League baseball game,'' Green said before Friday's Mets-Padres outing.
But he's producing in a big-leaguer fashion.
Over his last 26 games, Myers has hit .314 (33-for-105) with six doubles, six home runs, 16 RBIs and 17 runs scored. In any league, that translates into a nifty .894 OPS.
"I feel good,'' said Myers, who set the tone in Thursday's 5-3 win over the Mets with a first-inning homer off Jacob deGrom. "I've got my approach working right now and I just want to keep riding it out.''
Myers, the 2013 AL Rookie of the Year, prefers looking ahead but he embraces what's behind him in the lineup: slugger Matt Kemp. With Kemp's presence looming, Myers is seeing, and handling, some good pitches.
"I enjoy hitting in the No. 2 hole,'' said Myers, who's batting .306. "To hit in front of Matt is a big deal.''
After every big save, there's Myers yucking it up with closer Fernando Rodney. When Rodney gets that last out and channels William Tell by shooting an imaginary arrow to the sky, Myers is right there to track where it lands.
"It's different every day,'' Myers said of the resting space.
The fun-loving Myers never changes. That goes for his baseball britches, too, which spins Green into the time machine.
"I remember my best friend, when we played Little League baseball, we wore Pirates uniforms and he always had a chili dog or mustard stain down his leg,'' Green said.
Sounds like Myers' kind of guy.
Jay Paris is a contributor for MLB.com based in San Diego. This story was not subject to the approval of Major League Baseball or its clubs.