Andriese to get callup for Sunday start vs. Halos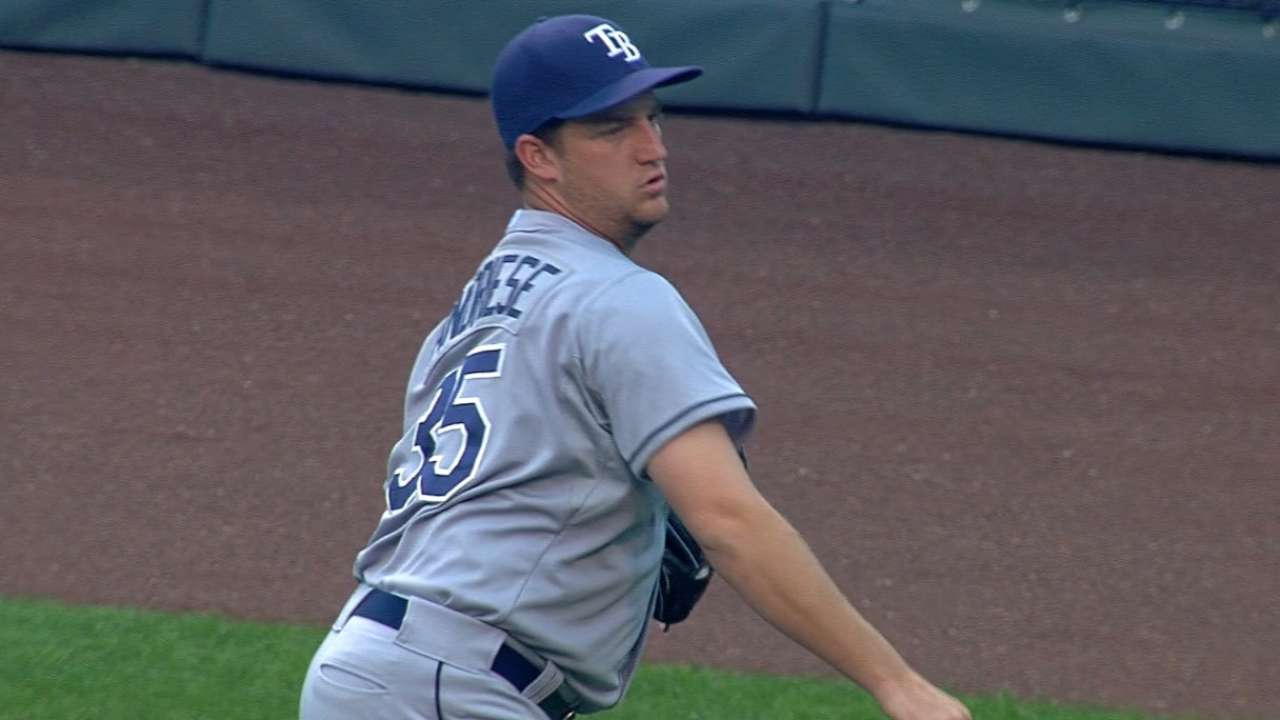 ANAHEIM -- Matt Andriese will start for the Rays on Sunday against the Angels in Anaheim.
Rays manager Kevin Cash originally thought that a fifth starter wouldn't be needed until the team reached Seattle. Instead, they decided to recall the right-hander Andriese from Triple-A Durham..
What that means is that Erasmo Ramirez -- who has been a weapon out of the bullpen -- will remain in the bullpen for now. Matt Moore, who would have pitched Sunday's game, will now pitch Monday, followed by Drew Smyly on Tuesday, and Chris Archer on Wednesday.
Cash explained the decision.
"Obviously I think we like the right-handed pitcher against [the Angels'] lineup," Cash said. "You can plan for that and it doesn't always work out. But looking at the numbers as much as we do, valuing that, it probably makes the most sense to have a righty."
As for Ramirez?
"From my perspective, you look at how much he's doing to help us win games right now," Cash said. "What he's doing, I don't know if it's worth it to take him out of that role. Because ultimately I know we'd get a good performance out of him on Sunday. But you're talking about five days that it interferes with everything he's doing [out of the bullpen]."
Andriese went 3-5 with a 4.39 ERA in 2015 when he appeared in 25 games (eight starts) for the Rays. Cash said he liked what he saw from Andriese in Spring Training "a lot."
"From all reports we've heard, it's just stayed right there, very good stuff," Cash said. "He's just had a lot of consistent outings. We're looking forward to seeing him."
Cash noted that "everything was more crisp" with Andriese this year.
"More consistent," Cash said. "You could tell there was probably a little more conviction than what he was doing last year. ... Looked like there was a lot of conviction on everything he was doing during Spring Training. And it sounds like there obviously has been a lot in Durham this year."
Andriese is 1-2 with a 3.41 ERA in six starts at Durham this season, including a 14-strikeout performance on Tuesday against Indianapolis.
A roster move will need to be made before Andriese is activated on Sunday. Cash said it hadn't been determined whether Andriese would remain with the team past Sunday.
"A lot of that [decision] is predicated on our bullpen, how it goes in the coming days," Cash said.
Worth noting
• MLB Network's new children's show, "Play Ball," will feature Evan Longoria Saturday at 10 a.m. ET. The show, an extension of the Play Ball initiative that MLB and USA Baseball launched in 2015, includes tips on how kids can participate in all forms of baseball activities, plus highlights on and off the field from throughout MLB. Sean Casey hosts this week's show that was taped at Tropicana Field in April.
Bill Chastain has covered the Rays for MLB.com since 2005. This story was not subject to the approval of Major League Baseball or its clubs.