Greene aggravates blister during side session
Tigers righty, who is on the disabled list, will miss at least one more start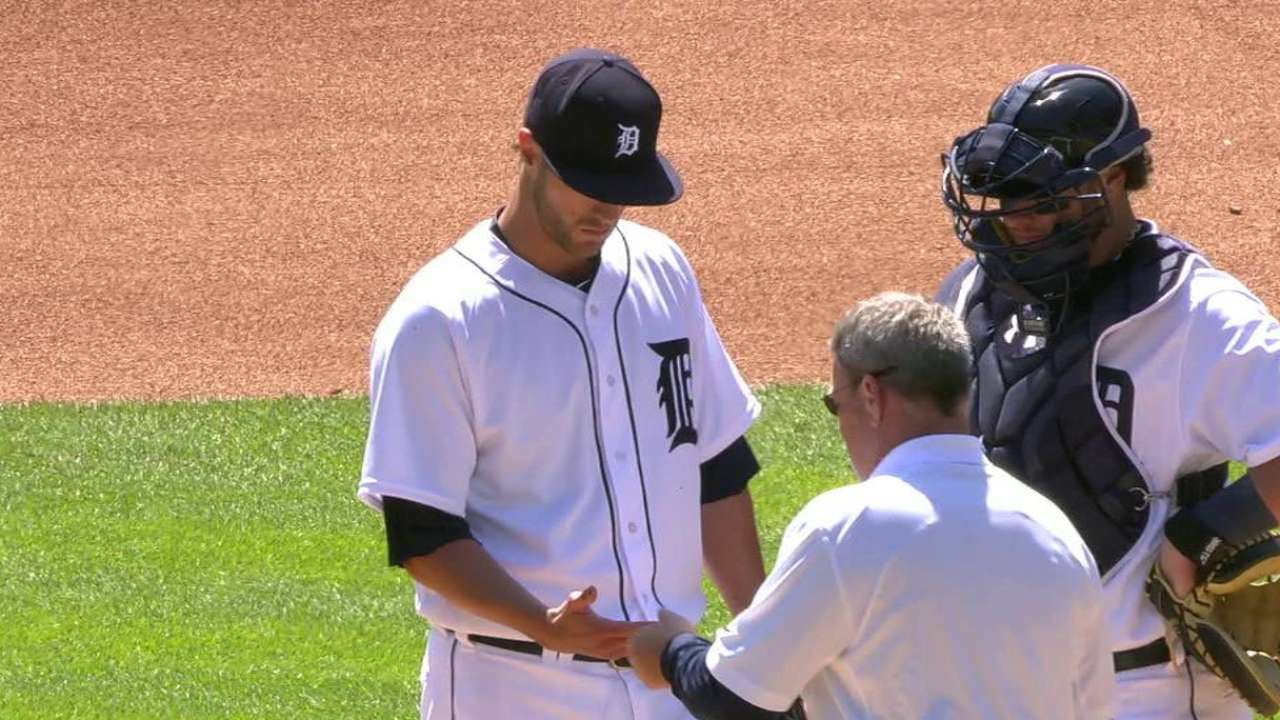 DETROIT -- Shane Greene's return to the rotation won't come as soon as the Tigers had hoped, after the tip of his right middle finger split open during a side session on Thursday.
Greene (1-2, 6.28 ERA) was placed on the 15-day disabled list last week, retroactive to April 25, with a blister on the finger. The Tigers expected him to miss two starts, but it looks like there will be a third.
"He did throw and the tip of his finger split open again and started bleeding," manager Brad Ausmus said Friday. "So he's going to be a little longer."
There isn't any long-term concern from Ausmus, who said it'll only push back Greene's return a bit more.
"It'll be longer," Ausmus said. "It wasn't severe. It's not like his finger fell off. He didn't need stitches. It just started bleeding again."
In place of Greene has been rookie Michael Fulmer, and Ausmus said the Tigers are currently preparing as if Fulmer will make another start, against the Nationals on Tuesday.
Fulmer is 1-1 with a 6.30 ERA in the first two starts of his Major League career. He allowed two runs over five innings against the Twins, before allowing five runs over five innings to the Indians on Thursday.
"Right now, we're preparing as if he'll make another start," Ausmus said.
Fulmer has allowed 17 hits and three walks in 10 innings, but Ausmus is hopeful more experience will help the 23-year-old.
"My guess is the one impression he probably gleaned from his first two outings is the importance of fastball command," Ausmus said. "I think he also should [realize] that he can get big league hitters out, though."
Chris Vannini is a contributor to MLB.com based in Detroit. This story was not subject to the approval of Major League Baseball or its clubs.