Zobrist keeps up hot streak in Windy City
Second baseman notches 2 homers to lead victory over Nationals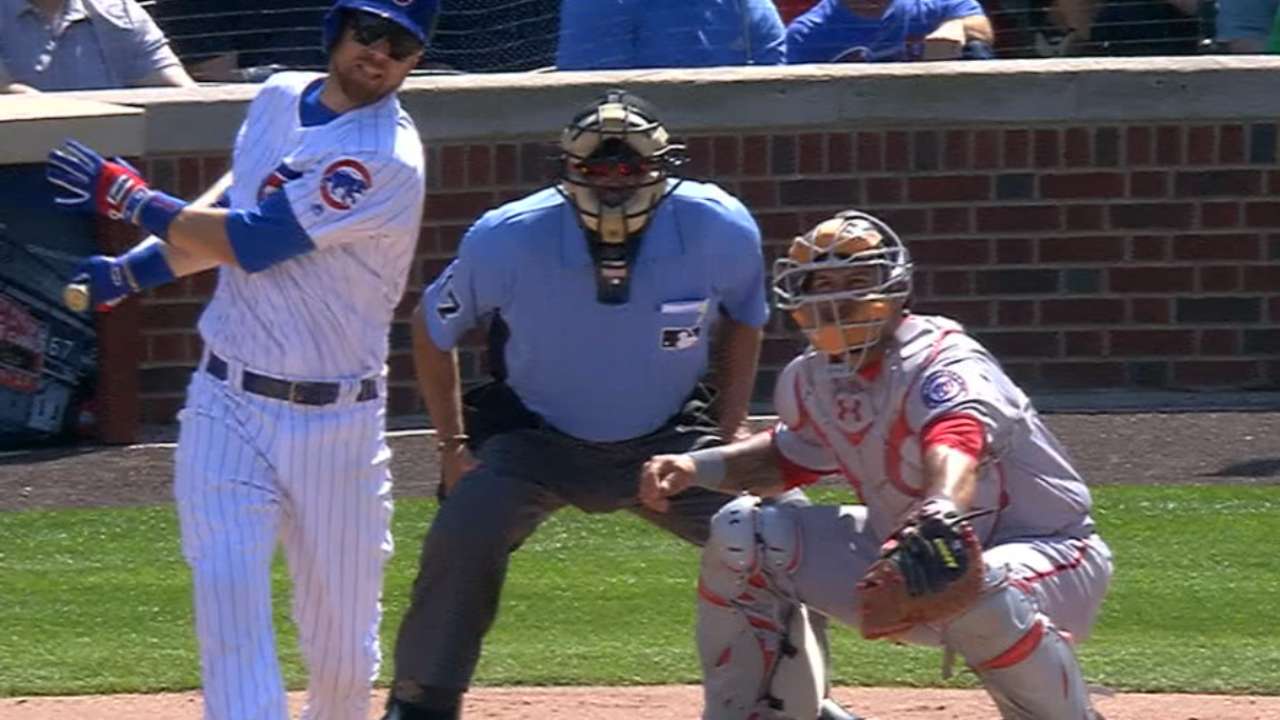 CHICAGO -- As Ben Zobrist was getting ready to take the field Friday, someone mentioned that the wind was blowing out at Wrigley Field.
"Everybody was like, 'Yeah, right,'" said Zobrist, who had only seen the wind blow in or a crosswind in the previous 11 games at Wrigley. "I think once we got out there and saw it was actually blowing out a little, I think our lineup was kind of licking its chops. It was a good day to get some fly balls."
• Cast your Esurance All-Star ballot for Zobrist and other #ASGWorthy players
Zobrist did just that, hitting a pair of home runs and driving in four in the Cubs' 8-6 victory over the Nationals. It was his sixth career multihomer game, and he has homered in three straight games. In his past five games, Zobrist is 7-for-18 with four home runs and 14 RBIs, with eight of those RBIs coming in the past two games against the Nationals.
"I've seen this before, and it's so nice to see this power resurgence," said Cubs manager Joe Maddon, who has known Zobrist since their days together with the Rays. "He's getting pitches and not missing them, and it really provides protection for [Anthony Rizzo]. The other team has to think twice, and that's good."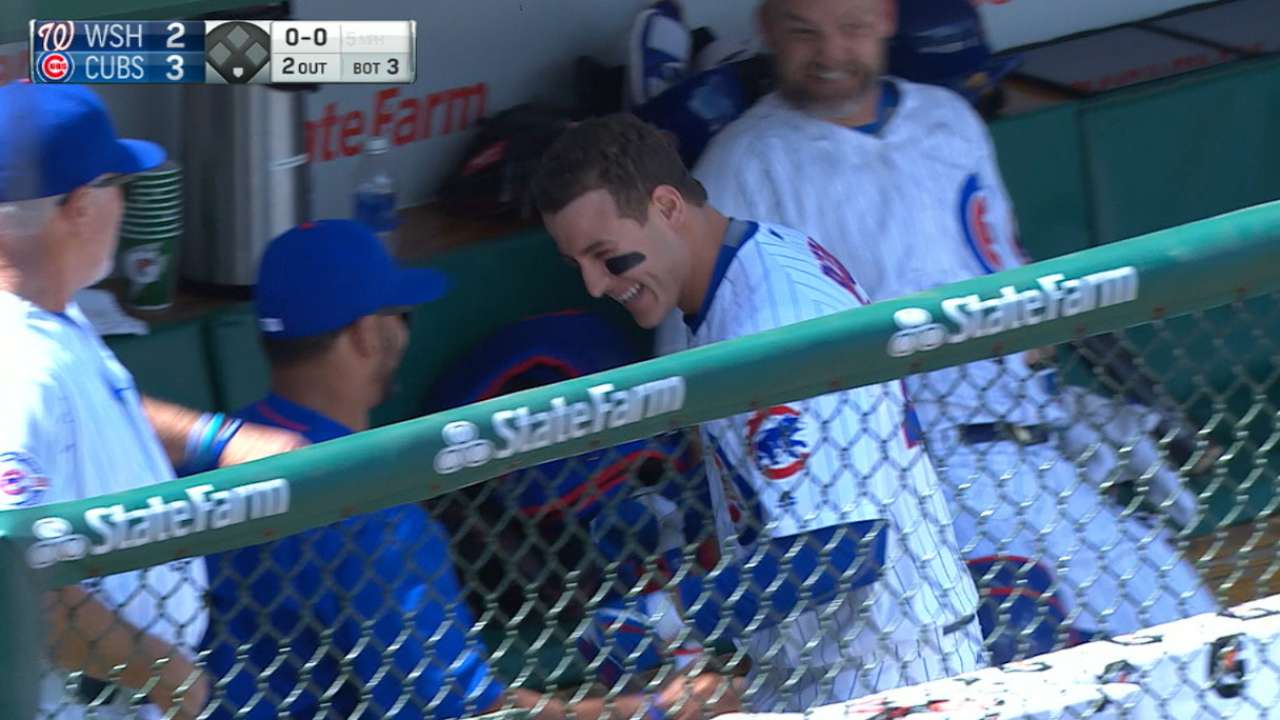 As far as the wind currents at Wrigley, Rizzo said he has a love/hate relationship with the stadium because of days when the wind blows in. Friday's game reminded Maddon of some crazy Texas League games. Rizzo, who set up Zobrist's first home run off Max Scherzer with his 10th of the season with two outs in the third inning, has learned.
"Every day, I look out my window," Rizzo said. "I see which way the flags are blowing from my place, and I know which way the wind is blowing."
"Probably a week ago, both of those balls I hit today, they would've been caught," Zobrist said. "I'm feeling good right now, and we're playing great baseball."
There are other nuances of Wrigley that Zobrist, new to the Cubs this year, is learning. He likes how the on-deck circle is close to home plate so he can pick up speeds and movement on pitches. When he saw the flags blowing toward Lake Michigan because of the 9-mph southwest wind, he didn't change his approach.
"You try not to overthink it and just go up there and not try to be too technical or assume he'll throw a specific pitch," Zobrist said. "You see the ball up in the zone and put a good swing on it and trust your swing at that point."
More important to Maddon is Zobrist's patience at the plate. Since April 18, his slash line is .327/.448/.673, and he has five home runs, 20 RBIs and an OPS of 1.121.
"The positive impact he has, just by being around him, it's hard to quantify," Maddon said. "He's this thing that spreads in a manner that it's almost like a good virus. He's always been that way."
A virus?
"I don't think I've ever had him describe me as a virus," Zobrist said. "I'll take it, if it translates to being a part of good chemistry, a good atmosphere. That's part of what I wanted to help be a part of here."
Maddon recalled 2007, when he had to send Zobrist to the Minor Leagues.
"He always says, 'Keep it going guys, there's something special here. All I care about is winning,'" Maddon said. "That's what he'd say to you as he's going out the door and he hadn't been established as a Major League player. All he wants to do is win. When you get guys who understand that concept, they contribute to winning moments, and that's what he does."
Carrie Muskat has covered the Cubs since 1987, and for MLB.com since 2001. She writes a blog, Muskat Ramblings. You can follow her on Twitter @CarrieMuskat and listen to her podcast. This story was not subject to the approval of Major League Baseball or its clubs.