Yanks prevail after Papi milestone, meltdown
NEW YORK -- Andrew Miller prevailed in an epic ninth-inning showdown against David Ortiz and the Red Sox, nailing down a four-out save that stamped a wild finish on the Yankees' 3-2 victory on Friday at Yankee Stadium.
Protecting a one-run lead after Aaron Hicks delivered his first home run in pinstripes, Miller loaded the bases with one out, but he escaped by striking out Big Papi looking and Hanley Ramirez swinging to lock down his sixth save.
"My heart is still racing," Miller said. "I think it's something that's going to take a little while to come down from."
Red Sox manager John Farrell was ejected during Ortiz's at-bat for arguing the strike-two call that appeared to catch the bottom of the zone. Strike three to Ortiz appeared to miss the bottom of the strike zone, but home-plate umpire Ron Kulpa called it strike three.
After Ortiz returned to the Boston dugout, he started barking at Kulpa and was immediately ejected, with the slugger having to be restrained by Farrell and third-base coach Brian Butterfield.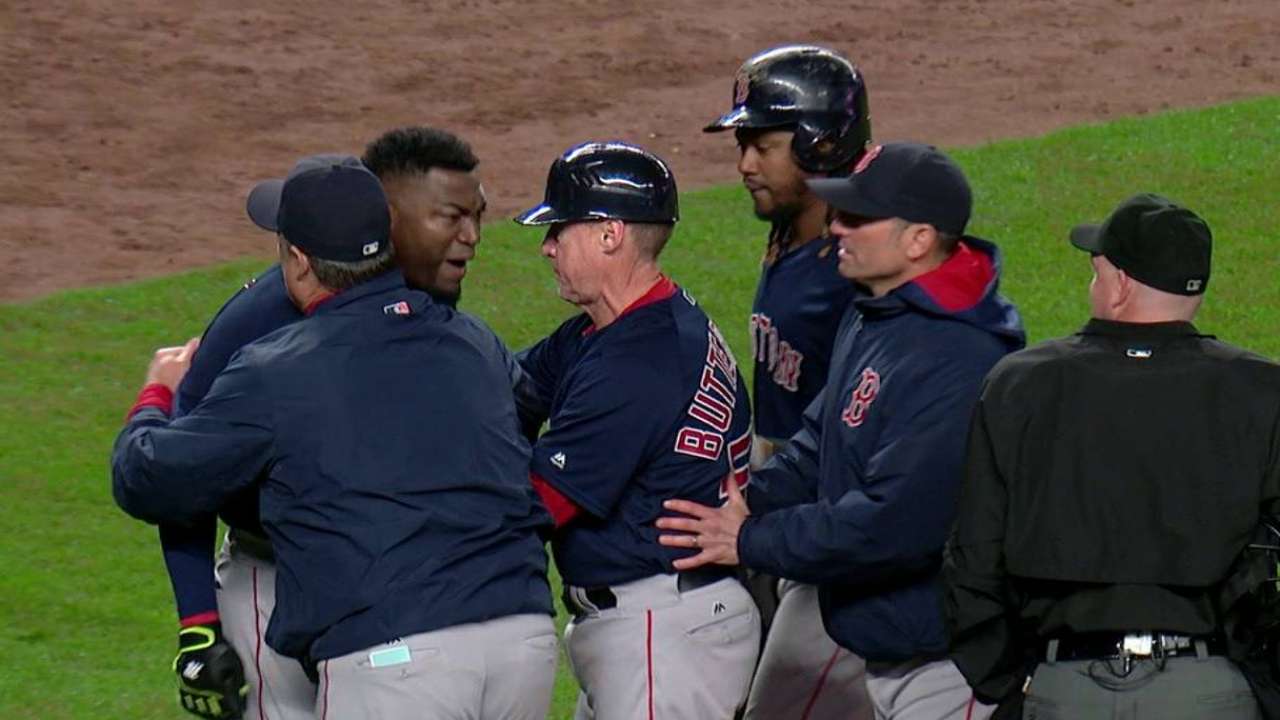 "In that at-bat? Everything was a ball," said Ortiz, who in the first-inning belted a two-run homer, giving him 50 career homers vs. the Yankees. "Even the one I swung at was a ball. Miller was pitching very careful. Know what I'm saying? Look at that whole entire at-bat, everything was a ball. Even the one I swung at, the fastball in, was a ball."
Hicks' seventh-inning blast to right-center field was projected by Statcast™ to land 446 feet away, making it the longest hit by a Yankee this season. It provided the deciding blow in a tight duel between Porcello and Michael Pineda, who held Boston to a first-inning, two-run Ortiz home run over six frames.
Brian McCann had a first-inning RBI double and Dustin Ackley lined a second-inning run-scoring single off the New Jersey-born Porcello, who took his first loss of the year after permitting three runs and six hits over seven innings. The victory was credited to Kirby Yates, who recorded two outs in the seventh.
"It feels big, but we have so long to go," Miller said. "We have the right people in here. If we keep chipping away and if we can win some series, go on some runs, I think we'll be fine."
MOMENTS THAT MATTERED
Miller wins the battle: Miller and McCann got crossed up on the 3-1 pitch that was called a strike by Kulpa, and McCann's awkward reaction -- he had been expecting a fastball and instead had to stab at an 83 mph slider -- may have sparked some of Big Papi's reaction. Kulpa even acknowledged that "McCann didn't help me out" in making the call, but Miller lauded the umpire for sticking with the pitch through the zone. Farrell raced out to save Ortiz and got tossed himself, and one pitch later, Ortiz was down on strikes and would soon join his manager in the clubhouse.
"The one he caught funny, Ortiz got mad," Miller said. "I don't know, I only watched it once, but I thought his reaction was more to the way McCann caught the ball. It probably was a strike. I think it was really fortunate the umpire stayed with us. Not all of them do that. It was obviously a huge call. That's the game." More >
Ellsbury exits early: Jacoby Ellsbury tried to single-handedly spark the Yankees' offense in the first inning, stealing both second and third bases, but he strained his right hip rounding third base on the wet turf. Ellsbury limped home on McCann's run-scoring double and headed for the clubhouse.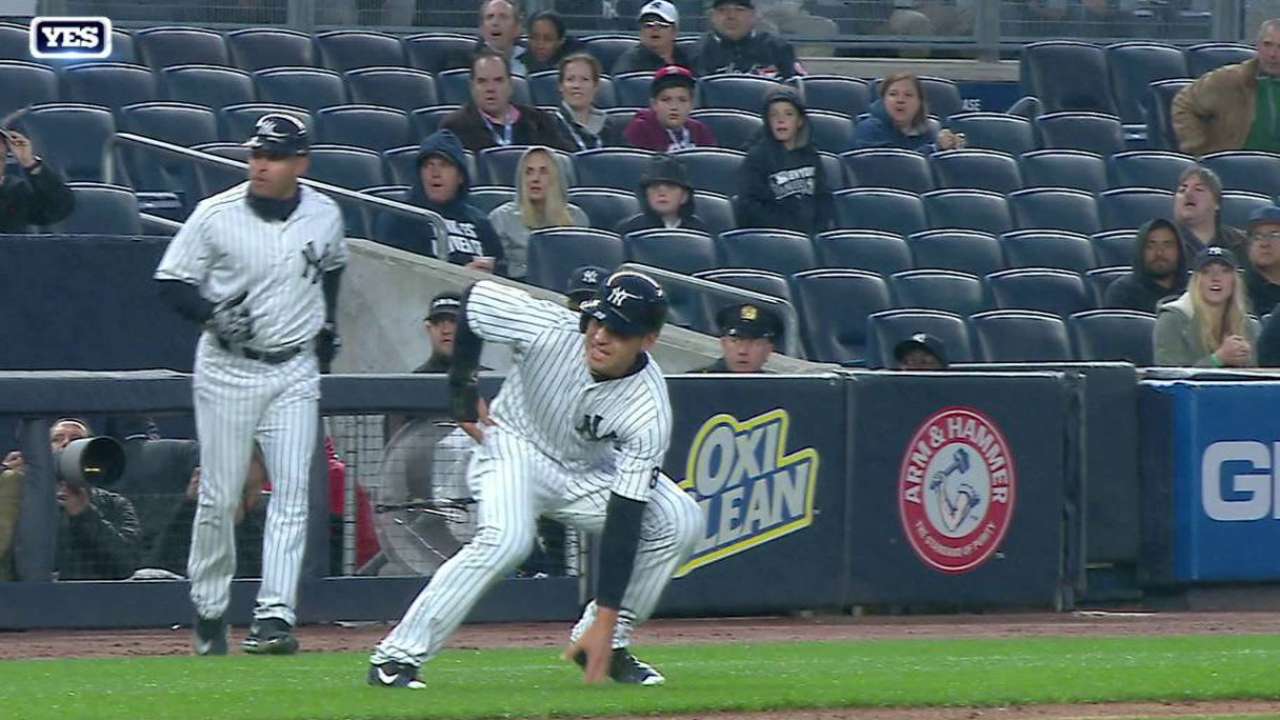 Yankees manager Joe Girardi said that an MRI revealed a "little strain on a hip muscle" and that Ellsbury is day to day, guessing that it would be at least two games before he returns. More >
Papi ties Yaz, passes Sheff: Ortiz's two-run homer to right-center in the top of the first was No. 452 in a Red Sox uniform, tying him with Hall of Famer Carl Yastrzemski for second in team history. It was No. 510 in Ortiz's career, as he passed Gary Sheffield for 25th on the the all-time list. The long ball was Ortiz's 50th all-time against the Yankees, placing him sixth all-time in that category. More >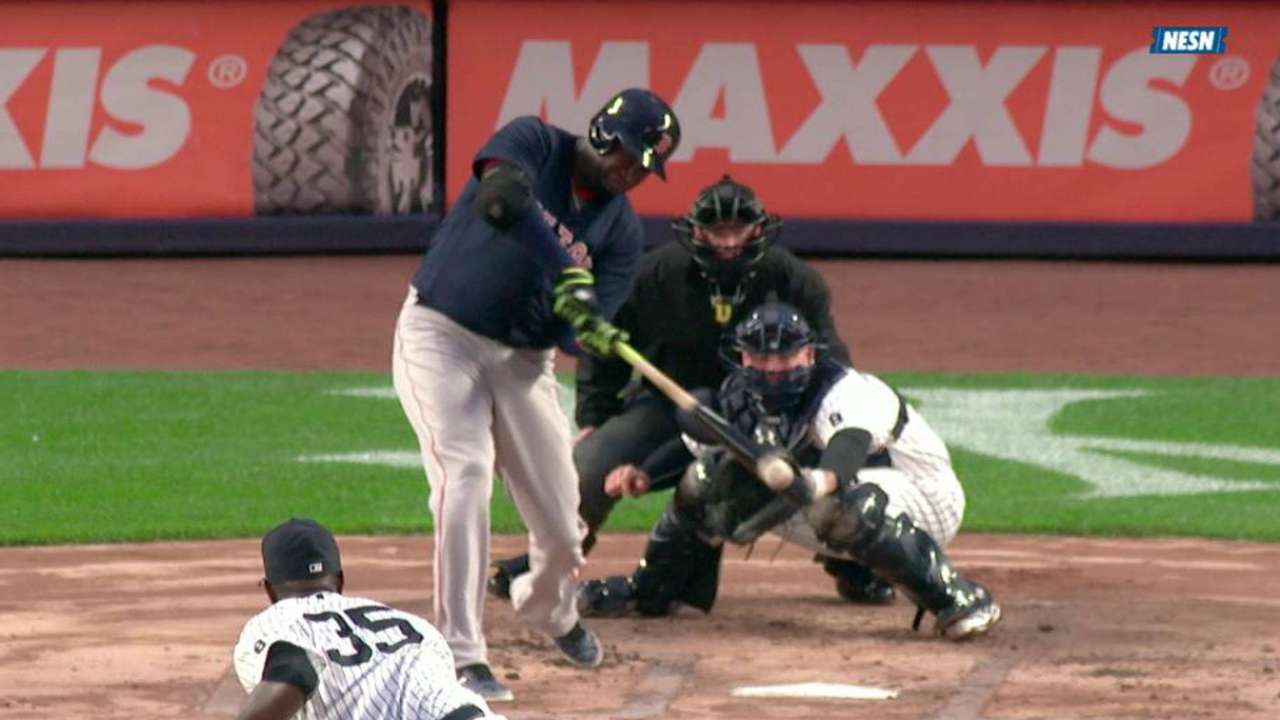 Big Mike helps himself: Pineda was not pleased when consecutive sixth-inning hits fell in front of Hicks in center, raising his arms in frustration as Travis Shaw and Brock Holt singled to load the bases with one out. Pineda escaped the jam by inducing Jackie Bradley Jr. to hit into a 6-3 double play. It was Pineda's 106th and final pitch of the evening, and the outing represented a step forward after he needed the same amount of pitches to grind through five in Boston on Saturday.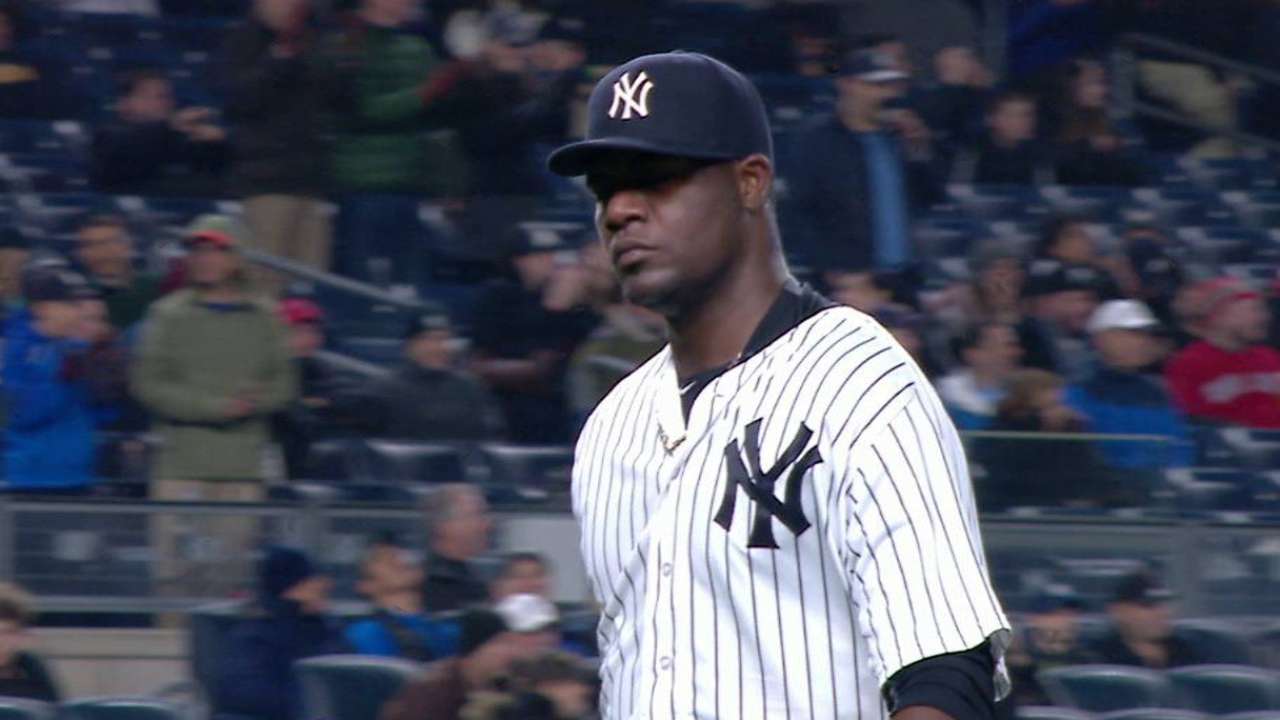 "Tonight it [was] very hard; [the] conditions, not very good," Pineda said. "It's very tough for the outfielders, but glad I got the ground ball for the double play."
Missed opportunities haunt Sox: After missing out on that golden opportunity in the sixth, the Red Sox again had a strong chance in the seventh when Christian Vazquez led off with a double. Mookie Betts tried to move him over with a bunt, but he popped out to McCann. Dustin Pedroia lined out, and Xander Bogaerts struck out looking on a borderline pitch to end the inning. The Yankees gained momentum, as Hicks led off the bottom of the seventh with the solo shot that broke the tie.
"I can't say enough about our guys after an extremely [long travel] night," said Farrell. "We found a way to continue to dig deep, create some opportunities. We didn't get a key hit when we needed one. The energy that we dug deep to get, to continue to build opportunities was fantastic by our guys." More >
QUOTABLE
"I felt like I made some pretty good pitches and we got the calls, I guess. They got an infield hit, a blooper -- what else do they want to go their way in an inning? They can't have it all." -- Miller, on the ninth
"It's just another game, another big game between the Yankees and Red Sox. Emotions are high. It's just part of the game." -- Kulpa, on the fireworks in the ninth
SOUND SMART WITH YOUR FRIENDS
Of the six players who have hit 50 homers or more lifetime against the Yankees, Hank Greenberg is the only one who didn't spend any of his career with the Red Sox.
WELCOME TO THE SHOW
Ben Gamel made his Major League debut for the Yankees in the eighth inning, entering as a defensive replacement in right field. Gamel was selected by New York in the 10th round of the 2010 Draft.
WHAT'S NEXT
Red Sox: Lefty David Price will try to recover from a subpar outing last time out against the Yankees, when he was touched up for eight hits and six runs over seven innings. Price has been far better on the road this season (2-0, 2.57 ERA) than at home. First pitch on Saturday is scheduled for 1:05 p.m. ET.
Yankees: Right-hander Nathan Eovaldi (1-2, 5.46 ERA) will get another crack at the Red Sox on Saturday, one start after he surrendered a season-high six earned runs and 10 hits in five innings at Fenway Park. Eovaldi is 2-0 with a 5.73 ERA in four career starts vs. Boston.
Watch every out-of-market regular-season game live on MLB.TV.
Bryan Hoch has covered the Yankees for MLB.com since 2007.

Ian Browne has covered the Red Sox for MLB.com since 2002. Read his blog, Brownie Points, and follow him on Twitter @IanMBrowne.

This story was not subject to the approval of Major League Baseball or its clubs.