CC placed on DL; Nova slides into rotation
Veteran left-hander strained groin in Wednesday's start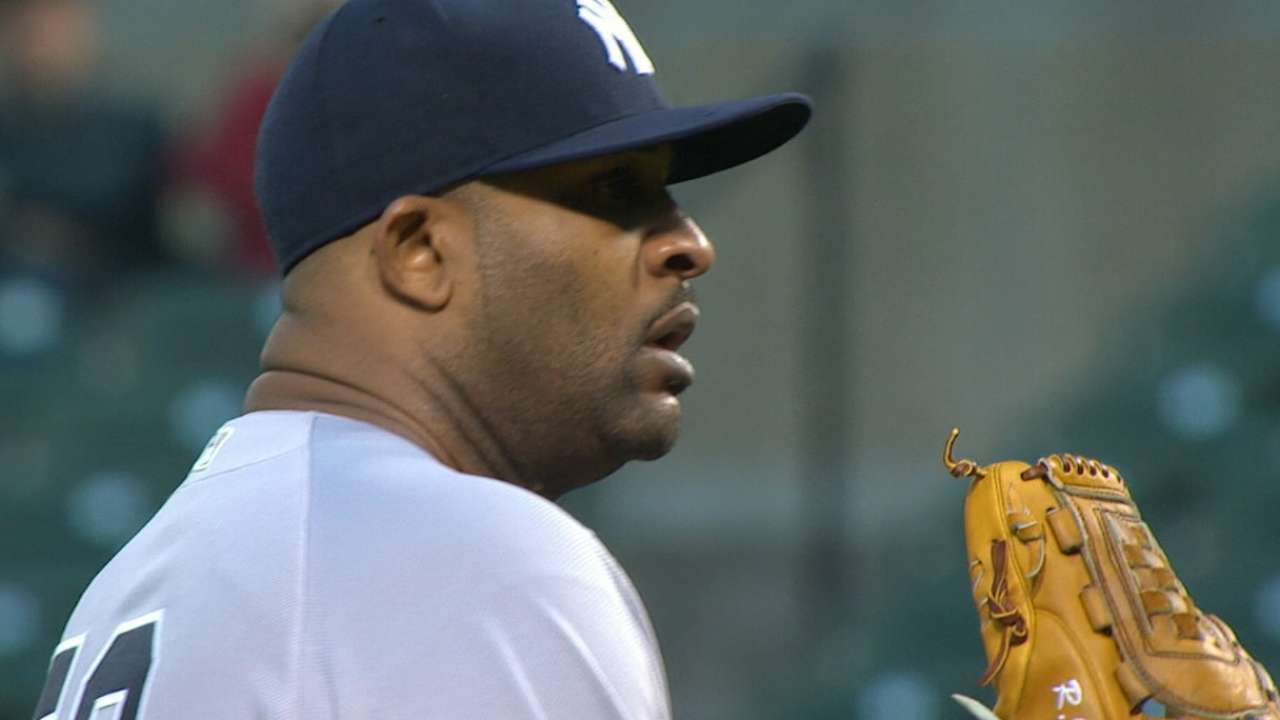 NEW YORK -- Coming out of his last start, CC Sabathia seemed like the ace of old. But on Friday, after throwing seven shutout innings just two nights earlier in a win against Baltimore, the 35-year-old left-hander was placed on the 15-day disabled list with a left groin strain.
"It's unfortunate," Yankees manager Joe Girardi said, "because it's probably the best changeup CC's had in a couple of years. Probably the best outing he's had in a couple of years, but you've got to deal with it."
Girardi said that Sabathia told him he sustained the injury in the fourth inning of Wednesday's game. The injury came on a pitch, not a defensive play. Sabathia elected not to tell Girardi about the injury until after his start ended.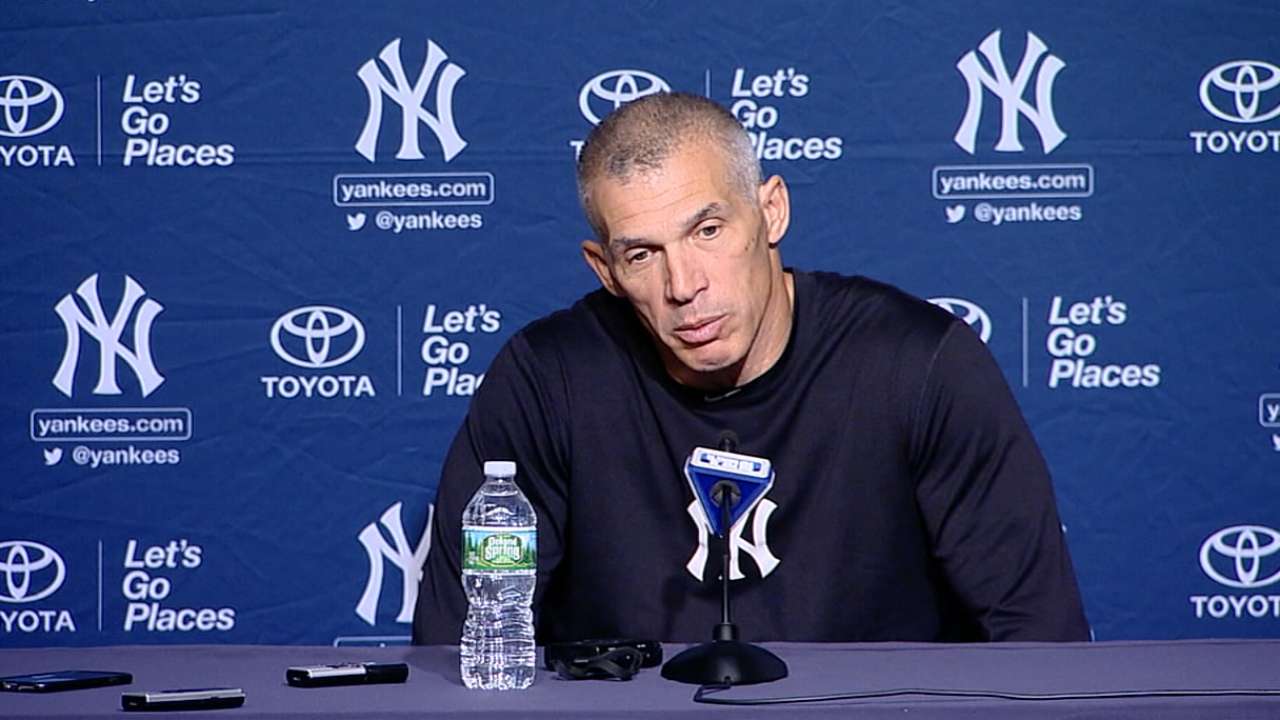 To make up for the loss of Sabathia, Girardi made two strategic decisions. First, to replace Sabathia in the rotation, Girardi promoted Ivan Nova from out of the bullpen. Second, to replace Sabathia on the roster, the Yankees selected left-handed pitcher Phil Coke from Triple-A Scranton/Wilkes-Barre.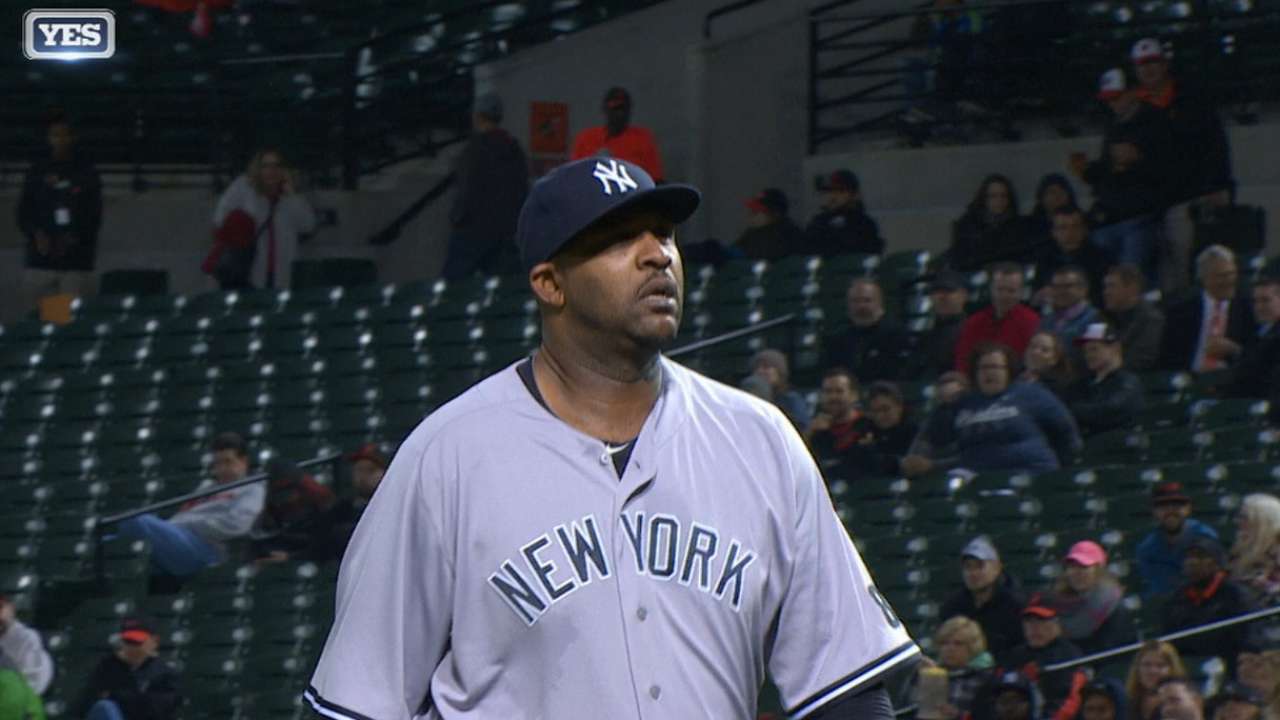 Nova is no stranger to distance, as the 29-year-old right-hander has made 103 starts for the Yankees over the last seven seasons. Run prevention has been a bit of a struggle, however, as Nova has not posted an ERA below 5.00 since 2013.
Despite this, Nova began the season serving the role of the Yankees' long reliever out of the bullpen, something that has kept him stretched out to possibly make a spot start if necessary. So when the news of Sabathia's injury came Friday, the Yankees quickly rushed Nova to pitch a long bullpen session to stretch out even further. But Nova, being rather unpresumptuous apparently, said no one told him Sabathia had gone to the DL and he had no idea he was being primed to start.
That said, he was ready.
"I knew that at some point in the season they were going to need me to start," Nova said. "I don't want anyone to get hurt, but it's part of the game. You better be out there prepared."
With Nova entering the rotation, the Yankees needed someone to fill his void left in the bullpen. Enter Coke. Though the left-hander has been in the Yankees organization for less than two weeks, Girardi said he saw something from Coke in Scranton that merited the callup.
"Cokey's been throwing well down there," Girardi said. "He's a guy who can be just for left-handers or give you distance. He was up to 72 pitches the other day, so it kind of gives you the best of both worlds when you lost Nova to the rotation."
In two appearances at Triple-A, Coke went 2-0 with eight strikeouts in seven innings. Coke has not pitched in the Majors since 2015 with the Blue Jays. He made his Major League debut with the Yankees in 2008, but he has not pitched for the Bombers since '09.
"It feels like home, man," Coke said of returning to the Bronx. "I grew up in this organization. I was able to see the old ballpark before they tore it down and I was able to break this one in correctly. Now I'm back to finish some unfinished business."
Nick Suss is a reporter for MLB.com based in New York. This story was not subject to the approval of Major League Baseball or its clubs.