MLB.com Columnist
Terence Moore
Passion an enduring aspect of Red Sox Nation
Contrary to Jeter's quip on 'Late Night,' die-hard fan base hasn't lost a step
It was stunning this week to hear Derek Jeter say baseball's most historically passionate fan base north of Yankee Stadium and east of those ivy-covered walls in Chicago had lost its zing.
Actually, I'm being kind. To hear Jeter tell it, those among Red Sox Nation are docile these days, especially when it comes to the Yankees, the franchise they once crowned as "The Evil Empire."
"You guys have really -- I can say this now, because I'm retired -- the Boston fans have softened up since you guys have won," said Jeter during an appearance on "Late Night with Seth Meyers."
His remark was partly about Meyers as a die-hard Red Sox fan, but mostly about the Red Sox capturing three World Series championships since they exorcised The Curse of the Bambino. First, they took the American League pennant over the Yankees in 2004, and then they swept the Cardinals during that Fall Classic.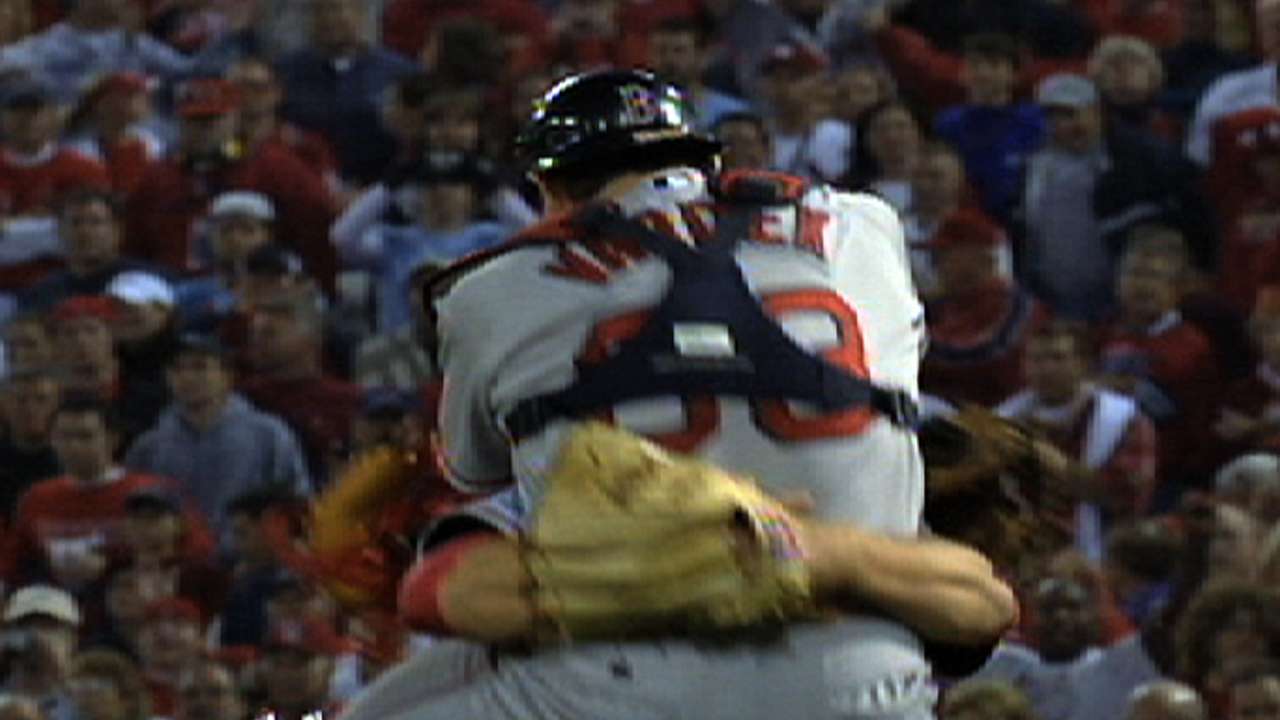 Jeter wasn't finished with his State of Red Sox Nation address, adding, "It pains me to say, but I'm almost … I won't say it. I'm not happy you won -- but you treat me a lot better since you have."
Say it ain't so, Joe.
In fact, Joe Maraia did just that after I informed him of Jeter's Red Sox blasphemy on national television.
"I don't get what Jeter is saying, because I'm at enough Sox games to know that we still don't like the Yankees, and it always will be that way," said Maraia, 52, a New Englander who has been a regular at Fenway Park since he attended the legendary 1975 World Series with his father and younger brother.
Maraia eventually bought Red Sox season tickets in 2007, and since then, this attorney with the Green Monster and Pesky's Pole deep in his soul has studied his heroes up close and personal from his seat that is seven rows back from home plate. So he knows what he's talking about when he says Jeter doesn't know what he's talking about.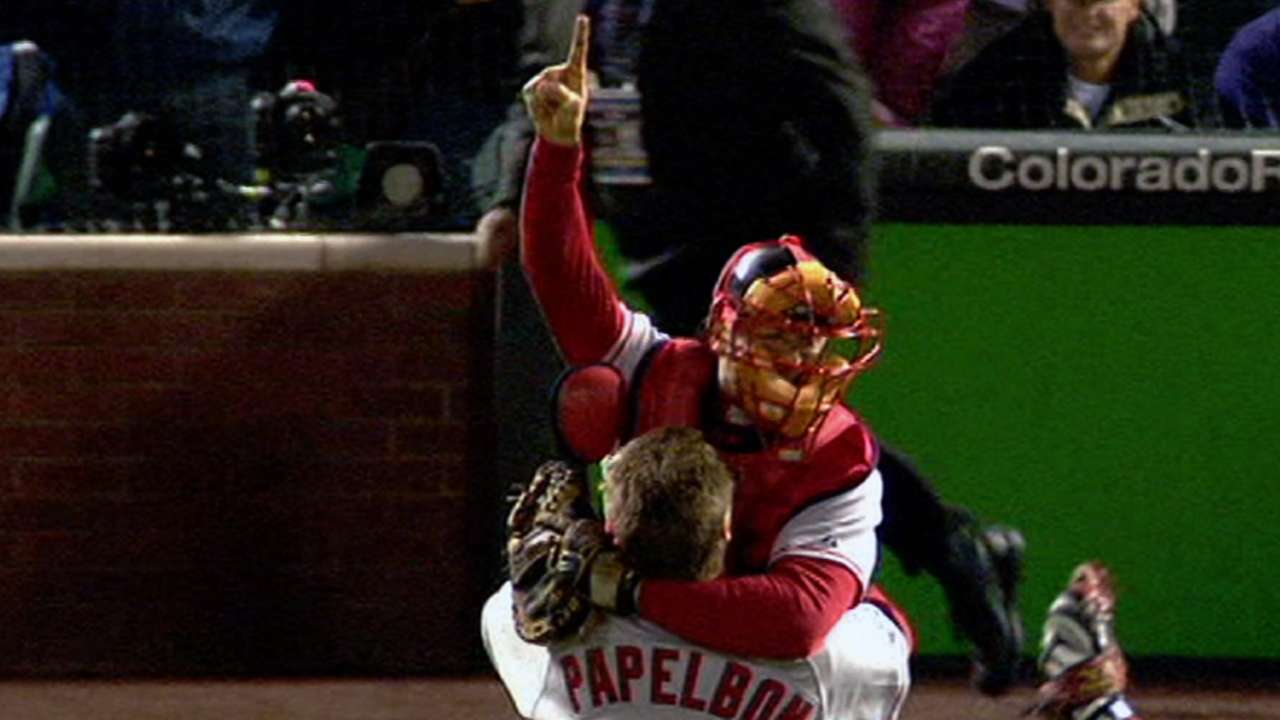 "I'm telling you, the passion at Fenway has never left, and as far as Red Sox-Yankees -- it hasn't stopped being the biggest rivalry in Boston sports," said Maraia, speaking over the phone from Boston, where he also is into all things Bruins, Celtics and Patriots.
That said, nothing tops his love affair with the Sox, and such is the case for the majority of New Englanders.
"Red Sox-Yankees is above Bruins-Canadians, Celtics-Lakers and everything else around here. Red Sox-Yankees, I'll tell you this: We literally don't like each other, and I was there at Fenway when Pedro [Martinez] threw [then-Yankees coach Don] Zimmer to the ground. That's the way it's always going to be."
Let's go from the present and the future for Red Sox Nation to the past, when the Curse was alive and well. Babe Ruth pitched the Red Sox to a World Series championship in 1918, and then, with the years becoming decades and almost a century, that year seemed destined to remain the last time the home team in Boston would win it all forever.
Even worse, Ruth slammed the Yankees to more than a few pennants and World Series championships after he was traded by the Red Sox to those pinstriped folks after that 1918 World Series.
Worse than that, something cruel always happened to keep the Red Sox from killing the Curse. If it wasn't dropping Game 7 of that 1975 World Series at Fenway after the dramatics of Carlton Fisk the night before in Game 6, it was an ill-timed error by Bill Buckner during Game 6 of the 1986 World Series or Aaron Boone slamming a walk-off homer at Yankee Stadium in Game 7 of the 2003 AL Championship Series.
"And don't forget about Bucky Dent," Maraia said, referring to the home run by the light-hitting Yankees infielder to sink the Red Sox during a one-game tiebreaker in 1978 at Fenway. "Those were really tough times for us. You just never thought [the Curse] would get lifted. We would get close, but we just knew that, somehow, it all was going to fall apart."
Then it didn't. Not in 2004, when the Red Sox roared back from a 3-0 deficit to shock the Yankees in the best-of-seven ALCS before crushing the Cardinals in the World Series.
"Just elation came through me," Maraia said. "I was grabbing all of the good-luck charms, and I was jumping up and down like I was out there on the pitcher's mound with the team. Everybody went nuts."
Three years later, the Red Sox won the whole thing again, with a sweep of the Rockies.
"We, as fans at Fenway, were just as excited at those home games as we were for the first time we won in 2004," Maraia said, who nevertheless thought the vibes changed in 2013, when the Red Sox followed the Boston Marathon bombings at the beginning of that season with a steady march to a World Series title under the theme of Boston Strong.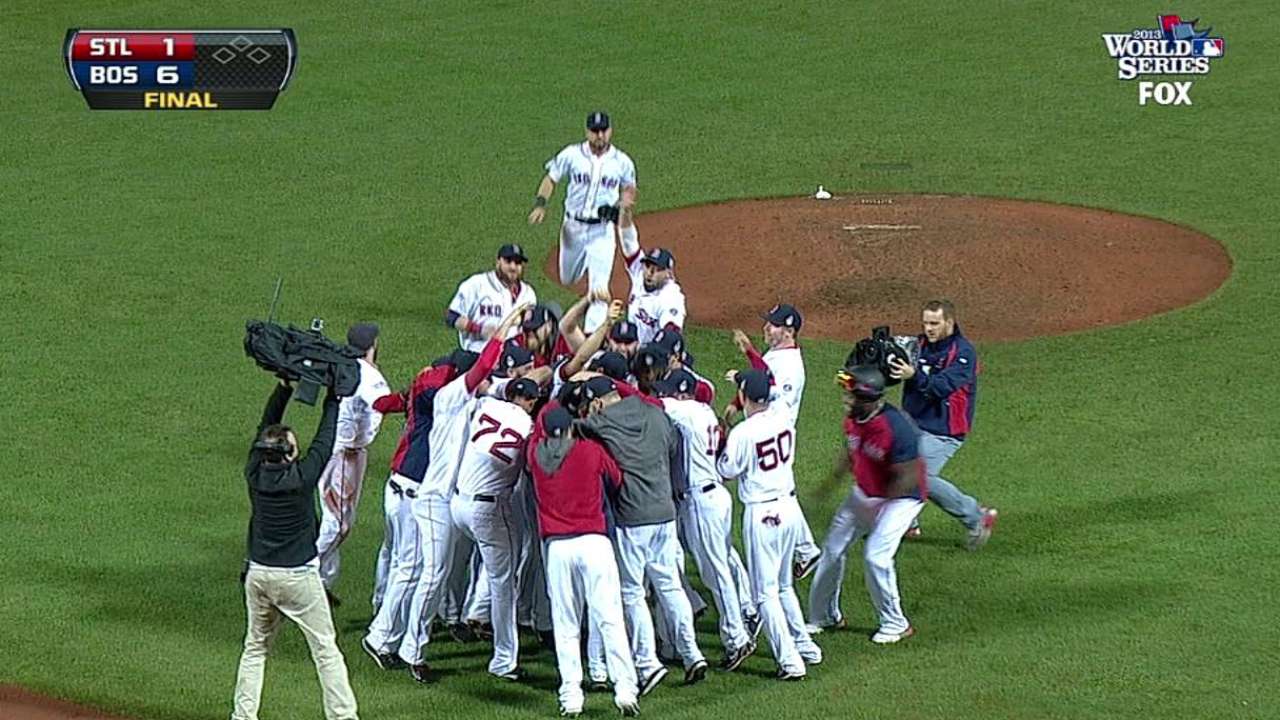 "You could feel going to the games that year that things were different, that the players were playing for something," Maraia said. "We had the Boston Strong chant going in games, and after we won the World Series at home, nobody wanted to leave. Nobody. It was incredible. The players stayed. The fans stayed. We were all there until the wee hours of the morning."
Now the Red Sox are sitting atop the AL East after struggling since their last Strong title. Even so, Maraia said the intensity hasn't left the Fenway stands. For verification, Red Sox Nation wasn't exactly quiet last weekend when the Yankees came to town and left winless during a three-game series that shoved the visitors into last place in the division.
Maraia laughed. Then he said on behalf of Red Sox Nation, "It's kind of nice the Yankees don't have a good team right now."
Terence Moore is a columnist for MLB.com. This story was not subject to the approval of Major League Baseball or its clubs.