Major Leaguers celebrate mom
Even for MLB players, a mother's support starts in little league
No one wants to be called a mama's boy -- especially not on the ballfield -- but even most Major Leaguers acknowledge that they wouldn't be where they are today without some help from their moms.
"I talk to my mom every day," said Angels pitcher Cory Rasmus, who grew up playing Little League baseball and even reached the Little League World Series in 1999 alongside his older brother Colby.
And as the mother of four boys, two of whom -- Cory and Colby, now an outfielder for the Astros -- have made baseball a career, Robin Rasmus is certainly accustomed to offering advice for both life and the game.
"Every time you do something good, she's there to pat you on the back," Cory continued. "But if you do something bad, she lets you know that you need to make an adjustment and go out there and do a little bit better."
Of the four major sports, MLB is the only one in which Mother's Day falls during the regular season, and baseball makes sure to celebrate the special women in its players' lives. Since 2006, MLB has marked the holiday with a touch of pink, as players have donned pink wristbands and cleats to complement the pink ribbons on their uniforms and pink bats in the bat rack. No matter what time of year it is, though, players make a point to include their moms in special events as a way to recognize their lifelong contributions.
"My mom is really excited to be here, to watch and be able to enjoy this with me," reigning NL MVP Bryce Harper said during the All-Star Game in 2012, his rookie season.
And his counterpart -- reigning American League MVP Josh Donaldson -- requested that his mom, Lisa French, throw out the ceremonial first pitch at Rogers Centre on April 24, the day the Blue Jays presented him with his AL Silver Slugger Award, Players Choice Award and AL Outstanding Player Award, not to mention his very own bobblehead.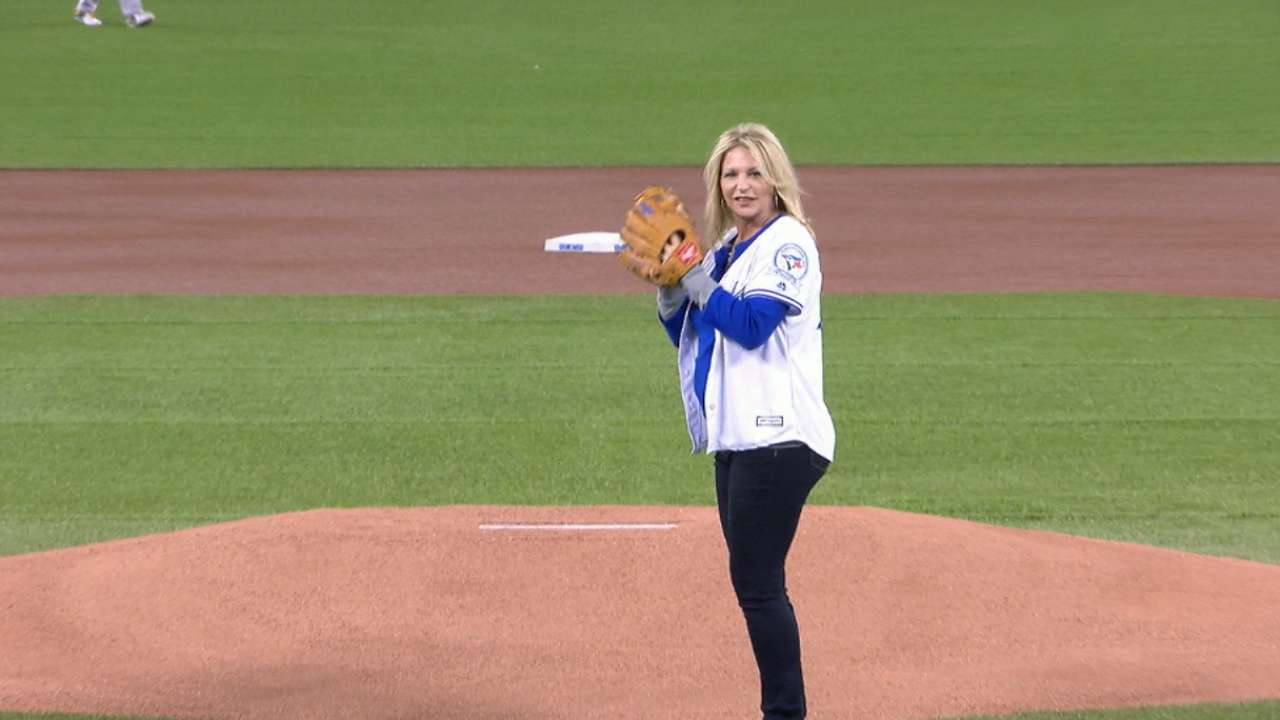 "It's so special as a mom to see him live out the dreams that he worked for every day," French said.
"I know how proud she is of me," echoed Donaldson.
No matter how meaningful a mother's influence may be, though, it doesn't always extend onto the field. Or, in one case, the court.
"I credit my parents for their support. They've always been there, they check every single game, and they're always giving positive feedback," said Dodgers outfielder Trayce Thompson, the brother of NBA star Klay. "[But] my mom coached my basketball team once, and that was terrible."
Rasmus's mom and dad were so integral to his and his brothers' success that Little League honored them with the Parents of the Year Award in 2014.
"Both of them have had a positive effect on us," Cory said. "To see them get recognized for that was awesome. As proud as they are of us, we're also proud of them. We're thankful for everything they've done for us."
Allison Duffy-Davis is a managing editor for MLB.com. This story was not subject to the approval of Major League Baseball or its clubs.