MLB.com Columnist
Alyson Footer
Houston kids enjoy PLAY BALL event
In conjunction with Cinco de Mayo, MLB and the Houston Astros hosted a special PLAY BALL celebration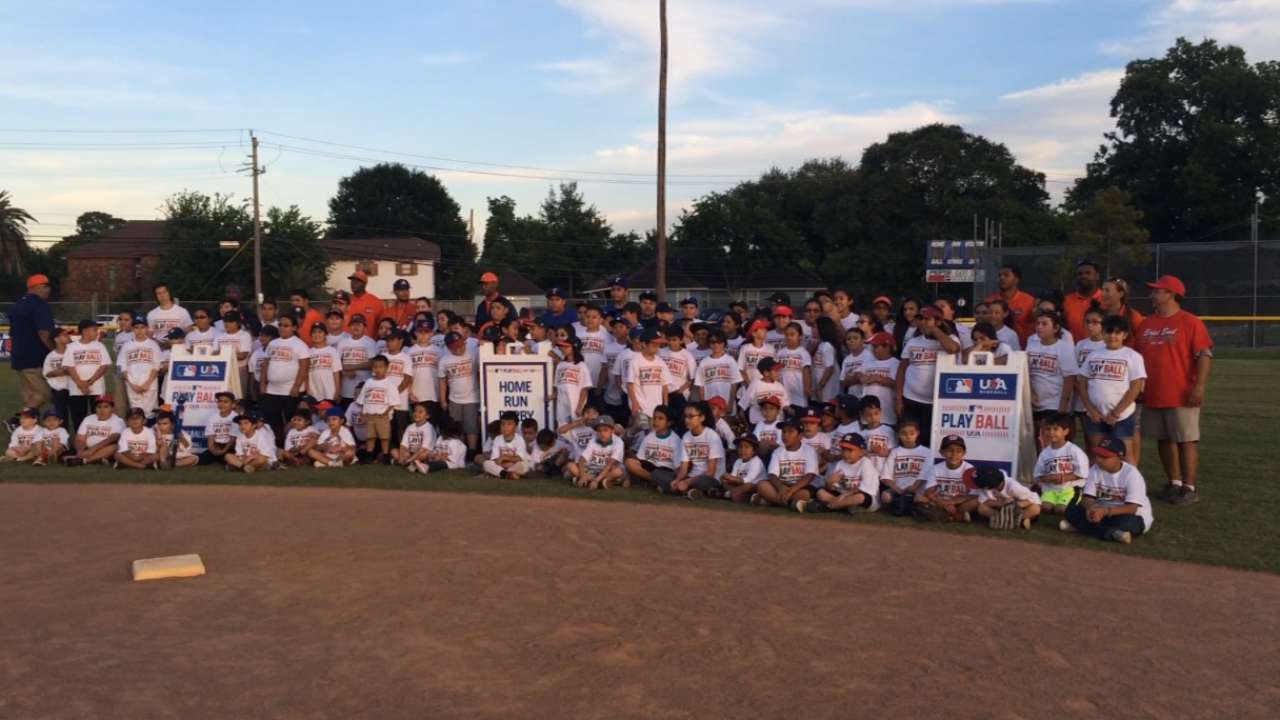 HOUSTON -- Happy, high-pitched voices resonated from Diez Park in Houston on Thursday, sounds that indicated the hundreds of kids participating in Major League Baseball's PLAY BALL event were, in fact, having a great time playing ball.
In conjunction with Cinco de Mayo, MLB and the Houston Astros hosted a special PLAY BALL celebration for several hundred young people, the majority of whom were from Houston RBI (Reviving Baseball in Inner Cities). Diez Park, located minutes from Minute Maid Park, was teeming with kids as young as three taking their Wiffle Ball hacks of a tee and running the bases.
"Basically it's organized recess," said Tony Reagins, MLB's Senior Vice President of Youth Programs. "We just want kids to be out and having fun playing baseball. Whether it be formal or informal, we just want kids to have fun playing our game."
That is, at its core, the mission of PLAY BALL. It became Rob Manfred's main initiative when he took over as MLB's Commissioner in 2015, and as a result, PLAY BALL events have taken place all over the country, spanning across more than 100 cities and involving thousands of kids.
The premise is simple: get kids playing baseball, which, in turn, will help them create a passion for the game at an early age. Regardless of where they live, what their economic situation is, or how much access they have to gear and fields -- just get out there and, simply, play ball.
"The kids are getting an opportunity to participate in a number of games and activities," Reagins said of the PLAY BALL events. "The whole idea behind PLAY BALL is whenever a kid experiences our game, we want the experience to be positive. That's what we're trying to bring to the kids."
Volunteers from the Astros MLB Urban Youth Academy, along with director Daryl Wade, assisted with the event at Diez Park, the first of several fields the Astros refurbished as a part of their Community Leaders program. Astros legend Jose Cruz made a special appearance, enthusiastically embracing the opportunity to celebrate Cinco de Mayo at this particular venue, located in a largely Hispanic-populated neighborhood.
"It's great here," Cruz said. "To me, I remember when I was playing, and Cinco de Mayo was a great day at the ballpark. Everyone came to the ballpark.
"I can't wait to see a bunch of these kids someday play in the Major Leagues and say, 'Jose Cruz was there with me at Cinco de Mayo!"
If the kids didn't fully understand where Cruz fits in to Astros history, their parents surely did. Cruz was stopped a dozen times to pose for photos, and one mom gushed about meeting the longtime Astros outfielder, her all-time favorite player.
"I cannot wait to go home to call my dad," she said excitedly. "He is not going to believe this."
Armed with t-shirts, hats and baseball-themed party favors, the kids ended the afternoon with a group photo, where they shouted "PLAY BALL" in unison. MLB hopes they do just that.
"When you see them at five, six years old, to get them at this age, get them involved, keep them motivated, you can keep them at 15, you can still have them playing," said Twila Carter, Executive Director of Community Relations and the Astros Foundation. "That's the goal not only for the Astros but for Major League Baseball, really connect with youth and get them back into the game with youth baseball and softball."
Alyson Footer is a national correspondent for MLB.com. Follow her on Twitter @alysonfooter. This story was not subject to the approval of Major League Baseball or its clubs.