A string of zeros, but no win for Tanaka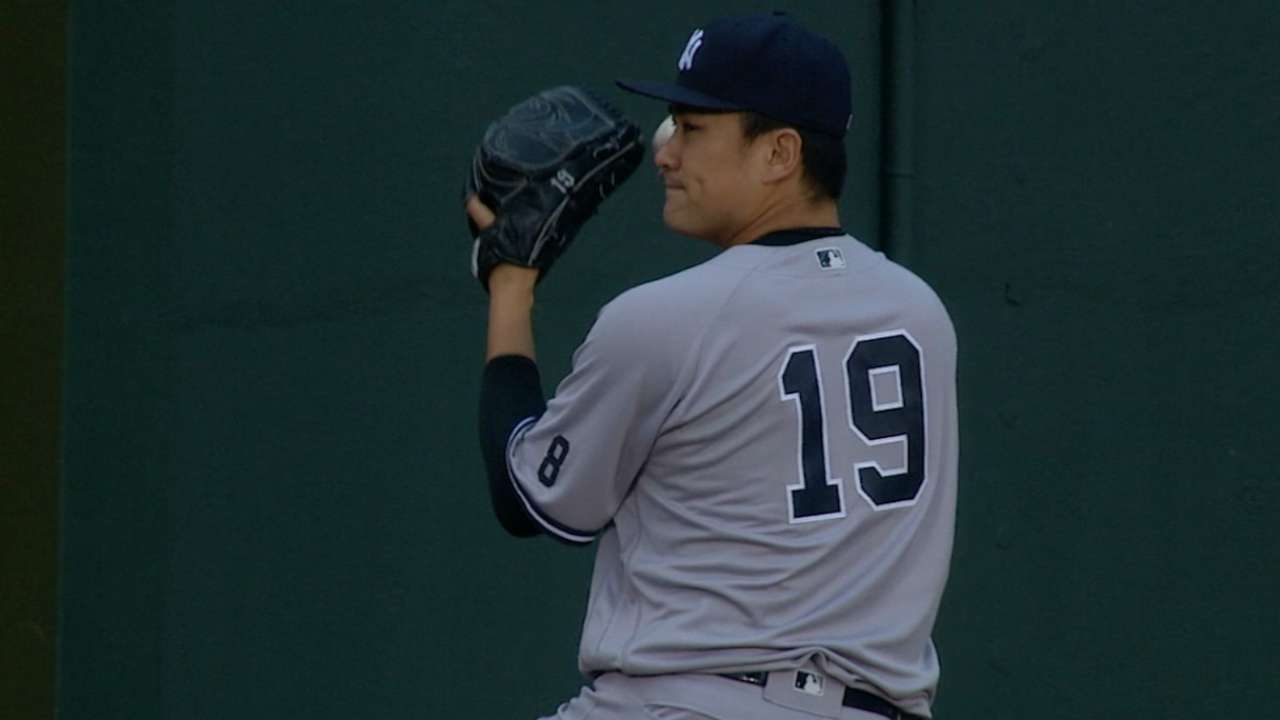 BALTIMORE -- After most of his starts this season, Masahiro Tanaka found reason to remark that his only objective is to string as many zeros as possible across the scoreboard. He accomplished that with aplomb on Thursday, but unfortunately for the Yankees, their hitters did the same.
For the first time in his career, Tanaka worked eight scoreless frames against an American League team, keeping the Orioles off the board with a five-hit gem. But Kevin Gausman returned the favor in a sharp pitching duel that was eventually won by Baltimore in 10 innings, 1-0.
"Obviously, we're not at our best right now," Tanaka said through an interpreter. "I think my job is to go out there and try to put up zeros. I'm just trying to do what I can control."
It would be difficult for the Yankees to ask much more of their ace, who has compiled a sterling 2.29 ERA through six starts this season and struck out seven in a 102-pitch outing on Thursday, tying his season high in whiffs.
"It's frustrating. That's a game you want to win nine out of 10 times," right fielder Dustin Ackley said. "You have to manufacture a run there, at least one or two, for Tanaka, who threw an unbelievable game. We weren't able to do it. We had a couple opportunities with guys in scoring position, but we weren't able to come through."
Tanaka held the fort as long as he could, hitting his stride when Jonathan Schoop bounced into an inning-ending double play in the fourth. That started a string that saw Tanaka retire 13 of his final 14 batters faced, with Schoop's seventh-inning single the only blemish from there.
"At the start, I think I wasn't feeling that good," Tanaka said. "The key thing for today is that I was able to make good adjustments during the game. Once that adjustment was made, I was able to locate balls better and have my offspeed stuff move a little more."
For his part, Gausman enjoyed the opportunity to lock up with Tanaka. Gausman held the Yankees to just three hits over his eight scoreless innings, walking none and striking out four.
"I kept telling myself in the dugout, 'He's not going to give in, I'm not going to give in,'" Gausman said. "That's just one of those good pitching performances, going back and forth. I felt like I'd sit back in the dugout and then go right back out there. That guy has been great, really, since he came into the league."
Yankees manager Joe Girardi has been "very pleased" with how Tanaka has been throwing the ball; one of the few areas of his roster to which he'd direct that strong of a platitude. Tanaka's efforts haven't been rewarded nearly as often as his team would have hoped.
"It's a tough road trip. It's disappointing [to go] 2-7," Girardi said. "It's really, really disappointing. But we start a long homestand [on Friday], and we've got to make up some ground."
Bryan Hoch has covered the Yankees for MLB.com since 2007. Follow him on Twitter @bryanhoch, on Facebook and read his MLBlog, Bombers Beat. This story was not subject to the approval of Major League Baseball or its clubs.