Holland's short outing ends impressive streak
Rangers starting pitchers had thrown at least 5 innings in 29 straight games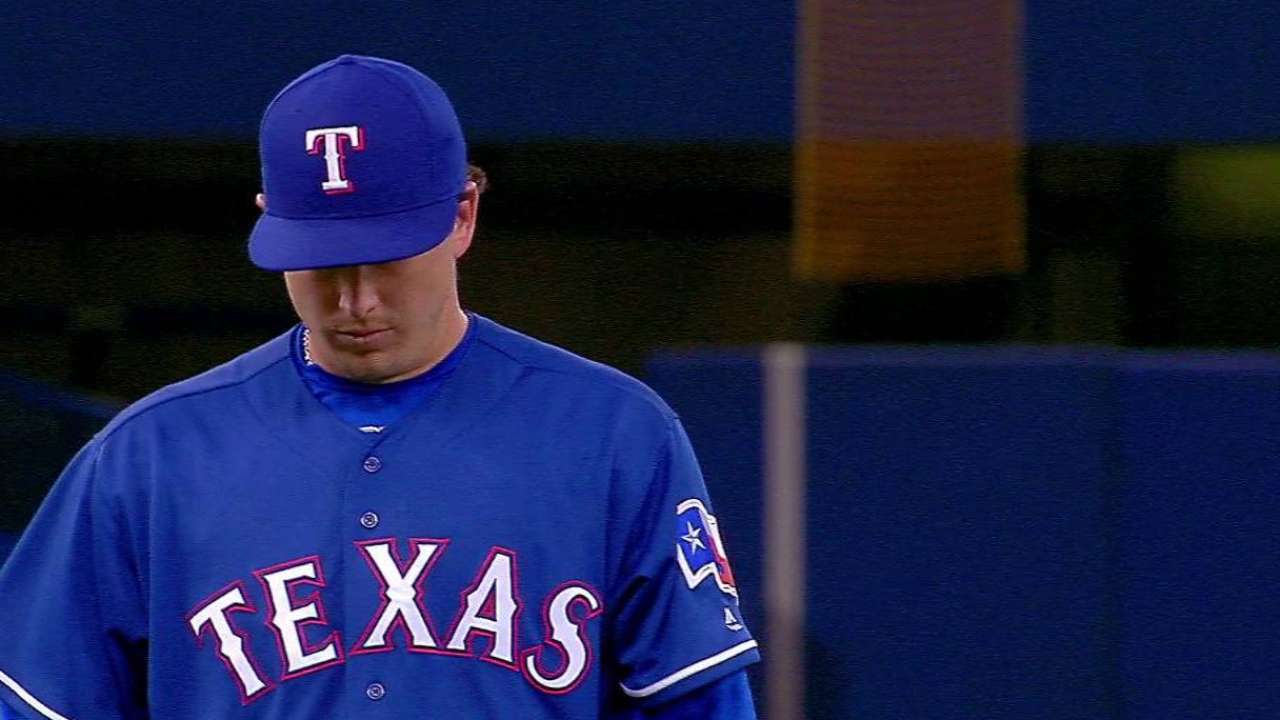 TORONTO -- The Rangers' consistent run of starting pitching finally suffered a blip on Thursday night in Texas' 12-2 loss to the Blue Jays at Rogers Centre.
A starting rotation that has been a pillar of stability for the team had a rare off night, and in turn snapped an impressive streak.
Derek Holland lasted just 2 2/3 innings, giving up 11 earned runs, which ended a streak of 29 consecutive games in which a Texas starter had pitched at least five innings.
The streak was the third longest in Rangers history, stretching back to the end of last season, and the 28 consecutive starts with five-plus innings to open this year was the largest stretch in the Majors. Holland couldn't contain Toronto's right-handed-dominant lineup, in part due to his command, and he particularly struggled against slugger Edwin Encarnacion, hanging a sinker in the first for a three-run double and another fastball in the third for a three-run home run.
"I didn't execute," Holland said. "I didn't hit my spots and I didn't do anything right. This is too good of a ballclub to leave the ball over the middle."
Holland's trouble started with a five-run first inning, in which he gave up three runs before recording an out, and then culminated with a six-run third inning, which put the game out of reach and forced Texas into its bullpen early.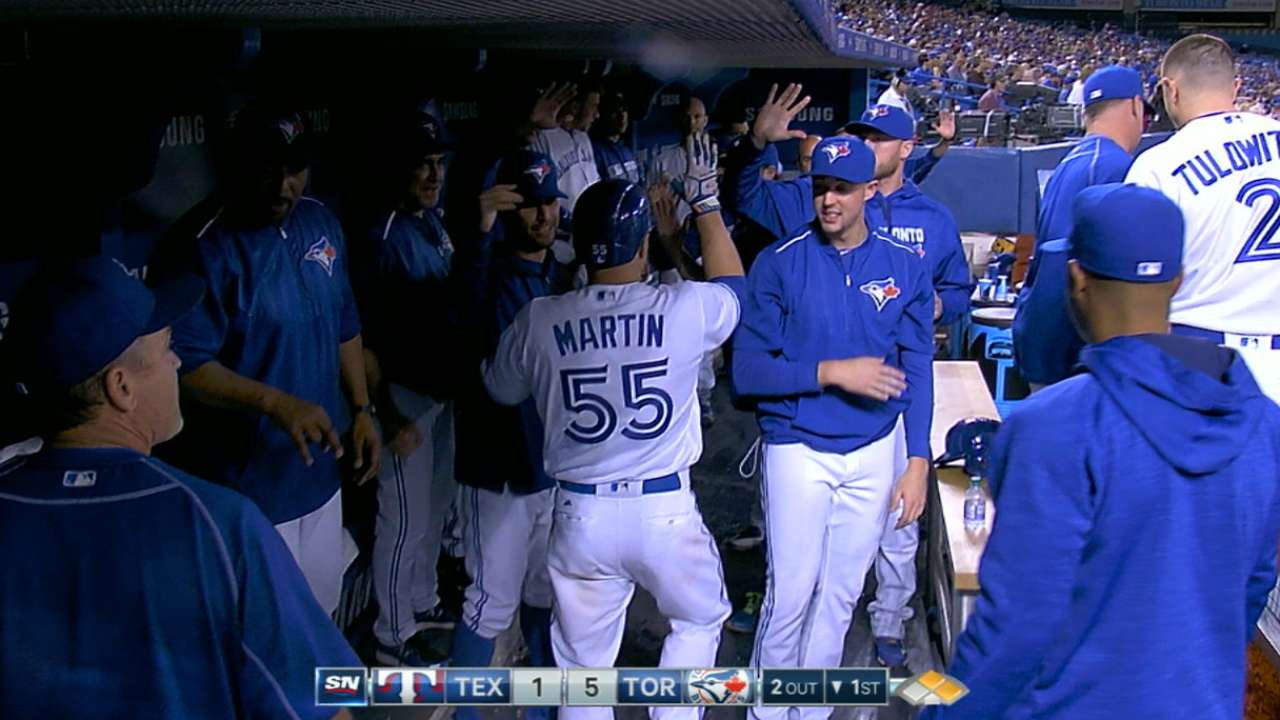 The struggles were reminiscent of the left-hander's trouble with Toronto in last year's American League Division Series, in which he gave up six earned runs and three home runs in two-plus innings in a Game 4 loss in Arlington. While the 29-year-old entered the night limiting right-handed hitters to a .683 OPS in 2016, the lack of movement on his pitches resulted in three walks to go along with 11 hits -- and zero strikeouts.
"It's a challenge," Rangers manager Jeff Banister said. "It puts their pitcher in a position where he can relax. Derek works east and west better than he works vertically, and it just didn't seem like he could get the pitches where he wanted to."
The loss for Holland snapped a run of 16 1/3 scoreless innings at Rogers Centre and was the first time he gave up more than five hits in a start this season. Despite the team's starting-pitching streak ending, Banister was confident that the Rangers will continue to ride their starting rotation.
"I'm not going to get too up in arms after one bad start, even though it was a rough outing tonight," Banister said. "This is a good ballclub. The starters have been on an incredible run and mounted a really solid attack. They've been tremendous, and you roll through a season and these things happen. You learn from them and move on."
Alykhan Ravjiani is a reporter for MLB.com based in Toronto. This story was not subject to the approval of Major League Baseball or its clubs.