Girardi stands by bullpen decisions vs. Orioles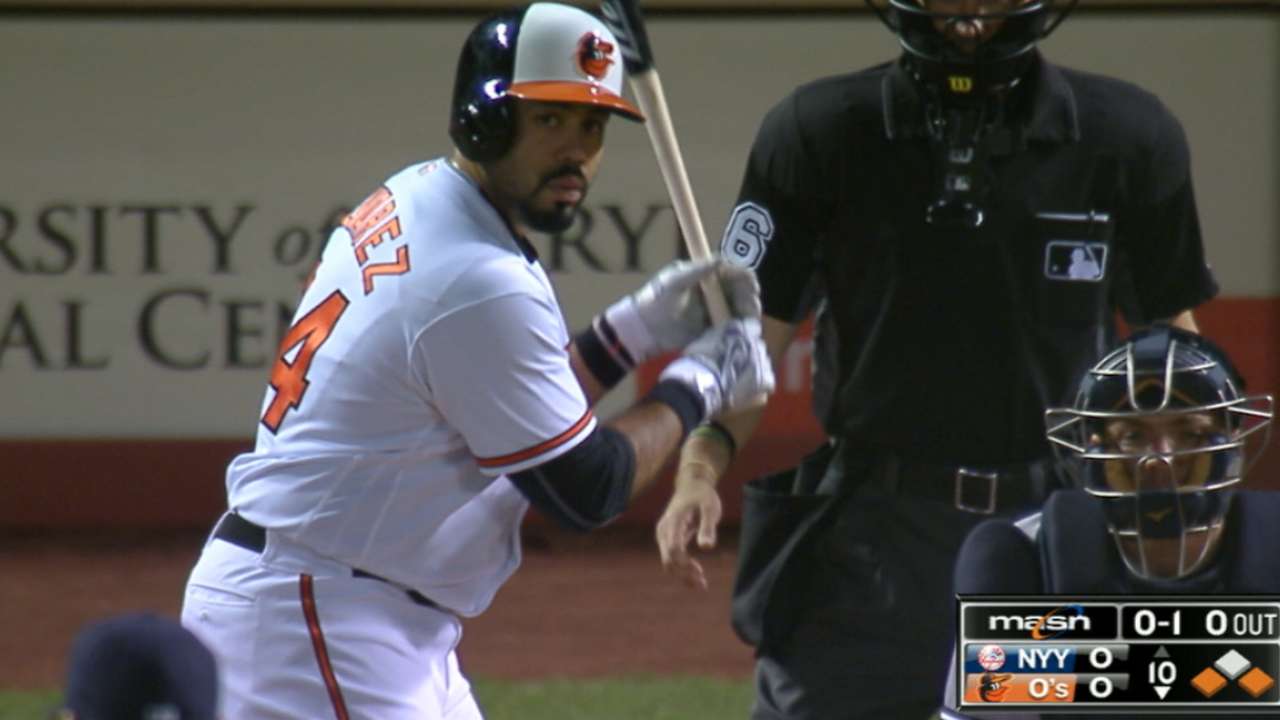 BALTIMORE -- Conventional wisdom says that managers should not use their closers in a tied game on the road, an axiom that has been heavily debated in recent years. But that book burned the Yankees in the 10th inning on Thursday, and the Orioles celebrated a 1-0 victory at Camden Yards.
With left-hander Andrew Miller warm in the bullpen, the Yankees instead opted for rookie right-hander Johnny Barbato to start the 10th. Barbato permitted two singles before Miller was summoned in an emergency effort, and he surrendered Pedro Alvarez's deciding sacrifice fly.
Manager Joe Girardi had been ejected in the fourth inning, handing the lineup card to bench coach Rob Thomson, but accepted responsibility for the decision to start the 10th with Barbato.
"Because we're not winning," Girardi said. "Then once he got in trouble and [with] two left-handers up, I said, 'We're going to go to Miller at this point. He's our guy we need to save. I'm going to use him for one inning; maybe one and a couple of outs at the most.' Johnny wasn't able to get the outs."
Facing Barbato, Hyun Soo Kim reached on an infield single, and Jonathan Schoop singled to center. That prompted the call for Miller, who last pitched on Sunday in Boston. Miller was not surprised that he did not start the inning.
"Not really. I think, certainly, there's times when it could have gone that way," Miller said. "I think last year we might have [gone that way] a couple times. Generally, that's not the common move, but I think I hadn't pitched in a while, so I was definitely available for more than one [inning]. I knew it was an option."
Girardi did not consider having Miller start the 10th, despite a light workload of late. Miller appeared just twice on this nine-game road trip, throwing 15 pitches in his last appearance.
"I can't ask him to give me two innings," Girardi said. "If we're winning, yes, of course, but I'm not going to ask him to give me two innings."
Miller regrets the pitch that Alvarez lifted to center fielder Jacoby Ellsbury, allowing pinch-runner Nolan Reimold to score from third base.
"Off the bat, I was hoping he didn't get enough, but he got just enough," Miller said. "I think letting him put the ball in play that hard is something you can't do. I have a free base to play with and a lot of pitches to throw."
Girardi said that using Miller to start the 10th wouldn't necessarily have guaranteed a winning outcome.
"So he shuts them down an inning; eventually, Barbato is going to pitch," Girardi said. "I'm trying to get a couple of outs out of Barbato, and then maybe you can get an inning and a third out of Miller. It just didn't work."
Bryan Hoch has covered the Yankees for MLB.com since 2007. Follow him on Twitter @bryanhoch, on Facebook and read his MLBlog, Bombers Beat. This story was not subject to the approval of Major League Baseball or its clubs.