April showers bring May Encarnacion homers
Blue Jays slugger continues recent history of raking this month, collects 6 RBIs
TORONTO -- Edwin Encarnacion might be a traditionally slow starter, but he owns the month of May.
Encarnacion's 32 home runs in May since 2013 are the most by anyone in baseball. He was the American League Player of the Month in May 2014, was an early candidate last season and if his performance during Thursday's 12-2 victory over the Rangers at Rogers Centre is any indication, more accolades could be in his future.
• Cast your Esurance All-Star ballot for Encarnacion and other #ASGWorthy players
Toronto's veteran slugger went 3-for-4 with a home run, two doubles, a walk and six RBIs. When Encarnacion is on a roll, he has the ability to single-handedly carry the offensive burden. He put the Blue Jays on his back in the series finale vs. Texas.
"When I have games like today, I know my confidence gets up and I know my game is going to step up," Encarnacion said through an interpreter. "I think I have a good month of May every year. I think it's just part of the game."
Encarnacion's big game began in the first inning, when he stepped to the plate with the bases loaded and nobody out. He gave the Blue Jays an early lead with a bases-clearing double to right-center field, but that proved to be just the start of a memorable night.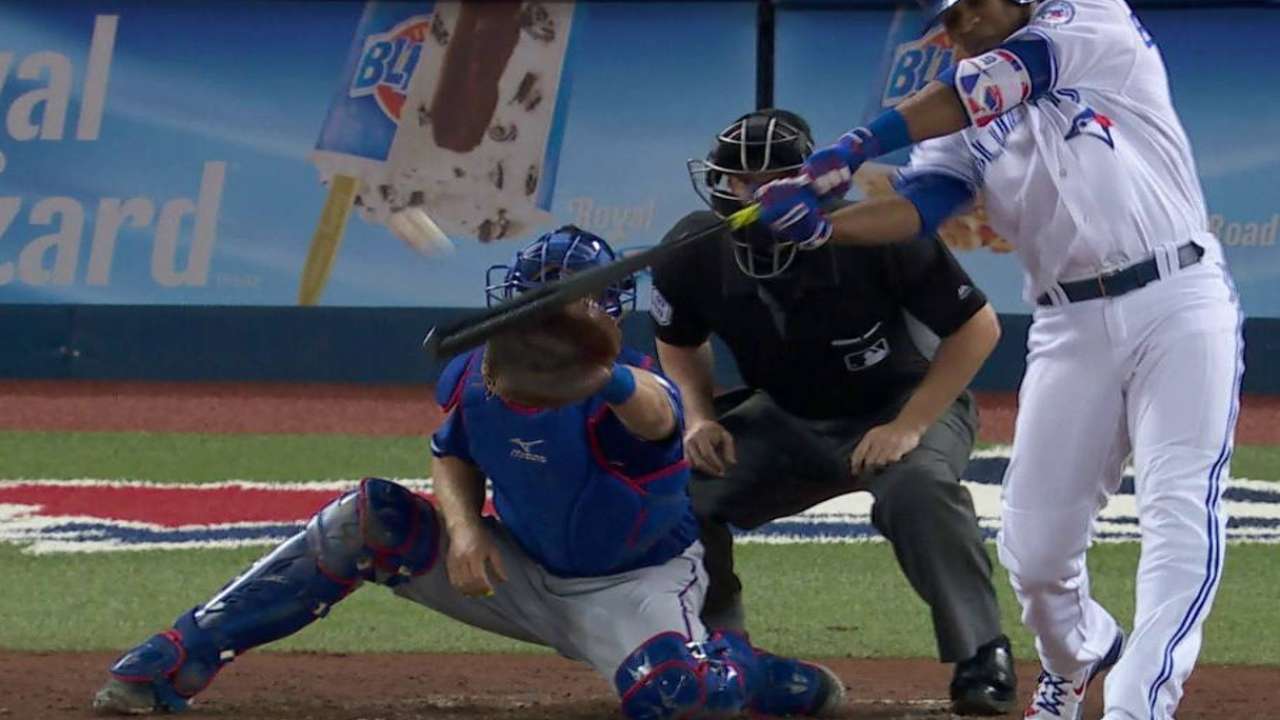 In the third, Encarnacion was back at it again. This time he lifted a first-pitch fastball from Derek Holland and sent it deep over the wall in left-center field. The three-run shot tied Encarnacion with George Bell for fifth place on the Blue Jays' all-time home run list with 202. Carlos Delgado (336) is first on that list and is followed by Jose Bautista (248), Vernon Wells (223) and Joe Carter (203).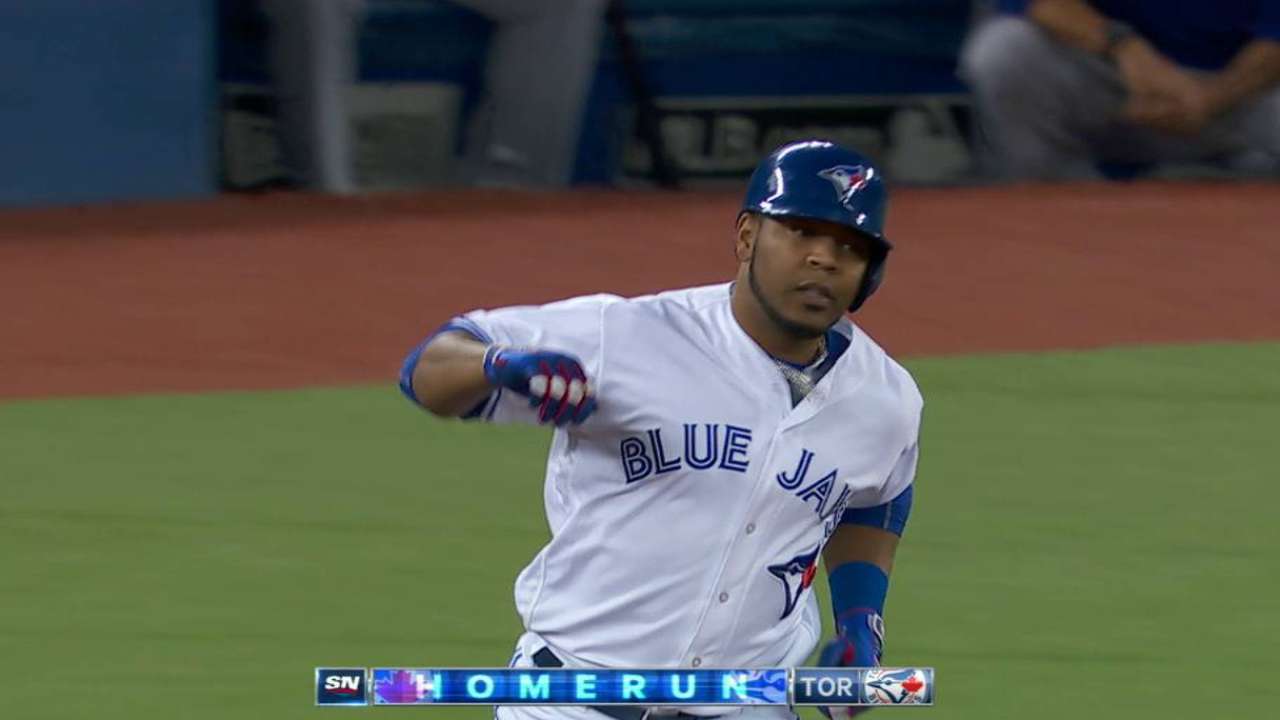 "May is a good month for Eddie, no doubt," Blue Jays manager John Gibbons said before explaining there were signs over the last week that Encarnacion was about to break out of his slump.
"Eddie, when he's just missing his pitch, he hits a lot of foul balls straight back on balls he normally squares up pretty good. He doesn't hit a lot of balls to the right-center area, but when he starts shooting some balls that way, driving balls that way, you know he's staying on it."
Encarnacion is hitting .333 (6-for-18) with two home runs and nine RBIs this month. That might not seem like much, but he also could be on the verge of another memorable hot streak. If that seems like a stretch, a closer look at each of his last two Mays would suggest otherwise.
In 2014, Encarnacion tied Mickey Mantle for the AL May record in home runs with 16. He finished with a .281 average, five doubles, one triple and 33 RBIs while scoring 26 runs with 16 walks over 30 games.
The numbers last year weren't quite as impressive, but he still managed to hit eight home runs with 22 RBIs and a respectable .843 OPS in 29 games. The situation was similar each season -- Encarnacion had a rough April but quickly turned things around.
He hopes that will happen again this year.
"I'm really glad," Encarnacion said. "I'm really happy to tie George Bell. I thank God that happened, and it's an accomplishment in my career."
Gregor Chisholm has covered the Blue Jays for MLB.com since 2011. Follow him on Twitter @gregorMLB and Facebook, and listen to his podcast. This story was not subject to the approval of Major League Baseball or its clubs.