Locked-in Castellanos does his part vs. Tribe
AL batting leader drives in four of Tigers' seven runs during series, including three-run HR in finale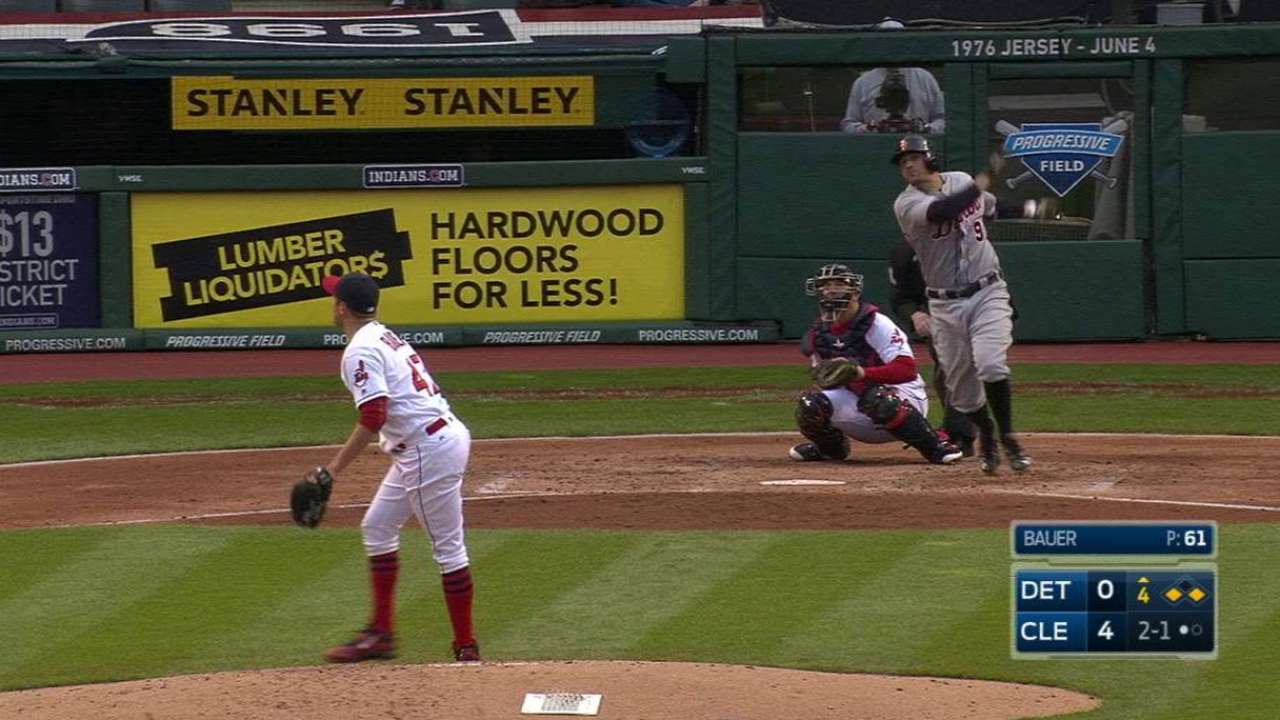 CLEVELAND -- The batting average on balls in play is unsustainable. The strikeout-to-walk ratio seems untenable. And yet, Nick Castellanos continues to hit. And more than any of the bigger-name stars in Detroit's lineup, he continues to hit the Indians.
Castellanos couldn't slug the Tigers out of their hole at Progressive Field over the three-game series sweep. But he came closer than anyone else in a Detroit uniform.
• Cast your Esurance All-Star ballot for Castellanos and other #ASGWorthy players
The Tigers had five hits in each of the final two games of this series, including Thursday's 9-4 loss. Castellanos had two hits in each game. He drove in four of the Tigers' seven runs in this series, and he has scored twice and tallied six RBIs as part of Detroit's 12 runs against Cleveland through six games this season.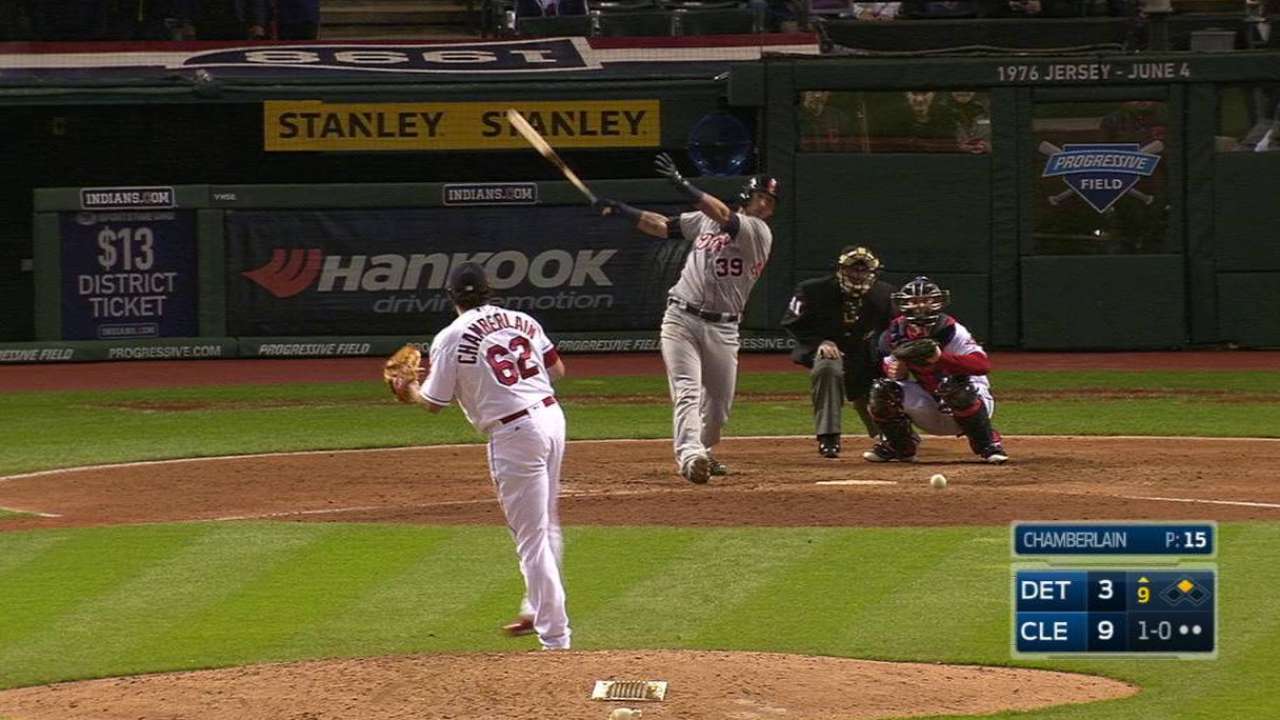 As lopsided as this rivalry has been for the Tigers this season, it actually would've been worse without their third baseman. More important, as good as the Indians have pitched against a Tigers lineup that buried them for years, they're still struggling with Castellanos.
"Castellanos is hitting everybody right now," Indians manager Terry Francona said. "He's driving the ball to right field. He's hitting the ball out of the ballpark. He's hitting line drives to left."
He did all of that on Thursday. It took a highlight catch from Michael Brantley in the left-field corner to keep him from doing more.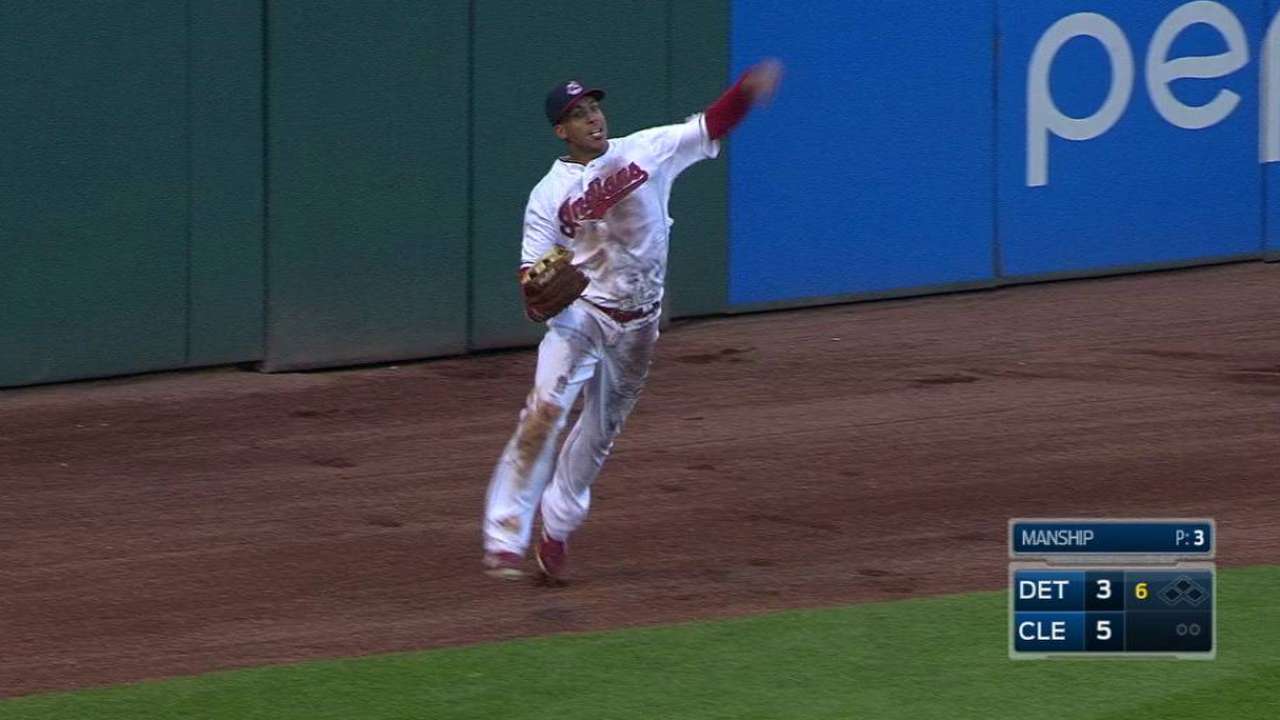 Cleveland had a 4-0 lead, and Trevor Bauer was nearly unhittable, when Castellanos stepped to the plate in the fourth inning with runners at the corners. He took a first-pitch fastball below the knees before swinging and missing on a changeup to even the count. He shrugged off another changeup out of the zone.
Bauer tried to jam him and made a mistake. Like most mistakes thrown his way, Castellanos didn't miss.
"I was trying to go in, and it was down the middle," Bauer said, "but he's hot right now. I threw a lot of pitches down the middle tonight that didn't get hit, and that one did. So, props to him on that."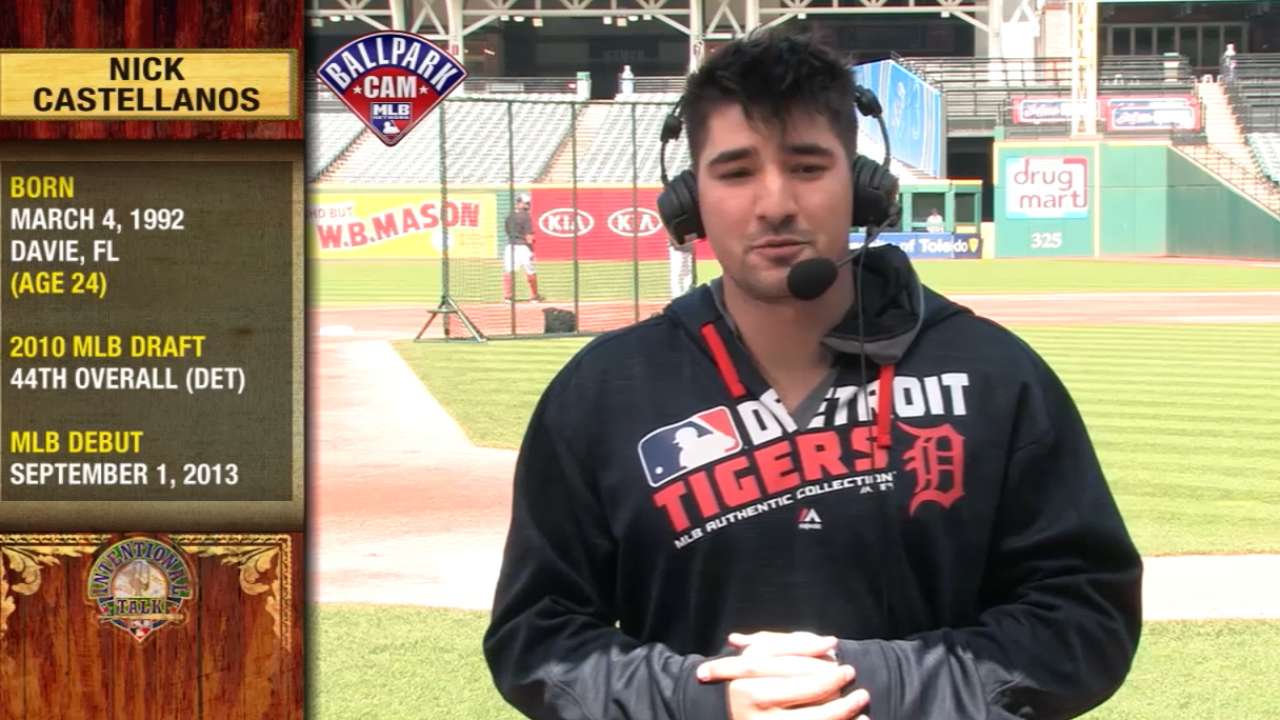 Castellanos' loft over the fence in the right-field corner pulled the Tigers back into the game. It was Castellanos' 11th hit in 25 at-bats with runners in scoring position this season. He nearly made it 12-for-26.
Detroit had a 5-3 deficit when Justin Upton's two-out double brought Castellanos back up as the potential tying run in the sixth. Francona pulled Bauer for Jeff Manship, who held right-handed hitters to an 8-for-78 clip last year and 3-for-14 entering Thursday.
Manship tried back-to-back curveballs after Castellanos didn't offer at a first-pitch fastball in. Castellanos took the first curve, then drove the second into the left-field corner. Brantley extended himself onto the warning track to make the underhanded catch.
Otherwise, Tigers manager Brad Ausmus said, "It puts us down by one and put a runner in scoring position."
It's taking those types of plays to retire Castellanos in big situations lately. His 2-for-4 effort raised his American League-leading average to .383. Only Washington's Daniel Murphy, whom the Tigers will see next week, boasted a higher average in the Majors at .398. Castellanos' 1.018 OPS ranks fourth in the AL.
"Everyone's going to look at his numbers and say he's leading the league in batting and has RBIs and home runs, because that's what people do in this game," teammate Ian Kinsler said. "But he's obviously getting more comfortable. I think the experience, seeing the same teams, same pitchers over and over again, he's getting more confident. We'll see how long he can carry it."
Jason Beck has covered the Tigers for MLB.com since 2002. Read Beck's Blog, follow him on Twitter @beckjason and listen to his podcast. This story was not subject to the approval of Major League Baseball or its clubs.