De La Rosa set for rehab with velocity issues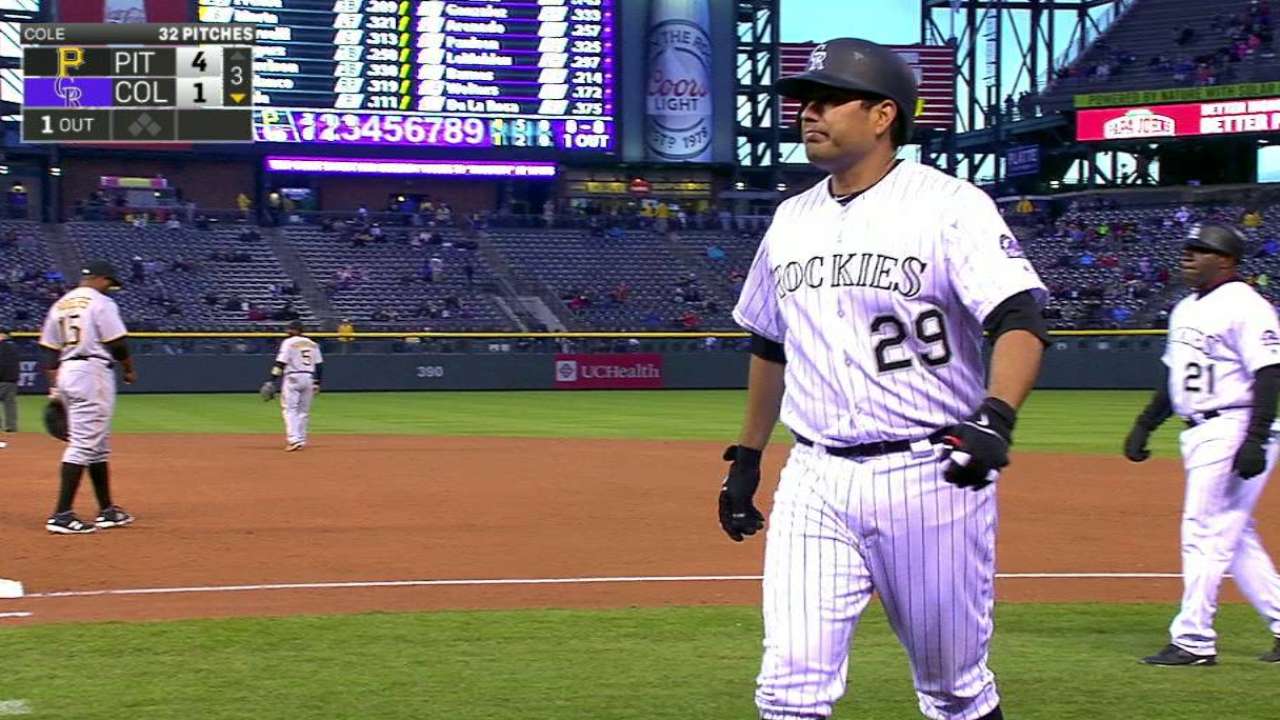 SAN FRANCISCO -- Rockies lefty Jorge De La Rosa could begin a Minor League rehab assignment Monday, provided Friday's bullpen session in Scottsdale, Ariz., goes well. But when De La Rosa returns from the left groin strain that landed him on the disabled list, the issue is whether he will return to the style of pitching he rode to several club records or adjust to a new norm.
De La Rosa, 35, was 1-3 with a 10.18 ERA and failed to make five innings in four of his five starts. He's often a slow starter, but a dip in fastball velocity made the slump more of a concern. Although he was receiving massage treatment for groin soreness since his first start, he insisted the groin wasn't the reason, and he said nothing was wrong with his arm. Pitching coach Steve Foster said velocity doesn't have to matter.
"I didn't see anything that he was doing mechanically that would cause him to throw the ball with less velocity," Foster said. "Just normal progression of a pitcher that's aging could cause the velocity drop if mechanics aren't causing the velocity to go down."
De La Rosa's four-seam fastball average, 92.3 mph in 2013 and 91.4 last year, was 90.1 before the injury, according to Fangraphs (which uses Pitch-f/x data). He also employs a cut fastball.
But with no guarantee the top speed will recover, Foster is focusing on fastball sharpness and frequency. Before going to the disabled list, De La Rosa was throwing his split-finger changeup a career-high 38.2 percent of the time. Foster believes if he doesn't throw the fastball enough, and well enough, the split doesn't matter.
"I'd like to see him, and I told him, to use his fastball more," Foster said. "The more you use it, the stronger it sometimes gets. You have to commit and you have to believe in your fastball. Even a guy that's a 60-65 percent secondary-pitch guy, he still has to locate 89 mph and believe he can do it.
"You can't stop believing in what your strengths are. De La's strength is being able to get poor contact. To me, the only way he can get poor contact is getting in pitchers' counts. The only way you can do that is by locating the fastball."
Worth noting
• First baseman Ben Paulsen, hit in the right forearm by a foul line drive while sitting in the dugout in San Diego on Wednesday, took batting practice Thursday and was available for the game against the Giants.
• Utility infielder Daniel Descalso, coming back from a left hand fracture, had a single and two doubles among six at-bats in an extended spring training game Thursday in Scottsdale as a designated hitter and is slated for five innings at second base Friday.
• Righty reliever Miguel Castro (right shoulder strain), who had a 1.50 ERA in six outings before the injury, threw a bullpen session Thursday in Scottsdale. He is eligible to return, but the Rockies have said they're taking things slowly.
• Righty reliever Jason Motte, who suffered a right shoulder strain late in Spring Training, will face hitters at AT&T Park on Friday for two innings -- 20 pitches, followed by 15.
• Lefty Tyler Anderson (right oblique strain) has a bullpen session Friday in Scottsdale and from there will begin an injury rehab assignment if all goes well.
• Lefty Tyler Matzek (anxiety) will face hitters in Scottsdale on Friday.
Thomas Harding has covered the Rockies since 2000, and for MLB.com since 2002. Follow him on Twitter @harding_at_mlb, listen to podcasts and like his Facebook page. This story was not subject to the approval of Major League Baseball or its clubs.