Boston takes all-Sox series with power trio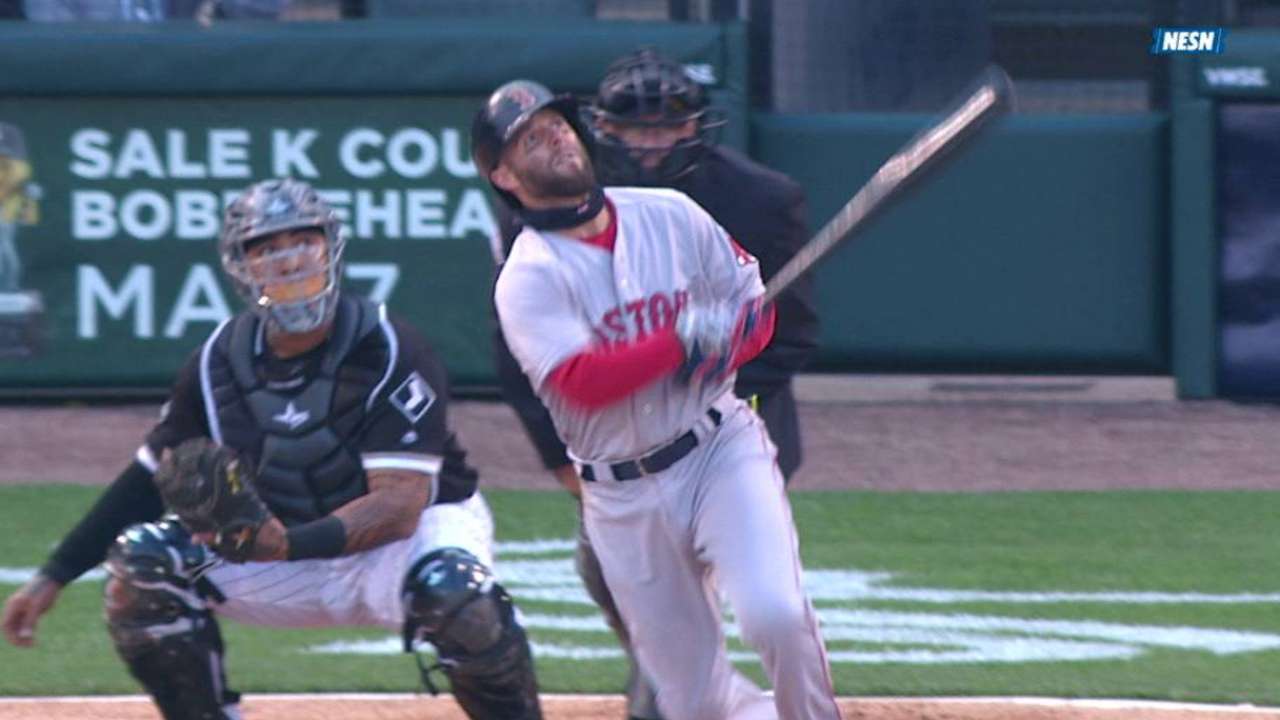 CHICAGO -- In a slow-paced game marred with 16 walks, the Red Sox won thanks largely to power. Dustin Pedroia, Hanley Ramirez and Jackie Bradley Jr. each went deep Thursday night in a 7-3 win against the White Sox at U.S. Cellular Field.
The Red Sox outburst provided enough of a punch to overcome a shaky start from left-hander Henry Owens. He walked six batters in his three innings, but White Sox starter Erik Johnson wasn't much better, taking the loss in his first Major League start this season. Johnson was optioned back to Triple-A Charlotte after the game, and the White Sox search for a fifth starter continues.
"You can tell by the time of the game [3:57] that there wasn't a lot of strike throwing early on," White Sox manager Robin Ventura said.
Pedroia homered to left field in the first inning -- the first of Pedroia's three hits -- and Ramirez followed suit in the third with a blast to right against Johnson. Ramirez has hit three homers this season, and two have come in this series -- both to the opposite field.
"He's seeing the ball well," Red Sox manager John Farrell said. "He's not expanding the strike zone as might have been the case a couple of weeks ago. I think he's starting to hone in on where his discipline zone is. But when he lets the ball travel that far in the strike zone, he's got power to all fields. And we're seeing it a little bit more frequently."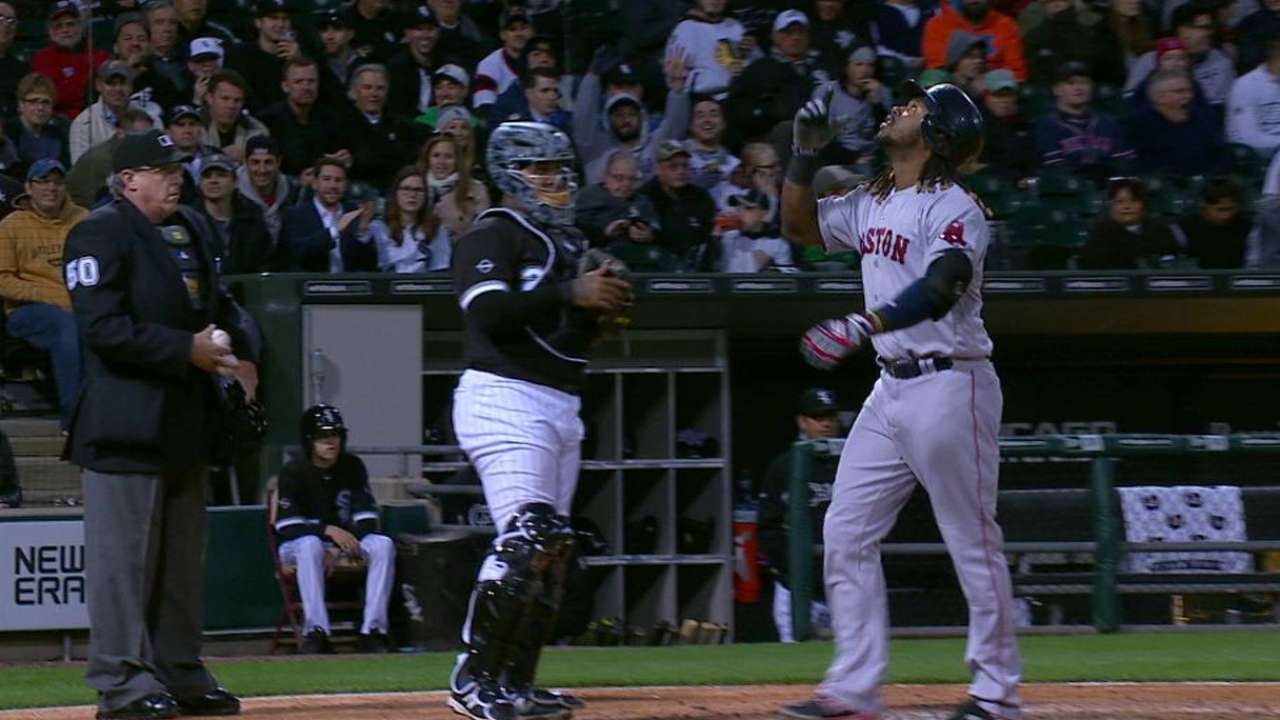 Bradley added his home run in the sixth, ending White Sox reliever Matt Albers' streak of innings without an earned run at 35. Boston got two more runs in the eighth when Dan Jennings walked the first two batters of the inning, setting up a Xander Bogaerts sacrifice fly and a David Ortiz RBI double.
The White Sox got a home run of their own from Avisail Garcia in the fourth, but Chicago couldn't make the most of its run-scoring opportunities and dropped the three-game series to Boston as a result. The Red Sox have won five of six to take hold of first place in the American League East, with a series against the Yankees in New York up next.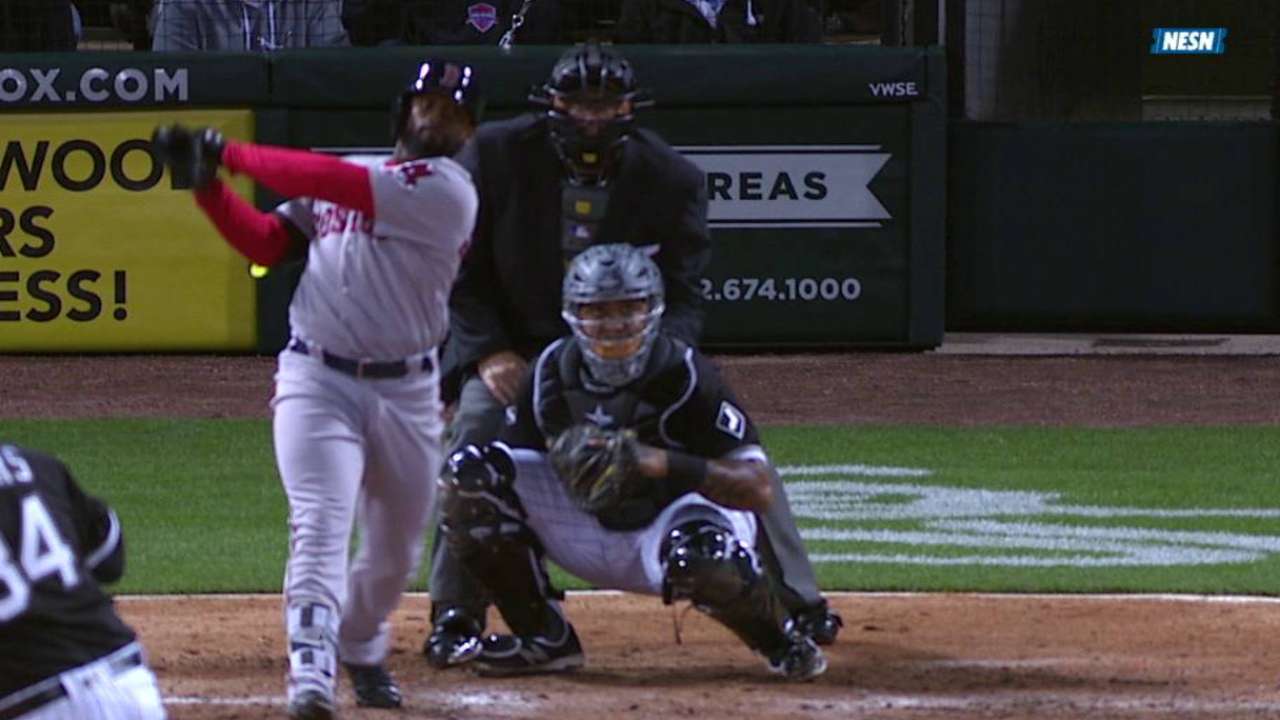 MOMENTS THAT MATTERED
Betts fires strike; Hanigan finishes play: Clinging to a 4-3 lead in the fifth, the Red Sox were trying to get out of a bases-loaded, one-out jam. Austin Jackson lifted a fly ball to medium-depth right field, and Mookie Betts caught it and came up firing. Brett Lawrie tagged up and tried to score, but catcher Ryan Hanigan slapped down the tag on a strong throw from Betts, and Boston got the 9-2 double play. Ventura called for a review of the play, questioning whether Hanigan violated the home-plate collision rule by blocking the plate without the ball (Lawrie slid just wide of the plate). After a three-minute, 35-second review, the replay official definitively determined there was no violation of the rule. More >
"One, he gave them a lane," Farrell said. "And I think it was more the out call and [Lawrie's] foot stayed in the air above the plate as he was crossing home plate. A great play by Ryan to receive the ball, he puts his foot so he's blocking some of the plate but still gave him a lane. ... That was a momentum shift for us."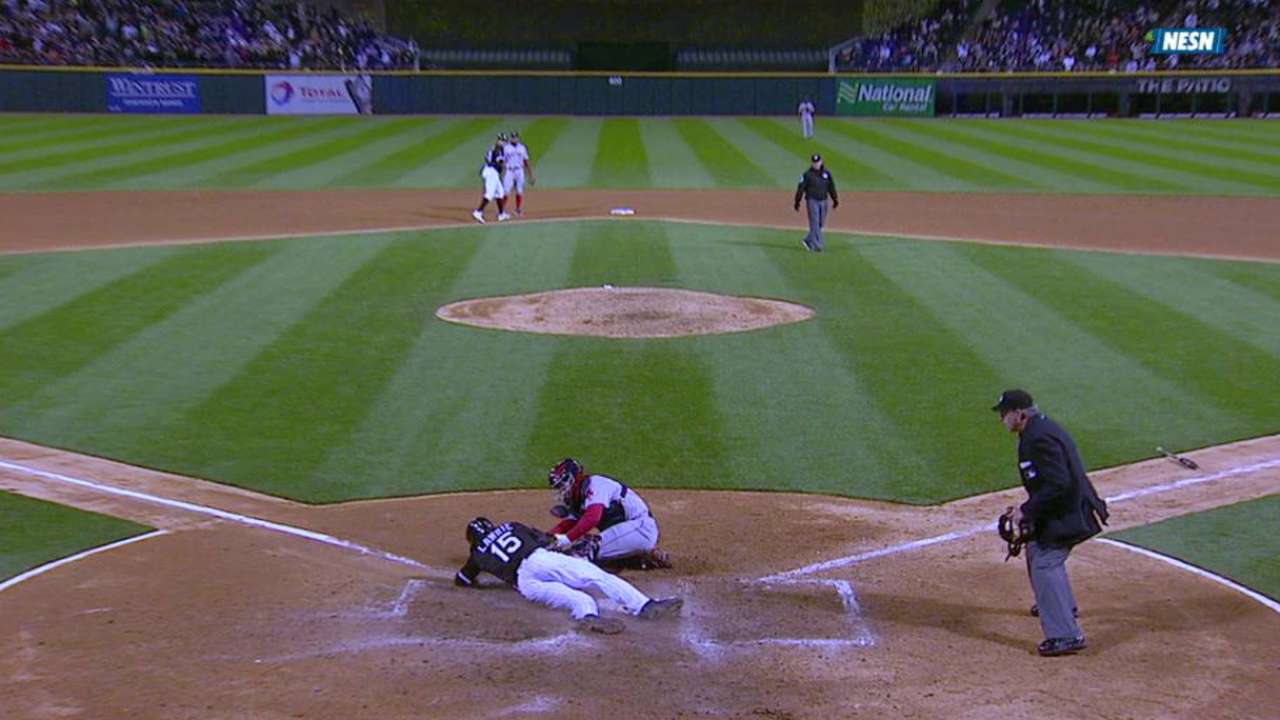 Not left alone: The White Sox left nine men on base through the first five innings and stranded 11 overall. They missed their best chance in the third, when Owens walked the bases loaded with one out, but Melky Cabrera popped out and Lawrie struck out to end the inning. In addition to the costly double play to end the fifth, the White Sox added to their woes by going 1-for-7 with runners in scoring position.
"We had a lot of opportunities tonight," Ventura said. "We had them on the ropes a couple of times with the bases loaded and didn't get anything out of it."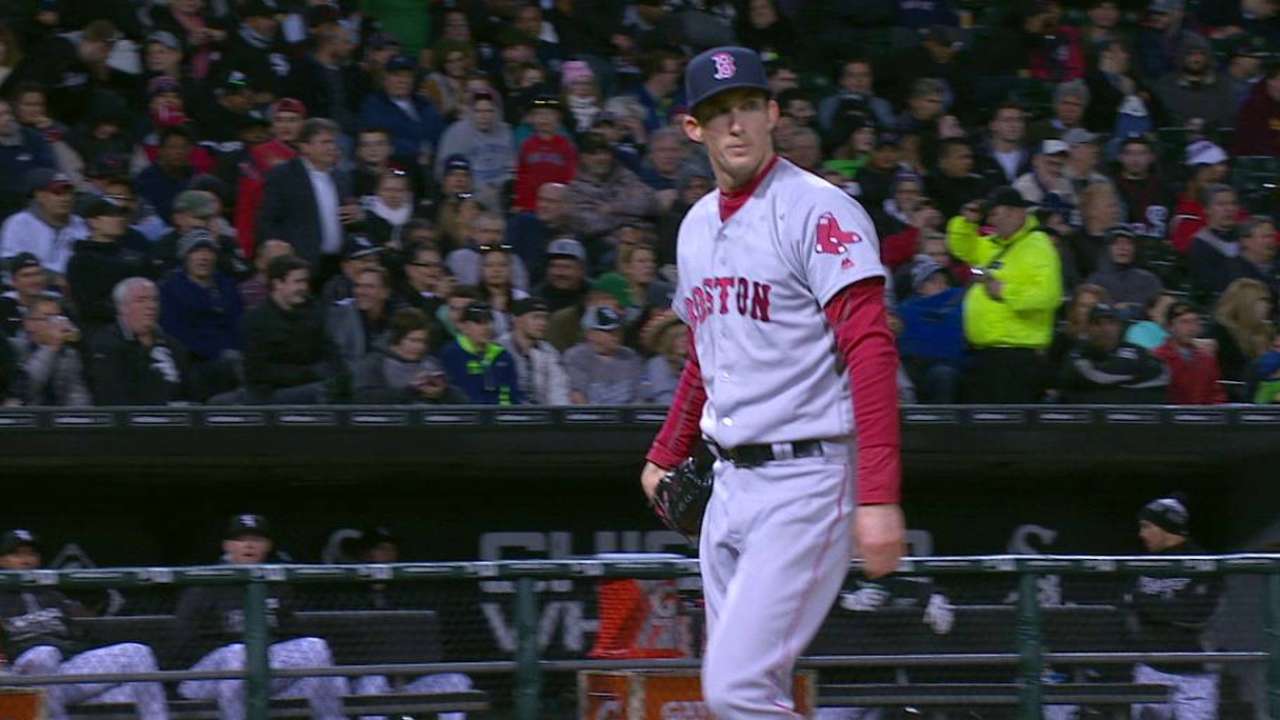 Bullpen brings it home: Boston's bullpen continues to produce standout performances. Farrell needed 18 outs from his relievers after coming to get Owens with nobody out in the fourth. They got the job done, holding the White Sox to just one run over the final six innings. Heath Hembree worked around five hits and got four outs. Matt Barnes went 1 2/3 perfect innings. Junichi Tazawa allowed a hit as he fanned the side in the seventh. Robbie Ross Jr. closed it out with two hitless innings, striking out three. More >
"It seems like every guy that comes in, you know he's going to get the job done right now," said third baseman Travis Shaw. "That's a very comforting feeling. Especially when you can take the lead in the middle to late innings and there's no second guessing who is coming in or what the situation is. There's a growing confidence in every single guy down there right now."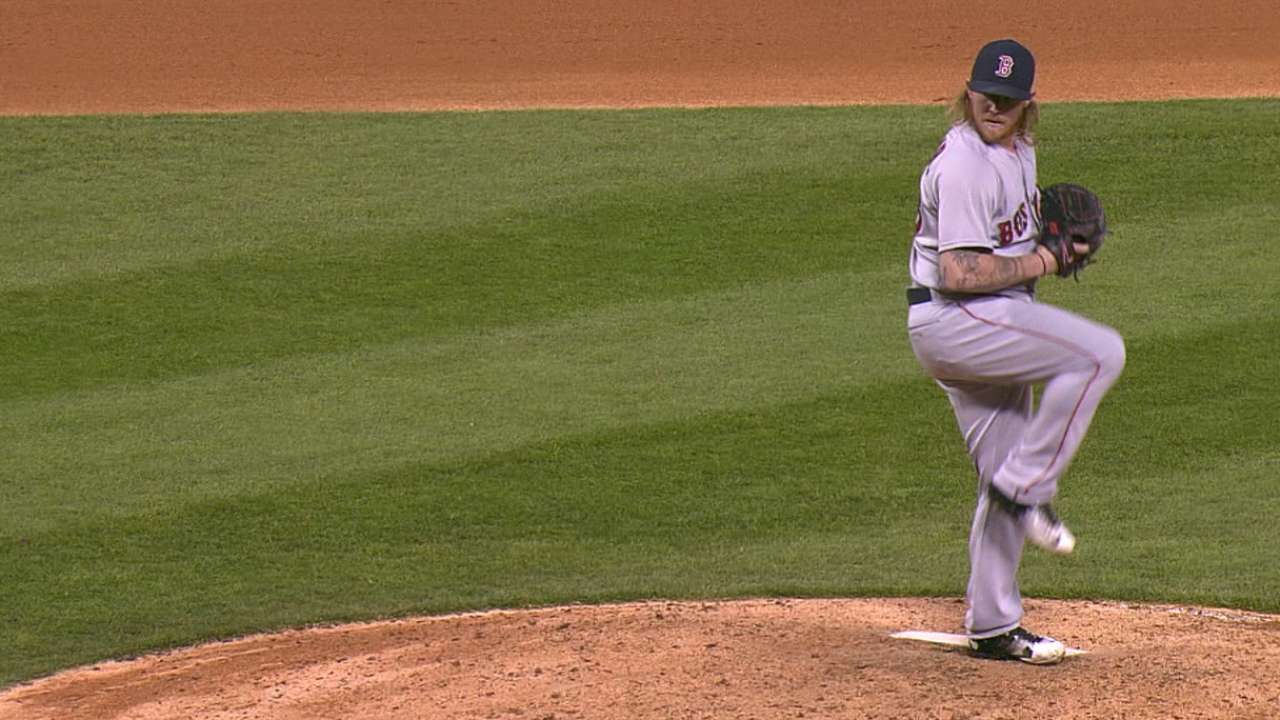 Flat first outing: With the chance to compete for a rotation spot in his hands, Johnson didn't quite deliver. He struggled locating his breaking pitches, and Red Sox hitters took advantage of his flat fastball, starting with Pedroia's homer in the first. The Red Sox had four extra-base hits against Johnson, all of which came off fastballs. Although Johnson had to work, he was able to settle down in the fourth and fifth to save his bullpen and keep his team in the game. He left the game after 108 pitches in five innings, surrendering four runs on eight hits and three walks.
"Today was definitely a battle," Johnson said. "I know I have more to offer for this team, and I know I expect more out of myself."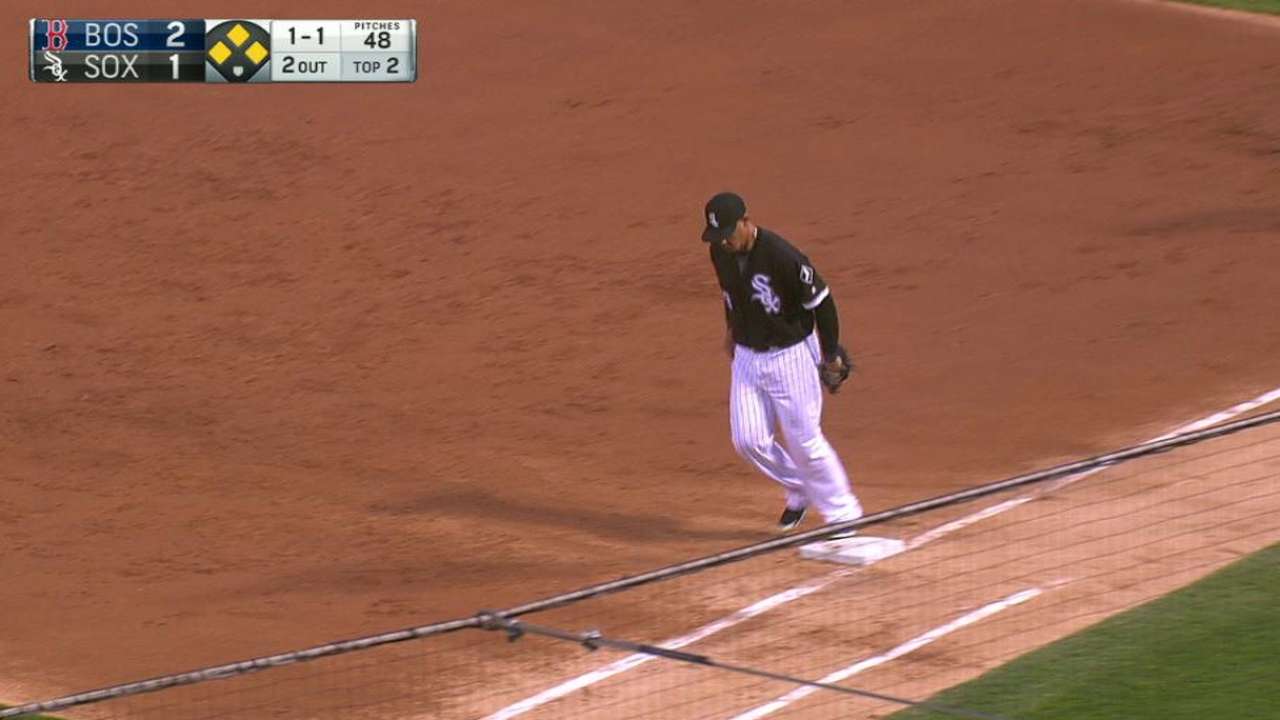 QUOTABLE
"I mean, I thought I was in there because I got through him." -- Lawrie, on whether he was safe at the plate, blocked from the plate or both
"I felt like a lot of the misses were close. But I'm not going to explain in self-pity. I care too much about the guys in this clubhouse. They worked hard because of me and proved resilient again today and won a game. So I'm going to stay positive." -- Owens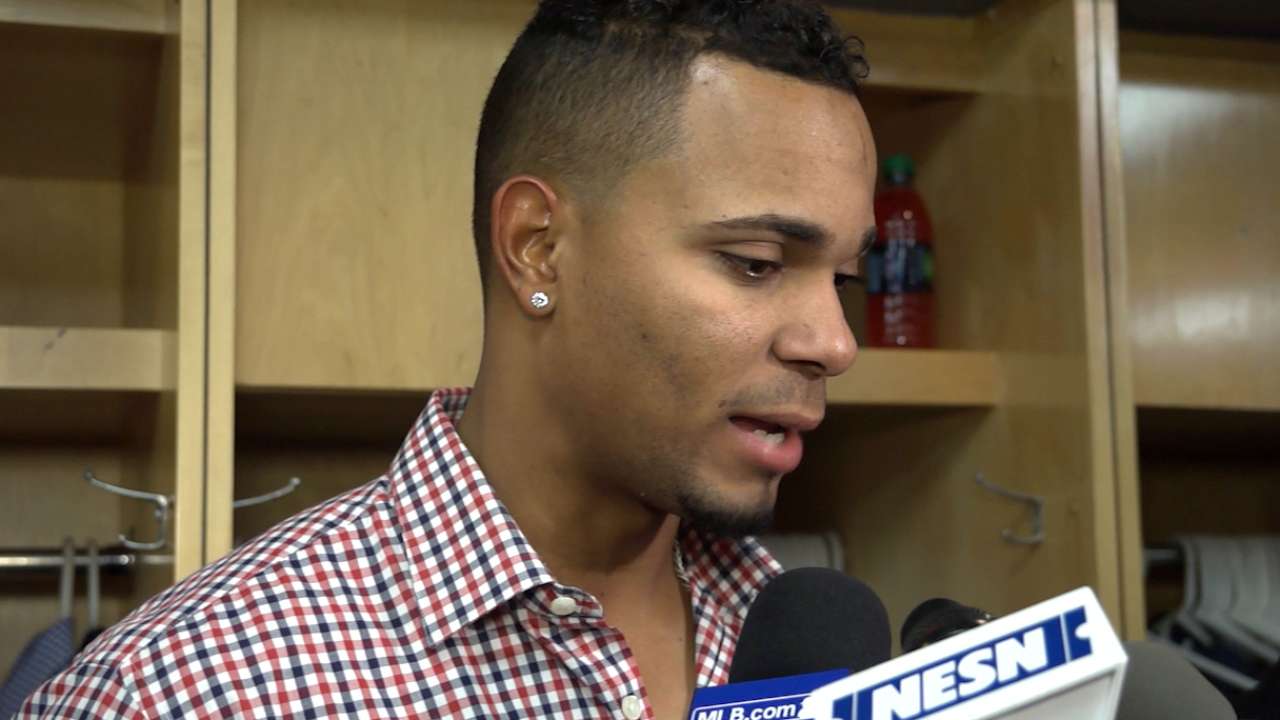 ORTIZ HONORED
Just prior to the game, the White Sox had a nice ceremony honoring Ortiz. Chicago ace Chris Sale presented the retiring Red Sox slugger with a cigar humidor that was crafted by former Major League outfielder Ron Kittle. Several White Sox players paid tribute to Ortiz in a video that was played on the scoreboard. Commissioner Rob Manfred, who was in town making his rounds, praised Ortiz in a pregame news conference. Ortiz contributed two hits to the win, including an RBI double in the eighth. More >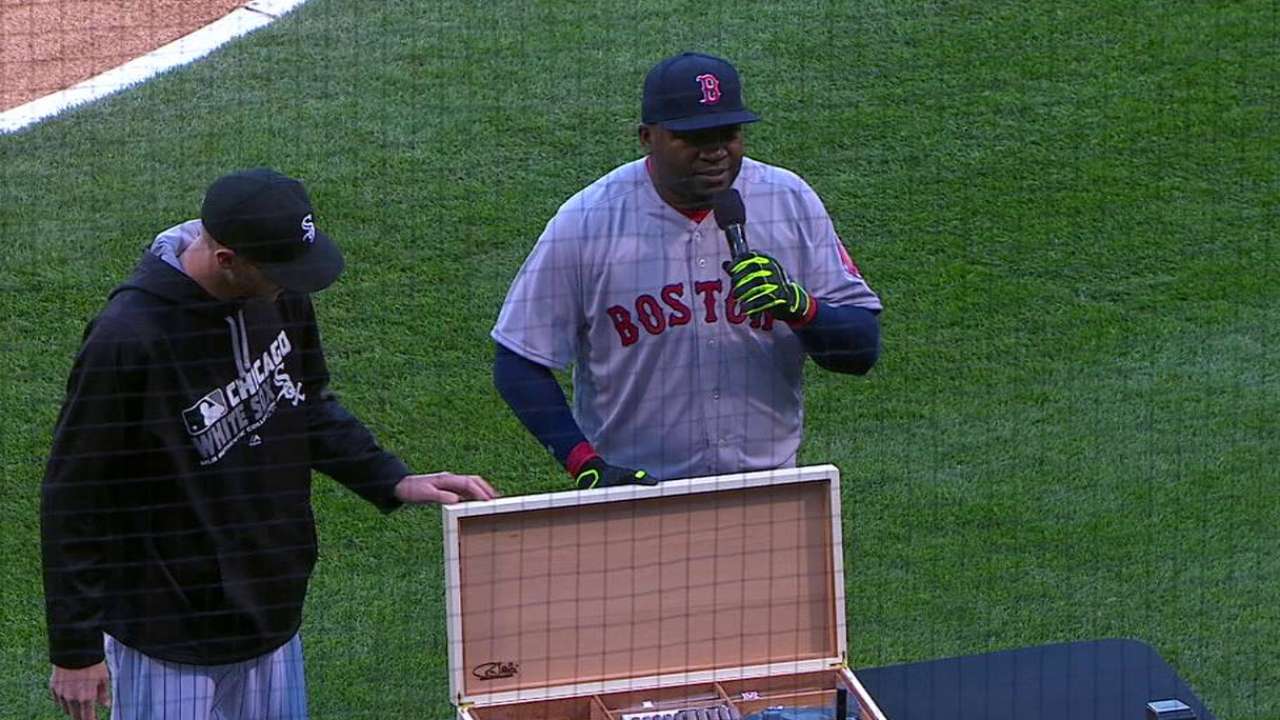 SOUND SMART WITH YOUR FRIENDS
• It was the first time the White Sox have lost back-to-back home games this season.
• In four of 28 games this season, Boston's bullpen has pitched at least six innings. Remarkably, the Red Sox are 3-1 in those games with a 1.20 ERA.
WHAT'S NEXT
Red Sox: Red-hot righty Rick Porcello (5-0, 2.76 ERA) opens a three-game series in the Bronx against the Yankees on Friday (7:05 p.m. ET). Porcello stifled the Yankees his last time out, firing seven shutout innings. Last weekend at Fenway Park, the Red Sox completed a three-game sweep of their rivals.
White Sox: Right-hander Mat Latos will get the ball to open a three-game series against the Twins on Friday at 7:10 p.m. CT at U.S. Cellular Field. Latos (4-0, 1.84 ERA) had his worst outing of the year in his latest start, giving up four runs and 11 hits in a no-decision against Baltimore.
Watch every out-of-market regular-season game live on MLB.TV.
Ian Browne has covered the Red Sox for MLB.com since 2002.

Cody Stavenhagen is a reporter for MLB.com based in Chicago.

This story was not subject to the approval of Major League Baseball or its clubs.