MLB.com Columnist
Phil Rogers
Shaw a perfect example of effect Epstein still has
Cubs president has had an impact in every place he has been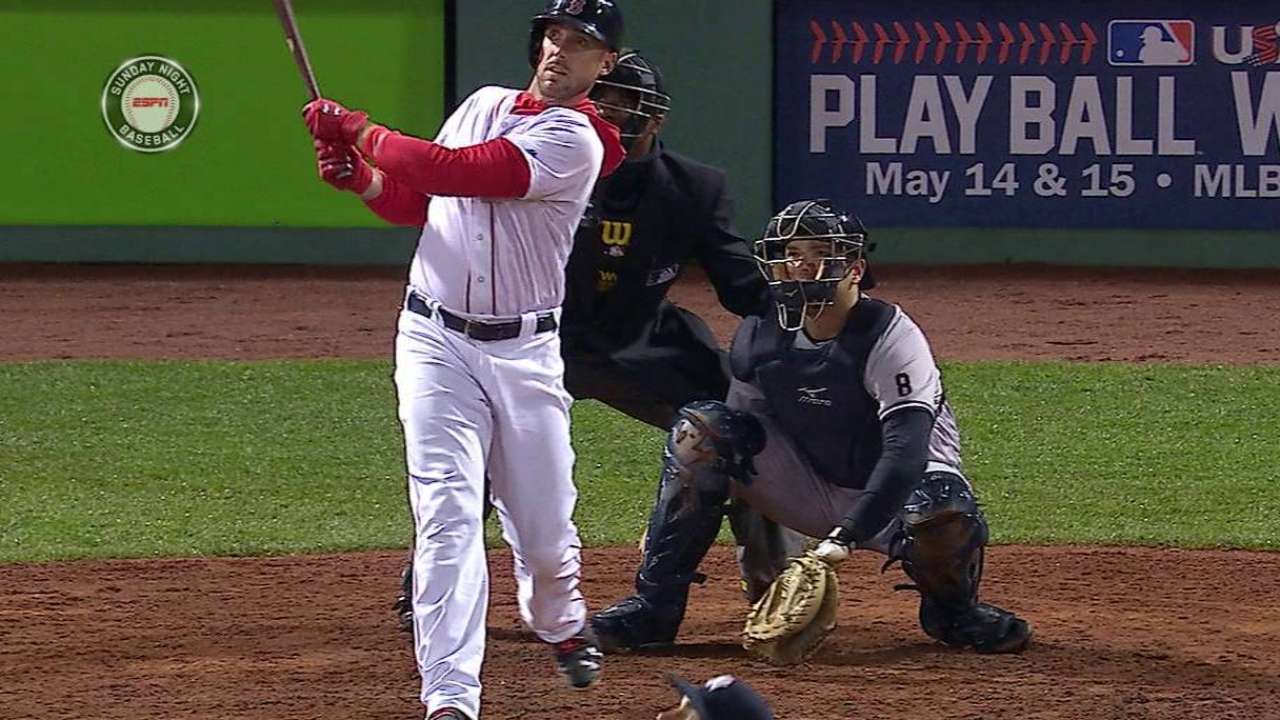 CHICAGO -- There's never been a day in baseball like Thursday in Chicago. It marked the first time that four first-place teams played games in the same city on the same day.
And if that wasn't enough of a twist, let's add this for the degree of difficulty. Not only were there four first-place teams within Chicago city limits at the same time, but two of them were largely the handiwork of one executive.
Welcome to Theofest, 2016.
With the final game of a three-game Red Sox-White Sox series overlapping the opener of a four-game Nationals-Cubs series, Theo Epstein's past bumped into his present.
While Epstein is working to make history in Chicago, his legacy remains front and center in Boston. His organization skills and feel for talent (both with scouts and players) is difference-making, and it shows both in big decisions -- think Kris Bryant and Dustin Pedroia -- and little ones.
Consider the impact of Travis Shaw, the versatile left-handed hitter who moved over from first base to play third for the Red Sox after Pablo Sandoval arrived in Florida overweight and with a bad shoulder. He's hitting .302 with three homers and an .874 OPS in 27 games.
While Epstein was in charge, the Red Sox drafted Shaw twice -- first out of his Ohio high school in the 32nd round in 2008 and then again in the ninth round in '11, after three years at Kent State.
"That was really great work by Red Sox scout Jon Adkins,'' Epstein said. "[He] really believed in the kid, his bat, and his bloodlines. [Scouting director] Amiel Sawdaye was a big advocate as well and one of the few who believed he could play third base as well as first.''
Epstein left Boston for Chicago after the 2011 season. He watched from afar as the Red Sox won the World Series in 2013, reliving the memories that came from the two championships that the Sox won with him as their general manager in 2004 and '07.
But almost five years later, the fingerprints of Epstein and those who worked for him are still all over the Red Sox. He signed David Ortiz as a free agent before the 2003 season and signed off on the pick of undersized Arizona State infielder Pedroia in the second round in '04.
In addition to Ortiz, Pedroia and Shaw, there were four other Epstein holdovers in Boston's lineup against the White Sox: right fielder Mookie Betts, shortstop Xander Bogaerts, center fielder Jackie Bradley Jr. and left-hander Henry Owens. The list would have been longer, but catcher Christian Vazquez got the night off.
Shaw was listed as a third baseman when the Red Sox drafted him, but a lot of people thought he'd wind up as a first baseman. He filled a hole at first in 2015, after a poor spring by Mike Napoli created a vacancy, but he seemed headed for the bench once Hanley Ramirez was shifted from the outfield to first base.
Shaw was given a chance to play third in Spring Training, and he outplayed Sandoval. Long before Sandoval was placed on the disabled list with an injury that would require season-ending surgery, president of baseball operations Dave Dombrowski declared that Sandoval's $95 million contract wouldn't be a factor in determining who played third.
Not only is Shaw contributing at the plate, but he has proven reliable in the field. He has a ranking of +3 Defensive Runs Saved, according to FanGraphs, which ranks fifth among 26 qualifiers at third base. That's quite an improvement over Sandoval's -11 last season.
Epstein is reluctant to talk about the Red Sox, but he's proud of Shaw and others he left behind when he headed to the Cubs.
With good reason.
Phil Rogers is a columnist for MLB.com. This story was not subject to the approval of Major League Baseball or its clubs.