White Sox honor Ortiz; Commish on hand
Big Papi given cigar humidor before final regular-season game in Chicago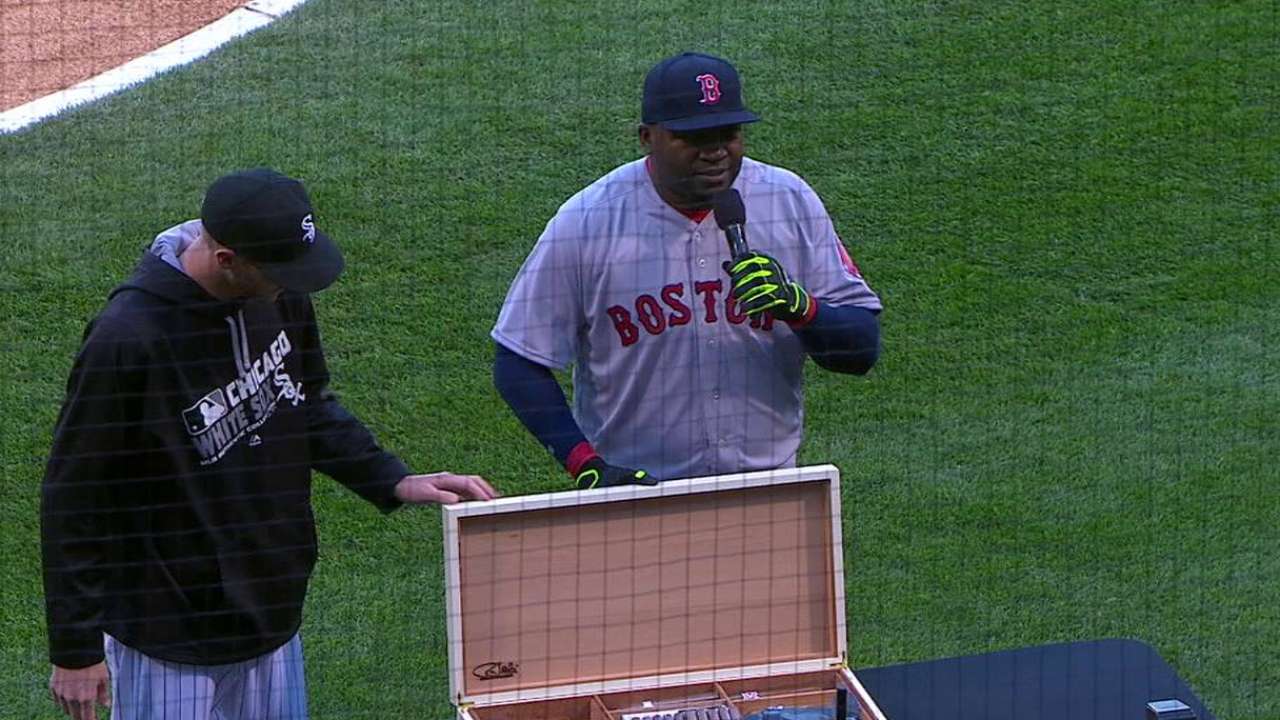 CHICAGO -- When David Ortiz decided that 2016 was going to be his final Major League season, he gave Commissioner Rob Manfred a heads-up before the news became public.
Manfred was appreciative of the gesture -- and of the fine career Ortiz has produced.
"I had an opportunity to spend some time with David during the offseason," said Manfred, who was at U.S. Cellular Field for Thursday night's Red Sox-White Sox game. "He actually came in and told me before it was announced it was going to be his last season. He's been a great Red Sox [player], he's been a great ambassador for the game.
"He's one of those individuals who has an engaging smile that he wears most of the time -- good or bad -- and athletes that I know, people in Boston, have come to love. He's had a great career, and I really wish him all the best."
• Cast your Esurance All-Star ballot for Big Papi and other #ASGWorthy players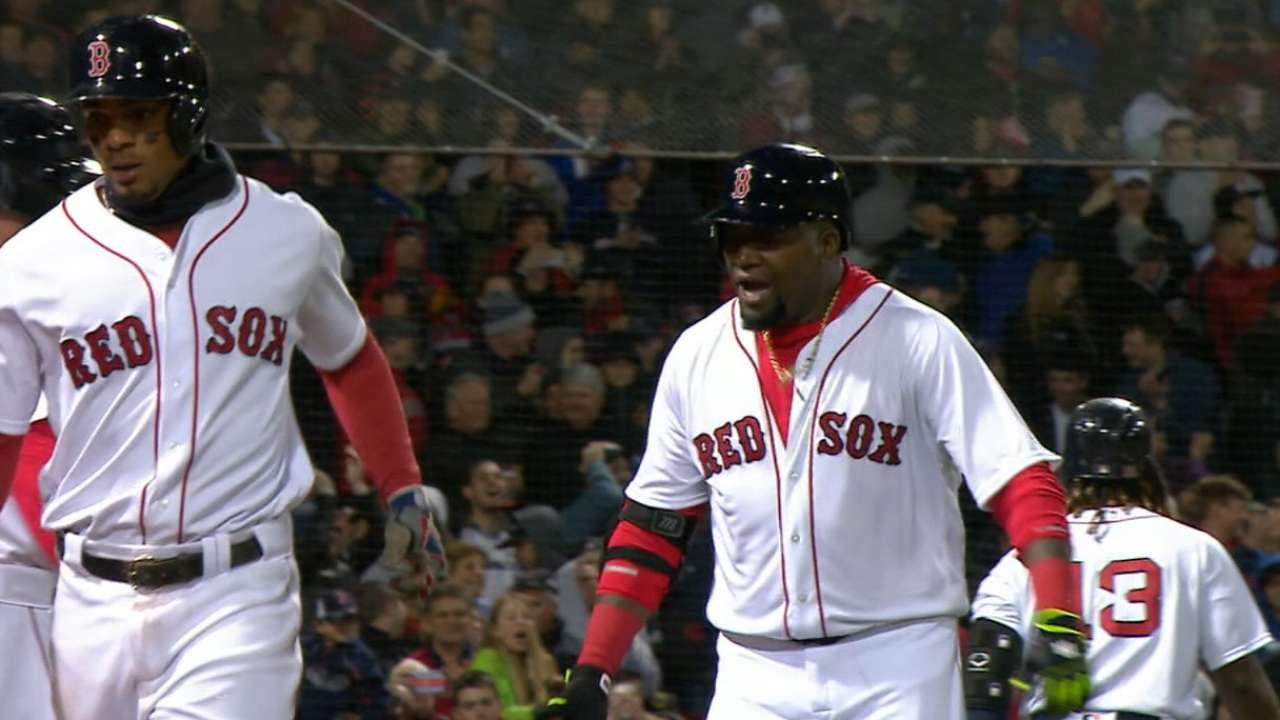 Playing his final regular-season road game in Chicago on Thursday night (a 7-3 Red Sox win), Ortiz was honored by the White Sox in a pregame ceremony.
On behalf of the White Sox, ace Chris Sale presented Big Papi with a cigar humidor made out of wood by former Major League outfielder Ron Kittle. The humidor came stocked with half of the cigars bearing Red Sox logos and the other half with White Sox logos.
The White Sox also played a video tribute containing highlights from Ortiz's career and interviews in which many of Chicago's players gave their well wishes.
"Congratulations," said White Sox manager Robin Ventura. "You know it's probably time to go when you played against most of the managers in Major League baseball."
Thanks for the gifts, @whitesox! #ThanksPapi pic.twitter.com/g56acJWb1j

— Boston Red Sox (@RedSox) May 6, 2016
Ventura and the White Sox fell to Boston on Wednesday after Ortiz belted a go-ahead, two-run homer.
"I don't want to see him anymore," Ventura said. "He's been a dynamic player; another case for a DH who's going to make it into the Hall of Fame because he's had such an impact on every game he's been in, in the lineup, where he's at, playoff games, clutch moments. All those things and the Boston Strong thing.
"He's had a lot of important moments in Boston. It transcends a lot of things in our game. Instead of just for that hometown team, he means a lot of things to a lot of people."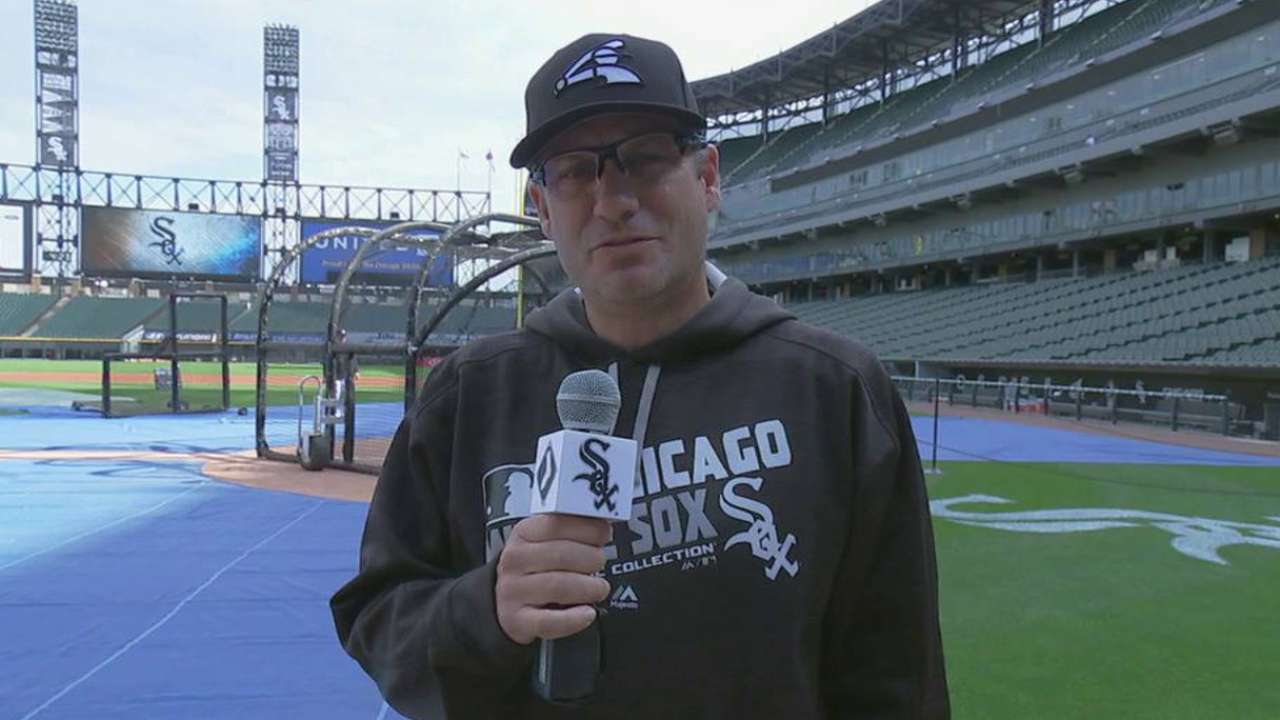 Chicago is the third city Ortiz has made his final visit to already this season. The Astros presented the slugger with a Stetson cowboy hat. The Braves paid tribute with a video montage.
Kansas City will be the next stop on Ortiz's farewell tour, as the Red Sox play the Royals from May 16-18.
Ian Browne has covered the Red Sox for MLB.com since 2002. This story was not subject to the approval of Major League Baseball or its clubs.