Marte has unique swing at his disposal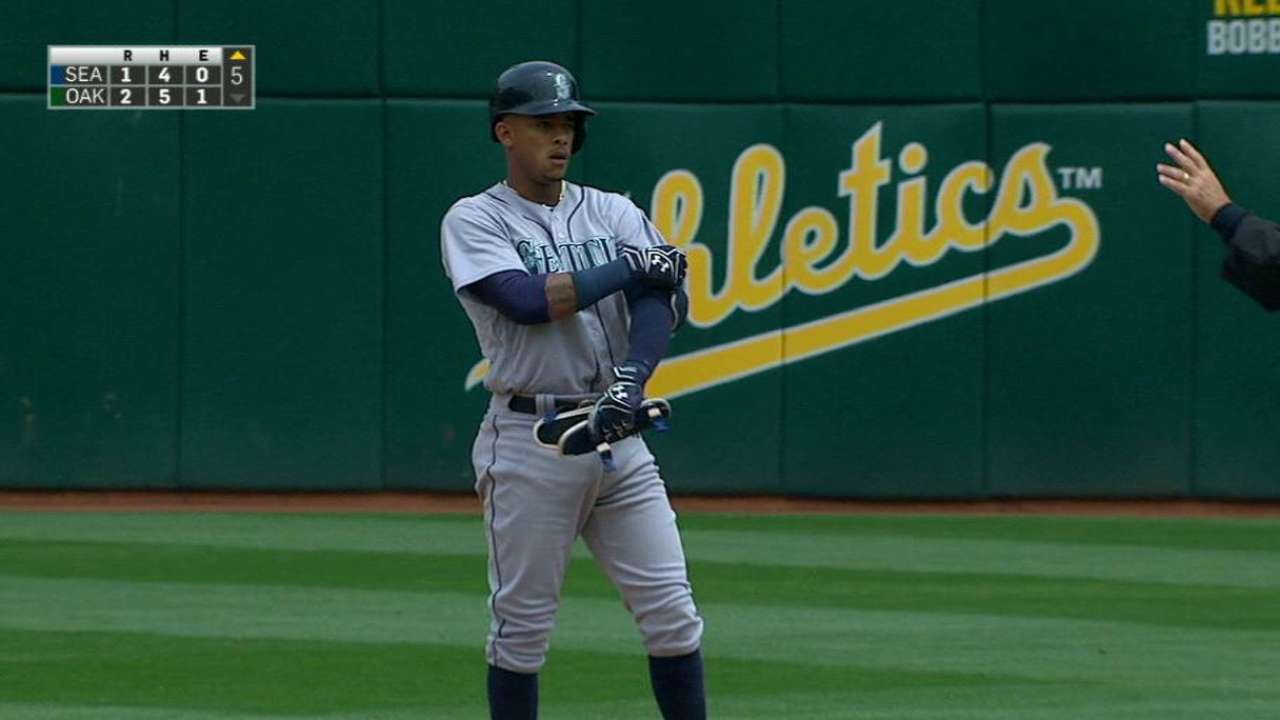 HOUSTON -- Mariners shortstop Ketel Marte opened some eyes with an outstanding defensive series in Seattle's three-game sweep of the A's, but the 22-year-old also raised some eyebrows with his unconventional swing on a double in the sixth inning of Wednesday's 9-8 win.
Batting left-handed against right-handed reliever Ryan Dull, Marte took a running start at the outside pitch and slapped a two-base hit to left field against the shifted defense. Call it Marte's own version of "hit and run," as he dredged up memories of Ichiro Suzuki's ability to move his feet forward and hit the ball at the same time.
"I've been doing that a long time, when I was playing in the Dominican," Marte said. "I think I can do that sometimes. When I'm trying to do that, I'm looking for a pitch outside. I think he threw me an outside changeup. I just try to hit the ball over the shortstop and you see what happened. I got a double."
Marte isn't channeling Ichiro, however. He says he learned the move from watching Rafael Furcal and Emilio Bonifacio and used it once last year to get a single for Triple-A Tacoma.
"I think a player like me, you have to use your legs," Marte said. "I might try to do it a couple more times and see what happens. You don't have to do too much. Just put the ball in play and use your legs."
Mariners manager Scott Servais didn't sound quite as sold on the unusual technique, but he appreciated the results.
"You don't teach that one. We're not working on that one in [Class A] Clinton right now," Servais said. "That's one of those natural plays -- Rafael Furcal used to do that, Erick Aybar has done that. Typically it's the Latin player that can run a little bit.
"They're playing on top of him at third base, and he got a pitch he could do it with. It's kind of neat when it works. It doesn't work all that often. But when it does, it's fun to watch."
Greg Johns has covered the Mariners since 1997, and for MLB.com since 2011. Follow him on Twitter @GregJohnsMLB and listen to his podcast. This story was not subject to the approval of Major League Baseball or its clubs.