Mariners sticking with Lind vs. most righties
Despite Lee's success, Servais points to left-handed-hitting first baseman's track record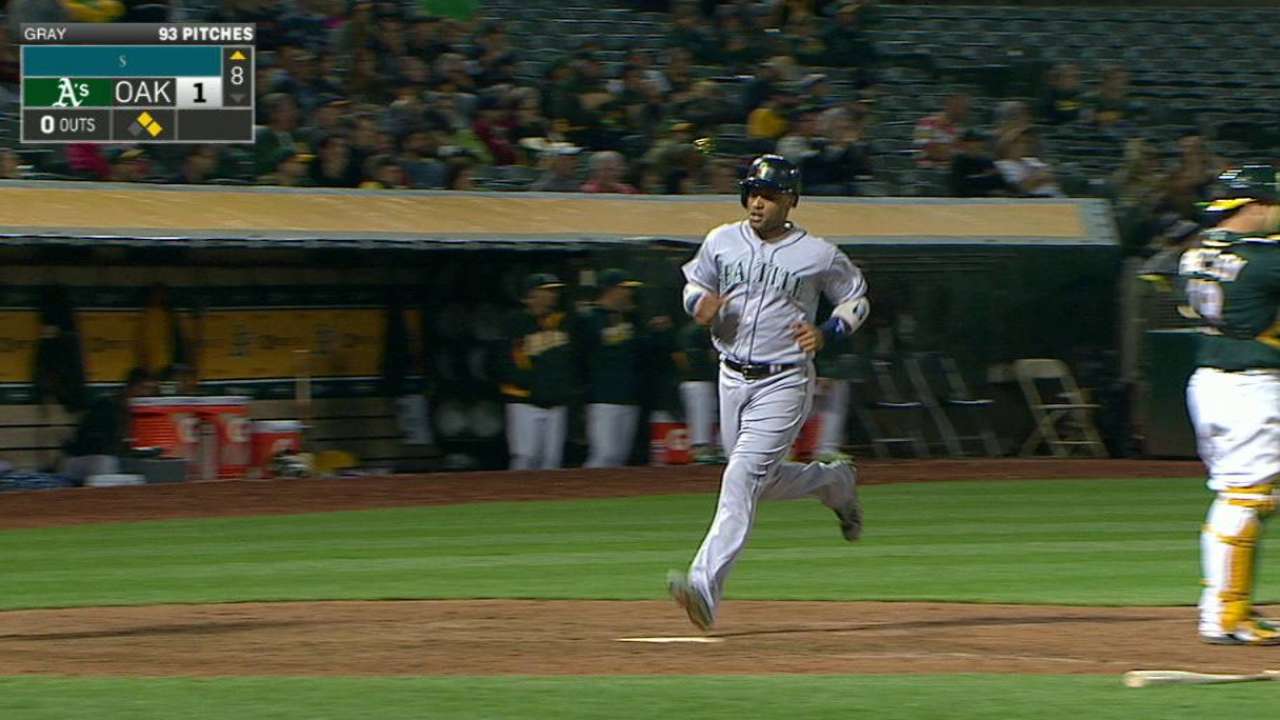 HOUSTON -- Even after Dae-Ho Lee's two home runs off right-handed relievers in Wednesday's 9-8 victory in Oakland, Mariners manager Scott Servais says he'll stick with the platoon plans at first base, with Adam Lind getting the majority of work against righties.
"We'll get back to playing the numbers a little," Servais said prior to Thursday's series opener against Astros rookie right-hander Chris Devenski. "Yesterday was a great day for [Lee]. We had a hunch, we rode the hunch and it worked out great, but we'll get back to our regular lineup."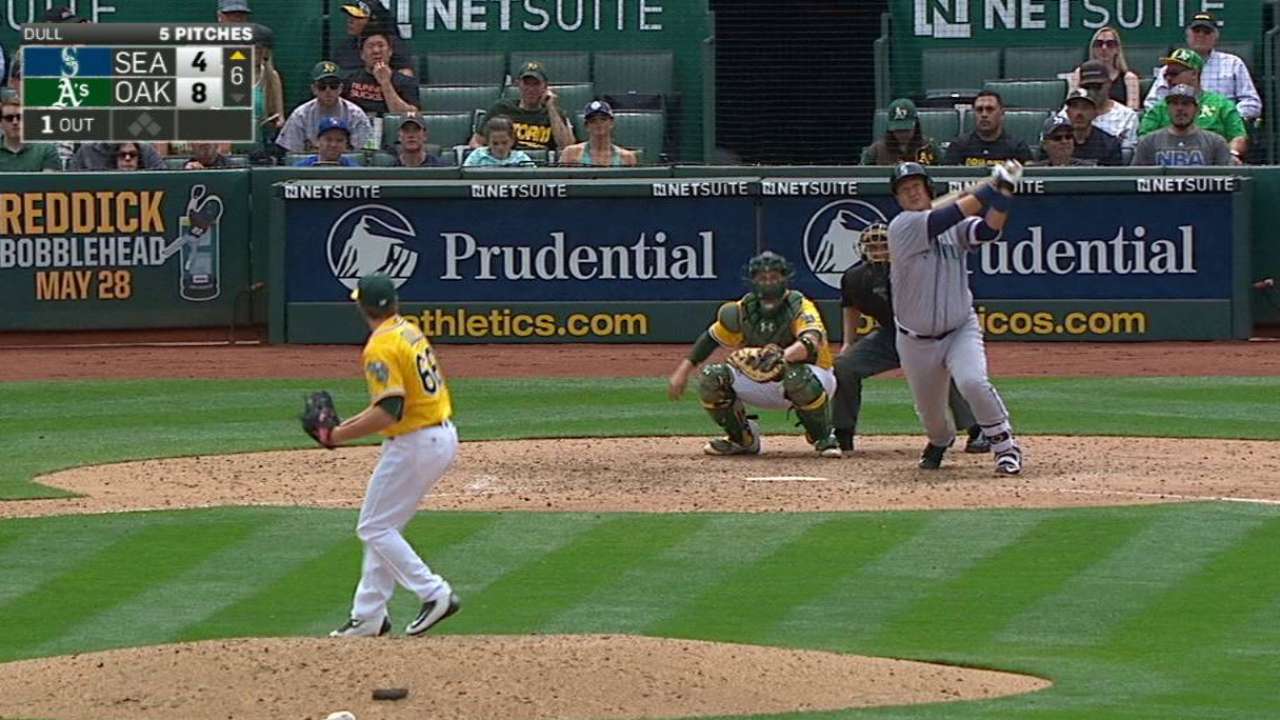 Servais said he doesn't know what Lee's splits were in Korea and Japan against right-handed hitters, but there is a good reason for sticking with the long-term plan.
"Adam Lind has quite a track record in our league of hitting right-handed pitching, so that's what we'll stay with," the manager said. "Adam is swinging the bat a little better the last week or 10 days. His numbers still aren't where he wants them to be yet, but I'm not that concerned with where he's going to be. You've got to keep him playing."
Servais said he's more inclined to go by pre-set plans than "gut feel" decisions like Wednesday's choice to stay with Lee against both right-handers Ryan Dull and John Axford in the sixth and seventh innings when he launched his two home runs, noting even those decisions were thought out in advance.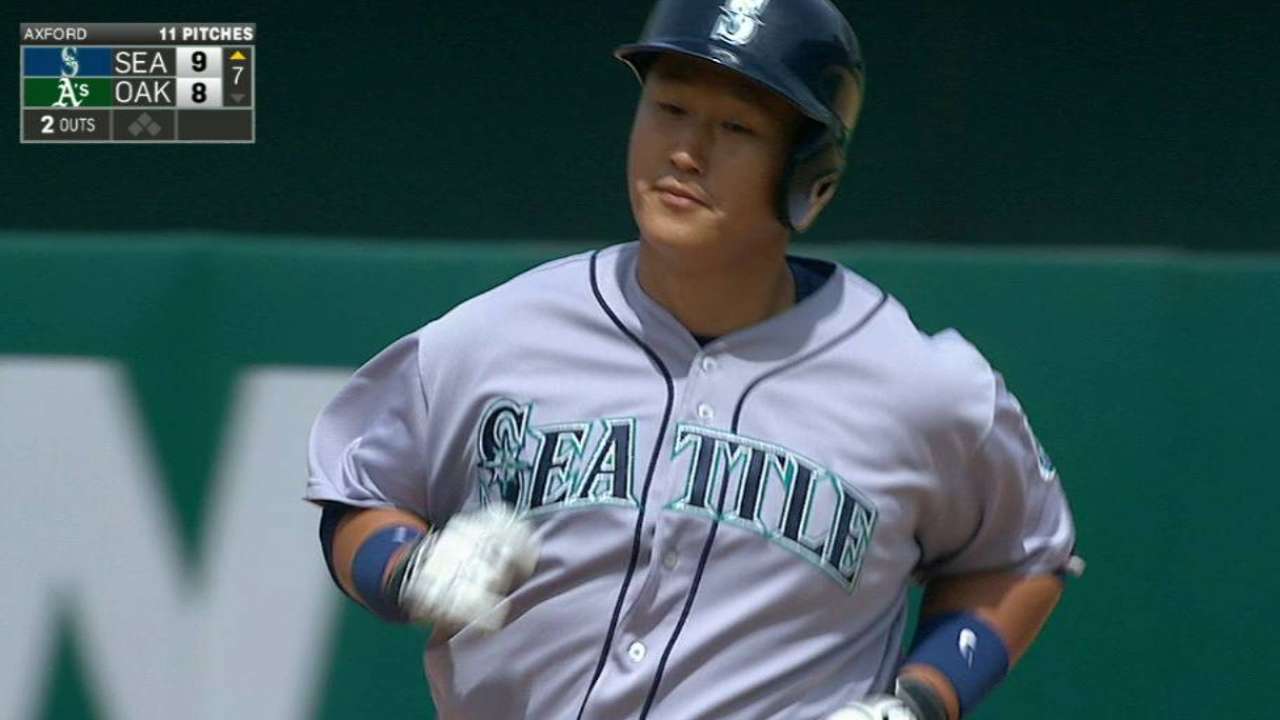 "It was a feel moment, but there also was data and numbers tied behind the decisions that were made based on who the pitcher was," Servais said. "If you remember, Dae-Ho Lee hit a double off Axford in Spring Training, he pinch-hit against him in Seattle, and what Axford throws in certain counts, if we could get into those counts, it might work out in our favor. And it did. So there was some thought that went into that rather than just, 'Hey, let's run him up there again.' There was a lot of thought that went into it."
Worth noting
• Servais said rookie reliever Tony Zych will likely miss 4-5 weeks after undergoing tests in Seattle on Wednesday on his sore right shoulder.
"I'm very hopeful he'll bounce back," Servais said. "From the reports I got, I don't think there's any serious structural damage. He has a sore shoulder, he has some inflammation in there and they need to quiet it down. It's a special arm. We need to get him back healthy, not just so he can throw an inning, but he can throw an inning and bounce back and be available the next day, which has kind of been an issue so far this season."
• Veteran right-hander Joaquin Benoit, who also is on the 15-day disabled list with a sore shoulder, is doing light throwing back in Seattle and is expected to get in a bullpen session early next week when the club returns from its road trip.
• Left-hander Charlie Furbush threw a 20-pitch bullpen earlier this week in Seattle as he works back from the shoulder tendinitis that has sidelined him since early in Spring Training. But he's not nearly as close to returning as Benoit and is likely looking at a June return date at the earliest.
"It's a long progression," Servais said. "He never had a Spring Training, so it's going to be more than just two or three Minor League outings. It's going to be a regular Spring Training, which could be six, eight, 10 outings."
• Catcher Mike Zunino was named Pacific Coast League Player of the Month for April after hitting .397 with seven home runs and 22 RBIs in 20 games last month for Triple-A Tacoma.
Greg Johns has covered the Mariners since 1997, and for MLB.com since 2011. Follow him on Twitter @GregJohnsMLB and listen to his podcast. This story was not subject to the approval of Major League Baseball or its clubs.