Phillies look to move past hitting struggles
Despite some slow starts at plate, Phils not letting frustration get to them
ST. LOUIS -- The Phillies' offense suffered a double whammy on Thursday: It had few chances and did nothing with them.
Philly went 0-for-5 with runners in scoring position, continuing an early-season trend in a 4-0 loss to the Cardinals. The Phillies are now hitting just .219 with runners in scoring position.
"You look at the batting averages, and they're not the greatest," Phillies manager Pete Mackanin said. "I think these guys, they don't look like they're settled in. I'd like them to be after a month, but they're just not hitting the way they're capable of hitting."
The lineup had several noticeable changes. Ryan Howard, who has scorched Cardinals pitching in his career, sat against the lefty Jaime Garcia, as did the slumping Maikel Franco. The pitcher moved back from the eight to the nine-hole.
Mackanin was tempted to play Howard after he hit two home runs in the past two games, but he is a career .167 hitter against Garcia.
" ... I didn't see the point of that," Mackanin said.
Peter Bourjos had the best chance to dent the scoreboard with runners at first and third and just one out in the fifth. He hit a line shot, but it went right to first baseman Brandon Moss, who caught it and tagged out Tyler Goeddel to complete the unassisted double play.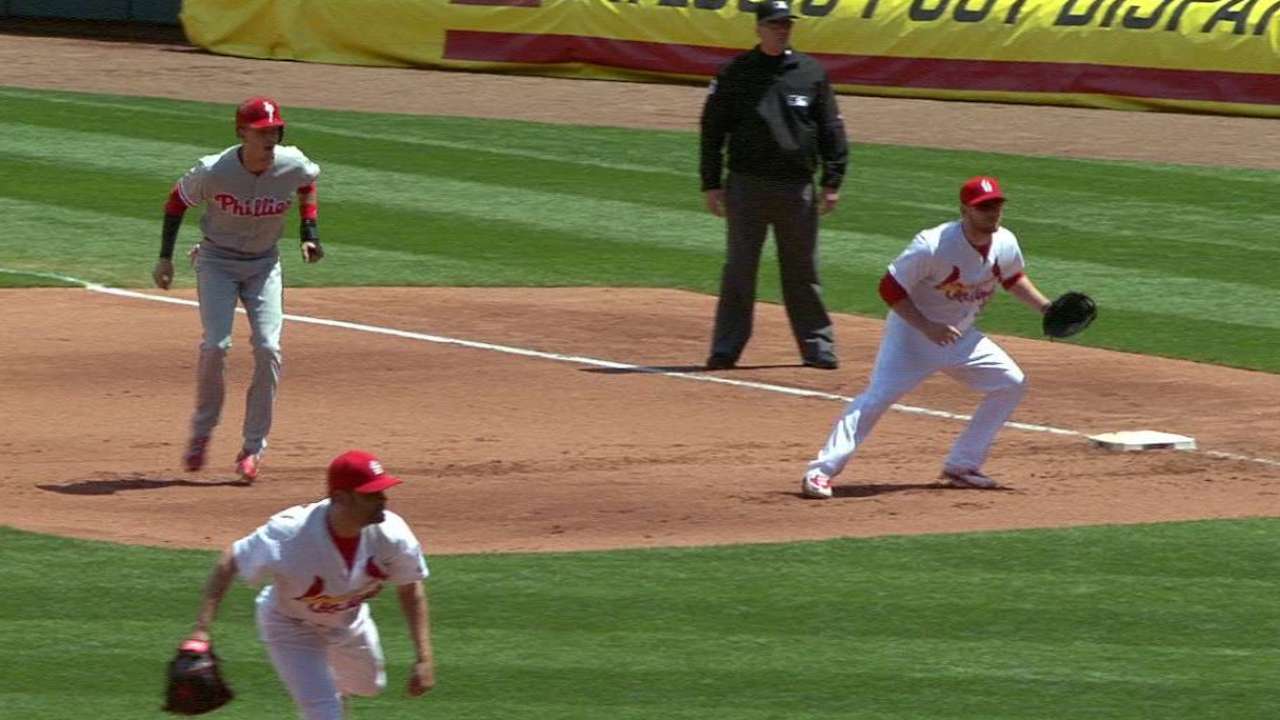 "Coulda, shoulda, woulda," Mackanin said. "That ball's over his head or left or right of him, and we get something going."
The Phillies have tallied 90 runs scored this season, and they have scored two runs or fewer in 12 of their first 29 games.
Freddy Galvis reached base twice, on a hit and an error. He raised his average to .229, still more than 30 points lower than what he hit last season.
Although he, Franco and several other Phillies have gotten off to slow starts, Galvis said there is no frustration.
"That's baseball right there," Galvis said. "Sometimes you're going to make some hits the whole trip. Sometimes you are going to score. Sometimes you aren't going to score runs. We have to keep working hard."
Garcia was dominant through seven innings, giving up just two hits and striking out five. The Phillies are now hitting .156 (28-for-179) against left-handed starters this season.
Philadelphia will face two more lefties -- Wei-Yin Chen and Justin Nicolino -- this weekend in Miami.
"It's concerning, but I think one of the reasons why is we haven't seen enough lefties," Mackanin said. "I think we've seen six starting left-handers in 29 games. That's the reason a lot of lefties are effective, because they're not seen as much as righties."
Joe Harris is a contributor to MLB.com based in St. Louis. This story was not subject to the approval of Major League Baseball or its clubs.