O's walk off over Yanks after classic duel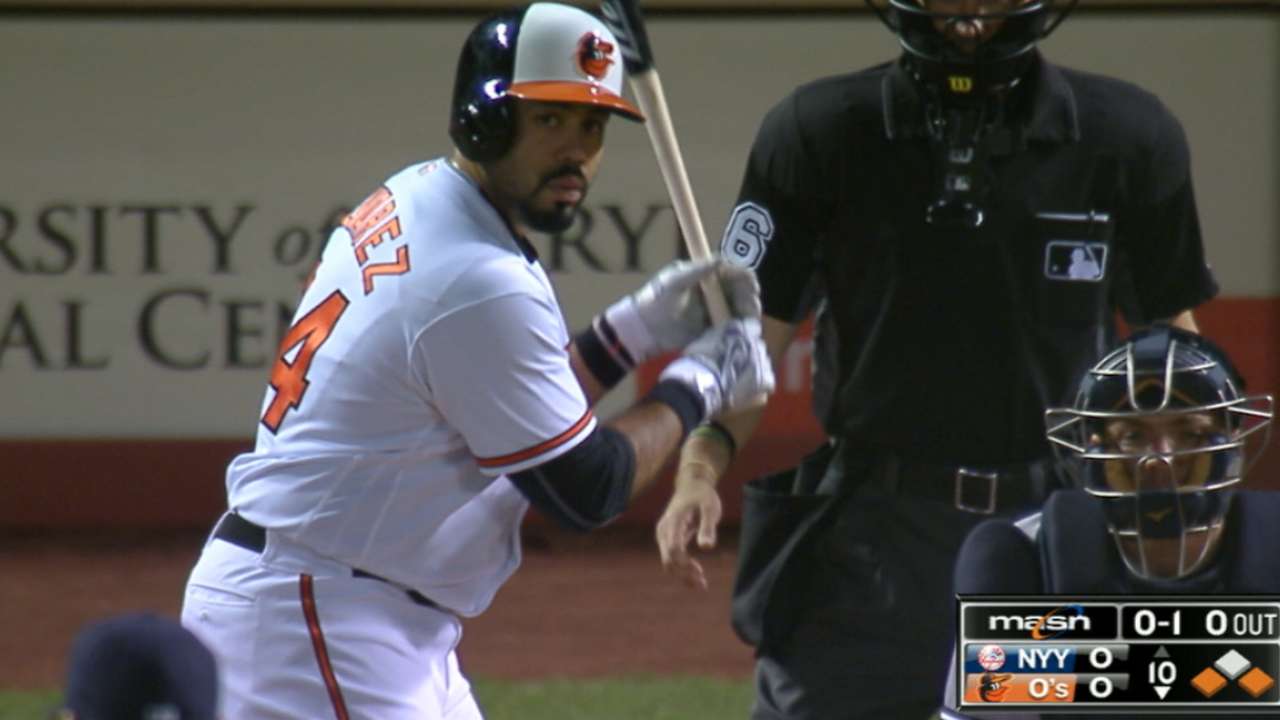 "He's very tough, obviously," Alvarez said of facing the lefty Miller. "He's got the numbers to back it up. He's one of the most effective closers in baseball, and any time you step in there against him, it's not a comfortable at-bat."
• Girardi stands by bullpen decisions vs. Orioles
The run was the O's first in 21 innings.
Orioles starter Kevin Gausman and Yankees righty Masahiro Tanaka traded zeros for eight innings in an impressive pitching duel. Gausman tied a career high in innings with the outing, while Tanaka -- who struck out seven -- turned in his best start this season.
The Yankees, who got a fantastic double play from Dustin Ackley in right field in the ninth inning, wrapped up their three-city trip with a 2-7 record and are winless in their past seven road series.
"It's kind of been the story of the season. We haven't hit, and it's not rocket science," Yankees first baseman Mark Teixeira said. "We just need to execute better."
MOMENTS THAT MATTERED
It's Tanaka time: The most reliable Yankees starter this year, Tanaka spun his best outing thus far, tying his season high with seven strikeouts as he limited Baltimore to five hits and a walk over eight frames. Beginning with a double play that ended the fourth inning, Tanaka retired 13 of the last 14 batters he faced, permitting only Schoop's seventh-inning single the rest of the way. He threw 102 pitches, 69 for strikes.
"At the start, I think I wasn't feeling that good," Tanaka said through an interpreter. "The key thing for today is that I was able to make good adjustments during the game. Once that adjustment was made, I was able to locate balls better and have my offspeed stuff move a little more." More >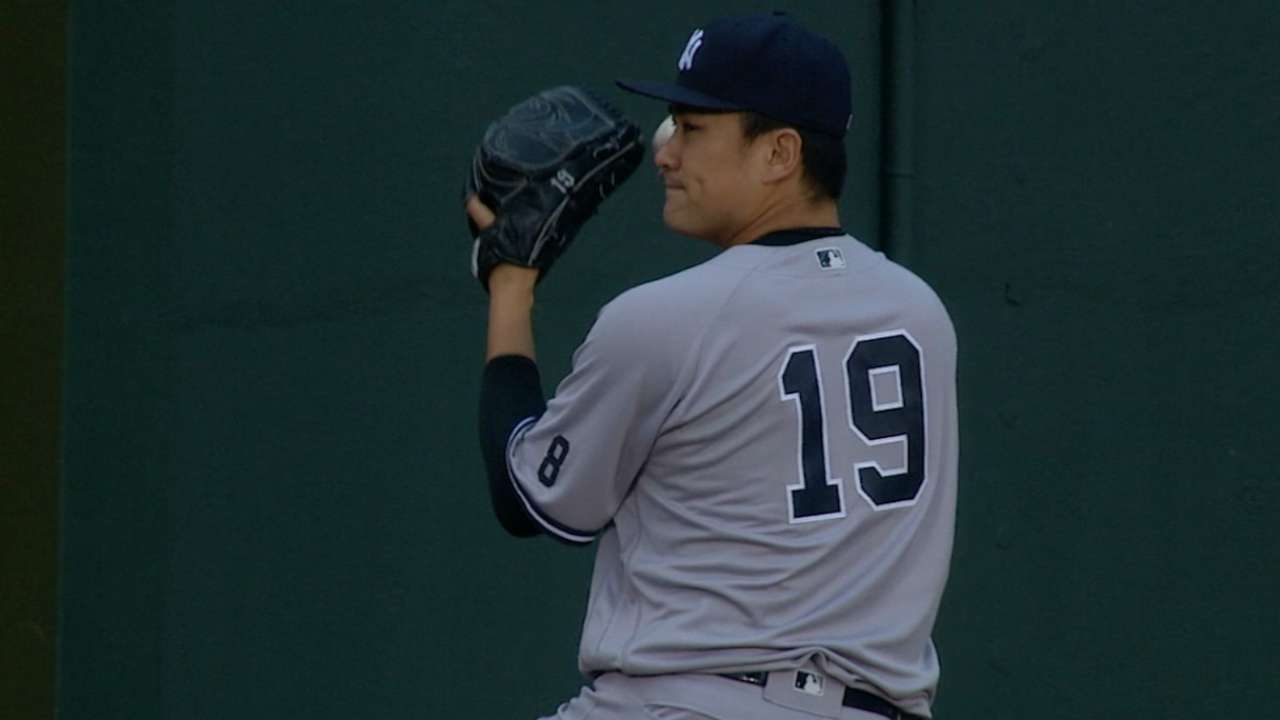 Gausman goes the distance: The O's righty retired 23 of 26 batters faced, walking none and allowing only a pair of singles and a double. He gave Baltimore its best starting pitching performance of the season, needing just 97 pitches to complete the gem.
"The biggest thing is us winning against this team. [The Yankees] really wanted to win tonight, and I think this would have been their first back-to-back wins [on the road] since last year," Gausman said. "Especially the guys who came through at the end of the game, Pedro and Kim. You can't write it up any better." More >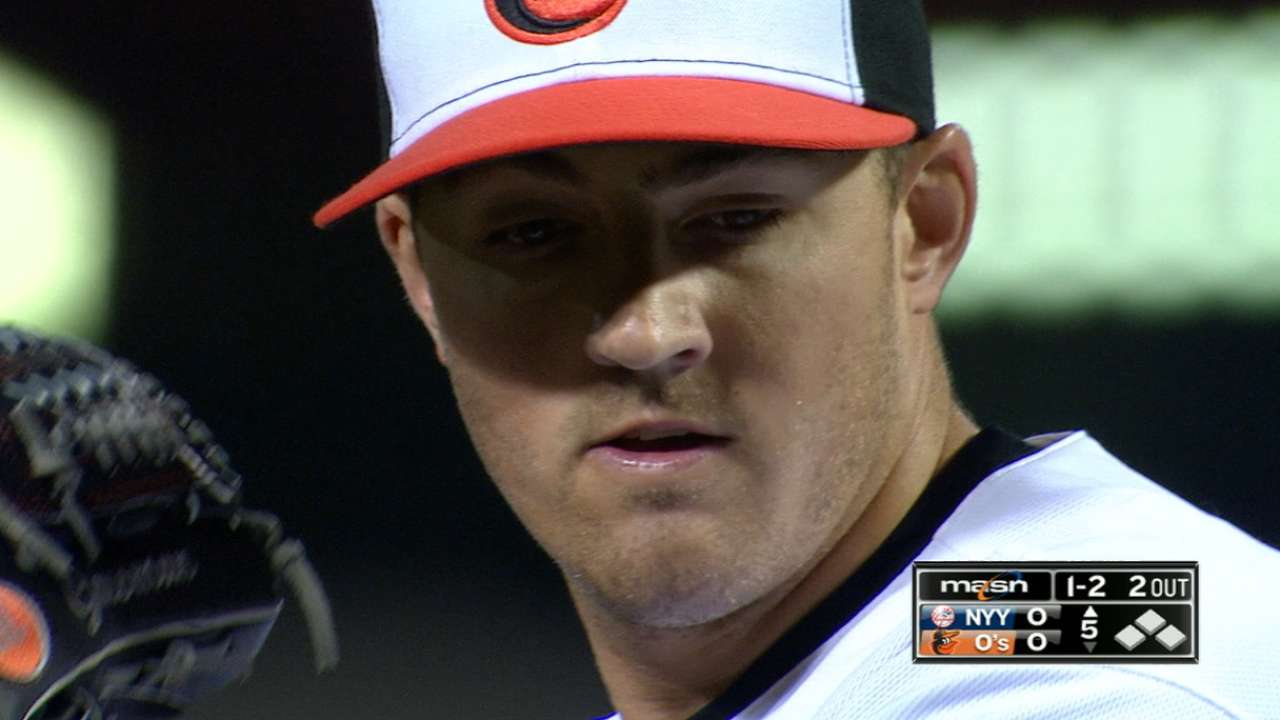 Zach's back: O's closer Zach Britton, sidelined since Saturday with a sprained left ankle, made his return in a five-pitch ninth inning. While catcher Matt Wieters recorded the third -- and only -- out with Britton on the mound in the ninth, on a pickoff of Starlin Castro at second base, the All-Star lefty took center stage in the 10th. After a leadoff walk, Britton struck out the side.
• Britton earns the win in return from injury
"It was huge," Britton said of Wieters' play. "That entire at-bat, I was kind of feeling like my focus was on whether or not I was going to feel [the ankle discomfort on] every pitch, even though I wasn't. And then, obviously, Matt made a huge play right there to get us back in the dugout. So I felt like that time in the dugout, sitting on the bench, I was able to come down and refocus a little bit."
"I think I was too aggressive there," Castro said. "The guy on the mound is really nasty, you know, and I just tried to score. ... That's a play that can't happen there, especially with two outs."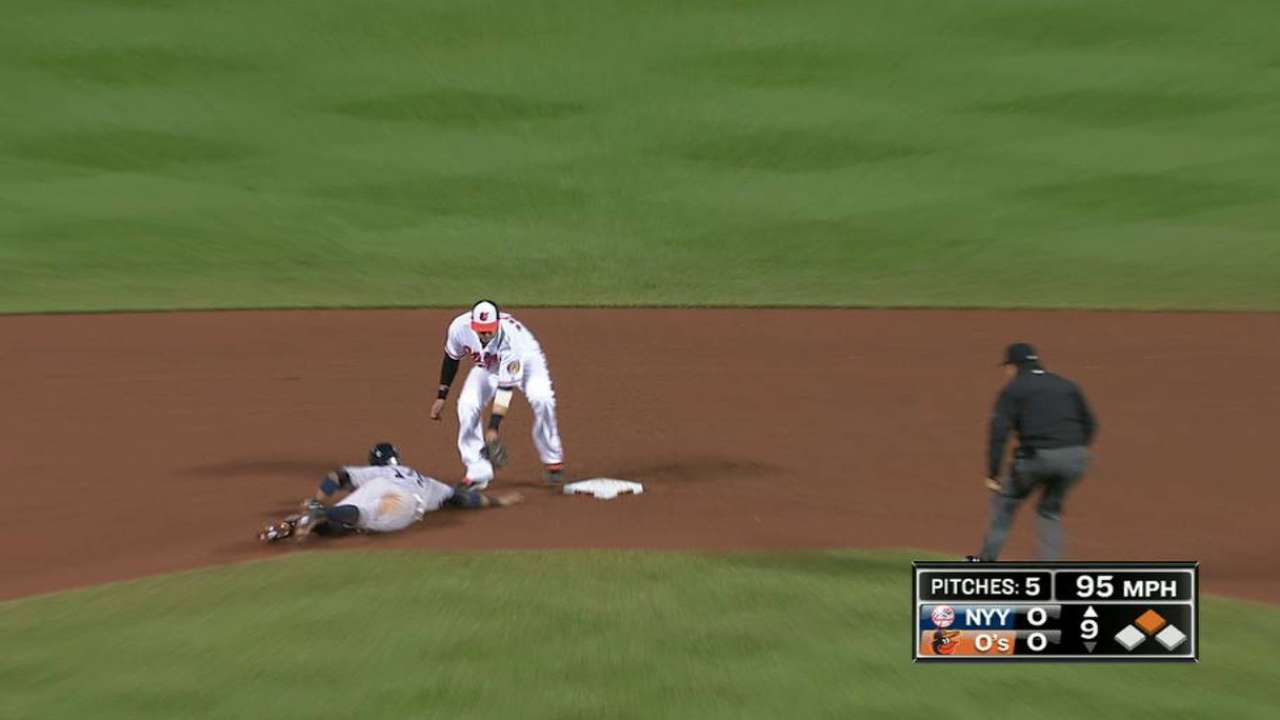 Dustin, the wind: Ackley sent the game to extra innings with his leaping catch against the right-field wall in the bottom of the ninth inning, taking away what could have been the deciding hit from Wieters off Dellin Betances. Instead, Ackley threw on to first base to complete the double play, with pinch-runner Joey Rickard doubled off, a play confirmed by replay. It was just Ackley's second career start in right field.
"I knew it was high, so I didn't think it was going out at that point," Ackley said. "It just kind of hung up there. I got a chance to get back to the wall and kind of know where I was. I was able to time the jump, and luckily, it was close enough for me to catch it."
YOU'RE GONE
Yankees manager Joe Girardi was ejected for the first time this season, as third-base umpire Chris Guccione thumbed him in the middle of the fourth inning. Girardi appeared to be arguing that the umpires missed a balk call on Gausman during Carlos Beltran's at-bat, which would have forced home a run for the Yankees. It was Girardi's 27th ejection as Yankees manager.
"He's balking. They can say he's not trying to deceive the runner," Girardi said. "He's not stopping. At first base, you clearly can't see it, so there, to me, he is trying to deceive the runner. So [Guccione] threw me out when I was coming to get an explanation, and that bothers me."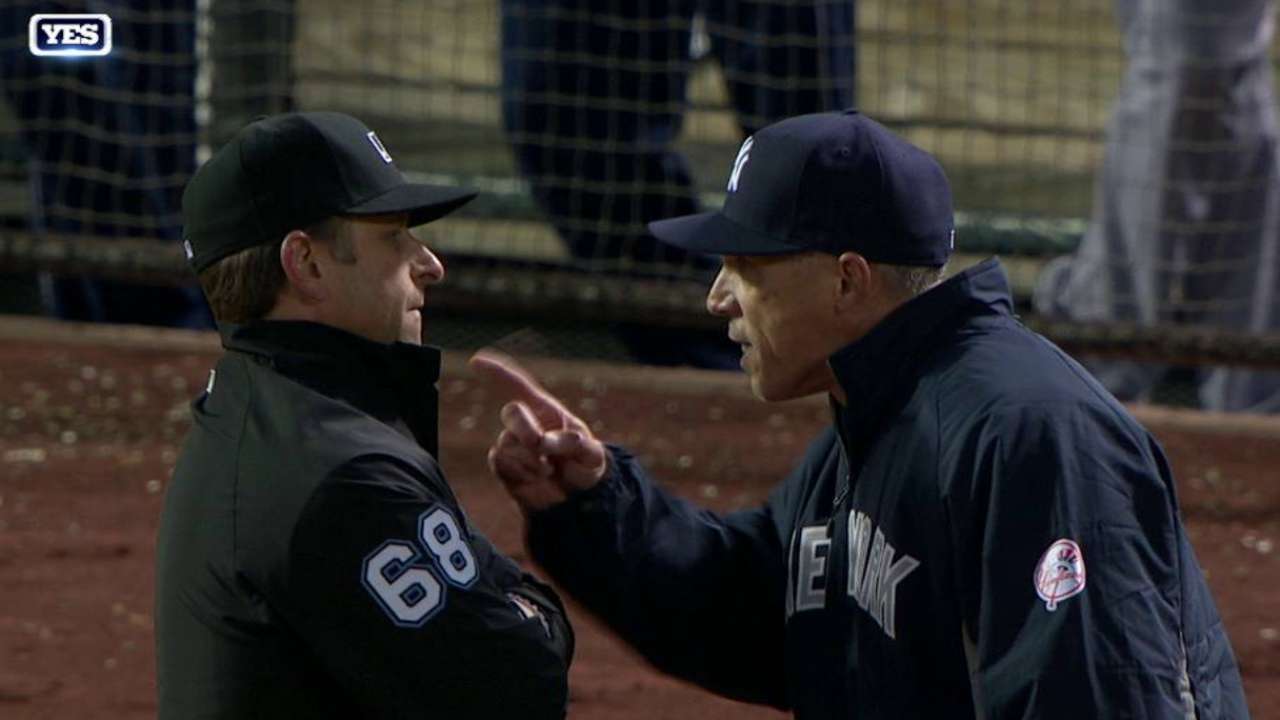 WHAT'S NEXT
Yankees: The Yankees return home to open a 10-game homestand on Friday, getting re-acquainted with the Red Sox, who swept them in a three-game series at Boston last weekend. Michael Pineda starts the series opener at 7:05 p.m. ET opposite Rick Porcello in a reprise of Saturday's matchup.
Orioles: Baltimore will welcome Oakland for a weekend series at Camden Yards beginning on Friday at 7:05 p.m. ET. Righty Ubaldo Jimenez will take the mound first. Jimenez struggled with his command in his last start, a loss to the White Sox, lasting just 4 2/3 innings. He allowed seven hits and four walks, resulting in six earned runs.
Watch every out-of-market regular-season game live on MLB.TV.
Brittany Ghiroli has covered the Orioles for MLB.com since 2010. Read her blog, Britt's Bird Watch, follow her on Facebook and Twitter @britt_ghiroli, and listen to her podcast.

Bryan Hoch has covered the Yankees for MLB.com since 2007. Follow him on Twitter @bryanhoch, on Facebook and read his MLBlog, Bombers Beat.

This story was not subject to the approval of Major League Baseball or its clubs.