Perez expected to miss two to three months
Indians catcher undergoes surgery to repair ligament in right thumb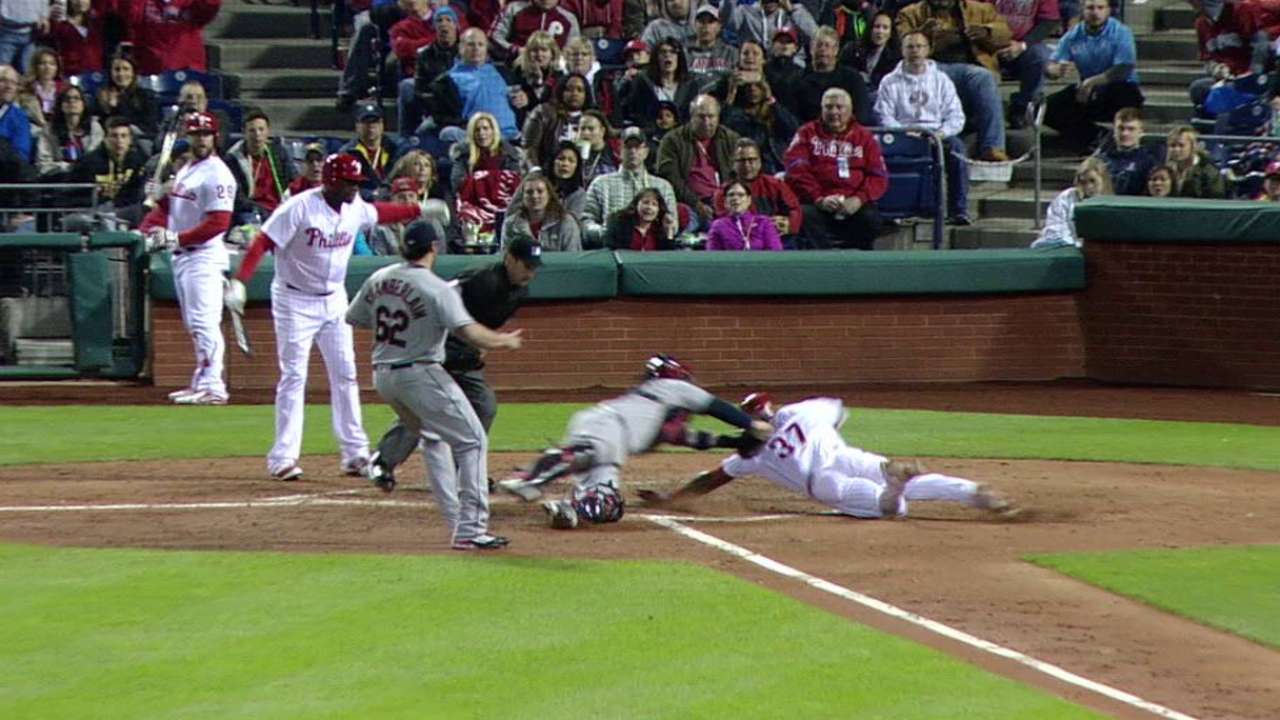 CLEVELAND -- The diving tag that Roberto Perez pulled off on Saturday was an impressive display of his abilities as a catcher. Unfortunately for the Indians and Perez, that highlight-reel out against the Phillies also came with a price.
On Friday, Cleveland announced that Perez is expected to miss two to three months after undergoing surgery to repair the damage to his right thumb, which was injured on that ill-fated play last weekend. Dr. Thomas Graham, a renowned hand specialist, performed the procedure on Friday morning in Akron, Ohio.
"You feel bad for him," manager Terry Francona said on Friday. "He was walking around yesterday. I was talking to him before he left, reassuring him that he's going to be OK, that once he gets through the surgery and gets it out of his system, he can start moving around a little bit."
Perez sustained the injury in the fifth inning of Cleveland's 4-3 loss to Philadelphia on Saturday. On a bounced pitch from Joba Chamberlain, the catcher quickly retrieved the baseball in front of the plate and made a diving tag on Odubel Herrera with the ball in his right hand. At some point during that play, Perez fractured his right thumb.
Surgery went well thanks god! #i will back stronger! Thanks for all the fans support and… https://t.co/FJ0u1MIV2o

— Roberto Perez (@robperez2015) May 6, 2016
"I was holding the ball with my hand, as I was falling down," Perez said earlier this week. "After I tagged him, I think I just [hit it]. I'm still figuring it out. It's hard to tell. I kept playing, because I had adrenaline going and all that. After a couple innings, it got stiff. I didn't know it was broken until I got the X-rays after the game."
• Adding catching depth, Tribe acquires Gimenez
Perez sustained an avulsion fracture, which means a small piece of bone attached to a tendon or ligament is pulled away from the main part of the bone. In the catcher's case, the ulnar collateral ligament was detached from the thumb in his throwing hand. Dr. Graham sutured the UCL back to the bone as part of the Perez's surgical procedure.
Through four games and 15 plate apperances this season, the 27-year-old Perez was 0-for-8 with six walks and a .400 on-base percentage as the backup to starter Yan Gomes. In 70 games last season, Perez hit .228/.348/.402 with seven home runs, 21 RBIs and a 39-percent caught-stealing rate as the Tribe's No. 2 catcher.
With Perez out for the time being, the Indians acquired Chris Gimenez from the Rangers in exchange for cash considerations on Wednesday. During Thursday's 9-4 win over the Tigers, Gimenez went 1-for-3 with a home run and a walk while helping guide pitcher Trevor Bauer to his second win of the season. While Perez is out, Gimenez will serve as Cleveland's backup to Gomes.
"He did a good job," Francona said of Gimenez's debut. "I thought more important [than the homer] was the way he handled Trevor. Small sample size, but I think it showed why we got him. He wasn't introducing himself to everybody. He was reacquainting. You could see how happy everybody was to see him. He took a lot of pride in getting our pitchers through that game, which is important."
Jordan Bastian has covered the Indians for MLB.com since 2011, and previously covered the Blue Jays from 2006-10. Read his blog, Major League Bastian, follow him on Twitter @MLBastian and listen to his podcast. This story was not subject to the approval of Major League Baseball or its clubs.