Draft prospect Jefferies powered by insatiable work ethic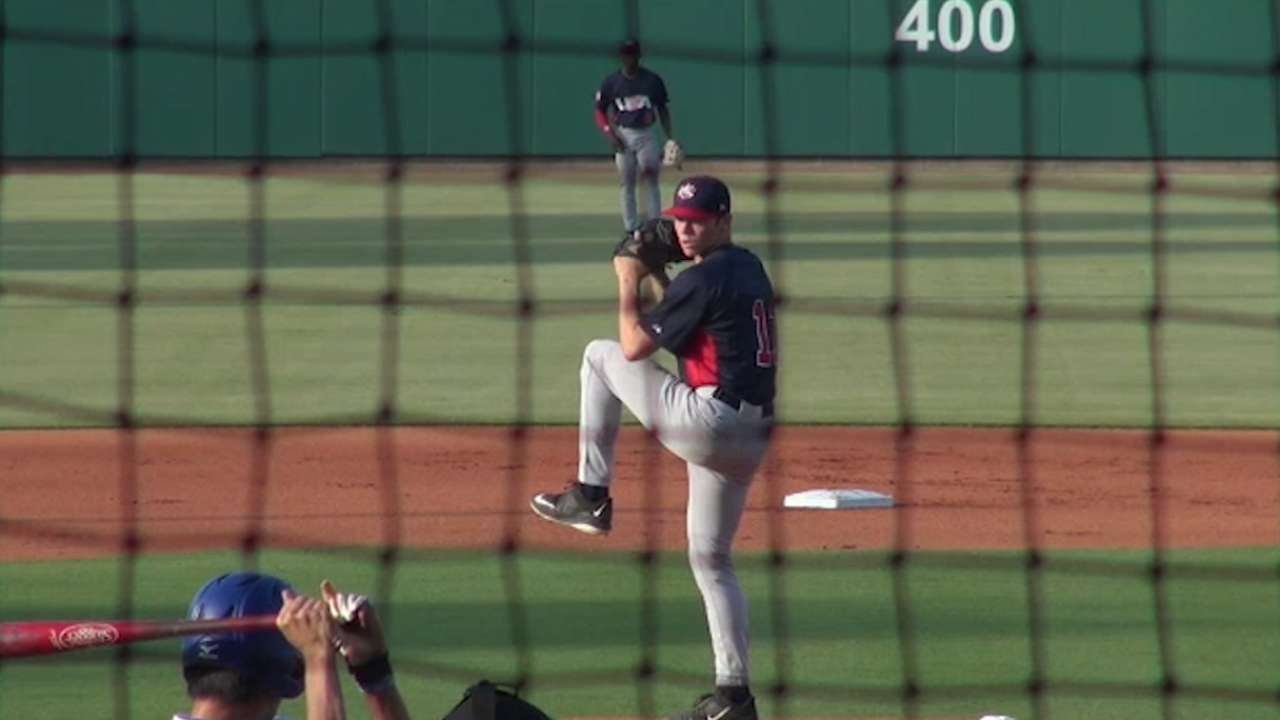 PHOENIX -- At 4:30 a.m., most people are sound asleep. That's because there's not a whole lot else to do at 4:30 in the morning, and because most people don't have the insane drive and work ethic that Cal right-hander Daulton Jefferies does.
"I'm not the normal college kid," Jefferies said, an understatement for a multitude of reasons.
The 20-year-old right-hander is armed with a low-to-mid 90s fastball, slider and changeup. While Jefferies' repertoire and command are impressive, it's his drive that sets him apart.
"I think my work ethic is pretty disgusting," Jefferies said. "If you ask anybody on the team, they'll say I have the best work ethic on the team. I may not be as big and strong as these guys, but I have the ability to outwork them all."
Jefferies, No. 45 on MLB Pipeline's Top 100 Draft Prospects rankings, wakes up every morning at 4:30 and is at the athletic facilities around 5:30 a.m. getting treatment, working out and preparing for the next time he takes the mound.
"I figure if I wake up at 4:30, I don't think any other pitcher in the Pac-12 is waking up at 4:30 to do extra work, so I feel like that's a win for me," Jefferies said.
The early routine seems to be working as Cal's ace is 6-0 with a 1.29 ERA on the year. He's struck out 47 and walked just six in 42 innings.
"He's an unbelievable preparer," Cal head coach David Esquer said. "He's physically prepared, mentally prepared, he's a creature of routine and it pays off for him. He's one of those guys -- you want your best guys to be like him because the other guys have no excuse not to work hard."
However, Jefferies' season has been derailed a bit with a couple of injuries. The Golden Bears' ace has not pitched in a game since March 24. Jefferies was expected to start against UCLA on April 1, but he was a late scratch due to calf tightness. As it turned out, the calf was not the only thing bothering Jefferies, who is also working his way back from a strained right shoulder.
Jefferies is cleared to throw and has played catch, but Cal is playing it safe in regards to his return to the mound.
While early rising is now habit for Jefferies, it wasn't always that way.
Jefferies always wanted to become a professional baseball player, but it was his father, John, who told him just how hard he needed to work to make that become a reality.
"I told both my boys they didn't have all the talent, everything wasn't God given," John Jefferies said. "I said, 'You have some talent, but in order for you to make it to the level you want, you have to work hard in order to achieve it.'"
And it worked.
Daulton is projected to be taken early in the 2016 Draft, while his older brother, Jake, was a third-round selection (Marlins) in 2008.
At just 6-feet, 180 pounds, Jefferies doesn't have ideal size, but if he needs inspiration and motivation, he doesn't have to look very far.
Cal's Evans Diamond is just 11 miles from the Oakland Coliseum -- home to 5-foot-10 Sonny Gray, whom Jefferies models his game after and is often compared to.
"Besides the area, we have the baby faces," Jefferies said. "But same kind of stature, the same kind of build, being able to control the fastball -- he has a curveball, I have a slider. I like the way he goes about his business. I've talked to a couple guys that have had lockers near his, and they've said he's incredibly humble, works hard; and that's what I set out to do."
Being compared to Oakland's All-Star right-hander certainly isn't a bad thing, but Jefferies' coach offers up an even more lofty comparison.
"Maybe with the precision, he seems like he would be a [Greg] Maddux type," Esquer said. "He would be like, 'Hey, I'm going to pitch with precision, but I have a little bit of physical ability, too.'"
Whether Jefferies winds up having a career like Gray or Maddux remains to be seen, but regardless of the outcome, he has certainly fought for all his accomplishments.
"No one would question the time and effort he puts into it," Esquer said. "He's just a model of hard work and preparation."
William Boor is a reporter for MLB.com. Follow him on Twitter at @wboor. This story was not subject to the approval of Major League Baseball or its clubs.