Ramirez to bereavement list; Patton fills spot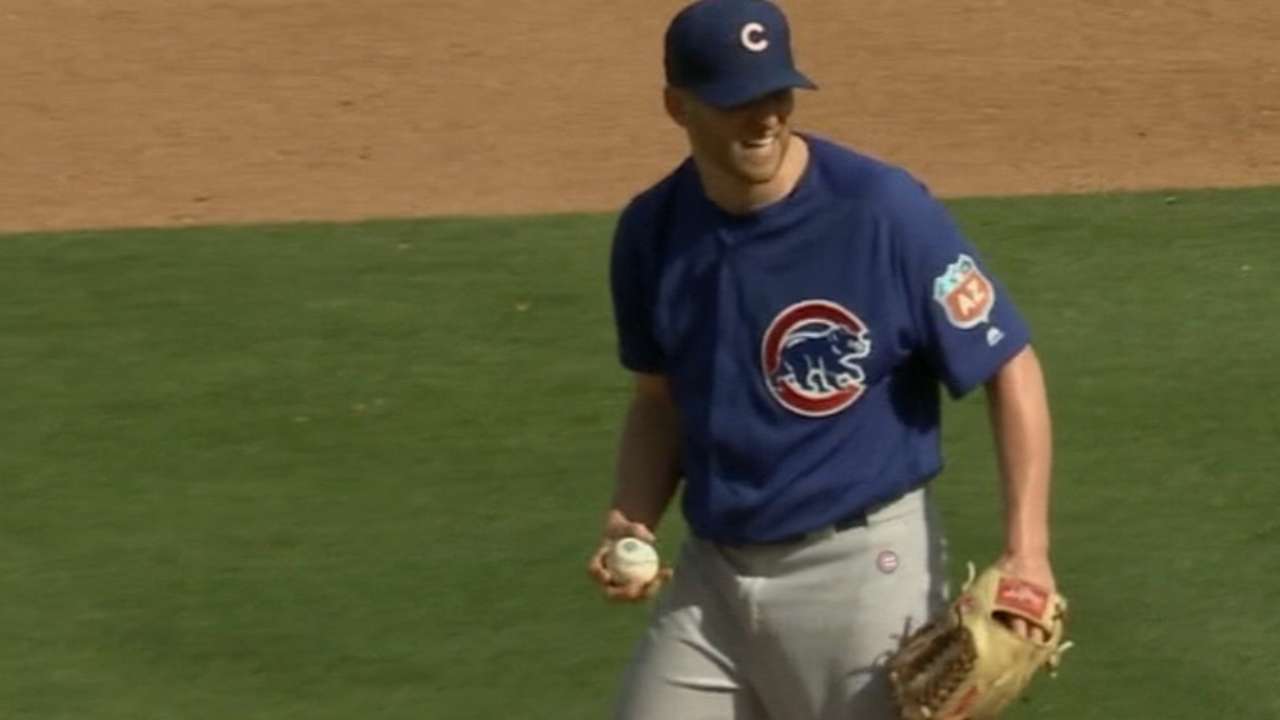 CHICAGO -- Cubs reliever Neil Ramirez was placed on the bereavement list on Thursday to attend his grandmother's funeral, and right-handed reliever Spencer Patton was called up from Triple-A Iowa. Ramirez will miss a minimum of three games, and a maximum of seven.
Patton, 28, appeared in 36 games in the big leagues for the Rangers over 2014-15, and has a career 6.75 ERA, giving up 25 earned runs in 33 1/3 innings. The Cubs acquired him on Nov. 20, 2015, in exchange for Minor League pitcher Frandy De La Rosa.
In 10 games at Iowa this season, Patton had given up five hits, walked four and struck out 17 over 10 scoreless innings.
"I just tried to carry over from spring into the Triple-A season," Patton said. "It's not the best circumstances to come up, but I'm here to help the team for the next couple days until Neil comes back."
Patton said Cubs pitching coach Chris Bosio got him on track in Spring Training by making some mechanical adjustments.
"There have been some outings when I've gotten away from that, and then I get right back into it and things start to work out," Patton said. "I've been trying to keep those things in mind."
• Major League Baseball Commissioner Rob Manfred was in Chicago at U.S. Cellular Field for the White Sox game against the Red Sox and addressed recent allegations regarding Cubs pitcher Jake Arrieta and performance enhancing drugs. A story in late April said some unnamed sources questioned his emergence.
"I think a player being put in a position where he has to defend himself against allegations that have absolutely no basis is a really unfortunate circumstance," Manfred told reporters Thursday. "The one thing, and I've talked about this occasionally in the context of Hall of Fame balloting from my own experience and what I've learned about performance enhancing drugs, is that you can't tell who's using performance enhancing drugs by things based on things like personal experience, outstanding performance -- they're just not accurate predictors. If someone is using performance enhancing drugs, our testing program is the one sure way to know that is happening."
• Miguel Montero, on the disabled list with lower back tightness, had a good batting practice session and is making progress, manager Joe Maddon said on Thursday. Montero is eligible to come off the DL on May 10. Maddon was not sure if the catcher would need to go on a rehab assignment.
"It depends," Maddon said. "If it's the minimum amount of time, possibly not. He's right on that cusp where sometimes you don't [need a rehab assignment]."
• Javier Baez was not in the Cubs' lineup on Thursday, but that was because of matchups, not his defensive play. Maddon planned on using the versatile Baez in the game.
"I always love having Javy on the field," Maddon said. "I think he's one of the best defensive players in the National League, and probably in all of baseball."
Cinco de Mayo in @Cubs clubhouse!!! Someone help me understand...sounds beautiful!!! pic.twitter.com/HZfaGSbYEr

— Justin Grimm (@GrimmReaper_52) May 5, 2016
• The Cubs celebrated Cinco de Mayo by inviting a mariachi band to the clubhouse on Thursday.
"I was serenaded in the video room," Maddon said. "The favorite moment was their solid rendition of 'Tequila' that was resonating throughout the entire clubhouse. It's something I'll probably never forget."
Carrie Muskat has covered the Cubs since 1987, and for MLB.com since 2001. She writes a blog, Muskat Ramblings. You can follow her on Twitter @CarrieMuskat and listen to her podcast. This story was not subject to the approval of Major League Baseball or its clubs.