MLB.com Columnist
Hal Bodley
Rays series a microcosm of Dodgers' season
ST. PETERSBURG -- To say the Dodgers are sputtering and not hitting on all cylinders is an understatement at best.
As the season enters its second month, I wouldn't say they're one of MLB's biggest disappointments, but they certainly aren't playing like a team with a $233.9 million payroll is supposed to.
The Dodgers just completed a two-game Interleague set against the Rays at Tropicana Field, and in many respects, it was a microcosm of Los Angeles' season to date.
Tuesday night, former Tampa Bay lefty Scott Kazmir fanned nine Rays, the bats of Howie Kendrick and Trayce Thompson came to life and the Dodgers won, 10-5. Kendrick, who'd been in a 3-for-30 slump, had four hits in five at-bats and raised his average 54 points.
The night after, the Rays blasted four homers and held off a late L.A. threat for an 8-5 victory. Dodgers starter Alex Wood, who has posted a 1-3 record with a 5.18 ERA, gave up three homers for the first time in his career. He's allowed at least five runs in four of his six starts.
The Dodgers scored their five runs on a single, a wild pitch, a sacrifice fly and two bases-loaded walks. They went 1-for-13 with runners in scoring position.
That loss, with the day off Thursday, left the Dodgers a half-game behind San Francisco in the weak National League West. The Giants (15-14) are the only team in the division with a record above .500.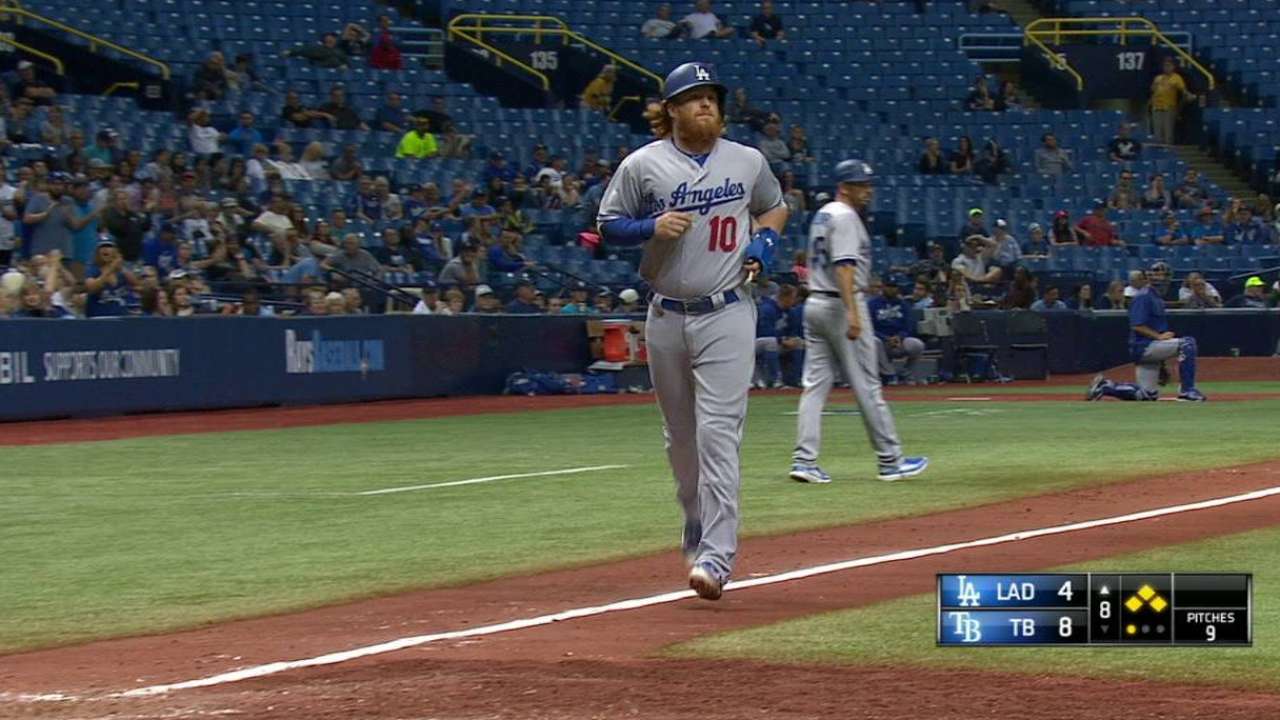 With MLB's largest payroll for the third consecutive year, the Dodgers were preseason favorites to repeat as division champions for the fourth consecutive season. Now 14-14, they seem to take two steps forward and one backward. They've been unable to sustain consistency.
To rookie manager Dave Roberts, who took over when Don Mattingly left after last season, the first month has been a shakedown cruise. It's doubtful, however, he expected so much rough water.
"We've covered a lot of different issues," Roberts said. "There have been times when we really hit. This most recent stretch, we haven't hit, but we've been consistent with our defense; we catch the ball.
"To have guys like Clayton Kershaw [3-1, 1.96 ERA] and Kenta Maeda [3-1, 1.41] in the rotation -- they've really been dominant. The bullpen has had its moments."
But…
"Really, we just haven't clicked," Roberts said. "What's encouraging for us is despite that, we're still there [close to first place]. We were on a six-game losing streak, and there was energy in the clubhouse every day. Every game there's enthusiasm; nobody's down."
The Dodgers opened the season with three straight wins and won three in a row later in April, but they ended the month with the six-game losing streak. They snapped that with a 1-0 victory over San Diego behind Kershaw, and showed momentum after arriving in St. Petersburg. But after one game, it ended.
"Tuesday night, we did a good job putting some hits together against a very good young pitcher [Matt Moore]," said Roberts. "In Major League Baseball, every day's different. We had our chances early against Drew Smyly [on Wednesday], but no matter who he's facing, he's going to put up some zeroes. There's some quality pitching out there."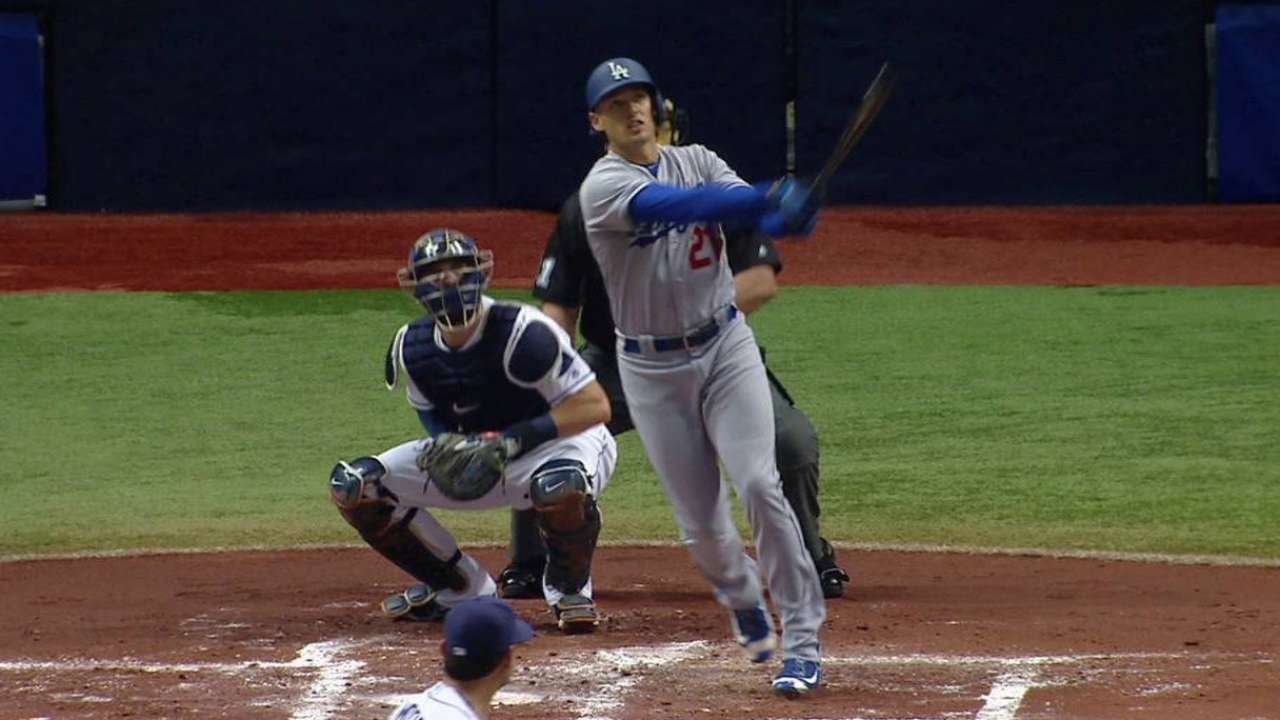 Just how good is this team? Or better put, how good can it be?
This month should be an excellent indicator. After three more Interleague games in Toronto this weekend, the Dodgers return home for seven against two defending division champions -- four against the Mets and three with the Cardinals.
The Dodgers lost 19-game winner Zack Greinke to free agency after last season, then in Spring Training, left-handed starter Brett Anderson underwent surgery for a bulging disc in his back and will be sidelined up to five months.
Even with that loss, the starting pitching hasn't been the true culprit. It's back to hitting and offense. Yasiel Puig and Kendrick have been in and out of slumps, as has Adrian Gonzalez.
And Carl Crawford, who was one of the game's premier players when he played for the Rays, is batting just .179 with no homers. Wednesday night, he represented the tying run in the eighth inning, but he fanned on a 3-2 pitch.
The Dodgers are hitting just .251 with runners in scoring position, and across baseball, they rank 29th with 20 home runs. L.A. led the NL in homers in 2015 with 187.
"We just have to stay the course," said Roberts. "I believe everyone, the hitting coaches and the players, are working hard. There's really no magic solution. They just have to hit."
Which is never as easy as it sounds.
Hal Bodley, dean of American baseball writers, is the senior correspondent for MLB.com. Follow him @halbodley on Twitter. This story was not subject to the approval of Major League Baseball or its clubs.