MLB.com Columnist
Jonathan Mayo
Inbox: Are Phils leaning towards Puk with top Draft pick?
Jonathan Mayo answers fans' questions about baseball's future stars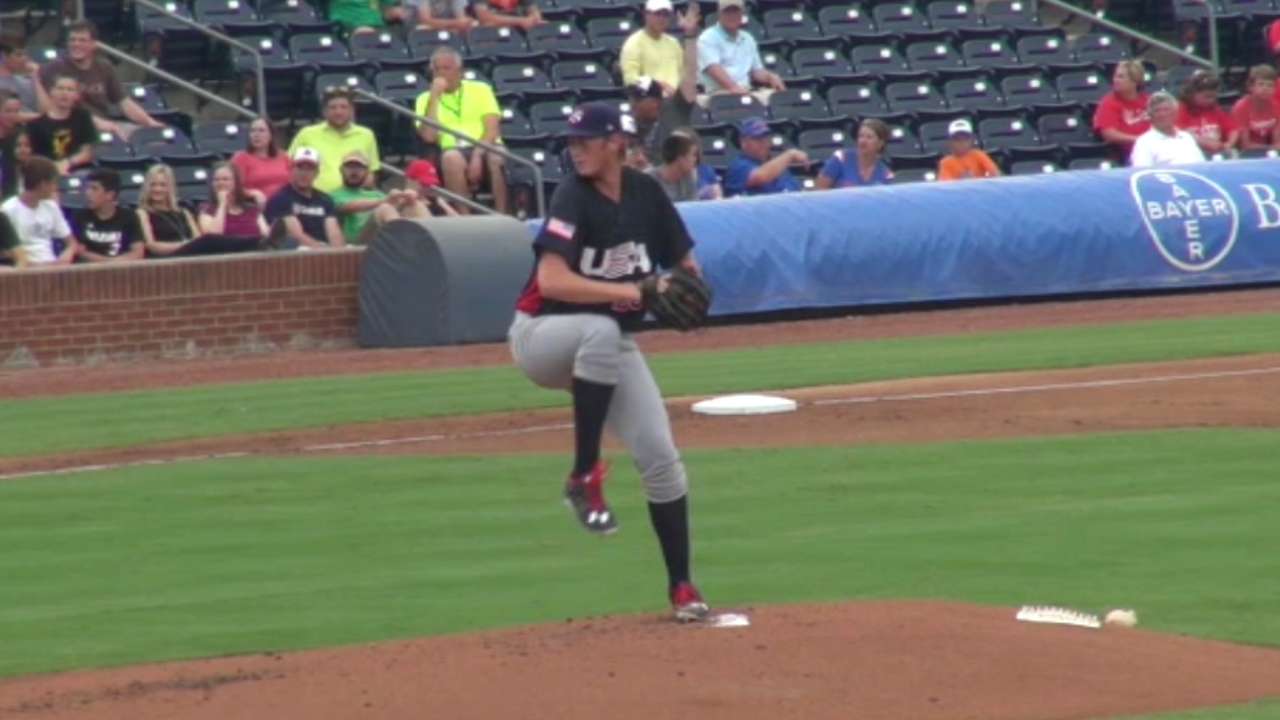 When the calendar turns to May, the focus at MLBPipeline.com definitely turns to the Draft.
As Jim Callis wrote in last week's Inbox, our coverage really ratcheted up a few notches with the release of our Top 100 Draft Prospects list. We've had a number of Draft-related stories to go along with it, including our first crack this spring of mock draft.
It was only a top 10 from both Jim and I, but we know how much people love the prognosticating, and we promise there will be many more to come. The interest in the top 10 was quite impressive, so I decided to begin this week's Inbox with a pair of Draft-related -- specifically the very top of the Draft -- questions, followed by two more standard prospect queries.
@JonathanMayo @MLBPipeline sounds like #Phillies would lean towards Puk cause he could get here quick, instead of being best correct?

— Jay Izzo (@JPhils90) May 3, 2016
Obviously, based on our Top 100 rankings, A.J. Puk is not the best, going strictly on talent. That honor currently belongs to high school lefty Jason Groome. So your assertion that Puk would be the choice because he could move faster isn't entirely off base, especially if you're only comparing him to Groome (the college bats being considered could also move a bit faster).
But don't think that Puk is some kind of finesse lefty, one of those pitchability guys who will move fast because of pinpoint command without plus stuff. His stuff is very much legit, and the fact is the Phillies were likely hoping Puk would have separated himself by now to be the slam-dunk No. 1 pick. That hadn't happened for most of this spring, but it might be happening now. Over Puk's past two starts spanning 12 2/3 innings, he's struck out 20, walked just four and allowed only seven hits and two runs, with reports of him consistently touching the upper-90s to go along with a nasty slider. He might be No. 5 now on our Top 100, but that might not last.
@JonathanMayo @MLBPipeline @MLBDraft Is Delvin Perez a candidate for 1-1?

— Joel Boog Rodriguez (@Boog215) May 3, 2016
As I wrote in my story about No. 1 pick candidates, the Phils could be looking at as many as eight players with that top pick. It does not appear that Delvin Perez is one of them.
That's not to say the young high school shortstop from Puerto Rico isn't talented. We have Perez ranked No. 8 for a reason, as he has considerable tools and will be able to stay up the middle at shortstop. His name has been heard at times as high as No. 2 (Reds) overall, and both Jim and I put him at No. 5 in that top 10 pick mock. There have been a few questions about his bat, and there were reports from the Excellence Tournament this week that Perez wasn't performing all that well in front of a lot of eyes.
@JonathanMayo @MLBPipeline @MLBDraft Fantasy question: I am stashing Giolito and Snell. Who comes up (and sticks) first? Thanks!

— Dooley (@DooleyMcStitch) May 3, 2016
Blake Snell has already come up for a one-game audition of sorts, throwing well in that spot start (one run on two hits and one walk in five innings, with six strikeouts), so the No. 12 overall prospect has a bit of a leg up on Giolito, our top prospect. The Rays lefty is in Triple-A, a level ahead of Giolito, and he's also obviously on his team's 40-man roster already, as opposed to the Nats right-hander. Giolito got roughed up in his last start, so his overall numbers don't look too pretty. He's struggled with command a bit and has yet to go more than four innings in a start. All of this adds up to Snell likely getting there, and sticking, first, though I'll still put my chips on Giolito for the long-term.
@JonathanMayo @MLBPipeline @MLBDraft Do you see the Braves with the most top 100 prospects by midseason?

— Eric Cole (@leprekhan) May 3, 2016
We do a full re-ranking in July, and given that the Braves have one of the best farm systems in baseball (we ranked them No. 2 at the start of the preseason), it's a good question to ask. Let's take a look at the breakdown right now.
At the start of the season, the Phillies led the way with seven members of the Top 100. None, as of now, are poised to graduate because of big league time. Whether some move off because of performance remains to be seen. The Rockies, Twins and Cubs each had six, while seven teams, including the Braves, had five.
Since then, the Twins have lost Byron Buxton to graduation, while the Dodgers -- also a five-prospect team -- lost Corey Seager. Los Angeles has gained two more, however, with the additions of Cody Bellinger and Alex Verdugo, bringing it up to six, and someone like Yusniel Diaz could be an addition in the future. As for the Braves, there certainly is the possibility of non-top 100 guys working their way on (I'm looking at that group of arms including Max Fried, Mike Soroka, Tyrell Jenkins and Lucas Sims, along with maybe third baseman Rio Ruiz), but Atlanta also could lose Aaron Blair by the midseason re-rank. You have to figure that whomever the Braves select at No. 2 overall in the Draft will be a Top 100-caliber player, so that helps. It's going to be a tight race, and they'll be in it, but given where some other teams are, I'd have to say Atlanta might not finish in the lead.
Jonathan Mayo is a reporter for MLBPipeline.com. Follow him on Twitter @JonathanMayo and Facebook, and listen to him on the weekly Pipeline Podcast. This story was not subject to the approval of Major League Baseball or its clubs.