MLB.com Columnist
Roger Schlueter
Stats of the Day: Trio of Astros have a blast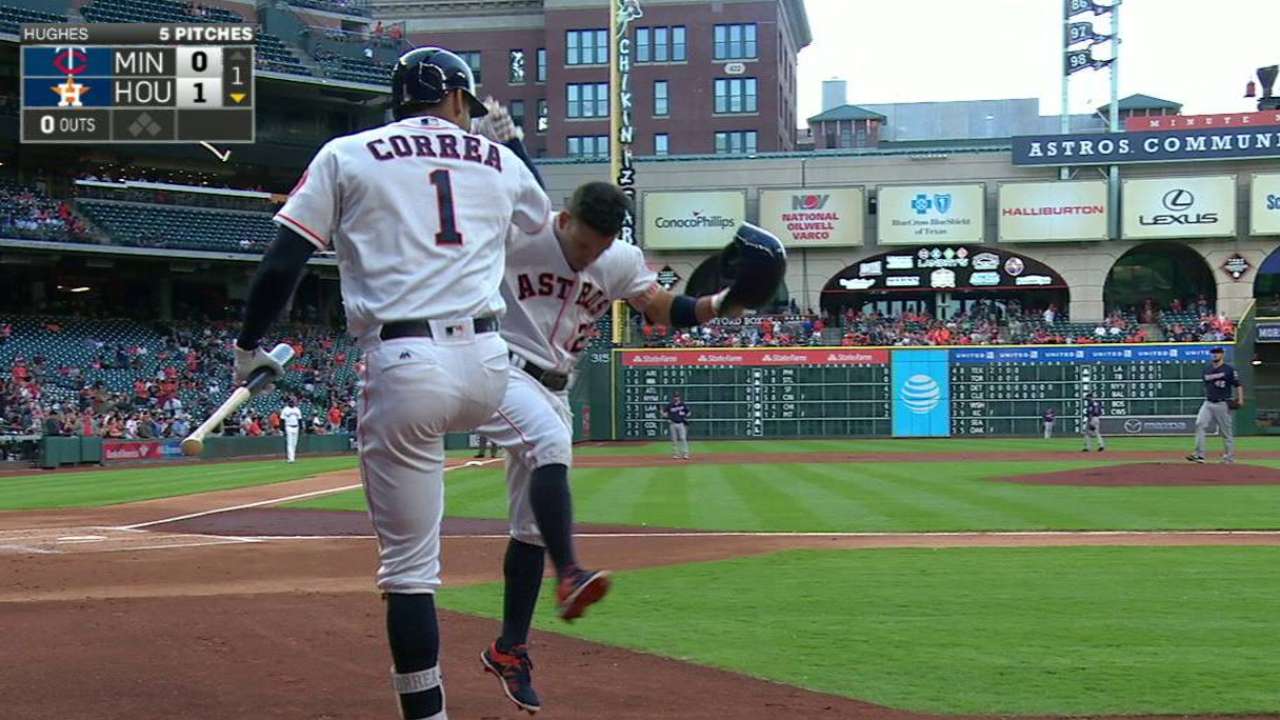 Here are four interesting items from around the big leagues on Wednesday …
• In the Astros' 16-4 rout of the Twins, second baseman Jose Altuve, shortstop Carlos Correa and catcher Jason Castro each doubled and homered. This game marked the third in team history that three players had at least one double and one home run. The first game was played on Aug. 9, 2011 (J.D. Martinez, Brian Bogusevic and Jimmy Paredes), and the second contest came on Sept. 9, 2015 (Carlos Gomez, Colby Rasmus and Marwin Gonzalez).
Good grief, Castro. His two-run double makes it 16-4

— Brian McTaggart (@brianmctaggart) May 5, 2016
• Indians leadoff hitter Carlos Santana drew a pair of walks on Wednesday and now has 14 in 98 plate appearances for the year (a walk percentage of 14.3 that is down a bit from his career mark of 15.7 percent). Santana is one of 23 players in history to have a walk percentage above 15 through his first seven years (minimum 3,000 plate appearances). His 122 OPS+ ranks 16th, in between Darrell Evans at 125 and the trio of Earl Torgeson, Harlond Clift and Ferris Fain at 121.
• The Cubs finished a three-game sweep in Pittsburgh to improve to 20-6. Chicago is the seventh team since 1995 to win 20 of its first 26 games. The first six teams finished the season with an average of 104.5 wins (1997 and 2000 Braves, 1998 and 2003 Yankees, 2001 Mariners, 2015 Cardinals).
class="token token-third-party token-third-party-twitter-embed" data-tokeninfo=" tokenGUID: token‑ACE08EDBDA237A87DB7BC type: thirdParty subType: twitterEmbed embedId: 727959832892833792 authorName: MLB authorUrl: https://twitter.com/MLB height: null width: 550 html:
.@Cubs sweep division‑rival Bucs become @MLB's first 20‑win club. https://t.co/NC52OVLy0a pic.twitter.com/8KayQj6zQ0

- MLB (@MLB) May 4 2016
\n href: https://twitter.com/MLB/status/727959832892833792" id="token-ACE08EDBDA237A87DB7BC">Tweet from @MLB: .@Cubs sweep division-rival Bucs, become @MLB's first 20-win club. https://t.co/NC52OVLy0a pic.twitter.com/8KayQj6zQ0
• Orioles shortstop Manny Machado doubled twice in his club's loss, giving him 13 two-base hits for the year. This is the second time Machado has churned out doubles to begin a season. In 2013, he had nine through the team's first 26 games. He finished that year's first half with 39 (the second most all-time before an All-Star break) and completed the year with 51 (tying Beau Bell in 1937 and Brian Roberts in 2008 for the second most all-time for the franchise, behind Roberts' 56 from 2009).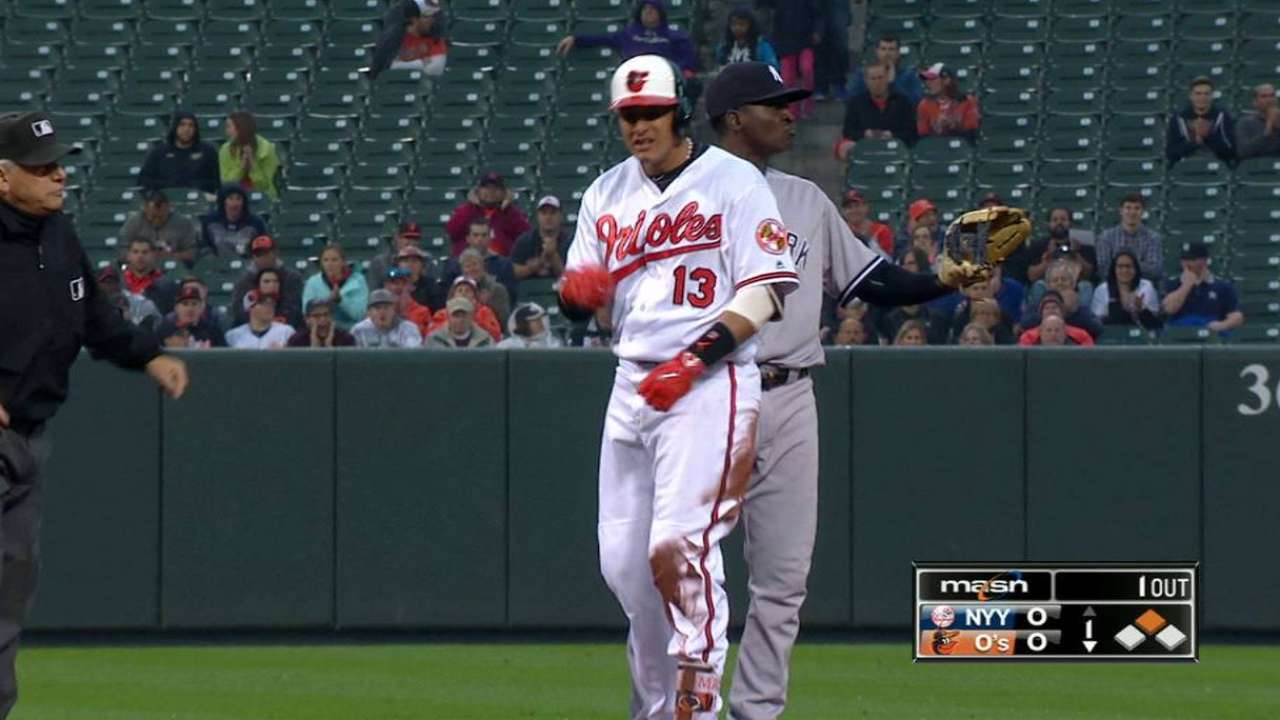 Roger Schlueter is a statistical researcher and writes for MLB.com. This story was not subject to the approval of Major League Baseball or its clubs.