Jay, Urias among top prospect performers Wednesday
Twins' No. 3 prospect turns in his best pro start, Dodgers' No. 1 hurls six hitless innings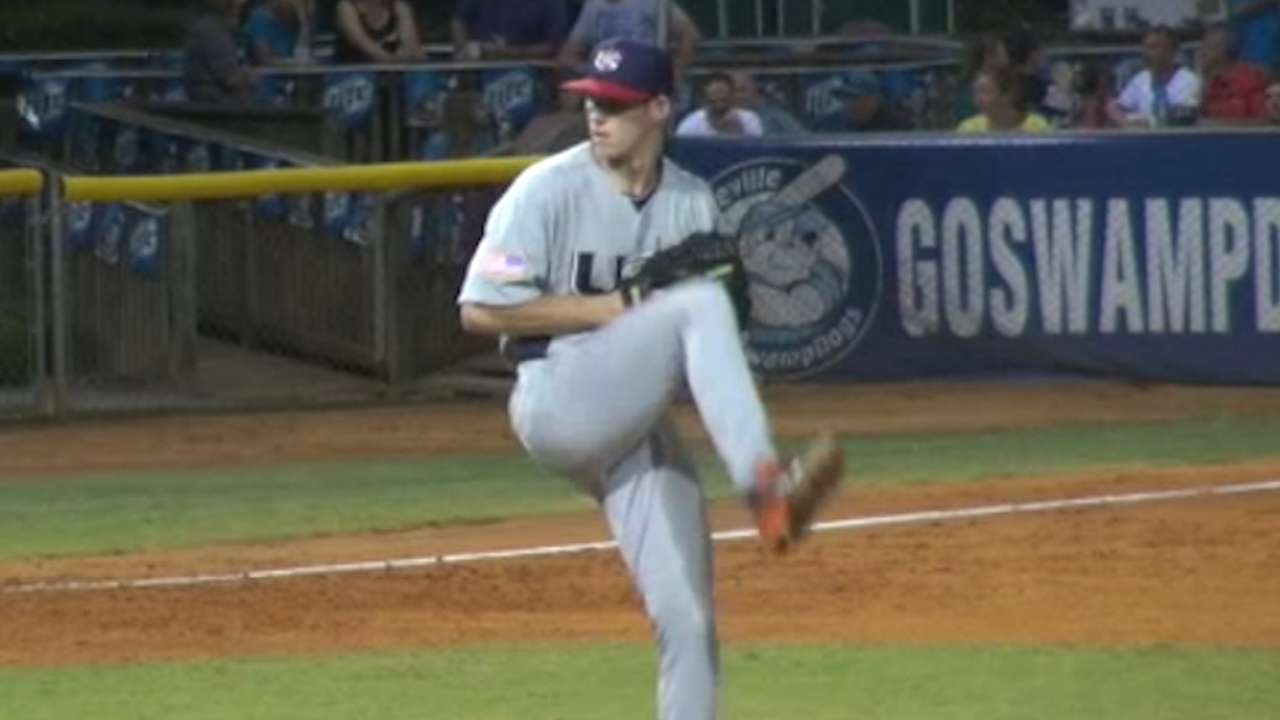 When the Minnesota Twins drafted Tyler Jay seventh overall in 2015, they anticipated that the former University of Illinois closer might hit some bumps in the road as he transitioned to a starting role in the professional ranks. That proved to the be the case for the Twins' No. 3 prospect during an uneven first month of the season during which he posted a 5.12 ERA and 1.45 WHIP in 19 1/3 innings in four starts for Class A Advanced Fort Myers.
But a new month has already brought better results for Jay, who fired a season-high 6 1/3 scoreless innings in a win against Palm Beach on Wednesday. The 22-year-old lefty scattered five hits, walked two and matched his season high with seven strikeouts while also inducing six ground-ball outs.
That Jay, baseball's No. 56 overall prospect, has posted a 3.86 ERA and 24/9 K/BB ratio in 25 2/3 innings this season despite struggling early speaks to his potential effectiveness once everything clicks. For now, however, he'll continue to work on making improvements from start to start.
The rest of the best performances from top prospects Wednesday
• No. 2 overall prospect Julio Urias (Dodgers' No. 1) fired six no-hit innings to pace Triple-A Oklahoma City in a combined one-hit shutout against New Orleans. The 19-year-old left-hander fanned six while throwing 52 of his 77 pitches for strikes in his longest start of 2016.
Urias has pitched exceptionally over his last three starts for Oklahoma City, allowing one earned run on five hits in 14 innings, and he's 3-1 with a 1.88 ERA an 29/3 K/BB ratio in 29 innings on the season.
"The honest truth is every pitch I threw I had command over," Urias told MiLB.com. "Slider, curveball, changeup, I thought I was really confident throwing any pitch in any moment. I felt really good today."
• After hitting his first grand slam on Tuesday, No. 5 overall prospect Yoan Moncada (Red Sox's No. 1) came right back to go 3-for-4 with two doubles, four runs scored and his 19th stolen base in Class A Advanced Salem's win against Carolina. Also starring in the game was No. 22 overall prospect Andrew Benintendi (Red Sox's No. 3), who went 2-for-4 with his seventh triple to extend his hitting streak to 22 games, one shy of Salem's franchise record.
• No. 6 overall prospect Dansby Swanson (Braves' No. 1) collected a season-high four hits and scored the go-ahead run as Double-A Mississippi defeated Tennessee, 8-7. The 2015 No. 1 overall Draft pick has been firing on all cylinders in his first full season but especially since his promotion to Mississippi, for whom he's hit .471 (8-for-17) with three extra-base hits and six RBIs in four games.
• No. 89 overall prospect Bobby Bradley (Indians' No. 3) belted a grand slam to power Class A Advanced Lynchburg past Potomac in game one of a doubleheader. After pacing the Midwest League with 27 home runs in 2015, the 19-year-old first baseman is tied for the Carolina League lead with seven homers in his first 24 games. He also leads the league with 27 RBIs.
• Brewers No. 26 prospect Freddy Peralta was dominant in his third start for Class A Wisconsin, firing five innings of one-hit ball with seven strikeouts in a win against South Bend. The 19-year-old right-hander -- acquired from Seattle last December in the Adam Lind trade -- has thrived this season as part of the Timber Rattlers' piggyback starting rotation, posting a 1.31 ERA and 24/8 K/BB over 20 2/3 innings (six appearances).
• Cubs No. 20 prospect Dan Vogelbach proved to be the difference in Triple-A Iowa's win against Nashville, going 3-for-5 with a grand slam and five RBIs. The 23-year-old first baseman has made a smooth transition to the Triple-A level, hitting .354/.446/.532 with three homers and 21 RBIs in 23 games for Iowa.
• Orioles No. 7 prospect D.J. Stewart filled out the stat sheet in Class A Delmarva's win against Lexington, going 3-for-3 with two doubles, two runs, two RBIs, two walks and a stolen base. The 2015 first-rounder is reaching base at a high rate but isn't offering as much in the way of average or power in his full-season debut, evidenced by his .236/.415/.319 slash line in 23 games.
• Rays No. 8 prospect Casey Gillaspie accounted for all of Double-A Montgomery's runs in a 2-1 win against Birmingham, going 3-for-3 with a home run, double and two RBIs. On the mound, Chih-Wei Hu (No. 13) kept the Biscuits in the game with 6 1/3 innings of one-run ball, striking out eight. The 22-year-old righty sports an impressive 0.44 ERA in 20.1 Double-A innings this season.
• Rays No. 21 prospect Kevin Padlo hit a home run as part of his second straight three-hit performance -- and his third in his last five games -- to lead Class A Bowling Green in a win against Peoria. Acquired from the Rockies in the Jake McGee-Corey Dickerson trade, Padlo, 19, has posted an .816 OPS with four home runs, 19 RBIs and 20 walks in 23 games for the Hot Rods.
• Rockies No. 28 prospect Harrison Musgrave tossed seven innings of two-run for Double-A Hartford in a win against Harrisburg, giving him four wins in his first four starts for the Yard Goats. He allowed two knocks and struck out a season-high eight hitters in the outing. Musgrave owns a 1.30 ERA and 0.51 WHIP (lowest mark in the Minors among pitchers who qualify) in 27 2/3 innings for Hartford, during which he's held opposing hitters to a .109 average.
Mike Rosenbaum is a reporter for MLB.com. Follow him on Twitter at @GoldenSombrero. This story was not subject to the approval of Major League Baseball or its clubs.