Ortiz wins battle with lefty for 509th HR
Big Papi drills go-ahead homer off White Sox's Rodon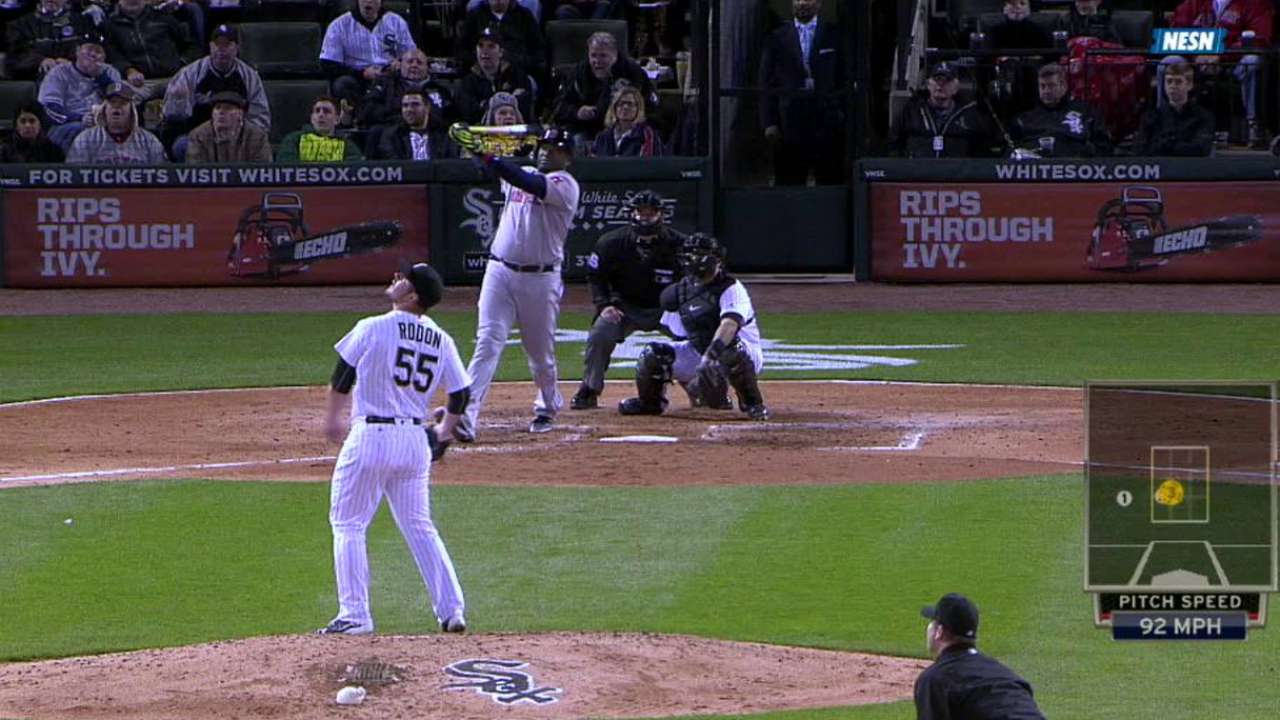 CHICAGO -- The Red Sox had lost their first three games against lefty starters this season, and were getting shut down by the fourth (Carlos Rodon) in the early innings on Wednesday night. Instead of a right-handed hitter -- the Red Sox had six of them in the lineup -- turning the tide, it instead was old reliable.
David Ortiz turned on a fastball from Rodon and clocked it over the wall in right for a two-run shot that put his team in front for the first time in an eventual 5-2 win over the White Sox.
• Cast your Esurance All-Star ballot for Big Papi and other #ASGWorthy players
Ortiz is a career .265 hitter against lefties with 116 homers in 2,558 at-bats.
"I'm not comfortable [against lefties]," Ortiz said. "But you just battle through it. The lefties in today's game, it's crazy. You just have to keep on working and try to pull the best out of it. But hitting lefties is not what you think it is."
The homer was No. 451 in a Red Sox uniform for Ortiz, putting him one behind Carl Yastrzemski for second on the team's all-time list.
"You know what happens when that is happening? You're getting old," quipped Ortiz, 40. "Like I say, every time they mention your name right next to those legends that's an honor. Those guys did those things through their career and were dedicated. I was just a guy who was trying to have a good career and put your family in a better situation. And all of a sudden all these things are happening. It's a blessing."
In his final season, Ortiz isn't showing any decline. He is hitting .311 with six homers, 22 RBIs and a 1.037 OPS.
"I'll tell you what -- he does it in such big moments," said Red Sox manager John Farrell. "He gives us a lift. He gives us the lead with one swing of the bat. We're 26, 27 games into this and David is in such a good spot offensively. You kind of marvel at how consistent and powerful he is."
Ian Browne has covered the Red Sox for MLB.com since 2002. This story was not subject to the approval of Major League Baseball or its clubs.