Astros' offense erupts in rout of Twins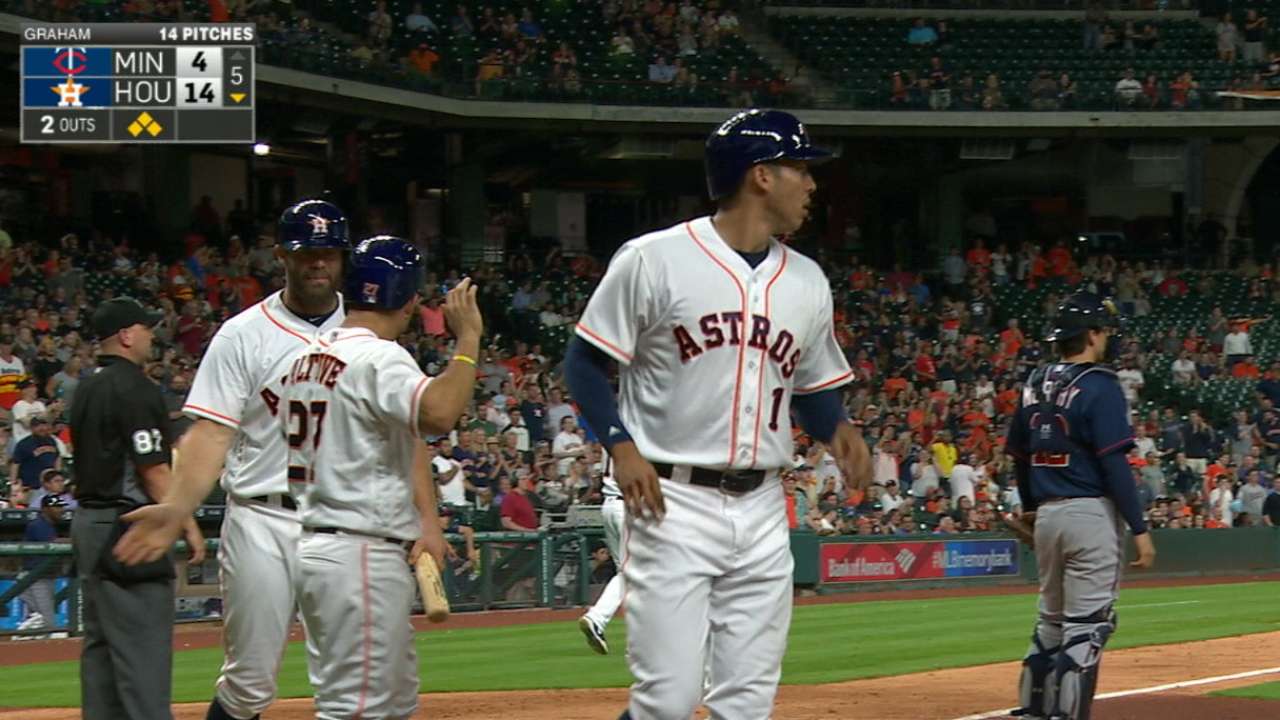 HOUSTON -- For the fifth time this season, All-Star second baseman Jose Altuve led off a game with a home run. But that was only the start of the fun for the Astros.
The Astros got the offensive outburst manager A.J. Hinch has been waiting for, erupting for a season high in runs scored and hits in a 16-4 win over the Twins on Wednesday night that was an example of the lineup's quick-strike potential.
Altuve, shortstop Carlos Correa (3-for-5) and catcher Jason Castro (2-for-3) each homered and scored three runs as the Astros scored their most since pushing across 21 on Oct. 2, 2015, in Arizona. They also drew seven walks, giving them 21 baserunners in eight innings.
• Cast your Esurance All-Star ballot for Altuve, Correa and other #ASGWorthy players
"We did some damage and hit with runners in scoring position tonight," Hinch said. "We had a complete win, and a couple of guys came out of the 'pen and did their part when the game got out of hand. Obviously, you take all the good in this, and as much as I talked about having a singular day where we're going to compete and worry about today, of course I'd like to carry some of this mojo into tomorrow and into the next series."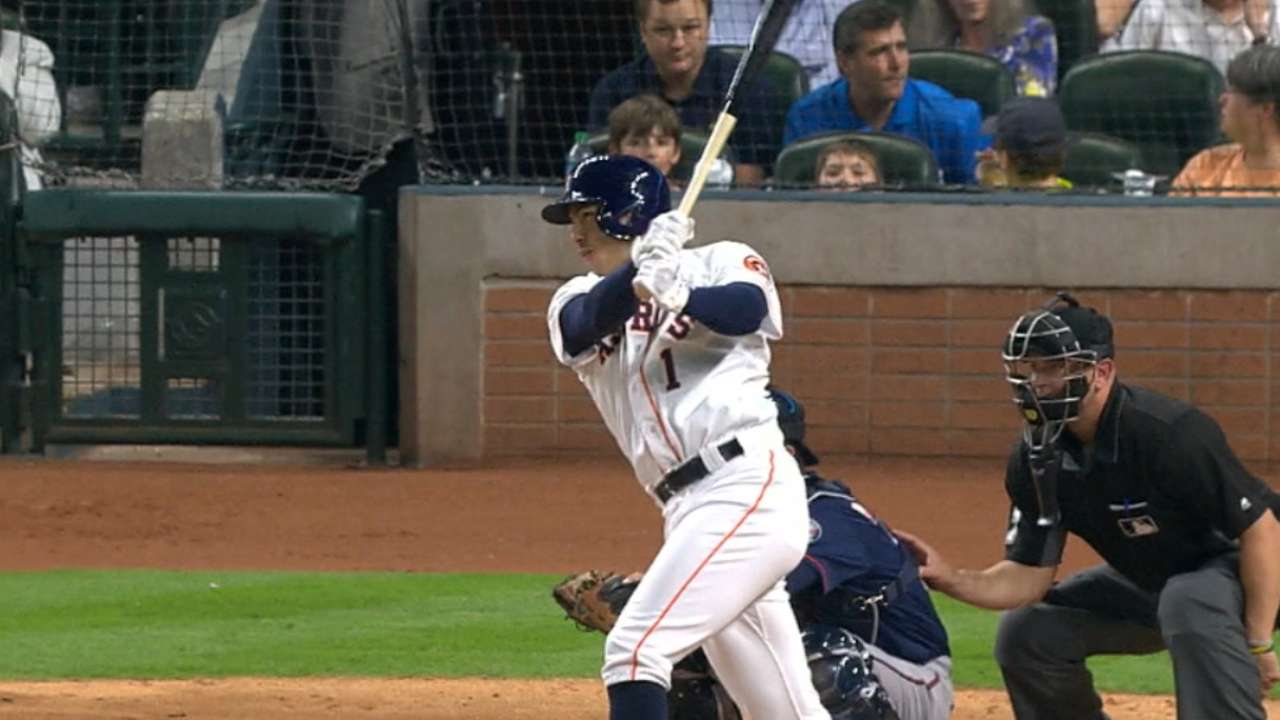 Altuve shot an opposite-field homer to right to start the game, becoming the first American League player since Alfonso Soriano in 2003 to have five leadoff homers by the end of May. It was Altuve's ninth career leadoff homer, pushing him past 1980s second baseman Bill Doran for fourth place on the team's all-time leadoff homer list.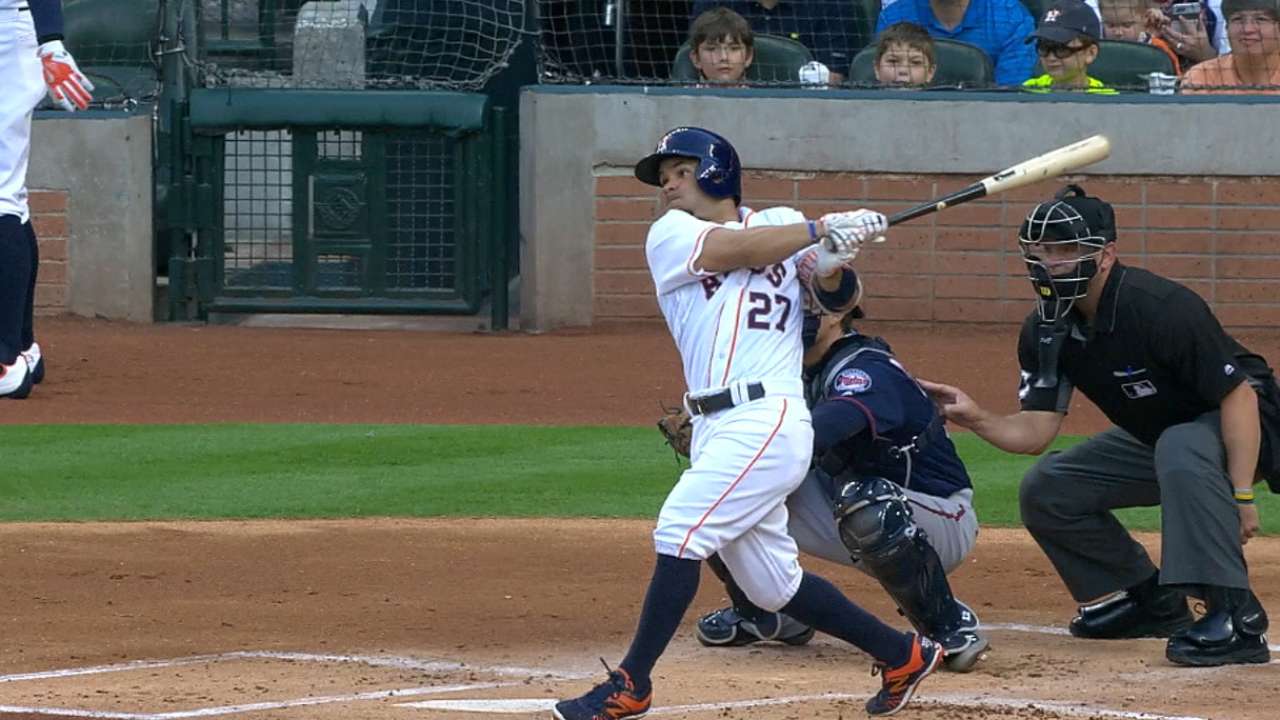 "I'm not even trying to hit homers," said Altuve, who already has eight. "I think the roof opened, the ball flies that way, and that's why the balls are going. That's the only reason. We should open the roof more often."
Correa homered for the first time in 88 at-bats, since April 6 against the Yankees, when he sent one to right field in the fourth. Castro homered for the second consecutive game when he found the Crawford Boxes again in left field in the third, extending his hitting streak to six games (8-for-18). In his last nine games, he's hitting .400 with two homers and nine walks.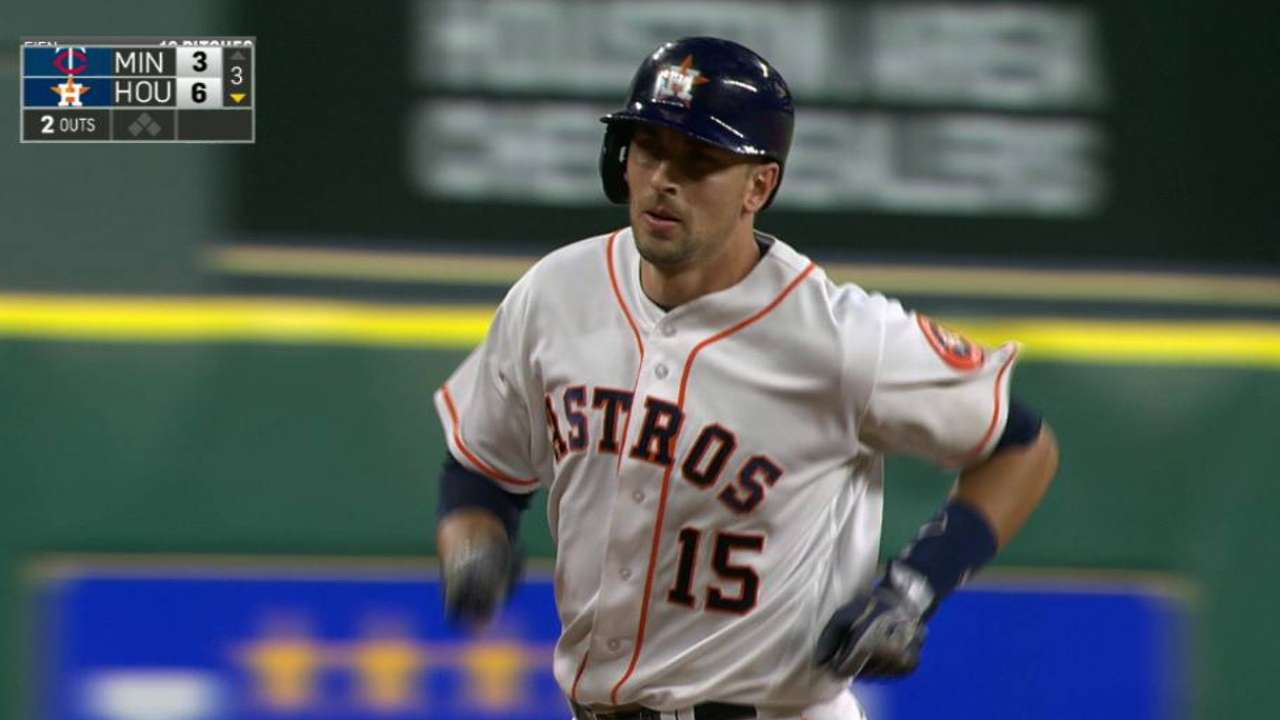 "We have a lot of guys that can leave the park from pole to pole, and sometimes when you start to get big with your swing, you start to pull off the ball quite a bit," Hinch said. "We had big swings sometimes, and tonight was a controlled aggression that has been a work in progress. When we're at our best and we're putting up quality plate appearances, it's foul pole to foul pole, it's damage, there's a few walks in there and a few punchouts in there as well. We do have a team that can attack different parts of the strike zone and different parts of the ballpark."
What kind of night was it for the Astros? Carlos Gomez rolled a ball toward second base that hit off the bag and wound up in shallow right field for a two-run double in the fifth that made it 14-4.
"We got a couple of bounces our way," Hinch said.
Brian McTaggart has covered the Astros since 2004, and for MLB.com since 2009. Follow @brianmctaggart on Twitter and listen to his podcast. This story was not subject to the approval of Major League Baseball or its clubs.