Decision to use bullpen early doesn't pay off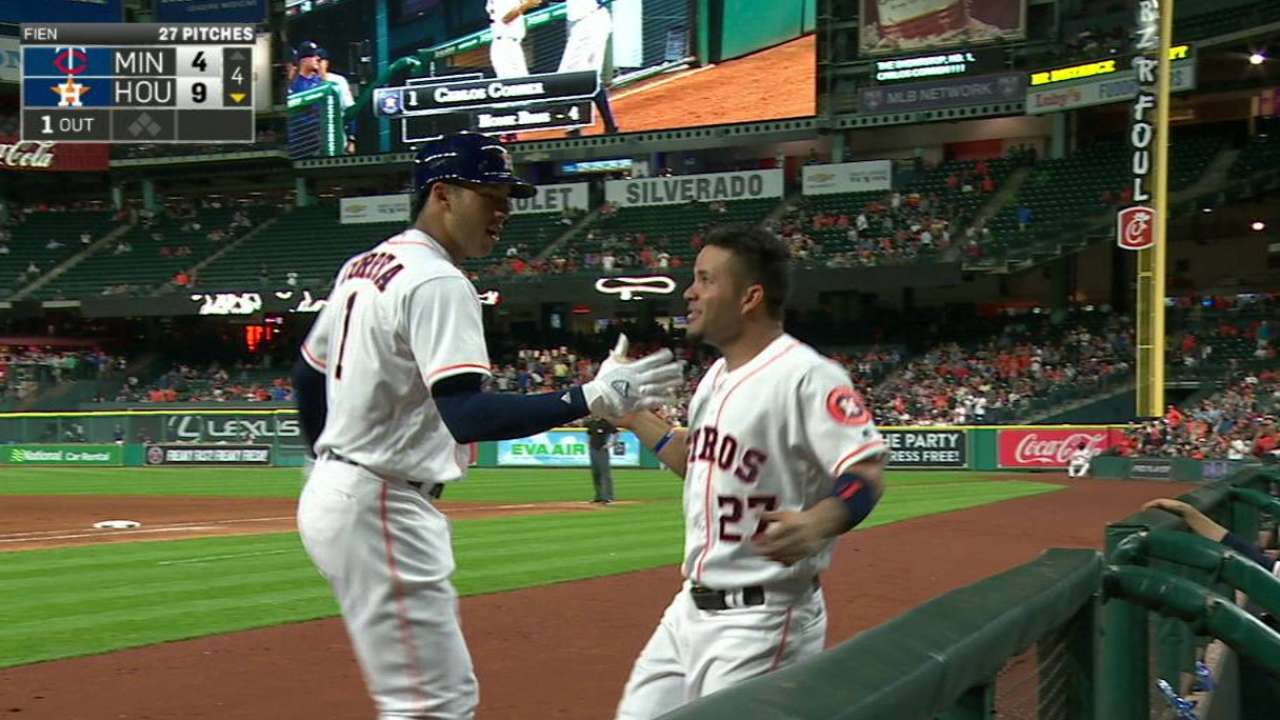 HOUSTON -- Phil Hughes clearly didn't have it on Wednesday, giving up six runs in two innings while throwing 58 pitches, so manager Paul Molitor made the decision to go to the bullpen early after Brian Dozier hit a three-run homer to bring the Twins within three runs heading into the bottom of the third.
But the bullpen didn't fare any better, as the Astros hit relievers Casey Fien, Ryan O'Rourke, J.R. Graham and Ryan Pressly hard en route to the Twins' 16-4 loss.
It was the most runs given up this season by the Twins, who fell short in their bid to win their first away series of the year. The loss came on the heels of right-hander Alex Meyer lasting just 2 2/3 innings in Tuesday's 6-4 loss.
"It's disappointing, like a lot of series have been," Molitor said. "You win the first game and then you go back-to-back games and you get [14] outs from your starters. It just put a lot of stress on our bullpen."
Twins relievers entered the day with a 3.23 ERA that ranked as the 12th best in the Majors, but that ballooned to 3.93 after the bullpen allowed a combined 10 runs over six innings. Hughes blamed himself for the way the game turned out, as he turned in his shortest outing since joining the Twins in 2014. The last time he went two innings was on Sept. 25, 2013, while with the Yankees.
"I feel bad for the guys in the 'pen, because they don't deserve to come into a situation like that," Hughes said. "In those types of those situations, where you don't give your team a chance out of the gate, you at least want to eat some innings for the bullpen, and I couldn't even do that tonight. It's all in all a frustrating game."
With an off-day on Thursday, Molitor decided the bullpen would give his team the best chance to win, but the decision obviously far from worked out. But he also had Hughes' health in mind, as Hughes dealt with back issues last year, and didn't want to risk injury.
"It was a little bit of a combination," Molitor said. "You throw 60 pitches in two innings, and that's a recipe for potentially getting hurt with long innings like that. And knowing we were down, I knew it was going to be tough getting through the rest of the game, but to give ourselves a chance, I thought it was prudent to get him out."
With the loss the Twins dropped to 8-20. They've lost 11 of 15, but Hughes said they're trying to stay positive.
"We have to keep our heads up," Hughes said. "There are a lot of really talented guys in here. We have to keep plugging forward. Nobody is going to feel sorry for us. Maybe our parents will, but that's about it. There's a lot of negativity outside this clubhouse, so it's something we need to avoid as well, because we don't want that creeping in here. We need to stay loose and have fun."
Rhett Bollinger has covered the Twins for MLB.com since 2011. Read his blog, Bollinger Beat, follow him on Twitter @RhettBollinger and listen to his podcast. This story was not subject to the approval of Major League Baseball or its clubs.