MLB.com Columnist
Barry M. Bloom
Head games define Orioles-Yankees series
BALTIMORE -- Gamesmanship is a big part of baseball, and the Yankees and Orioles have been engaged in the practice all week.
O's manager Buck Showalter sees shadows and goblins within the matrix of the pinstripes, and even as the Yanks struggle, with Alex Rodriguez on the disabled list because of a strained right hamstring, he expects there to be a revival.
"They reload," Showalter said almost presciently before the Yankees snapped a six-game losing streak with a 7-0 victory on Wednesday night at Camden Yards. "The way they do things, they have a lot of, 'What ifs?' A lot of quality people on the bench, whether it's a [Nick] Swisher in Triple-A, whether it's a [Dustin] Ackley or an [Aaron] Hicks or an [Austin] Romine. They always seem to have parts that allow them to maintain.
"What's there, 138 games left? People in the arena understand that they're still going to be competitive in our division this year."
Showalter is always looking for an edge, and that's why he loves to play a few good-natured head games. He declined to announce his starting rotation for the current three-game series, saying he would divulge his pitchers when the Yankees sent him theirs. The names were finally circulated on Tuesday, but that didn't stop CC Sabathia from tossing seven innings of six-hit scoreless ball against the O's on Wednesday night.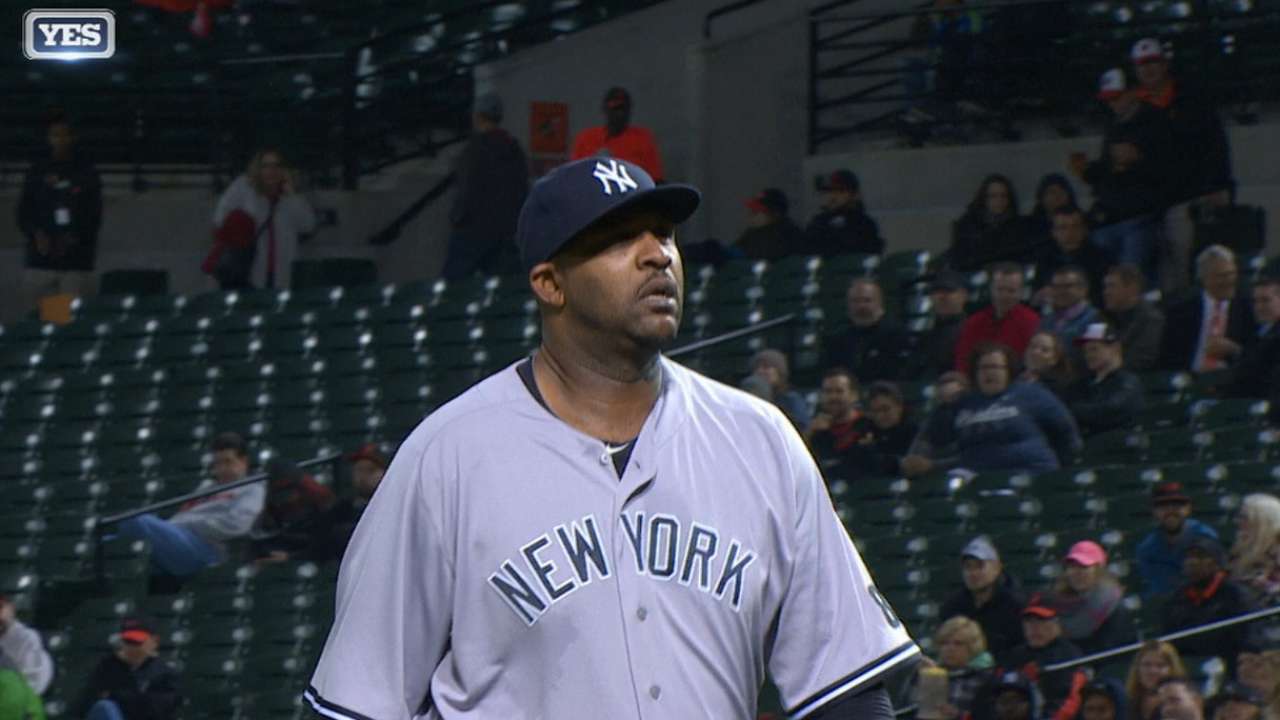 Before the game Tuesday night, Yankees manager Joe Girardi was more than a bit miffed when the Orioles took batting practice and suddenly the tarp was rolled on to the infield before the Yanks could have theirs.
"It didn't seem to rain," Girardi said on Wednesday night. "I wasn't out here, so I couldn't tell you how much it rained. It just didn't seem to rain."
Girardi's displeasure made the rounds. The implication was that somehow Showalter might have asked the grounds crew to deny the Yankees their shot at BP. Showalter, sounding somewhat miffed himself, denied any wrongdoing.
"You think we get up in the morning trying to figure out a way to keep them from hitting?" Showalter said. "What should we do? Maybe we'll go inside tomorrow and they can hit outside. [O's head groundskeeper] Nicole [McFadyen] was upset about it, which bothered me. It insulted her integrity and she's the best in the business.
"We're next to the Chesapeake Bay, and the weather says it's going to storm in two minutes. She told us it was supposed to rain around 5 p.m., and we started our BP early so our guys could actually get off the field early to present a window for [the Yankees] to hit."
Actually, it's the groundskeeper's call, Girardi admitted. And even if Showalter had nothing to do with it, he certainly enjoyed the perception that he had everything to do with it.
"That is comical," Showalter said.
The Yanks, 9-16 and off to their worst start since 1984, have bigger problems than naming their starting pitchers or taking BP.
They now have to play without A-Rod and his team-leading five homers and 12 RBIs for at least 15 days. There's also the matter of Brett Gardner, who may miss a few days after getting hit by a pitch in the right elbow during the eighth inning on Wednesday night. And oh yeah, Aaron Hicks, the backup outfielder, is hitting .067.
After this series in Baltimore, the Yankees have a 10-game homestand against three ultra-competitive teams: the Red Sox, the defending World Series-champion Royals and the surprising White Sox.
"I can't think of a worse time to go on the DL," said Rodriguez, who sustained the injury trying to beat out a grounder in the fifth inning on Tuesday night. "Our offense has been struggling. I take a lot of pride and responsibility in making sure that our offense overall plays well, hitting through the order.
"I talked to the team yesterday, and there's no reason why we can't score five runs per night. That should be a good par for us, especially in our stadium with our offense."
Gamesmanship aside, certainly Showalter can't take any credit for that.
Barry M. Bloom is a national reporter for MLB.com and writes an MLBlog, Boomskie on Baseball. Follow @boomskie on Twitter. This story was not subject to the approval of Major League Baseball or its clubs.