Pearce keeps raking at Trop, now with Rays
First baseman has impressive career numbers in St. Petersburg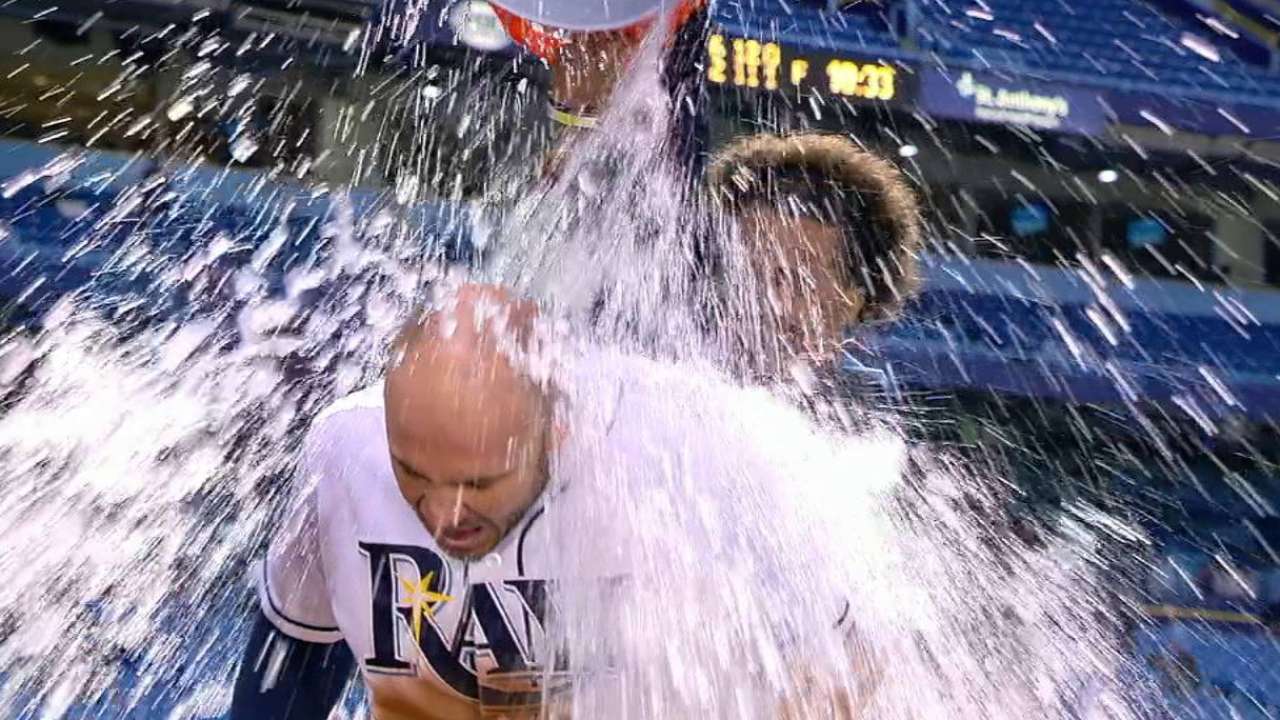 ST. PETERSBURG -- Steve Pearce always wondered how he would hit if he went home to play in the Majors.
That question is finally getting answered: well.
Pearce, a native of nearby Lakeland, Fla., homered at Tropicana Field for the first time as a member of the Rays in Tuesday night's loss to the Dodgers, and then he followed it up on Wednesday with a three-run homer off Dodgers left-hander Alex Wood that separated the game in an 8-5 Rays win.
"They'd been pounding me in the whole series," Pearce said. "I was kind of anticipating a fastball right there, and I got it and I didn't miss it."
Every time Pearce played at Tropicana Field with the Orioles, family and friends would drive over to attend the games. He usually responded by putting on a show.
"I've always liked hitting here," Pearce said. "It's one of those things I can't explain. Just happens when I show up here."
Since 2014, he averaged a home run every 10.75 at-bats at Tropicana Field (eight home runs in 86 at-bats). But he did not have a home run in his first 32 at-bats this season. Since then, he has three home runs in 18 at-bats.
Wednesday night, Pearce homered in consecutive games for the first time since April 6-7, 2015, at Tropicana Field while playing for the Orioles.
"He seems to be pretty locked in," said Rays manager Kevin Cash about Pearce. "Having good at-bats. His opportunities are coming more consistently, and he's definitely making the most of them."
Cash has stuck to his platoon system, so Pearce has primarily played first base against left-handed pitching, while Logan Morrison has had most of the starts against right-handers.
Wednesday night, the lineup against right-handers -- except for left-handed-hitting DH Corey Dickerson -- made Cash look like a genius, producing four home runs from the right side. Pearce's proved to be the biggest, because it was of the three-run variety. Pearce likes the offensive vibe that the Rays created Wednesday night.
"Very nice," Pearce said. "Especially going into this road trip and an off-day, we're going to use this to bring the momentum into the next series."
Bill Chastain has covered the Rays for MLB.com since 2005. This story was not subject to the approval of Major League Baseball or its clubs.